Los Angeles Preps:

Justin Garza
June, 1, 2012
6/01/12
4:56
PM PT
By
Tim Haddock
| ESPNLosAngeles.com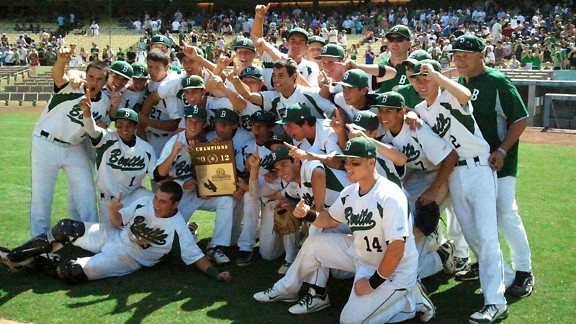 Tim Haddock/For ESPNLA.comBonita players celebrate winning the CIF-SS Division 3 title after a 5-1 win over Alhambra.
LOS ANGELES --
Thomas Castro
provided the big hits.
Justin Garza
came up with the big pitches. The two combined to lead Bonita to the CIF-Southern Section Division 3 baseball championship at Dodger Stadium on Friday.
Garza gave up one run and three hits in his team's 5-1 win over Alhambra. He struck out seven, walked two and didn't give up a hit after the second inning.
"It was just our year," Garza said. "We knew it was going to happen. We had a good vibe and we finally did it."
Castro was 2-for-2, scored a run in Bonita's four-run third inning and reached base all three times he came to the plate. He drove in a run in the first inning with a one-out single and walked in the fifth inning.
"To play out here and win a championship is a dream come true," Castro said.
Castro was on the Bonita team that lost to Ocean View, 2-1, in the Division 3 championship game in 2010. He was the only player on the 2012 Bonita roster who started on the 2010 team.
"I still think about that game and how we let it slip away," Castro said. "Going out my senior year, winning a championship, it's amazing. It's a great feeling."
Bonita (32-2) won its second CIF baseball championship in school history. The Bearcats have played in five CIF championship games in the 109-year history of the school.
March, 22, 2012
3/22/12
10:03
PM PT
LA VERNE --
Justin Garza
is too small, some naysayers say. He's too short, too skinny. His baggy baseball uniform accentuates these points.
The radar gun, though, doesn't discriminate. If a pitch is fast or slow, it'll say so. The 5-foot-10 right-handed pitcher has been making the gun blush a whole lot lately, lighting it up to as high as 95 miles per hour.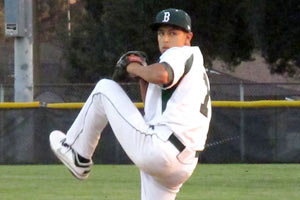 Blair Angulo/For ESPNLA.comJustin Garza has signed with Cal State Fullerton and continues to work to get better.
That's a tall number.
"People like what they've seen from Justin, but in the pro world they want you to be 6-feet-1 or bigger," Bonita head coach
John Knott
says.
Garza, a converted shortstop, burst onto the scene last year, winning all 13 of his starts and allowing about half a run per game. He topped out at 83 miles per hour as a sophomore, meaning he had to learn how to pitch -- how to live on the corners and mix pitches -- before the velocity came.
"No one expected it, I didn't even expect it," says Garza, a Cal State Fullerton signee. "The main thing was to not stay content. Most people my age would say, 'I have a scholarship, I don't have to work anymore.' That's not the case with me."
Driven by critiques on his stature, Garza rolled out of bed at 5 a.m. every day last summer. He logged five-mile runs to strengthen his lower body. He lifted weights and did countless squats. He began a rigorous long-toss program and, soon, his pitches picked up speed.
The hard work paid dividends at the MLB Urban Youth preseason showcase in February, when Garza registered the second-fastest pitch, next only to elite prospect
Lucas Giolito
, a 6-6 right-hander out of Harvard-Westlake. Two weeks later, scouts flocked to Bonita's season opener under the lights. Garza didn't disappoint, striking out nine in a 6-0 victory over neighboring rival Damien.
May, 20, 2011
5/20/11
11:15
PM PT


LA VERNE -- There were two things Justin Garza noticed as he warmed up in the bullpen Friday afternoon. His fastball had a little extra zip. His curveball had a sharper break to it.

Garza's pregame intuitions were no fluke, it turned out. The right-hander came within two outs of throwing a no-hitter, leading top-seeded Bonita to a 10-0 win against visiting Bell Gardens in the first round of the CIF-Southern Section Division 3 baseball playoffs. He improved to 12-0 on the season.

"I would have liked the no-hitter," Garza said, "but, more importantly, we got the win. I felt good."

Garza struck out 10, surrendered two seventh-inning hits and walked two. It was his seventh complete game of the year in 12 starts.

"What's nice about him," Bonita coach John Knott said, "is that he stays within himself and he doesn't try to do too much. He doesn't overthrow very often."

Garza walked the second batter he faced and proceeded to retire the next 16 batters in a row. He worked ahead in the count all game, following a season-long pattern that had helped him to a 0.60 ERA heading into Friday.

"There's a big difference between a 0-and-1 count and 1-and-0 count," Garza said.

And there's a big difference between a 3-0 lead and a 0-3 deficit, too. Bonita (25-4), the Hacienda League champion, scored three in the first, giving Garza some leeway to pound the strike zone. Nolan Henley blew the game open with a three-run shot in the fifth.

The Bearcats tacked on three in the sixth. Despite the double-digit lead, Knott said he didn't even think about taking Garza out of the game.

"We could have pitched somebody else," Knott said, "but stuff like that happens once in a blue moon."

Garza struck out Albert Flores to start the seventh. Danny Romero spoiled the no-hit bid with a liner down the third-base line. Bell Gardens (14-9) finally had something to cheer for.

"Justin was sharp," Knott said. "He was effective with all of his pitches, just like he's been all year."