Los Angeles Preps:

Keala King
February, 4, 2011
2/04/11
3:45
PM PT
By
Sean Ceglinsky
| ESPNLosAngeles.com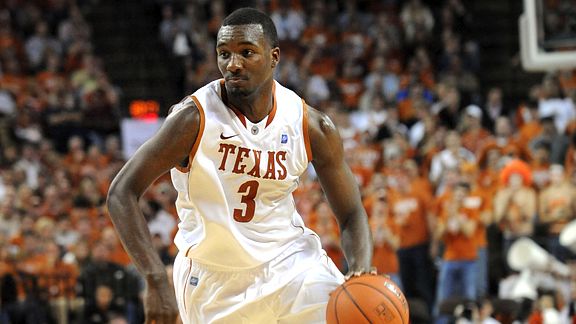 Brendan Maloney/US PresswireJordan Hamilton, a former Compton Dominguez High standout, is averaging 19 points and 7.5 rebounds for Texas.
For as long as most can remember, the Southland has been one of those must-stop destinations on the West Coast for Division I college basketball coaches and scouts in search of the next potential big thing at the next level.
So imagine what was going on in the minds of the powers that be once they all had an opportunity to set their eyes on
Jordan Hamilton
during his high school days at Los Angeles Dorsey before an eventual transfer to nearby Compton Dominguez.
After speaking with numerous individuals who were around back then, from 2005 to 2009, the consensus seemed to be that Hamilton was always destined to succeed and become yet another local product to move on and make a name for himself nationally.
Sure enough, Hamilton has lived up to the hype. A starter for Texas nowadays, the 6-foot-7 sophomore small forward is averaging a team-high 19 points and 7.5 rebounds per game for the Longhorns (19-3 overall), who are No. 3 in the ESPN/USA Today Coaches Poll and No. 3 in the Associated Press rankings.
Hamilton and Co. next play host to Texas Tech for a Big 12 Conference game on Saturday night.
It seems not so long ago, Hamilton was a senior at Dominguez. At the time, ESPNU ranked him as the No. 1 small forward in the country and No. 8 recruit overall.
"Yeah, I know about Jordan Hamilton, know him well,'' said
Joel Francisco
, a recruiting analyst for ESPN. "In high school, he was one of the best out West. He was one of the top scorers in the nation. I had a feeling that he had the type of game that was ready for the next level. I always thought he was capable of making an immediate impact somewhere.''
February, 1, 2011
2/01/11
6:19
PM PT
By
Sean Ceglinsky
| ESPNLosAngeles.com


LOS ANGELES -- Might as well enjoy him now.

After all, he won't be around here for much longer.

By most accounts, Norvel Pelle is the premier prep basketball player the Southland has to offer. And it doesn't matter where the game is, at home or on the road, crowds typically flock to the gym in an effort to catch a glimpse of the senior from Price High in action.

Some cheer. Others jeer. Bottom line: Pelle is a big draw.

Such was the case once again Saturday night. Spectators were out in force at the Fairfax State Preview Classic to watch Pelle & Co. defeat Mission Hills Alemany, 66-61. Interestingly enough, a collection of college coaches and scouts were in attendance as well, presumably there to see Pelle for perhaps one of the final times before he takes his game to St. John's next season.

"Norvel brings a whole lot to the table,'' Price coach Michael Lynch said. "It seems like everyone wants a piece of him sometimes, so the key for him is to stay focused as much as possible. He's getting better and better at concentrating on things and that's a good sign because you never know how a kid is going to respond to a certain situation and all of the hype.

"On the court, he makes his teammates better, no question about it. He's a talent, a force, the kind of player that opens things up for everyone else around him. There's a lot to like about him, he does many things well. Norvel can be a dynamic player whenever he wants.''


March, 19, 2010
3/19/10
5:25
PM PT
The game is almost upon us, but the showdown for Southern California basketball supremacy between Santa Ana Mater Dei and Westchester can't come soon enough for high school basketball fans, who have been waiting a long time for the clash of the Southland titans.

How long? Try forever.

When top-seeded Mater Dei and No. 2 Westchester take the court in the Southern California Division I regional final Saturday night at 8 p.m. at the Galen Center, it will be a highly-anticipated clash between what many consider the top two teams in the state.

It will also be the first time the teams, which have a combined 12 state titles and 16 regional championships, have ever met in a regional final.

"Hard to believe, but it's true," Mater Dei Coach Gary McKnight said.

They have met eight times in tournaments and early-round regional action since McKnight became coach in 1982 and Mater Dei has won all eight of those games--including a 91-89, double-overtime victory in the 2006 Nike Extravaganza the last time they met.

But never before has a trip to the state final been at stake when the powerhouses have met and fans aren't the only ones who can't wait.

"As much as we try not to think about it, all year we've been hearing talk about Mater Dei and Westchester, Mater Dei and Westchester," said Mater Dei guard Tyler Lamb. "So now that it's finally here, it's like, we've been anticipating it for so long—not looking past the teams we've been playing, but just having that thought in the back of our head. So now it's here and I know all my guys are excited."

Part of the reason they have never met in a regional final is because from 2002-2008, the state used enrollment-based divisions and Mater Dei was bumped down to Division II. It just so happened that Westchester emerged as a state power during that time, winning state titles in 2002, '03 and '05.

Mater Dei returned to Division I last year, and the two were on a collision course for the regional final, but top-seeded Mater Dei was upset at home by Fairfax. Westchester went on to win the state title.

"It's been hard not to think about Mater Dei," said Westchester forward Dwayne Polee. "A lot of people want to see that game. We just hope we can keep the momentum we've had throughout the playoffs."

The teams might not have met since 2006, but the players know each other well. Many of them play with and against each other in summer leagues.

Westchester (30-3), with Arizona-bound Jordin Mayes and uncommitted, but highly-recruited Division I prospects Polee and Reggie Murphy, has relied on a suffocating defense that is giving up only 50 points a game during its current playoff run and has won its seven playoff games by an average of 24.6 points.

Mater Dei (32-1) boasts a lineup loaded with Pac-10 recruits Lamb (UCLA), Gary Franklin (California) and Keala King (Arizona State) and is averaging 85.6 points in its seven playoff games.

So who will prevail?

"Westchester," said Woodland Hills Taft Coach Derrick Taylor, whose team lost to Westchester, 70-60, in the City Section final and to Mater Dei, 75-73, in the regional semifinal.

"Westchester can defend a little better. Points are going to be hard to come by against Westchester. [Mater Dei] shot 50% against us. They won't do that against Westchester. They are simply one of the most dominant defensive teams I've ever played against."

That much will be determined Saturday night. What's already known is that it's been a long time since a high school game has been so highly anticipated.

"It's a classic high school matchup," Westchester Coach Ed Azzam said. "It's two of the most decorated teams of the last decade. It's Southern Section versus City Section."

And, with Mater Dei ranked No. 1 in the state and Westchester No. 2 by virtually every ranking service, it's pretty much for all the marbles.
March, 11, 2010
3/11/10
9:37
PM PT
By
Martin Henderson
| ESPNLosAngeles.com
SANTA ANA -- The modus operandi the past two games hadn't been to their liking, and maybe Mater Dei's start on Thursday against Moreno Valley Rancho Verde wasn't spectacular, but it was certainly a crossover in the right direction.

After slow starts in the Southern Section 1AA finals and the first round of the Southern California Regional, Mater Dei took control of the first quarter and never looked back in an 80-48 second-round victory over the visiting Mustangs.

Rancho Verde (27-5) didn't help itself. The Mustangs were only seven of 25 from the field in the first half, one of 13 from beyond the three-point arc. Meanwhile, Mater Dei was 17 of 30 as it built a commanding 41-20 lead.

Keala King (Arizona State), Tyler Lamb (UCLA) and Gary Franklin (California) led the way for Mater Dei (31-1), which will play host to Woodland Hills Taft (26-5) on Saturday in the regional semifinals.

King closed the first quarter with a dunk and breakaway layup at the buzzer that gave Mater Dei a 15-7 lead. Franklin's three-pointer and Katin Reinhardt's putback in the first minute of the second quarter made it 20-7 as it put together a 14-0 run.

"When we're running and gunning and hitting threes, that kills teams," said Lamb, who scored 21 on eight-for-14 shooting, and had nine rebounds and five assists.

Rancho Verde went 5:38 without a field goal, and by the time Jordan Grace scored off a rebound, Mater Dei had extended its lead to 32-11.

At that point, it was essentially over, especially with Mater Dei shooting 50 percent for the game (32 of 63).

"I was pretty happy with the way the guys played," said Gary McKnight, Mater Dei's coach. "We shared the ball really well.

"We've had a lot of good talks this week."

Those talks were certainly one-sided, and they were designed to get the Monarchs back on track. When they played Rancho Verde in the section semifinals, they got off to a 32-14 lead but hadn't had that kind of start since. The Monarchs, ranked No. 7 in the nation by ESPN Rise, barely beat Rancho Cucamonga Etiwanda, 68-65, in the section finals.

King scored 23 on nine-for-15 shooting with 14 rebounds, and Franklin scored 16 on six-for-10 shooting and six assists.

Rancho Verde made only 16 of 56 shots. Kyle Fuller (Vanderbilt), who averages 26 points, scored a team-high 18 against Franklin but was 0 for 10 from the three-point line. He was eight for eight from the free-throw line.

The Mustangs were three of 27 from beyond the arc.

"Tonight was definitely an improvement," Lamb said, "but there's still room for improvement."
March, 11, 2010
3/11/10
10:58
AM PT
By
Sean Ceglinsky
| ESPNLosAngeles.com
Allen Crabbe didn't receive much, if any, recognition over the course of the season. And you get the funny feeling that the 6-foot-6 senior shooting guard for the Los Angeles Price boys' basketball team wouldn't have had things any other way.

His days of flying underneath the radar, however, have come to an end.

An abrupt end, mind you.

A breakout effort during the Southern Section playoffs put him on the map. Crabbe is a marked man these days, whether he likes it or not, and figures to receive plenty attention when the Knights (30-3) face visiting Westlake Village Oaks Christian (20-9) in tonight's Division IV quarterfinal game of the Southern California Regional playoffs at 7 p.m.

"Oh yeah, we know about him,'' Oaks Christian coach Tom Roanhaus said of Crabbe, who's averaging more than 20 points per game this season on close to 50 percent shooting from the field. "He's one of those kids that plays big in big games.''

"We've scouted him plenty. The ball is going to be in his hands a lot. He creates for himself and his teammates. We've played against some quality teams, quality players this season, so it will be interesting to see how we measure up to him and Price.''

The fact that Crabbe has gone about his business relatively quietly shouldn't come as major surprise, not when you consider that most of the country had its eyes fixated on California counterparts such Santa Ana Mater Dei's Tyler Lamb, Gary Franklin and Keala King.

All signs point to Crabbe being perfectly fine with the nation's top college coaches and scouts focusing their collective concentration on Huntington Beach Ocean View's Anthony Brown, Westchester's Dwayne Polee and Woodland Hills Taft's DeAndre Daniels.

"We have plenty of good, talented players on this team , but Allen is our go-to-guy, he's a Division I player,'' Price coach Mike Lynch said earlier in the season.

Indeed, he is. Cal realized his immense potential early on and Golden Bears coach Mike Montgomery, and the rest of his staff, landed a commitment from Crabbe a while ago.

A number of Pac-10 Conference programs, most notably UCLA and USC, made a late run for him after seeing what he was capable of. His tremendous upside is undeniable.

But ultimately, it was too little, too late.

When it comes to receiving some recognition, it's never too little, too late. And in Crabbe's case, the attention is not only warranted, it's long overdue.
March, 10, 2010
3/10/10
11:53
PM PT
By
Martin Henderson
| ESPNLosAngeles.com
For a double dose of basketball – there's nothing like stretching the value of a dollar these days – Mater Dei will play host to two games on Thursday, the nationally ranked girls at 6 p.m., and the nationally ranked boys at 7:30.

History says it will be a good night for the Monarchs.

The top-seeded boys, ranked No. 7 in the nation by ESPN Rise, take on Moreno Valley Rancho Verde for the second time in two weeks. Mater Dei (30-1) defeated Rancho Verde (27-4) in the Southern Section Division 1AA semifinals, 94-58. Keala King led the way with 23 points, Tyler Lamb had 21and Gary Franklin 18 as the Monarchs took a 32-14 lead in the first quarter and never looked back.

The second-seeded girls' team is ranked No. 4 in the nation and dominated the section Division 2A playoffs. They take on Villa Park (25-7), the runner-up to Brea Olinda in Division 2AA. Although they didn't play this season, Mater Dei (28-1) easily beat the Spartans in last year's playoffs, 74-24.

Brea, ranked No. 3 nationally, dominated Villa Park, 63-38. If Villa Park hopes to make amends against a different national-caliber opponent, it will have to shoot better than the 22 percent it did against Brea's oppressive defense. The problem is that Mater Dei 's defense can be just as tough: It beat Woodbridge, 71-29, in the section finals. Woodbridge beat Villa Park in December, 47-46.

Behind junior Kaleena Mosqueda-Lewis and sophomore Jordan Adams, two of the best players in the nation for their grade levels, Mater Dei has hardly been challenged in its 11 victories since losing to Brea, 47-43, on Jan. 18: Only four times have the Monarchs won by fewer than 29 points, and only once by fewer than 12 points, a 59-50 victory over Norco in the section quarterfinals.