Los Angeles Preps:

Kevin Payne
March, 26, 2011
3/26/11
7:20
PM PT


SACRAMENTO -- Kevin Payne sank the shot of his life and pointed to the sky. That one was for his fallen father. Twenty seconds later, another dagger, and Payne pointed to the stands. That one was for his mother, who was there to console him.

Payne's back-to-back threes propelled La Verne Lutheran to a 64-59 win against Oakland Bishop O'Dowd in the CIF State Boys Division III championship Saturday afternoon, securing the Trojans' second consecutive title.

"This means everything to me," said Payne, whose father, Kevin Payne Sr., died in August. "This is a storybook ending. It feels like a fairy tale right now. From everything we've gone through and me personally, with everything I've gone through, sometimes I felt like quitting, and my [teammates] would not let me do it."

Payne had taken the place of starter Xavier Jones, who left for the hospital after his defibrillator began buzzing in the early minutes. Jones wears a defibrillator to monitor his heart rate.

"I got him out of there quickly," said Lutheran coach Eric Cooper, who in November saved Jones' life by administering CPR after the player had collapsed in practice. "He looked concerned."

The game went on after Jones left Power Balance Pavilion. The teams came out cold to start, shooting a combined 31 percent (eight for 26) in the first quarter. Brandon Ashley had six of the Dragons' eight first-quarter points; Grant Jerrett and Bruce English, with four apiece, combined for Lutheran's eight. They settled down in the second -- Lutheran made eight of 12 shots, O'Dowd five of 10.

The Trojans (26-5) scored the last seven points of the first half to go up 26-21. But O'Dowd emerged from the locker room a different, more inspired team, using a 10-0 run at the start of the third to go in front. The Dragons scored 24 points in the third after getting 21 in the entire first half.

"We showed who we really are," O'Dowd coach Doug Vierra said.

Lutheran, which trailed by as many as eight, responded with a 12-4 run to open the fourth. They regained the lead, 54-51, on a three from Cameron Osorno, whose 16 key points off the bench tied him for the team lead with Jerrett, the top-rated forward in the 2012 class. Ashley had a game-high 26 for O'Dowd (25-7) -- which fell in the Division III state title game for the second straight year -- before fouling out in the final minute.

The Trojans trailed, 59-58, with 1:24 left before Payne's unexpected heroics.

"As soon as I took both of them I knew they were going in," Payne said. "I just had the confidence and I believed. There's an angel watching over all of us."
March, 16, 2011
3/16/11
5:01
PM PT
By
Sean Ceglinsky
| ESPNLosAngeles.com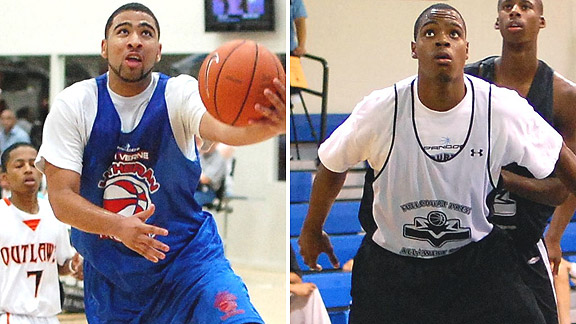 Courtesy of Dave KeeferKevin Payne, left, lost his father to a car accident in September, and Xavier Jones, right, suffered a heart attack in November and had to be revived by coaches through CPR. Both look to lead La Verne Lutheran to a berth in the state finals.
LA VERNE -- In most cases, a tragedy, particularly a loss of life, tends to have a profound impact on the psyche of a high school sports program.
Sometimes the extenuating circumstances can cause strife so severe the players and coaches, often times, find it difficult to overcome.
The La Verne Lutheran boys' basketball team has been a resilient bunch. It's a group that has recently dealt with three deaths to persons closely associated to the program and a close call with regard to another, a teammate no less.
Through it all, the players and coaches have persevered and are now on the verge of reaching a goal that many observers thought unattainable a couple of months ago.
A victory over La Canada (30-3) in Saturday's Southern California Regional playoffs at USC's Galen Center will secure the Trojans (25-5) an improbable Division III title and enable them to advance to the state finals on March 25 and 26 at Arco Arena in Sacramento.
"We have had some ups and downs so far, but our kids have stuck it out and fought through adversity,'' La Verne Lutheran coach
Eric Cooper Sr
. said.
Perhaps
Kevin Payne
and
Xavier Jones
have been involved in the most traumatic experiences, given that each senior lost a close family member.
Payne's father,
Kevin Payne Sr
., was killed in an automobile accident in early September. The grief left a lasting impression on the entire program.