Los Angeles Preps:

Khalil Johnson
April, 19, 2012
4/19/12
4:11
PM PT
Top graduating girls' and boys' basketball players from the CIF Los Angeles City Section and Southern Section will be on display Saturday at the 2012 Collision XIV all-star games at El Camino College in Torrance.

The event features five games, headlined by the City Section versus Southern Section games at 5 p.m. and 7 p.m.

Among those suiting up for the Southern Section boys' team will be Price teammates Skylar Spencer (San Diego State) and Khalil Johnson (Cal). Fairfax teammates Brendyn Taylor (USC) and Landon Drew (Cal State Northridge) will represent the City Section.

Alums of the event include Russell Westbrook (Oklahoma City Thunder), Darren Collison (Indiana Pacers), Austin Daye (Detroit Pistons) and Derrick Williams (Minnesota Timberwolves).

The City boys lead the all-time series 8-5, while the Southern girls lead 11-2.
April, 11, 2012
4/11/12
9:14
PM PT
Los Angeles Price forward Khalil Johnson has committed to Cal and is set to sign with the Golden Bears this spring, according to a source.

Johnson, a versatile forward with a smooth lefty stroke, also considered Arizona State. The 6-foot-7 Johnson was a key contributor on a Price team that reached the CIF State Division IV championship last month. The Knights, though, lost to Salesian.

Price has produced its share of talent in recent years. Skylar Spencer, one of the area's top big men, is headed to San Diego State. Allen Crabbe, Cal's leading scorer as a sophomore last season, was the Pac-10 freshman of the year in 2011.
March, 23, 2012
3/23/12
5:06
PM PT
By
Tim Haddock
| ESPNLosAngeles.com


SACRAMENTO -- The Salesian boys' basketball team started out a little sluggish, but came away with the CIF State Division IV championship at Power Balance Pavilion on Friday afternoon.

Down 16-10 in the first quarter, Salesian came alive in the second quarter to take a one-point lead at halftime, build a double-digit lead in the fourth quarter and went on to win, 70-56, over Price.

Salesian from Richmond (34-2) won its second CIF state championship and was making its second state final appearance in a row. The Pride lost to Windward in last year's CIF State Division IV final. Coach Bill Mellis said playing in the championship game last year helped his players prepare for this year's game.

"All week long, we knew what we were up against," Mellis said. "We knew whoever came out of the south was going to be a tough challenge. The first half, they were getting the best of us."

Price (27-8), the No. 16 team in the ESPN Los Angeles rankings, took advantage of its size in the first half and outrebounded Salesian, 22-17. Second-chance points helped Price build an early lead. Price had 16 offensive rebounds to Salesian's nine.

But Salesian went to a zone defense and was able to keep Price off the boards in the second half, evening out the rebounds.

Price couldn't make free throws either. The Knights were 14-for-32 from the free-throw line. Salesian wasn't much better at 50 percent (14-for-28). When asked to comment on his team's free-throw shooting in the game, Price coach Michael Lynch responded, "Do I have to?"

Not only did Price shoot 44 percent from the free-throw line, the Knights missed the front ends of one-and-ones and a few technical free throws.

"That's how you get behind," Lynch said. "I don't know what happened tonight."

Salesian's Jabari Bird scored a game-high 24 points and was 10-of-16 from the field. Teammate Jermaine Edmonds was the only other player in double figures. He scored 10 points off the bench and played the fourth quarter with four fouls.

Khalil Johnson led Price with 17 points and was one of three players in double figures for the Knights. Trey Dickserson scored 15 points and Skylar Spencer had 14 points and nine rebounds.

Salesian capped a 27-game winning streak with the CIF state championship.
March, 22, 2012
3/22/12
5:54
PM PT
By
Sean Ceglinsky
| ESPNLosAngeles.com
LOS ANGELES -- There was no shortage of high-profile post players in the Southland this season. The position, in fact, was seemingly the deepest it has been in recent years.
Attempting to determine who the best of the bunch was could prove to be a difficult task given the long list of candidates. A case can certainly be made for
Skylar Spencer
, considering the 6-foot-9, 220-pound senior from Los Angeles Price senior is the last man standing.
[+] Enlarge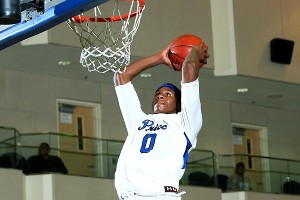 Courtesy of Nick KozaSkyler Spencer has been consistent in his play and that is a big reason Price finds itself in the state title game.
While most of his highly regarded peers sit at home on Friday afternoon and wonder about what could have been, Spencer will suit up for the Knights (26-8 overall) and likely be the difference between winning and losing in the CIF state championship game against Richmond Salesian (33-2). The opening tip is at 1:30 p.m. in Sacramento at Power Balance Arena.
"I wouldn't trade Skylar for anybody out here,'' Price coach
Michael Lynch
said. "He's our captain, our leader on the team, we've been on his back so many times this year.''
If given the chance, many would choose
Grant Jerrett
from La Verne Lutheran as the premier player in the greater Los Angeles area. The senior and Arizona commit, after all, was recently named the Gatorade State Boys' Basketball Player of the Year.
North Hollywood Harvard-Westlake's
Zena Edosomwan
deserves consideration with regard to being mentioned in the same sentence as some of the Southland's best bigs. Also worth mentioning is Woodland Hills Taft's
Anthony January
. Gardena Serra's
Daddy Ugbede
and La Verne Damien's
Chris Reyes
round out the well-rounded group.
Spencer can't be overlooked if winning is a criteria used in the conversation. The Knights were among the top programs in the ESPNLosAngeles Top 20 rankings this season with Spencer leading the way. Remember, Price played one of the more competitive schedules around.
"We did not back down from anyone, we'll play anyone, anytime, anywhere,'' Spencer said. "To be the best, you have to play the best. That's the way you have to think.''
March, 17, 2012
3/17/12
9:03
PM PT
By
Sean Ceglinsky
| ESPNLosAngeles.com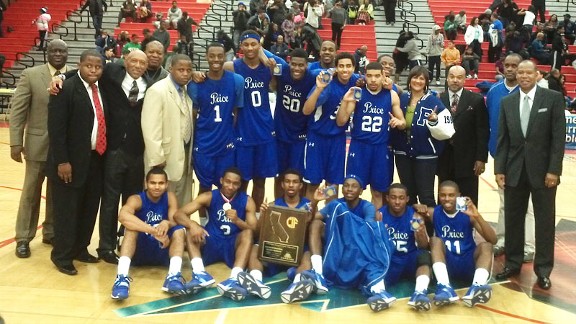 Sean Ceglinsky/For ESPNLA.comPrice built an early lead and stayed in control in its victory over Serra to earn a state title berth.
ONTARIO -- The fans came to see Los Angeles Price's
Skylar Spencer
and
Gardena Serra's
Daddy Ugbede
. And while the one-on-one matchup between two of the Southland's premier post players had its moments, there was more at stake than individual bragging rights in this one.
"I was looking forward to going up against Daddy, he always comes to play, it's always a challenge,'' Spencer said.
In the end, Spencer got the better of the exchange as the Knights jumped out to a nine-point lead in the first half and maintained a double-digit advantage for most of the second half en route to a 73-66 Division IV victory in a Southern California Regional title game at Colony High.
Behind 15 points from the San Diego State-bound Spencer, third-seed Price (26-8) advances to next weekend's CIF state title game in Sacramento.
"I'm just glad Spencer is on our side, I'd take him over any other player in Southern California,'' Price coach
Michael Lynch
said.
Top-seeded Serra (31-3), on the other hand, is left to think about what could've been after Ugbede, a senior with scholarship offers, finished with 18 points.
With the focus on Ugbede underneath the basket, things opened up for teammate
Dakari Tucker
. In the second quarter alone, the senior scored six points and added three rebounds, two assists and two steals. It was more of the same in the second half. Tucker scored another nine points in the third quarter. Serra still trailed, 56-51, to start the fourth quarter.
Spencer scored five points in the opening minutes of the game. However, he got into foul trouble and ended up back on the bench midway through the first quarter. Making matters worse, Spencer did not play at all in the second quarter.
January, 4, 2012
1/04/12
9:17
PM PT
Two narrow losses in the Redondo Sea Hawk Beach Classic basketball tournament last week apparently inspired Los Angeles Price, and it showed Wednesday night. Gahr found out the hard way, as the Knights rolled to an 89-51 nonleague victory.
Khalil Johnson
scored 20 points, and Price (11-4) -- which lost to Bishop Montgomery and Crespi in last week's tournament -- had five players score in double figures. Defending CIF-Southern Section Division 2A champion Gahr fell to 11-4.
The Knights will fly to Milwaukee on Thursday for the Brandon Jennings Invitational. They'll play Baltimore Patterson on Saturday.
Blair Angulo covers preps for ESPN Los Angeles. Follow him on Twitter.