Los Angeles Preps:

Kurt Scoby
May, 3, 2012
5/03/12
7:16
PM PT
Running back
Kurt Scoby
, who had a stellar sophomore season at Charter Oak last fall, has transferred to St. Paul.
The junior-to-be rushed for 1,572 yards and 21 touchdowns last season at Charter Oak. He transferred to Duarte from Charter Oak last month.
According to new St. Paul coach
Elijah Asante
, Scoby's legal guardian enrolled him at St. Paul due to the faith-based institution's family environment and spiritual emphasis.
"He's got a
Walter Payton
stiff arm," Asante said. "He's the real deal. His body is strong, and he's a tough kid with a strong will to win. He's got that look in his eye."
Scoby gives Asante, who coach at Carson last season, an offensive weapon to build around. The San Gabriel Valley Tribune
earlier reported the news
.
December, 20, 2011
12/20/11
5:55
PM PT
Here's an all-encompassing look at the top performers in south Los Angeles County for the 2011 prep football season.

MOST VALUABLE PLAYER

Troy Williams, Narbonne, Junior -– Williams was superb in managing Narbonne's no-huddle spread attack. He did it with his arm (3,247 passing yards, 34 touchdowns), he did it with his legs (587 yards, 11 scores), and he made the right decisions with the football. The junior quarterback guided the Gauchos to the City Section Division I title.

OFFENSIVE MVP

Robert Lewis, South East, Senior -– Opposing coaches schemed to stop Lewis but the electrifying tailback still averaged 10 yards per carry and amassed 2,023 yards and 30 touchdowns for the City Section Division II champs. Coach Derwin Henderson pegged him as the city's best all-around talent. Lewis has verbally committed to Southern Methodist.

DEFENSIVE MVP

Ellis McCarthy, Monrovia, Senior -– The mind-boggling numbers aren't quite there because the big guy faced double- and triple-teams on a weekly basis. Coach Ryan Maddox built his defense around the 305-pound defensive tackle and it paid off with Monrovia capturing its second straight Mid-Valley Division championship. McCarthy has offers from all over, including Cal, USC, Florida, Oregon and Washington.

SPECIAL TEAMS MVP

Jack Schneider, Charter Oak, Junior -– With 89 total points, Schneider was the region's top scorer among kickers. In 12 games he made 65 extra points for the Sierra League champions.

COACH OF THE YEAR

Manual Douglas, Narbonne –- By the end of the season, Douglas had his Gauchos playing as well as any team in the area. Narbonne finished 11-3 and reached its third City Section title game in the last four years. Douglas scheduled tough with games at Long Beach Poly and Tesoro, and the strategy paid dividends.

FIRST TEAM OFFENSE

QB – Steven Rivera, Arroyo, Sr. –- Rivera capped his stellar four-year stay at Arroyo by passing for 3,408 yards and 38 touchdowns, leading the Knights to the Mission Valley League title.

RB – Tray Boone, Narbonne, Sr. –- The shifty back rushed for six touchdowns in the City Section Division I title game to finish with 1,400 yards and 22 touchdowns. He did all of this in an offense that primarily throws the ball.

RB – Marquise Bias, Monrovia, Sr. -– The powerful Bias pounded his way to 260 yards and three touchdowns in the Mid-Valley Division title game, and finished with more than 1,500 yards for the season.

WR – Bryce Treggs, St. John Bosco, Sr. –- The Cal commit made Trinity League defenses look foolish, hauling in 11 touchdowns to go along with 1,377 receiving yards.

WR – Darreus Rogers, Carson, Sr. –- Rogers, a USC commit, was the City Section's leading receiver with 1,251 yards. He had a monster performance in the title game but it wasn't enough for the Colts.

WR – Alex Villalobos, San Gabriel, Sr. -– The slot-type Villalobos was the state leader with 2,001 receiving yards. He added 21 touchdowns for the Mid-Valley Division runner-up Matadors.

OL - Beau Leati, Narbonne, Sr. -- City Section coaches selected Leati as the lineman of the year and for good reason. He anchored a line that opened gaping holes for Boone and protected Williams.

OL – Lacy Westbrook, Dominguez, Sr. -– The UCLA commit was out when the Dons started the season with two losses, but his added a major spark to their ground attack.

OL – Beau Boyster, St. John Bosco, Sr. -– The Braves averaged more than 400 yards of offense per game and the Arizona commit was in the middle of it, with his protection of strong-armed Rene Medina.

OL – Gerrad Kough, Pomona, Sr. -– The Colorado commit spearheaded a Pomona running game that averaged more than 215 yards per game.

OL – George Castro, West Covina, Sr. -– West Covina was 25th in the state in rushing yards per game (332) and Castro was a big reason why.

PK – Mason Bryant, Monrovia, Jr. -– Bryant did it all for the back-to-back champion Wildcats as a receiver, defensive back and kicker, totaling 117 total points.

P - Conrad Ukropina, Loyola, Sr. –- Six of Ukropina's 25 punts were downed inside the 20-yard line, and he averaged 43 yards per punt, the best in the Pac-5 Division.

SECOND TEAM

QB – Travis Santiago, Charter Oak, Sr.
RB – Jimmy Frazier, West Covina, Sr.
RB – Kurt Scoby, Charter Oak, So.
WR – Richard Smith, Long Beach Poly, Sr.
WR - Antoine Anderson, Narbonne, Sr.
WR – Hunter Duran, Arroyo, Sr.
OL – Chase Eldredge, Palos Verdes, Sr.
OL – Chad Wheeler, Santa Monica, Sr.
OL – Justin Johnson, Dorsey, Sr.
OL – Alec Zenner, San Dimas, Sr.
OL – Nico Falah, St. John Bosco, Jr.
PK - Ret Tilman, Culver City, Sr.
P – Hayden Hunt, Long Beach Poly, Sr.

FIRST TEAM DEFENSE

DL – Demetric McKinney, West Adams, Sr. -– McKinney recorded a state-leading 26 sacks in only 12 games.

DL – Jeremiah Allison, Dorsey, Sr. -– Allison will be used as a linebacker in college but he was fierce coming off the three-point stance for Dorsey. Allison had 14 sacks for the Coliseum League champions, giving him 34 over his last two seasons.

DL – Jesse Ojeda, San Dimas, Sr. -– He only measures 5-feet, 7-inches but Ojeda was a force for the Saints, getting to the quarterback 17 times.

LB – Brett Walsh, Monrovia, Jr. -– Walsh was second in the entire Southern Section with 192 tackles, thriving behind McCarthy's havoc up front. He added eight sacks, and figures to garner attention during the offseason.

LB – Sergio Gonzalez, Ganesha, Jr. -– The outside linebacker led the Mid-Valley Division with 17 sacks.

LB – Nuoye Clemmons III, West Adams, Sr. -– Clemmons ranked second in the City Section with 146 tackles.

LB – Salamo Fiso, Long Beach Poly, Sr. -– The Arizona State commit spearheaded a strong Jackrabbits defense with 117 tackles.

DB – Kevin Page, Dorsey, Sr. -– Page intercepted six passes, including a big one on the road to clinch a victory at Alemany.

DB – Tyrone Taylor, Torrance, Sr. -– The Cal State Fullerton baseball signee had 190 tackles from the safety position.

DB – Shane Baumann, St. John Bosco, Sr. -– Baumann was in the middle of every defensive play, it seemed. He ranked fifth in the Pac-5 Division with 126 tackles and also had five interceptions.

DB – Mark Wright, Rolling Hills Prep, Sr. –- Wright had 10 interceptions in nine games, good for a tie for second place in the state.

SECOND TEAM

DL – Alonzo Williams, Long Beach Poly, Sr.
DL – Robbie Haines, Arcadia, Sr.
DL – Daniel Rios, Rosemead, Jr.
LB – Keishawn Haley, Culver City, Jr.
LB – Matt Rowe, Long Beach Poly, Sr.
LB – Jabari Ruffin, Downey, Sr.
LB – Thomas Brown, Gardena Serra, Sr.
DB – Trayvon Watson, West Adams, Sr.
DB – Gabriel Marks, Venice, Sr.
DB – Naijel Hale, Lakewood, So.
DB – Chris Solomon, West Covina, Sr.
December, 4, 2011
12/04/11
11:12
PM PT
The Narbonne Gauchos gain a stranglehold of the top spot after an eye-opening semifinal victory. Of course, a little help from rival Carson didn't hurt. The Colts return the rankings following their shocking upset of top-seeded and previously unbeaten San Pedro. Ocean League champion Santa Monica falls out after its lopsided loss to underdog Culver City. The south Los Angeles County top 10 rankings heading into the championship round:

1. (3) Narbonne (10-3)
The Gauchos made easy work of a very good defense to secure a spot in the title game for the third time in four years. Quarterback Troy Williams is hungry. Last week: Beat Dorsey, 41-7. Next: City Section Division I championship vs. Carson at East L.A. College, Friday.

2. (2) Long Beach Poly (10-2)*
Order appears to have been restored for the back-to-back Moore League champions.

3. (5) St. John Bosco (8-4)*
The third-place team from the Trinity League made its first playoff appearance since 2006.

4. (6) Charter Oak (10-2)*
The Chargers won the Sierra League and have a dynamic talent in tailback Kurt Scoby for the next two years.

5. (NR) Carson (8-5)
The Colts leap back into the rankings following a rather surprising upset of top-seeded San Pedro. They were expected to make it back to the title game, but they took a difficult route to get there. Last week: Beat San Pedro, 24-19. Next: City Section Div. I championship vs. Narbonne at East L.A. College, Friday.


November, 27, 2011
11/27/11
10:50
PM PT
Long Beach Poly fell out of the region's top spot for the first time this season following its second-round loss to Santa Margarita. Last week's second- and third-ranked teams -- St. John Bosco and Charter Oak, respectively -- also stumbled. Now, three of the region's top four squads come from the City Section. Marine League champion and top-seeded San Pedro is the only remaining undefeated team in the south Los Angeles County top 10 rankings heading into the third round of the playoffs:

1. (4) San Pedro (12-0)
The top-seeded Pirates eliminated the two-time defending City Section Division I champs Friday, securing another matchup with fifth-seeded Carson. The Marine League champs defeated the Colts 21-0 on Oct. 28. Last week: Beat Crenshaw, 31-7. Next: semifinals vs. Carson, Friday.

2. (1) Long Beach Poly (10-2)*
The lack of consistency from the quarterback positions was a season-long concern for coach Raul Lara. That turned into a nightmare Friday when the Jackrabbits were intercepted five times. The good news: Gerard Wicks returns next season. Last week: Lost to Santa Margarita, 49-16.

3. (5) Narbonne (9-3)
Junior quarterback Troy Williams had six total touchdowns, and the emerging Tray Boone had two more to propel the Gauchos to their third straight 50-point performance. They now face perhaps the city's top defense. Last week: Beat West Adams, 59-20. Next: semifinals vs. Dorsey, Friday.

4. (6) Dorsey (11-1)
The fast and talented Dons defense had six takeaways Friday, and USC-bound receiver Jaydon Mickens had four total touchdowns to go along with six receptions and 82 yards. Last week: Beat Birmingham, 45-13. Next: semifinals at Narbonne, Friday.

5. (2) St. John Bosco (8-4)*
Bosco twice cut its deficit to four on Friday but the defense couldn't come up with stops. Still, the Braves made their first playoff appearance since 2006, so they've got nothing to hang their heads about. Last week: Lost to San Clemente, 42-24.


November, 25, 2011
11/25/11
11:51
PM PT


UPLAND -- With his team uniting for the postgame huddle near midfield, Kenny Lawler looked up over his left shoulder, and uttered a rhetorical question.

"You guys see a 40 up on the scoreboard?" Lawler asked.

The answer: Yes, because Upland, No. 8 in the ESPN Los Angeles prep football rankings, blew past No. 17-ranked Charter Oak, 51-13, Friday night to advance to the Inland Division semifinals. The other answer: No, because Charter Oak -- which like Upland was averaging exactly 44 points heading into the game -- didn't hold up its end of the deal. The No. 3-seeded Highlanders will face No. 2-seeded Vista Murrieta, which handled Riverside J.W. North, 58-14.

"Charter Oak was putting points up on everybody," Upland coach Tim Salter said. "That got us excited."

Upland (12-0) got balanced production on offense, led by Lawler's 195 receiving yards and three touchdowns. Tailback Donta Abron Jr. rushed for 191 yards and four touchdowns in 32 carries and quarterback Nate Romine passed for 291 yards in only 15 attempts.

"We have a lot of talent across the board," Abron Jr. said. "Other teams don't know what we're going to throw at them."

The explosiveness was supposed to go both ways but, instead, a running clock was used at the start of the fourth quarter. Really, it was an unexpected one-sided affair. The Upland defense came up with a safety midway through the third quarter and, on the very next play from scrimmage, Romine threw it up to Lawler for a 48-yard touchdown and comfortable 30-6 lead.

Knockout punch delivered.

"They had a better football team than us," Charter Oak coach Lou Farrar said.


November, 21, 2011
11/21/11
6:26
PM PT
By
Dan Arritt
| ESPNLosAngeles.com
As we take the time to exhale in between the first and second rounds of the Southern Section football playoffs, let's recognize a few of the award winners from Friday night's opening rounds.

Best ending: On the verge of becoming the biggest upset victim of the first round, Rancho Cucamonga turned in the most improbable finish. Trailing by five points against Chino Hills in the Inland Division opener with just 6.6 seconds on the clock and 38 yards from the end zone, Marcus Bratton leaped in the air and hauled in a desperation touchdown pass to lift the Cougars to a 39-38 victory. Rancho Cucamonga drove 70 yards in the final 26 seconds. The Cougars survive to meet fourth-seeded Redlands East Valley in the second round Friday at 7 p.m. at Citrus Valley High School in Redlands.

Best individual performance: On a night when Corona Centennial's defense was knocked on its heels, running back Romello Goodman came to the rescue, rushing for a career-high 325 yards and five touchdowns in a 49-35 victory against visiting Redlands. The top-seeded Huskies were clinging to a seven-point lead entering the final quarter of the Inland Division first-round game, but Goodman gave them some breathing room with his fifth touchdown of the game. Centennial will host Chaparral in the second round, a team that upset the Huskies two years ago on its way to winning the Inland Division championship.

Most surprising performance: Moreno Valley wasn't expected to put up much of a fight against Cajon. After all, the Cowboys were the San Andreas League co-champions and were ranked No. 2 in the Central Division as recently as Week 7. Someone obviously forgot to pass that information along to the Vikings. Moreno Valley unleashed a heavy dose of senior running back Imeria Talia and never gave Cajon a chance in the 43-16 victory. Talia finished with 270 yards rushing in 40 carries and scored two touchdowns. He also helped keep the ball out of the hands of Cajon's playmakers, limiting their first-half time of possession to 4 minutes 47 seconds while the Vikings built a 28-8 lead. Moreno Valley will host fourth-seeded Colony at 7 p.m. in Friday's second round.


November, 10, 2011
11/10/11
11:23
PM PT


CHINO HILLS -- Charter Oak quarterback Travis Santiago put an end to concerns about his sprained ankle rather quickly Thursday night.

Hobbling and in pain, the senior barely warmed up before the game. When he walked onto the field for the first drive, he did so gingerly. But then, when Santiago hit Chris Gilchrist with a fade pass on the first play from scrimmage, the lingering doubts disappeared. Gilchrist stormed into the end zone untouched, and all was well with Santiago's psyche.

Santiago, usually a running threat, was not mobile but still excelled, passing for 288 yards and two touchdowns, and leading the Chargers to the Sierra League title with a 38-7 win against defending champion Chino Hills.

"I was a little bit stiff," said Santiago, who rolled his ankle by accidentally stepping on his helmet during Wednesday's walk-through practice. "That first play was exciting. I got the matchup that I wanted, threw it over the top and had my 6-foot-5 receiver do the rest."

Santiago took a seat early in the fourth quarter when No. 20 Charter Oak (9-1, 5-0) went up comfortably. He finished the regular season with 2,624 passing yards and 21 touchdown passes.

Sophomore sensation Kurt Scoby, who heading into Thursday was dealing with a left ankle sprain of his own, rushed for two second-half touchdowns and had 119 yards through the ground. His 40-yard scoring scamper with 10:22 remaining sealed it.

"We executed," Scoby said, "and were patient with the football."

Charter Oak's high-octane attack struck quickly early in the second half. Santiago found Aaren Vaughns for a 14-yard touchdown and, minutes later, Scoby ran for a 36-yard score, giving the Chargers a 24-7 advantage. After trailing by only three at the break, Chino Hills (6-4, 4-1) found itself in too big of a hole.


September, 21, 2011
9/21/11
6:22
PM PT
By
Dan Arritt
| ESPNLosAngeles.com
The first four teams in the Inland Empire top 10 face off against formidable opponents this week, none more intriguing then Norco hosting Upland on Friday night. J.W. North put itself on the map last week with a huge upset against Alemany. Will there be another J.W. North-like performance in the I.E. this week? Here's the best of the best.
A-Game
(I.E. rankings included)
[+] Enlarge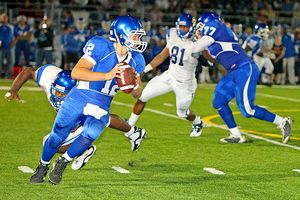 Courtesy of Rob HelfmanNorco sophomore quarterback Coltin Gerhart hopes to repeat the big game he had against Upland last season.
No. 7 Upland (3-0) at No. 3 Norco (2-0), Friday (7 p.m.)
– Norco sophomore quarterback
Coltin Gerhart
had a break-out performance in this meeting last season. As a freshman, he rushed for 80 yards and two second-half touchdowns to lift the Cougars to a
35-21
victory at Upland. Gerhart, the brother of Minnesota Vikings running back
Toby Gerhart
, is coming off the best performance of his high school career, rushing for 227 yards and three touchdowns in a 42-36 victory against No. 10 Etiwanda. Norco's defensive backs will have their hands full covering
Kenny Lawler
, one of the top receivers in the Southland. Look for the
Arizona State-commit
to be the difference.
Calpreps.com computerized projection: Norco 34, Upland 24.
ESPNLA: Upland 31, Norco 27.
B-List
Chaparral (0-2) at No. 1 Corona Centennial (1-1), Friday (7:30 p.m.)
– The Huskies appear to be back on track after defeating Mater Dei last Friday,
28-20
. They cut down on their penalties, didn't commit any turnovers other than a bad snap on the punt team and rallied back from a 13-point late third-quarter deficit. Chaparral may have found itself in the second half of a 31-19 loss to Oceanside two weeks ago. The Pumas had a bye last week to either work out more kinks or resume their bad habits. They remain dangerous, however, with
San Diego State-bound
quarterback
Matt Morin
leading the offense and
Arizona State-bound
strong safety
C.J. Dozier
heading the D.
Calpreps.com: Centennial 38, Chaparral 19.
ESPNLA: Centennial 31, Chaparral 21.
No. 2 Rancho Cucamonga (3-0) at Charter Oak (3-0), Friday (7 p.m.)
– The Cougars take a step up in competition for the fourth consecutive week, and another one-sided victory might actually get the attention of the coaches who vote for the
SS-Inland Division poll
, who have kept Rancho Cucamonga lodged at No. 5 since the start of the season. But the Cougars can't worry about that, they need to keep their focus on stopping Charter Oak sophomore running back
Kurt Scoby
, who's proving to be one of the region's best, averaging 138 rushing yards a game.
Calpreps.com: Rancho Cucamonga 31, Charter Oak 14.
ESPNLA: Rancho Cucamonga 45, Charter Oak 21.