Los Angeles Preps:

Kyle Murphy
February, 1, 2012
2/01/12
7:07
PM PT
SAN CLEMENTE -- The Kyle Murphy Show has finally come to an end, unless the Southland's top college recruit lives up to his hype, in which case the show may just be beginning.

Murphy unburdened himself Wednesday afternoon when he announced that he would attend Stanford instead of USC to continue his football career. The 6-foot-7, 275-pound offensive tackle signed his national letter of intent at 1:54 p.m., inside a temporary building on campus with his mother, Keri, sitting at his side.

Keri and Gary Murphy have an older son, Kevin Murphy, who is a left tackle for Harvard; he is 6-8, 310.

Murphy was one of the last major players still undecided. Actually, he was with his parents Tuesday evening when he finalized his decision, then told his parents after telling a couple of close friends.

The announcement came in front of a couple of hundred students, and a horde of cameras, with about two dozen classmates who were recognized for their signings or commitments to colleges to attend their athletic careers.

"I had to make my own decision," Murphy said afterward, when it was mentioned that teammate Christian Tober was trying to recruit him to USC to the end. Tober, a receiver and defensive back, will attend USC as a preferred walk-on.

"I just felt I connected with the people better at Stanford, I know the incoming class pretty well -- a lot of kids," said Murphy, who carries a 3.97 grade-point average is unsure of his major but will consider an engineering or economics degree.


November, 8, 2011
11/08/11
6:02
PM PT
By
Sean Ceglinsky
| ESPNLosAngeles.com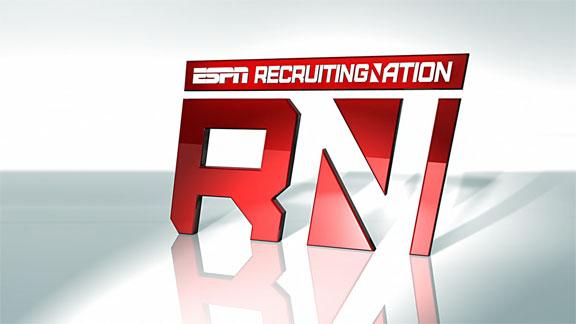 SAN CLEMENTE -- It's the same routine each and every time. Like clockwork.
Kyle Murphy
makes his way toward the line of scrimmage and the highly-touted offensive tackle from San Clemente checks out the opposing defense shuffling directly in front of him.
Locating where the pass-rushing specialist on end is positioned is the first order of business. Glancing nearby in the direction of the nose guard follows. Getting an all-important read on what the linebacking corps have in store, accurate or not, essentially prepares him for what comes next.
Murphy proceeds to set up in his standard three-point stance.
The snap awaits, mere seconds way. He lives for these moments.
"It gets ugly out there on the football field sometimes, because if you get in the way of Kyle Murphy, you're just asking for trouble,'' San Clemente coach
John Hamro
said.
With the ball set in motion, Murphy explodes from his customary crouch. Anyone standing in his way at the point of attack is left irrelevant. A devastating pancake block at the second level brings the crowd to its feet and clears a wide-open path for a teammate's run to the end zone.
It's the same routine each and every time. Like clockwork. Murphy's preparation is key. The senior rarely, if ever, takes a play off. And his determination this season has enabled him to emerge as one of the most sought-after unsigned recruits in the country.
"I play the game at full speed, all the time, it's the only way to get things done,'' Murphy said. "I have worked to get to this point, and with my size and strength, I feel like I can do things other players can't. I want to prove that I can go hold my own every time I step out on the field.''
October, 11, 2011
10/11/11
5:05
PM PT
By
Sean Ceglinsky
| ESPNLosAngeles.com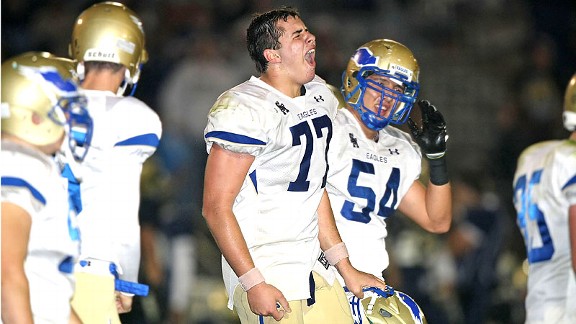 Courtesy Robert Russell Photography Max Tuerk has been sought after by most major Division I programs in the country.
RANCHO SANTA MARGARITA -- When he is off the football field,
Max Tuerk
is about as nice as they come. Well-mannered. Well-spoken. Well-liked.
Once he steps out on the gridiron and the Friday night lights begin to flicker, the whole Mr. Nice Guy approach immediately becomes a thing of the past.
Tuerk's demeanor changes, seemingly 180 degrees.
His nasty streak reveals itself. At that point, it is wise for opponents to avoid the 6-foot-5, 285-plus pound offensive tackle from Santa Margarita at all costs. Defensive lineman rarely fare well in one-on-one matchups with Tuerk. Linebackers stand little, or no, chance. Cornerbacks and safeties, forget about it, the senior is winning that battle every time.
"I like to think my parents brought me up the right way. They did," Tuerk said. "If the ball is snapped though, I don't know what happens to me. I turn into a totally different person. I really can't explain it. My mentality changes, or something. It's all business.''
Tuerk & Co. have recently been taking care of business. Heading into Thursday's Trinity League opener against host Santa Ana Mater Dei, the Eagles (5-0 overall) are on a roll. In fact, they recently moved up to No. 2 in the ESPNLosAngeles prep football Top 25 rankings.
In terms of being recognized as one of the premier programs the Southland has to offer, Santa Margarita was expected to take the next step this season. Many observers would not have imagined the transformation happening quite this fast for the Eagles.
Tuerk has been largely, though not solely responsible for directing the ascent. Still, the USC-committed recruit deserves some credit for the success thus far.
"You could tell that Max was truly something special from start,'' Santa Margarita coach
Harry Welch
said.
Given the fact he is considered a living legend in Southern California circles and has closely monitored Tuerk's development since signing on as the Eagles' head coach a few short years ago, the seal approval from Welch is about as good as it gets.
September, 27, 2011
9/27/11
6:56
PM PT
By
Sean Ceglinsky
| ESPNLosAngeles.com

MONROVIA -- As Ellis McCarthy approaches the line of scrimmage, he notices all eyes are on him. The quarterback makes sure to shoot a glance in the direction of the high-profile defensive tackle from Monrovia before looking over to the sidelines for instruction from the coaching staff.

Adjustments are made according to where McCarthy is lined up, on the right or left side, presumably in an effort to make sure the proper protection is implemented before the snap.

McCarthy, mind you, demands this type of attention ... on a consistent basis.

Opponents typically know what's coming next, but rarely can do anything to stop him.

The 6-foot-4, 300-plus pound senior adjusts his massive shoulder pads first. A quick check of his leg pads immediately follows. Buckling his chin strap is next before he digs his oversized cleats firmly into the turf and setting up in his customary three-point stance.

More often than not, McCarthy is calm, cool and collected. He is prepared mentally and physically for the ball to be finally set in motion and the proverbial battle in the trenches to ensue.

McCarthy is immediately met by the center and guard, each seemingly determined to keep him out of the backfield. Colliding with the tackle pulling off the end to help out doesn't deter him in the least. An undersized fullback serves as the last line of defense but offers little resistance as McCarthy achieves his goal: Sacking the quarterback for a loss. Just another momentum-changing play.


September, 11, 2011
9/11/11
10:26
PM PT
By
Sean Ceglinsky
| ESPNLosAngeles.com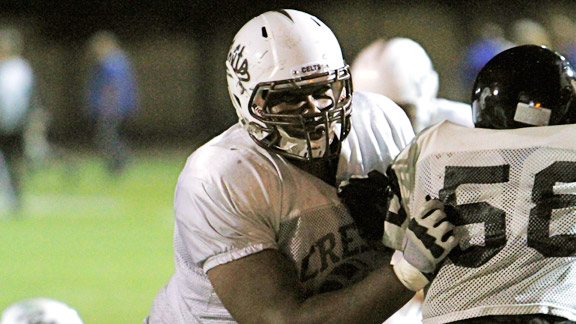 Crespi HS athleticsCrespi lineman Jordan Simmons is one of many talented players the Southland has to offer this season.
With Week 1 of the prep football season officially in the books, we thought it best to take some time and talk about some of the premier players the Southland has to offer. Make no mistake, the talent pool around these parts is as deep as it has ever been.
For all intents and purposes, the list compiled below could very well serve as an early season all-star team, for the offensive side of the ball, that is. As for next week, expect an in-depth review of the top defensive players from the greater Los Angeles area.
So, without further adieu, let's get things started.
Quarterback: Temecula Chaparral's
Matt Morin
. Some might argue that San Clemente's Travis Wilson or Arroyo Grande's Brent Vanderveen are more deserving of recognition. Rightfully so, considering both are top-notch prospects. We'll stick with Morin, for the time being. The 6-foot-2 left-handed gunslinger makes things appear easy, more often than not, even in the most extenuating circumstances. The Pumas figure to go as far as the San Diego State-bound senior will take them this season. It will be interesting to see if he makes us look good with his selection at this position. Who knows, maybe we do know what we're doing around here. Only time will tell.
Running back: South Gate South East's
Robert Lewis
. This one was a no-brainer. He possesses tremendous speed and elusiveness. Lewis is a threat to score each time he touches the ball, out of the backfield, or in the passing game. And while Lewis is occasionally knocked for being somewhat undersized, at 5-10, 160 pounds, he has proven to be as tough as they come when called upon to pick up tough yardage in between the tackles. The senior, heading to Southern Methodist University (SMU), gained close to 2,000 all-purposes yards a season ago and scored 18 touchdowns. It is reasonable to expect a similar effort this time around.
Receiver: Inglewood's
Derrick Woods
. The 5-11, 185-plus pound senior is one of the most sought-after unsigned recruits in the country. He has scholarship offers on the table from a number of different schools, most notably powerhouse programs such as Alabama, Florida and Michigan. Here at home, Woods is hot commodity as well. Seemingly all of the Pac-12 Conference colleges have expressed varied levels of interest in him, none as much as nearby UCLA and USC. Where he ends up is anyone's guess. This much is certain: Woods is one to watch.
Receiver: Lakewood's
Darius Powe
. Eerily similar to the aforementioned Woods, Powe is another high-profile prospect who has not made a decision about his immediate future. Boise State, Nebraska and Miami are a few of the many programs who have offered him. His physical presence appears to be the biggest selling point to his potential suitors. At 6-2 and close to 200 pounds, the senior typically creates matchup problems when he's on the field. It doesn't matter if Powe lines up outside or in the slot, he gives opposing cornerbacks and safeties fits from start to finish.
Receiver: Carson's
Darreus Rogers
. He entered the all-important spring and summertime camp circuits slightly underneath the recruiting radar. But by the time September rolled around, Rogers was about as highly touted as any individual on the West Coast. One problem: College coaches and scouts, alike, appeared to be on the outside looking in given the fact the 6-1, 195-pound senior had already committed to USC. In two games this season, Rogers has gained more than 200 yards receiving each time. Rogers is in a class of his own in the Los Angeles City Section.
Tight end: Orange Lutheran's
Christo Kourtzidis
. Cliché or not, this kid is a man among boys once he steps out on the field. The 6-4, 240-pounder sticks out like a sore thumb once he puts on his cleats, shoulder pads and helmet. Kourtzidis has the quickness to get off the line fast, well before most of his opponents. He has the speed to stretch the field vertically, as well. Downfield, Kourtzidis possesses above average hands. In space, he makes people miss. Not to be outdone, in the running game, the Florida State-bound senior is a more than capable blocker.
Guard: Encino Crespi's
Jordan Simmons
. Name one of the country's top college, and chances are, the program has offered the 6-5, 325-pound senior a scholarship. At last check, Simmons had more than 30 schools interested in his services. Auburn and Florida are players. Georgia and Notre Dame are in the mix. Count Ohio State and USC as fans of Simmons. The decision about his final destination, however, does not figure to made until after the season.
Guard: Anaheim Servite's
Travis Averill
. Skill position players typically earn the most attention for a Friars team that has had its share of talented prospects in the not so distant past. Averill has proven to be the one capable of breaking the mold. The 6-4, 275-pound senior, bound for Boise State, does many things well. He uses his hands and feet rather well in the passing game. When Servite runs the ball, Averill is powerful enough to move the pile with relative ease.
Center: Bellflower St. John Bosco's
Beau Boyster
. By some accounts, no single player is as valuable to his respective team as the guy who snaps the ball to the quarterback. Boyster is all that. And then some. The 6-4, 285-pound senior, heading to Arizona, will likely be an integral part to the success of the Braves this season. Keep in mind, expectations are sky high for this group. We are talking about a team that appears poised for a prolonged postseason run.
Tackle: San Clemente's
Kyle Murphy
. The 6-6, 270-pound senior is pleasant to be around off the field, a likeable kid. Once the ball is snapped, no one is nastier. Murphy has a mean streak, to be sure. Perhaps his on-the-field demeanor is what separates him from most of his peers. Whatever the case, the future is bright. Murphy has a number of offers -- too many to count. Auburn, Florida, Notre Dame and Michigan are interested. UCLA and USC are a couple of other options for him.
Tackle: Santa Margarita's
Max Tuerk
. Out on the edge, his sole responsibility is to protect the signal caller. Truth be told, few Southland individuals do it better than the 6-5, 285-pound senior. USC coach Lane Kiffin and his staff know this all too well. Accordingly, they intently pursued Tuerk until he gave them a commitment in late May. All signs point to him making an immediate impact at the next level. In the meantime, it's full steam ahead for Tuerk and the Eagles.
Sean Ceglinsky covers preps for ESPNLosAngeles.com. Follow him on
Twitter
.
August, 20, 2011
8/20/11
3:10
PM PT
San Clemente was dealt a blow to the program on Tuesday when coach
Eric Patton
was
removed from the program after 11 seasons
following a district investigation into alleged involvement in a slush fund scheme with an athletic apparel and equipment supplier. Oh yeah, this might be the best Tritons team ever. How it all plays out will be one of the more intriguing storylines of the year.
Offensive line coach — and athletic director —
Jon Hamro
has taken over in the interim.
"We have all gone through a pretty shocking crisis," Hamro said. "When you go through a crisis, that suddenly becomes a common bond that none of you had prior. That goes for players and coaches. It's no longer players and coaches, it's
us
. It can galvanize and sharpen our focus that maybe wasn't there. I think the players are more focused, more on a mission and more unified than I've seen in 20 years."
They have plenty of starters back, including two blue chip players: quarterback
Travis Wilson
(6-6, 215), who has committed to Utah, and left tackle
Kyle Murphy
(6-7, 275), who can pretty much have his choice. Murphy is the Southland's No. 1 recruit, and No. 26 nationally, according to the
ESPN 150
.
Here's a closer look at the Tritons:
Team
: San Clemente
Coach:
Jon Hamro, first year
2010 Record:
8-3, lost in first round of the Southern Section Pac-5 playoffs.
Returning starters:
14 total. Eight on offense. Six on defense.
Key players on offense:
QB Travis Wilson (Utah), OL Kyle Murphy, RB Herbert Gamboa, RB Mike Elesperu, C Connor O'Brien.
Key players on defense:
LB Herbert Gamboa, LB Chad Foster, DB Nick Pasquale, CB Christian Tober, DL Julian Perry.
Difference maker:
It's easy to look at Wilson (Utah) as the key guy, but Gamboa has the kind of speed that Servite utilized in 2009 with Chris Nichols and 2010 with Malik Felton. Guys that run the 100 meters in 10.71 seconds and can turn any touch into a touchdown can make a QB look awfully good.
Newcomers
: TE Chris French, a transfer from Saddleback Valley Christian.
Not to be missed:
San Clemente at Mission Viejo, Oct. 28. Mission Viejo will have already played Tesoro, the other team that will challenge for the South Coast League title; regardless of that outcome, this is the biggie. The following week, San Clemente will play Tesoro, but the importance of that game depends on what the Tritons do in this one. They haven't beaten Mission since 1999—Patton's first year as head coach.
Coach's comment:
Before he was replaced on Aug. 16, Patton said that the team could be good, but "for the first time in my career, we're looking at about 40 guys. The big question for us is staying away from injuries."
Final analysis:
The Tritons are still playing catch-up to Mission Viejo and hoping to win their first outright league title since 1999. Who knows how the team might react to the change in leadership. It could be positive — or it could be a disaster. San Clemente was always consistent under Patton. No matter the end result, this team should be wildly entertaining, and the success — if it stays healthy — will probably hinge on the team defense it plays.