Los Angeles Preps:

La Mirada
November, 13, 2011
11/13/11
4:19
PM PT
Defending champion West Covina is in prime position for a repeat after receiving the division's top seeding Sunday. The Bulldogs (9-1) didn't go undefeated because, really, they wanted to test themselves against Loyola, a Pac-5 playoff team. Coach
Mike Maggiore
hopes that loss pays dividends. Here's a breakdown of the division:
The seeds:
No. 1 West Covina, No. 2 Santa Fe, No. 3 Burbank Burroughs, No. 4 La Mirada.
Best first-round matchup:
Bonita (6-4) at Arcadia (8-2) -- Tailback
Cameron Griffin
is running the ball well for Bonita. Arcadia has the weapons -- namely
Myles Carr
and
Taylor Lagace
to be a scary team.
Toughest road:
La Mirada (6-4) -- If the La Mirada Matadores make it past Crescenta Valley -- and that's a big if -- they'll have to fend off either Bonita or Arcadia in the second round. That's the epitome of a grueling draw.
Potential shocker:
Muir (6-4) at No. 2 Santa Fe (6-4), first round -- It might not be that big of a shocker, given that Muir has the star power with
Kevon Seymour
, rated as one of the top athletes in the area, and running back
Tairen Owens
, a Washington commit.
Darkhorse:
Bonita (6-4) -- The Bearcats have won four straight and gave Hacienda League foe West Covina all it could handle in last year's championship game. Griffin is averaging 125 yards rushing over the last four games.
Final analysis:
The division breaks down quite simply -- there's West Covina and there's everybody else. Talented teams abound, but no one is as physical as Maggiore's bunch. Tailback/safety
Chris Solomon
, the reigning division player of the year, could very well take the honor again this season.
Championship prediction:
West Covina vs. Burroughs – Solomon isn't the only capable runner in West Covina's backfield.
Jimmy Frazier
has rushed for over 1,000 yards and
Aaron Salgado
is also approaching the four-digit mark. Unless Burroughs' running back
Zander Anding
can pull off another 300-yard game, there's too much power here for the Bulldogs not to make it two straight titles. Final score: West Covina 33, Burroughs 27.
Link to Southeast Division playoff bracket on CalPreps.com
June, 4, 2011
6/04/11
11:48
AM PT
Softball season ends tonight with the Southern Section's marquee game pitting third-seeded Corona Santiago, which is ranked No. 10 in the ESPN Rise national rankings, against Anaheim Canyon, a third-place team from the Century League that is ranked No. 27 nationally.
It's the last of four games scheduled for today. It brings together a program that is used to getting to the finals, Santiago -- which is playing for the title for the fourth time in eight years -- against a program that is in the championship for the first time.
The way the ball flew out of the park on Friday in the first three games of the weekend, it would be a huge surprise if several aren't hit Saturday: Canyon hit six in the semifinals against Los Alamitos, and Santiago's
Lauren Sweet
has 14 on the season.
Games are at
Barber Park
in Irvine.
Here is a look at today's schedule:
Division 1: Anaheim Canyon (23-7) vs. Corona Santiago (27-5), 6 p.m.
Tennessee-bound right-hander
Cheyanne Tarango
(23-7, 2.38) has had her ups and downs, but she's been good in the playoffs and may provide the edge in experience over Santiago sophomore
Erica Romero
(15-3, 1.39). Of course, this is unlikely to be a pitchers' duel. Santiago has 10 players who have homered, seven who who have homered at least twice, and five who have at least 20 RBIs. In addition to Sweet (.482, 43 runs, 46 RBIs), Santiago's lineup boasts
Randel Leahy
(.315, 24 runs, 22 RBIs, 8 HR),
Erin Rodriguez
(.342, 23 runs, 20 RBIs, 4 HR),
Danielle Hernandez
(.359, 20 runs, 31 RBIs, 4 HR) and
Yvon Minogue
(.422, 35 runs, 24 RBIs, 4 HR). Canyon has to like its chances after the way it beat Los Alamitos in the semifinals. Junior shortstop
Lauren Young
(.462, 27 runs, 36 RBIs), an Arizona commit, is complemented by
Kelly Stowe
(.381, 26 runs, 28 RBIs),
Shannon Bustillos
(.439, 11 runs, 24 RBIs) and
Taylor Swearingen
(.386, 19 runs, 26 RBIs).
Division 2: No. 4 Camarillo (25-7) vs. La Mirada (21-11), 3:30 p.m.
It has been 15 years since Camarillo played for a championship, and the Scorpions are trying to win for the first time since 1991. They are led by
Bianca Noriega
(.420, 22 runs, 27 RBIs) and
Kristie Dederick
(.392, 27 runs, 27 RBIs), and the leadoff tandem of
Hayley Chamberlain
(.396, 28 runs) and
Jenna King
(.384, 25 runs).
Sarah Shadinger
(18-5, 1.44 ERA) has 217 strikeouts in 141 innings. La Mirada finished third in the Suburban League. The Matadores, in the finals for the fifth time, haven't won since 1991. They've been getting it done in the playoffs with pitching; their last thee victories have come despite scoring only three runs.
Rochelle Sablay
(.451, 23 runs, 25 RBIs) and
Courtney Skogen
(.345, 21 runs, 24 RBIs) anchor the offense.
January, 27, 2011
1/27/11
11:04
PM PT
By
Sean Ceglinsky
| ESPNLosAngeles.com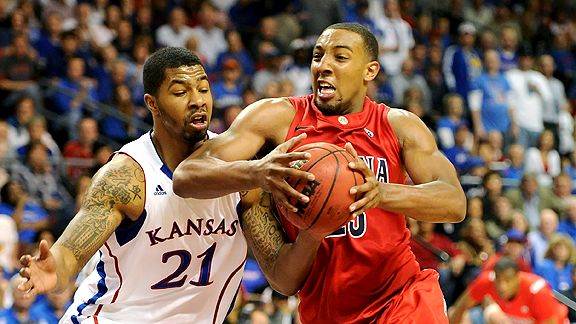 Ethan Miller/Getty ImagesLa Mirada graduate Derrick Williams has worked himself into the national spotlight, leading Arizona with sights set on the NBA.
There was a time, a few short years ago in fact, when it appeared as if
Derrick Williams
was somewhat of an afterthought on the college basketball landscape.
Those days, however, are long gone.
Williams worked his way into the rotation at Arizona as freshman last season and the La Mirada High graduate has been a fixture in the lineup for the Wildcats ever since. His averages of 19 points and eight rebounds per game this season are indications of his worth.
Heading into Thursday night's Pac-10 Conference game against UCLA on ESPN2, the future appears to be bright for the 6-foot-8 sophomore. His upside is seemingly limitless at the Division I level, and perhaps beyond, something that could not be said a while back.
To gain a better understanding of just how far Williams has come, perhaps it is best to take a brief look back at how it all began. Right here in the Southland, of course.
November, 4, 2010
11/04/10
9:51
AM PT
Carson (6-2, 3-0 Marine) at San Pedro (6-2, 3-0 Marine), Friday, 7 p.m.

Both teams have won four straight, including three in a row to start Marine League play. Carson escaped with a 26-23 victory over Narbonne last week, while San Pedro clobbered Gardena. It's been relatively easy work for the San Pedro Pirates, who have outscored league opponents 125-15. The task is considerably tougher this week against Justin Alo and Co.

West Covina (7-1, 4-0 Hacienda) vs. Diamond Ranch (5-3, 4-0 Hacienda) at Ganesha High, Friday, 7 p.m.

West Covina gets its chance to claim the Hacienda League title after taking down previously unbeaten Bonita last week. Standing in their way is Diamond Ranch, a team known for its furious mid-season charges. West Covina (300-plus yards rushing per game) runs the ball like no other team in the area. Quarterback George Johnson has only 73 pass attempts this year.

Chino Hills (6-2, 2-1 Sierra) at Charter Oak (5-3, 2-1 Sierra), Friday, 7 p.m.

With leader Claremont all but assured the Sierra League championship, these two have a postseason berth to play for. The winner is in, the loser might still be in -- but neither team would like to take that chance. Two-time defending CIF champion Charter Oak finds itself in unfamiliar territory. The Chargers have as many losses this season as they had in the previous three combined.

Norwalk (5-3, 3-1 Suburban) at La Mirada (5-3, 4-0 Suburban), Friday, 7 p.m.

Although it's not the monstrous Southeast Division No. 1 vs. No. 3 scenario that West Covina at Diamond Ranch presents, this matchup is still intriguing. La Mirada is ranked No. 4 -- just behind Diamond Ranch -- while Norwalk comes into the game at No. 7. It should be close, entertaining battle: Calpreps.com projects a 31-22 La Mirada victory.
September, 10, 2010
9/10/10
12:54
AM PT
By
Martin Henderson
| ESPNLosAngeles.com
When it comes to drama, the early leader on the season has to be La Habra. A week after taking Orange Lutheran to the wire -- the Highlanders had the ball in Lancer territory as time expired on a 21-17 loss -- La Habra sweated out a 23-17 victory Thursday over La Mirada from the OLu point of view.

The game matched teams that won section titles last season -- although La Habra has won three in a row -- and it didn't disappoint. It might have been skewed somewhat because La Habra held out star quarterback Cody Clements to give him additional time to rehabilitate his knee for next week's opponent -- No. 1 Servite. Not as if that won't create more tension for the Highlanders.

With the score tied at 17-17 Ahmad Avery scored on a five-yard run with 4:19 left, but the point-after try was missed. That meant La Mirada could win it with a touchdown and extra point. The Matadores (0-2) reached as far as the 13-yard line but couldn't advance the ball over the next three plays.

Credit goes to Matt Yackey and Alex Ibarra for successfully filling in at QB in a big game. Last week, coach Frank Mazzotta told his players that Yackey, in particular, was a senior quarterback like Clements who had worked hard all summer just like everyone else in the program. Five of nine passing for 59 yards, Yackey rewarded that faith by directing the game-winning drive 65 yards in nine plays.

Drake Griffin rushed for 116 yards, including a 43-yard touchdown, Vai Peko returned a kickoff 95 yards for a score, and La Habra continued to raise the bar when it comes to nailbiters.