Los Angeles Preps:

La Puente
November, 13, 2011
11/13/11
4:05
PM PT
The Covina Colts received the top seeding Sunday, a mere formality considering that they'd been the division's top-ranked squad for quite some time. Valle Vista League winner Covina (9-1) opened the season with a six-point loss to rival and defending Southeast Division champion West Covina but rolled the rest of the way. Coach
Darryl Thomas
has his group in good position. Here's a breakdown of the division:
The seeds:
No. 1 Covina, No. 2 Arroyo, No. 3 San Dimas, No. 4 Monrovia.
Best first-round matchup:
Pomona (6-4) at Monrovia (7-3) -- Pomona, which lost to the top seed by only two points, could very well leave Monrovia with a victory if the Wildcats don't play inspired.
Toughest road:
Monrovia (7-3) -- It appears as if defending Mid-Valley champion Monrovia will have to go through top-seeded Covina in the third round. That's a lofty task.
Potential shocker:
Maranatha (8-2) at San Gabriel (6-4), first round -- The possibility for an upset is there any time an elite-level quarterback is involved. The Maranatha Minutemen have that in junior
Andrew Elffers
.
Darkhorse:
Azusa (7-3) -- The Montview League champion Aztecs have won seven straight and have already seen their potential second-round opponent, San Dimas.
Final analysis:
It's hard to imagine anyone beating the Colts, especially if quarterback
Billy Livingston
stays healthy. They will likely have to go through defending champion Monrovia but the Wildcats, despite the presence of top lineman
Ellis McCarthy
, have been very beatable in 2011. Second-seeded Arroyo, behind record-setting signal caller
Steven Rivera
, should have no problem advancing out of the lower bracket.
Championship prediction:
Arroyo vs. Covina -- The Colts will sneak past Monrovia in one semifinal and ride that momentum. Arroyo's high-powered attack will find difficulty against Covina's tough defensive front. Final score: 31-20, Covina.
Link to the Mid-Valley Division bracket on CalPreps.com
November, 9, 2011
11/09/11
6:01
PM PT
League championships are up for grabs across the region this week. Here are Thursday night's top five games in south Los Angeles County:

Cabrillo vs. No. 5 Long Beach Poly at Veterans Stadium, Thursday, 7 p.m. -- As the Jackrabbits take the final turn toward a second consecutive Moore League title, it's only fitting that ESPN High School will recognize the defending national champion Long Beach Poly girls' track team during halftime Thursday. Football coach Raul Lara, meanwhile, can only hope that his team -- specifically the defense -- sprints through the finish line. A win would give Poly (8-1, 5-0) sole possession of first place and likely secure a high seeding in the Pac-5 Division bracket. Upset-minded Cabrillo (7-2, 4-1) has the division's leading passer, senior Derek Stewart (2,116 yards, 19 touchdowns).

Diamond Ranch at West Covina, Thursday, 7 p.m. -- When West Covina coach Mike Maggiore had his team take on Loyola earlier this season, it was with games like this in mind. West Covina (8-1, 5-0) will stay home this time but the hungry Diamond Ranch Panthers (5-4, 4-1) will try everything to unseat the defending Hacienda League champions. The Bulldogs, ranked No. 1 in the Southeast Division, can go perfect in league play for the second straight year.

La Puente vs. Azusa at Citrus College, Thursday, 7 p.m. -- The Mid-Valley Division poll that the CIF-Southern Section released before the season didn't include the La Puente Warriors (9-0, 6-0). Well, look at the Warriors now. They have a chance to finish with an unblemished mark and their first Montview League title since 2007. It won't be an easy task against Azusa (6-3, 6-0), the three-time defending league titlist.

El Monte at Arroyo, Thursday, 7 p.m. -- El Monte, coming off a thrilling win against crosstown rival South El Monte, has plenty of momentum. The Lions (7-2, 4-0) scored two touchdowns in the final 43 seconds to remain in contention to win its first league championship since 1979. Two-time defending champ Arroyo (8-1, 4-0) is potent behind quarterback Steven Rivera (2,512 passing yards, 33 total touchdowns).

Schurr at San Gabriel, Thursday, 7 pm. -- The San Gabriel Matadors (5-4, 4-0) can win the Almont League outright with a victory against visiting Schurr (3-6, 3-1). A Schurr win, combined with an Alhambra win at Bell Gardens, would create a three-way tie atop the standings.
November, 3, 2011
11/03/11
3:52
PM PT
Big league implications throughout the Southland this week. Here are Friday night's top five games in south Los Angeles County: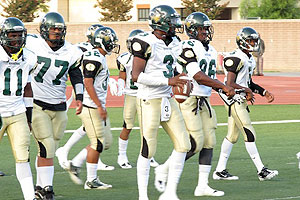 Blair Angulo/For ESPNLA.comNarbonne quarterback Troy Williams (3) looks to lead the Gauchos to a victory over undefeated San Pedro on Friday.
No. 19 Narbonne at No. 20 San Pedro, 7 p.m.
-- For quite a while now, Narbonne coach Manual Douglas has been eying the top seeding in the City Section Division 1 playoffs. The time has come for his Gauchos (6-2, 3-0) to prove they deserve it. The Marine League title goes to the winner. Narbonne's uptempo offense averages nearly 32 points, but San Pedro (8-0, 3-0) hasn't given up more than 20 in any game this season.
Damien at No. 23 Charter Oak, 7 p.m.
-- Head over to Covina if you want some touchdowns. Or stay away if you like defensive stops. Over their last six games, the Damien Spartans (6-2, 2-1 Sierra) have given up an average 27 points. That's music to quarterback Travis Santiago's ears, for sure. Charter Oak (7-1, 3-0) has one of the most explosive attacks in the region, averaging 42 points.
Garfield vs. Roosevelt at East L.A. College, 7:30 p.m.
-- The longtime rivals meet for the 77th time, and the game is expected to be played in front of another capacity crowd of 20,000. The East Los Angeles Classic is one of the area's most treasured traditions, dating to 1926 and spanning generations. It's really a toss-up this year: Garfield is 4-5 overall but 4-1 in the Eastern League; Roosevelt is 5-3 and 3-1.
La Puente at Duarte, 7 p.m.
-- With a win, the unblemished La Puente Warriors (8-0, 5-0) can intensify the magnitude of next week's gigantic matchup against three-time defending Montview League champion Azusa. The Warriors are led by quarterback Ivan Vasquez and his 19-1 touchdowns-to-interceptions ratio. Duarte (6-2, 4-1) is still mathematically in contention for the league title.
Downey at Dominguez, 7 p.m.
-- The streaking Dominguez Dons (6-2, 3-0) have won six straight, finding a groove that went missing in blowout losses to Crespi and Redlands East Valley. A win against Downey should set up a San Gabriel Valley League championship game next week at Paramount, which is favored against Warren.