Los Angeles Preps:

La Serna
December, 10, 2011
12/10/11
12:03
AM PT
By
Pedro Moura
| ESPNLosAngeles.com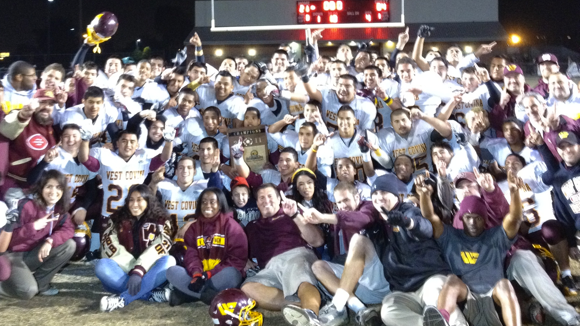 Pedro Moura/ESPNLA.com
West Covina celebrates its second consecutive CIF-SS Southeast Division championship, which came Friday in a dominating 84-21 win over La Serna.
WHITTIER -- Thursday night, roughly 24 hours before Friday's CIF Southern Section Southeast Division title game between favored West Covina and upstart La Serna, West Covina star running back
Chris Solomon
and his father went to a local shop to get a custom hat designed and made.
West Covina, it read on the front. 2010-2011 back-to-back to champs.
His number -- 20 -- was on the right side and 'Solomon' was written on the back. Solomon, a senior being recruited by the likes of Arizona State and Arizona, was the only player to have one, but he told all his teammates during pregame drills that his plan was to run over to his dad in the stands at the final whistle and wear the hat throughout the postgame celebrations -- just like the professionals do.
It was that kind of championship game for West Covina. There wasn't even a thought that they could lose Friday's game against La Serna. And the Bulldogs didn't come close, pulling off a monstrous 84-21 win at California High to finish off a championship run in which they were never challenged in the playoffs.
"Thank God we won," Solomon said afterward, laughing. "And I'm glad I'm wearing this hat."
As his coach,
Mike Maggiore
, talked to the team afterward in an emotional final huddle for the 2011 squad, Solomon kept taking off the hat, looking at it, and putting it back on again. It was as if he was slowly realizing that his goal for the past 12 months had just been met -- forcefully and in incredible fashion.
"We knew we were going to dominate," Solomon said. "But we didn't know we were going to dominate like this."
Truthfully, the Bulldogs (13-1) dominated to levels never before seen, breaking the all-time record for points scored and margin of victory in a CIF final. La Serna (10-4), making their first CIF title appearance in 44 years, didn't have a chance after the first half, when they trailed, 49-7. But Lancers coach
Margarito Beltran
refused a running clock until the fourth quarter, and West Covina kept piling it on.
December, 7, 2011
12/07/11
11:13
PM PT
Chris Solomon
and
Jimmy Frazier
see the finish line and the West Covina running backs plan to sprint through it.
Their 2010 CIF championship rings need some company, after all.
"Our whole team is giving its all to try to get this ring," said Solomon, who rushed for 290 yards and five touchdowns in only 11 carries against La Mirada last week.
Top-seeded West Covina (12-1), a win away from repeating as Southeast Division champion, faces La Serna at California High on Friday. Solomon -- a senior with offers from Arizona, Arizona State, Colorado and Nevada -- and Frazier figure to be at the center of it. They have combined for 2,419 rushing yards and 31 touchdowns.
"Jimmy Frazier is a starting running back at most schools," Bulldogs coach
Mike Maggiore
said. "He's talented and works hard, averaging over 13 yards per carry. But no matter who is carrying the ball, our offensive line is blocking and opening holes."
The scary thing for underdog La Serna (10-3) is that Solomon has fully recovered from a sprained ankle that limited him during the season. The scarier thing? Frazier might be the bigger threat.
"When my boy Chris went down, I felt like it was my job to step up and take charge," Frazier said.
The Bulldogs don't mask their identity -- they thrive on the ground (332 rushing yards per game) and wear down opposing defenses. Making it all the more impressive is the fact that they lost four starters from last year's offensive line.
"The new kids stepped up and competed at a high level," Maggiore said. "This is great for the school and the community. The kids have worked tremendously hard, have earned the chance to come back and defend our championship. This is special."
Blair Angulo covers preps for ESPNLosAngeles.com. Follow him on Twitter.
December, 7, 2011
12/07/11
6:54
PM PT
SOUTHEAST DIVISION CHAMPIONSHIP

No. 1-seeded West Covina Bulldogs (12-1) vs. La Serna Lancers (10-3)

When: Friday, 7 p.m.

Where: California High School (Whittier)

Broadcast: Live on FoxSportsWest.com

How they got here: Top-seeded West Covina beat Norwalk (38-8), Pasadena (55-12) and fourth-seeded La Mirada (63-34). Unseeded La Serna beat Mayfair (47-34), Los Altos (42-38) and Muir (28-3).

School history: This will be West Covina's fifth all-time and second consecutive title game appearance. The Bulldogs captured the divisional championship last year with a 37-33 win over Hacienda League rival Bonita. This is La Serna's first divisional title game since 1967.

Key players: West Covina is led by the reigning division player of the year, senior RB/DB Chris Solomon (290 rushing yards and five TDs last week), and senior tailback Jimmy Frazier (115 yards per game, 16 TDs on the season). For the Lancers, senior running back OJ Medina (120 yards per game, 20 TDs) and senior defensive lineman Craig Jones lead the charge.

Bulldogs' take: "It feels good to compete for another championship. We put last year behind us and now we're just focusing on this year. We're hoping to get another ring and continue the legacy at West Covina." - Solomon

Lancers' take: "Our team is mostly made up of young guys. They've been stepping up after a couple of injuries. We've pulled through." - Medina

Prediction: West Covina 35, La Serna 27
November, 30, 2011
11/30/11
9:09
PM PT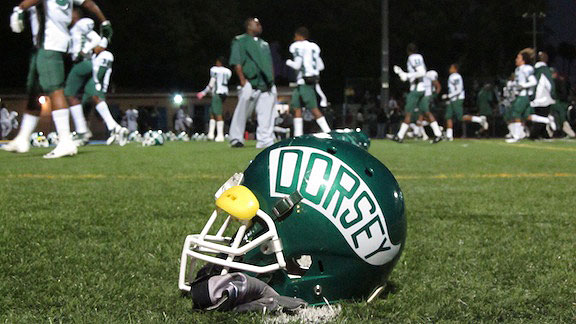 Blair Angulo/For ESPNLA.comDorsey gets its chance for respect Friday when it takes on Narbonne in the City semifinals.
On a Saturday earlier this month, the Dorsey Dons were in the film room when coach
Paul Knox
walked in ready to share two bits of information. The good news: Dorsey had received one of four seedings for the City Section Division I football playoffs. The bad: The Dons were seeded third despite winning their league and losing just once, on the road to highly regarded Redlands East Valley.
Adding salt to the wound was the fact that Narbonne, the Marine League runner-up to top-seeded San Pedro and loser of three games, received the No. 2 seeding.
Coliseum League champion Dorsey (11-1) gets a chance to state its case under the lights Friday in Harbor City.

Allison
"We want to make skeptics believers," Dons defensive end
Jeremiah Allison
said.
It doesn't promise to be an easy task. Narbonne (9-3) averages 48 points per game behind dual-threat quarterback
Troy Williams
, one of the city's top junior prospects. Williams touts single-game highs of 385 passing yards and 124 rushing yards this year.
"I know he has a pretty good feet on him," said Allison, who has been credited with 14 sacks.
But Williams is aware of what he and the explosive Gauchos offense is up against. The Dons are quick defensively and haven't given up more than 26 points in a game this season. On average they give up only 10.

Williams
"It's the best defense we've see all year," Williams said.
Kickoff is set for 7 p.m., with the winner advancing to the Dec. 10 championship game at East L.A. College. Marine League foes San Pedro (12-0) and Carson (7-5) square off in the other semifinal.
Here are four other top third-round playoff games in south Los Angeles County on Friday (with ESPN Los Angeles prep football Top 25 rankings):
City: Carson (7-5) at No. 11 San Pedro (12-0), 7 p.m.
-- The top-seeded Pirates won 21-0 when these two met in Carson on Oct. 28. Senior quarterback Kenny Potter looks to lead San Pedro to its first title-game appearance since 2008. The Colts, meanwhile, hope to get back to the championship game after losing to Crenshaw at the Coliseum last year.
Western: No. 20 Santa Monica (11-1) at No. 22 Culver City (9-3), 7:30 p.m.
-- A chance at redemption for Culver City, which wasn't even expected to make it past Gardena Serra in the opening round. The Centaurs lost to Santa Monica, 17-14, during the regular season. The Vikings pulled that one out thanks to a pair of late-game takeaways.
Southeast: Muir (8-4) vs. La Serna (9-3) at California High, 7 p.m.
-- What resolve the Muir Mustangs have shown without coach Ken Howard, who has been on administrative leave since Week 4 following
an on-campus incident with a student
. Muir has won its two playoff games by scores of 39-7 and 48-0.
Mid-Valley: Monrovia (9-3) vs. Covina (11-1) at Covina District Stadium, 7 p.m.
-- After this one is over, either defending division champion Monrovia or top-seeded Covina will be eliminated. The Wildcats, behind big defensive tackle Ellis McCarthy, have been playing their best football lately and could give the Colts a serious scare.
November, 27, 2011
11/27/11
10:50
PM PT
Long Beach Poly fell out of the region's top spot for the first time this season following its second-round loss to Santa Margarita. Last week's second- and third-ranked teams -- St. John Bosco and Charter Oak, respectively -- also stumbled. Now, three of the region's top four squads come from the City Section. Marine League champion and top-seeded San Pedro is the only remaining undefeated team in the south Los Angeles County top 10 rankings heading into the third round of the playoffs:

1. (4) San Pedro (12-0)
The top-seeded Pirates eliminated the two-time defending City Section Division I champs Friday, securing another matchup with fifth-seeded Carson. The Marine League champs defeated the Colts 21-0 on Oct. 28. Last week: Beat Crenshaw, 31-7. Next: semifinals vs. Carson, Friday.

2. (1) Long Beach Poly (10-2)*
The lack of consistency from the quarterback positions was a season-long concern for coach Raul Lara. That turned into a nightmare Friday when the Jackrabbits were intercepted five times. The good news: Gerard Wicks returns next season. Last week: Lost to Santa Margarita, 49-16.

3. (5) Narbonne (9-3)
Junior quarterback Troy Williams had six total touchdowns, and the emerging Tray Boone had two more to propel the Gauchos to their third straight 50-point performance. They now face perhaps the city's top defense. Last week: Beat West Adams, 59-20. Next: semifinals vs. Dorsey, Friday.

4. (6) Dorsey (11-1)
The fast and talented Dons defense had six takeaways Friday, and USC-bound receiver Jaydon Mickens had four total touchdowns to go along with six receptions and 82 yards. Last week: Beat Birmingham, 45-13. Next: semifinals at Narbonne, Friday.

5. (2) St. John Bosco (8-4)*
Bosco twice cut its deficit to four on Friday but the defense couldn't come up with stops. Still, the Braves made their first playoff appearance since 2006, so they've got nothing to hang their heads about. Last week: Lost to San Clemente, 42-24.


June, 7, 2011
6/07/11
5:20
PM PT
A list of the players from south Los Angeles County high schools who were selected in the draft's second day (rounds 2-30):
ROUND 4
140. St. Louis, SS
Kenny Peoples-Walls
(Los Angeles, Calif./Westchester)
144. Texas, OF
Desmond Henry
(Compton, Calif./Centennial)
ROUND 8
270. Tampa Bay, 1B
John Alexander
(Glendora, Calif./Glendora)
ROUND 10
314. Los Angeles Dodgers, LHP
Jamal Moore
(Los Angeles, Calif./Westchester)
330. Tampa Bay, RHP
Jacob Faria
(Cerritos, Calif./Gahr)
ROUND 12
372. New York Mets, LHP
Kenny Mathews
(Diamond Bar, Calif./Diamond Bar)
ROUND 13
402. New York Mets, RHP
Robert Gsellman
(Los Angeles, Calif./Westchester)
ROUND 14
448. Minnesota, LHP
Adam McCreery
(La Verne, Calif./Bonita)
ROUND 19
583. Florida, 2B
Connor Burke
(Whittier, Calif./La Serna)
ROUND 24
728. Cleveland, 3B
Taylor Sparks
(Bellflower, Calif./St. John Bosco)
ROUND 29
880. Houston, OF
Wallace Gonzalez
(La Puente, Calif./Bishop Amat)
December, 4, 2010
12/04/10
11:39
PM PT
By
Tim Haddock
| ESPNLosAngeles.com


LA VERNE -- The Bonita offense amassed only 30 yards and had the ball for less than three minutes in the first half, but managed to pull out a 21-16 win over La Serna in the semifinals of the CIF Southern Section Southeast Division playoffs on Saturday night.

Bonita's Giomani Johnson and K.C. Huth teamed up on a pair of plays that resulted in one touchdown and a turnover to keep the game close.

Bonita coach Eric Podley said his team should have been down 40-0 the way it played in the first half. Big plays on special teams and defense kept the game tight. The first one came midway through the first quarter.

After a 17-play, seven-minute drive to open the game, La Serna set up for a 31-yard field-goal try. Huth blocked the attempt and Johnson scooped up the ball, taking it 60 yards for the first touchdown of the game.

"The defense was out there forever," Podley said. "The whole game was a real ugly game. We stayed in it."

La Serna tied the score at the end of the second quarter. Andrew Rosales caught an 11-yard touchdown pass from Andrew Buenrostro with 1:09 to play in the first half.


December, 3, 2010
12/03/10
2:02
PM PT
City Section Division I: Taft (9-3) at Carson (10-2), Friday, 7 p.m.
The Toreadors got it done on the road last week, advancing to the semifinals with a 34-18 upset victory at Dorsey. Taft will have to get similar production from Arizona State-bound quarterback Michael Bercovici and receiver Mike Thomas to unseat top-seeded Carson and duel-threat Justin Alo.

Western Division: Paso Robles (10-2) at Serra (12-0), Friday, 7 p.m.
We've pointed this out before, but you've got to feel for Paso Robles in this one. The Bearcats have to travel more than 200 miles and endure a bus ride that should last no less than four hours. Oh, and if that wasn't grueling enough, they have to contain George Farmer, Marqise Lee and Co. once they get to Gardena. Ouch.

Southeast Division: West Covina (11-1) vs. Mayfair (8-4) at Bellflower High, Friday, 7:30 p.m.
Is this the one? Will West Covina, Hacienda League champion and winner of 11 straight, finally run out of steam? If it's going to happen, Mayfair has it lined up in its favor. Throw out the intimidation factor -- the Monsoons' first three games were against Chino Hills, Los Alamitos and Lakewood.

Southeast Division: La Serna (11-1) at Bonita (11-1), Saturday, 7 p.m.
Remember when an undefeated Bonita team was overwhelmed on the road at West Covina? The loss proved to be the difference in the Hacienda League. Obviously, the Bearcats want to make things right with a rematch in the final, but they'll have to get through Del Rio League champ La Serna first.
November, 22, 2010
11/22/10
11:17
AM PT
A number of CIF divisional championships were up for grabs over the weekend. Here are the results involving schools in the south Los Angeles region:
Southern Section girls volleyball
Long Beach Poly won its first CIF title in a decade, beating Redondo Union, 25-20, 16-25, 25-23, 25-22, on Saturday. Poly defeated Santa Barbara, Edison and No. 3-seeded Los Alamitos on the way to the Division I-AA championship. The Jackrabbits turn their sights to state after receiving the No. 2 overall seeding in that bracket.
Glendora St. Lucy's overcame a familiar foe to claim its first-ever girls volleyball title Saturday, beating rival Chino Hills, 22-25, 25-23, 26-24, 25-20. St. Lucy's, which shared the Sierra League title with Chino Hills, got the No. 1 seeding in Division II regional pairings. First-round play begins Tuesday.
Another first-time winner in Division II-A, as Downey swept Troy in a tight one, 28-26, 25-22, 25-23. The San Gabriel Valley League champions lost only once all season -- on Sept. 11 to Division I-AA No. 3-seeded Los Alamitos -- then went on to win 25 straight. Troy also had just one other loss heading into the match.
Chadwick capped off its undefeated season (28-0) with a four-set victory against Pasadena Poly to clinch the Division III-AA championship. The Dolphins captured the first two sets rather comfortably, 25-14, 25-15, before Poly responded with a 13-25 win in the third. Chadwick buckled down in the fourth, coming back from a 12-11 deficit to win 25-19.
Lynwood Firebaugh swept San Gabriel Academy, 25-13, 25-17, 25-22, to secure the Division V-A championship.
City Section girls volleyball
No. 2-seeded Carson came all the way back from an 0-2 deficit just to come up short in the Division I championship, losing to No. 1 Granada Hills, 25-19, 25-12, 22-25, 23-25, 15-12. In Division II play, No. 3-seeded Palisades swept No. 4-seeded Sun Valley Poly, 25-15, 26-24, 25-15.
Southern Section boys water polo
No. 2-seeded La Verne Damien fell to No. 1-seeded Laguna Beach, 11-9, in the Division III championship on Saturday. La Serna defeated Pasadena Poly, 17-9, to win the Division V crown.
No. 2-seeded Nogales got six goals from Daniel Morales in a slight upset of top-seeded Santa Ynes, 15-8, to claim its first-ever boys water polo Division VII championship. Nogales (31-2), the Valle Vista League champs, won 21 straight.
November, 1, 2010
11/01/10
3:20
PM PT
1. West Covina coach
Mike Maggiore
seemed to be caught off guard when I asked him if his team's 55-21 win over Bonita was surprising. He paused for a second, then admitted he didn't expect the Bulldogs to post 55 points. He might even thrown a smile or two in there. And for good reason: West Covina, the top-ranked squad in the Southeast Division, had seven players combine to rush for 400-plus yards. Running is what the Bulldogs do best, but the fact that they did it against previously-unbeaten Bonita (7-1) was surprising. Just ask Maggiore.
2. Facing the top seven teams in last week's L.A. South rankings was downright spooky, if not unfair. Serra, Bishop Amat, Crenshaw, Long Beach Poly, Lakewood, Dorsey and Compton Dominguez each posted dominant victories, outscoring opponents by a combined 327 points. That's an average margin of nearly 47 points -- or nearly seven touchdowns -- per game.
3. This week's breakout performer award goes to Bishop Amat's
Rio Ruiz
, the junior quarterback who is best known for his work on the baseball diamond. Ruiz threw for 346 yards and five touchdowns on 22-for-24 passing in Amat's 52-7 home win against Sherman Oaks Notre Dame. The Lancers (9-0) hit the road Nov. 12 for a highly anticipated Serra League matchup against Alemany.
4. Things got ugly quick in Whittier on Friday. Del Rio League-leader La Serna (7-1) held rival Pioneer (4-4) to
just 63 yards of total offense in a 70-0 rout
. Tailback
Richard Alvarez
ran for five touchdowns and had only one carry after halftime.
5. Remember the Carson Colts? If you don't, Carson was the trendy City Section pick before falling in back-to-back losses to Santa Margarita and Mission Viejo. The Colts are in the picture again following
a 26-23 victory over Narbonne
. Crenshaw and Dorsey are -- and should be -- the clear-cut City favorites, but keep an eye out for Carson (6-2).