Los Angeles Preps:

Lane Kiffin
January, 20, 2012
1/20/12
10:48
AM PT
By
Sean Ceglinsky
| ESPNLosAngeles.com
LOS ANGELES -- Patience is a virtue, as they often say, and
Jaydon Mickens
can attest to that much. The old adage, in fact, accurately describes how the Los Angeles (Calif.) Dorsey senior has attempted to recently approach the whole recruiting process.
Mickens has carefully weighed his options. And in doing so, the 5-foot-9 and 170-plus pound athlete has emerged as one of the nation's more sought-after unsigned recruits around and it appears as if his final destination could end up being Oklahoma State.
"I visited the Cowboys last weekend, liked what they had to offer and they're my leader now,'' Mickens said. "Things have been crazy for me lately, a lot of schools have interest in me. I almost rushed into some things, but am glad I waited to my pick.''
He gave a verbal commitment to USC, initially. Something happened along the way though. The lines of communication, unfortunately, broke down between him and the Trojans. Somewhat surprisingly,
Lane Kiffin
& Co. were no longer an option.
With the window of opportunity seemingly open once again, several programs stepped up their efforts to land him, mostly from the Pac-12 Conference.
"It didn't seem like the Trojans had big plans for me, I didn't think it was going to be a good fit, that's why I started to look at other schools,'' Mickens said.
Washington was once considered as a major player, as recently as a week ago. The Huskies, however, have been put on the back-burner. At least temporarily.
Oregon is in the midst of making a late run to secure a commitment from Mickens. He traveled North to Eugene on Friday morning for a visit with the Ducks.
Plans are in the works for a recruiting trip to Washington State on Jan. 28. With new coach
Mike Leach
in the mix, and the offensive system he brings to the table, you can't count out the Cougars. Mickens' game appears tailor-made for playing in Pullman.
Playing the waiting game has its advantages, apparently.
"Things happen for a reason, and I have a tough decision to make, but I'm not worried about things,'' Mickens said. "I plan on making my choice on signing day.''
"If I had to pick one, like I said before, it's Oklahoma State, that program brings a lot to the table. My next two visits are going to be big though. I would say that Oregon, Washington State and Washington are all about tied for second right now. They're all real close.''
Sean Ceglinsky covers preps for ESPNLosAngeles.com. Follow him on
Twitter
.
December, 10, 2010
12/10/10
11:36
PM PT
By
Sean Ceglinsky
| ESPNLosAngeles.com
GARDENA -- Domonique Vaughn and Tavita Tua'au did their best to hide the oversized bucket of Gatorade from Scott Altenberg. And it nearly worked, that is, until the Serra High football coach saw the two lineman coming in his direction.
Altenberg avoided most of the messy downpour, but the celebration took place nonetheless after the Cavaliers defeated visiting Arroyo Grande with relative ease on Friday night, 35-10, to successfully defend their Southern Section Western Division title.
"I tried to dip and duck at the last second, but what the heck, a little Gatorade never hurt anyone,'' Altenberg said. "What a win. What a feeling.''
Serra's George Farmer was feeling pretty good during the postgame festivities as well. After all, the senior wide receiver, one of the top recruits in the country, committed to USC prior to the kickoff.
"USC is a good fit for me, the campus is right in my backyard and I feel comfortable with the coaching staff,'' Farmer said. "I spoke with Lane Kiffin before the game tonight and told him that I was a Trojan.''
Arroyo Grande's
Seth Jacobs
fumbled to open the fourth quarter and
Woodson Greer
recovered the ball at the Eagles' 30-yard line. And it didn't take long for Serra to score as
Conner Preston
connected with
Marqise Lee
on a 17-yard touchdown to give the Cavaliers a 35-3 lead with 8:34 remaining in the game.
With the game's outcome no longer in doubt,
Brent Vanderveen
threw a 23-yard touchdown pass to
Garrett Owens
to cut the insurmountable Serra lead to 25 points with 3:24 left in the fourth quarter.
"We came into this game knowing that we weren't going to lose,'' Farmer said. "Winning back-to-back titles was our goal all season and we finally accomplished it. We're the best, No. 1.''
Farmer appeared to score in a 60-yard punt return midway through the third quarter, but a penalty nullified the long touchdown. Instead, Serra started at its own 18-yard line and began mounting a drive that ultimately stalled when Preston was stopped on a fourth and seven at the Eagles 25-yard line.
Staked to 21-3 lead in the second quarter, the Cavaliers refused to slow down their high-powered offense. Accordingly, Preston found Lee wide open for a 15-yard touchdown to not only increase the lead to 25 points with 6:43 left in the first half, but also essentially break the spirit of Arroyo Grande.
"I mean, who goes out and wins two championships in-a-row? We do.'' Lee said. "We made sure to stay level-headed all year long, now it's time to enjoy things. Our hard work paid off.''
For as bad as things were for the Eagles in the first half, they could have been worse. The Cavaliers moved the ball down to the Arroyo Grande 10-yard line with less than a minute left in the second quarter, but they failed to capitalize on the opportunity when
Francisco Ollouqui
missed a 27-yard field goal.
When all was said and done, the Eagles had 48 yards of total offense and managed mere two first downs in the first half.
In comparison, Serra's
Shaquille Richard
gained 109 yards on the ground by himself over the course of the opening 24 minutes of play. Arroyo Grande had no answer for the senior.
"I owe a lot to my line, they were opening up the holes, all I had to do was run through them, it was that easy,'' said Richard, who finished with 162 yards on 23 carries.
Following a first quarter punt, Arroyo Grande received the ball back on the Serra 37-yard line. Three relatively unsuccessful running plays later, the Eagles faced a crucial fourth and two situation. Instead of going for the first down, they ended up letting the play clock run out and were assessed a 5-yard penalty.
It didn't matter, Owens trotted out and booted a 51-yard field that would have seemingly been good from 55 yards out to give Arroyo Grande a surprising 3-0 advantage with 6:23 remaining in the first quarter.
Serra answered, Richard in particular. The senior gained 47 yards on three carries to set up a 16-yard touchdown pass from Preston to Lee. And all of sudden, the lead was 7-3 with 4:16 left in the first quarter.
The Cavaliers were just getting started.
Farmer appeared to return a punt deep into Arroyo Grande territory. However, a pair of costly penalties backed Serra up to its own 13-yard line. Minutes later, Farmer was on the receiving end of a 59-yard touchdown pass from Preston to extend the advantage to 14-3 with :52 remaining on the first quarter clock.
On the ensuing kickoff, the Eagles'
L.T. Johnson
fumbled the ball.
Pete Lauderdale
was in the right place at the right time, scooped up the miscue and returned the ball 27 yards for a score to give the Cavaliers a 21-3 with :39 left in the first quarter.
Preston finished 9-of-20 for 155 yards. Lee had three receptions for 48 yards. Farmer ended up two catches for 64 yards.
October, 17, 2010
10/17/10
10:00
PM PT
By
Dan Arritt
| ESPNLosAngeles.com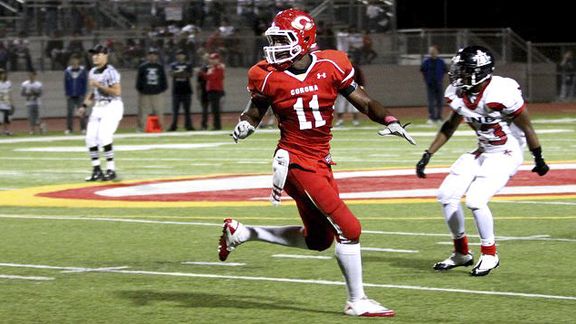 Courtesy of William Zastrow
Corona's DeVante Wilson says he has been a USC fan his entire life.
It was a phone call Corona High defensive end
DeVante Wilson
had envisioned ever since he watched USC running back
Reggie Bush
shatter the Pac-10 Conference record for total yards from scrimmage.
On the other end of the line was USC coach
Lane Kiffin
. He wanted Wilson to be a Trojan. The message arrived on the night of Oct. 8, shortly after Corona defeated Riverside North in a Big VIII League game.
Kiffin told Wilson he liked his speed off the edge. They were impressed with his ability to rush the passer and contain his side of the field.
Wilson wanted to shout at the top of his lungs.
"I felt like a little kid," Wilson said. "I've always been a USC fan."
As much as he wanted to accept the offer, Wilson is intent on enjoying the entire recruiting process. He toured Arizona last month and spent last weekend in Nebraska watching the Cornhuskers lose to Texas.
He plans to make an official trip to USC when the Trojans host Notre Dame over Thanksgiving weekend and announce his college choice shortly after.