Los Angeles Preps:

Larry Cutbirth
September, 14, 2011
9/14/11
4:49
PM PT
By
Dan Arritt
| ESPNLosAngeles.com
Nonleague play continues this week for Inland Empire teams, and some interesting matchups can be both in the region and beyond. Here's the best on tap.
A-Game
Corona Centennial (0-1) vs. Mater Dei (0-1) at Santa Ana Stadium, Friday (7:30 p.m.)
– Rarely would a matchup of winless teams draw this much interest, but the winning traditions built by these programs still qualifies this a can't-miss game. Mater Dei, ranked
No. 14
in the Southland by ESPNLA, had an extra week to either stew about its last-second
loss
to No. 12 Carson in Week 0, or get hyped for the seventh-ranked Huskies, who
tore apart
the Monarchs last season. Centennial is fresh off a two-point
loss
to No. 6 St. Bonaventure on its home field Friday night and can't afford another if it has any hope of getting back to the state bowl championships (it also doesn't help that the Huskies' strength of schedule is taking a beating, as their nonleague opponents are 1-3 so far). The key for Mater Dei will be getting the ball to 6-foot-4, 220-pound wide receiver
Thomas Duarte
, who should provide a significant matchup problem with his size and speed. Centennial needs to show more discipline and eliminate the penalties that were so costly against St. Bonaventure.
Calpreps.com computerized projection: Centennial 31, Mater Dei 14.
ESPNLA: Centennial 38, Mater Dei 24
B-List
Norco (1-0) vs. Etiwanda (1-1) at Colony HS, Friday (7 p.m.)
– This might be the toughest game to predict this weekend. Despite the outcomes, No. 17 Norco played ho-hum in a 21-20 victory Friday against L.A. Crenshaw, the same night Etiwanda earned more respect in a 31-28 loss to No. 21 Vista Murrieta. Etiwanda quarterback
Larry Cutbirth
has carved up two good defenses so far this season and Norco's weak link is its secondary. The Cougars will need USC-bound outside linebacker
Scott Starr
to make things difficult when Cutbirth's on the field, and hope the offense can sustain drives long and far enough to score points and keep Cutbirth on the sideline.
Calpreps.com: Etiwanda 35, Norco 28.
ESPNLA: Norco 35, Etiwanda 34.
Mission Hills Alemany (2-0) vs. J.W. North (1-0) at Riverside College, Friday (7 p.m.)
– Alemany, ranked No. 3 by ESPNLA, will get its first real test of the season against a much-improved team from J.W. North. The Warriors love to throw the ball and have a deep receiving corps led by junior
Steven Mitchell
, who has already picked up scholarship offers from UCLA and Washington. The Huskies will need a big game from quarterback/defensive back
Justin Gheorghe
, a first-team all-Big VIII League pick on offense and defense last season. Gheorghe threw four touchdown passes last week in a 48-10 victory against Colton.
Calpreps.com: Alemany 31, J.W. North 22.
ESPNLA: Alemany 21, J.W. North 17.
Upland (2-0) at Serrano (2-0), Friday (7 p.m.)
– For the fourth straight season these teams will get together and, if this game is anything like the last two, it should be very entertaining. Upland won, 21-18, in 2009 after an apparent fumble return for a touchdown by Serrano in the final minute was nullified by a premature whistle. The Diamondbacks traveled to Upland last season and lost, 14-7. The Diamondbacks will need to find some offense if they want to stay with Upland again this season. They've scored just four touchdowns in two games, while the Highlanders have 13.
Calpreps.com: Upland 28, Serrano 19.
ESPNLA: Upland 28, Serrano 10.
September, 12, 2011
9/12/11
5:05
PM PT
By
Dan Arritt
| ESPNLosAngeles.com
Q:
What's wrong with Corona Centennial?
A:
In short, nothing that can't be fixed by coach
Matt Logan
and his army of assistants. The Huskies lost to St. Bonaventure,
29-27
, on their home field Friday night, an early blow to their hopes of returning to the state bowl championships.
Hayden Gavett
, who made his varsity debut at quarterback for Centennial, certainly can't be blamed for the loss. He led his team on four touchdown-scoring drives and was setting up for another when he committed his only error, a costly red-zone interception early in the second half. What Gavett lacks in size compared to his predecessor,
Michael Eubank
, he compensates with better speed and a stronger throwing arm. Logan looks as if he was right on the money when
he said
the Huskies wouldn't hit their stride until midway through the regular season. Logan, by the way, isn't free of blame for the St. Bonaventure loss. He passed on a field-goal attempt on fourth and eight inside the 20-yard line early in the fourth quarter, and the Huskies came up woefully short. The Seraphs then proceeded to march down the field and take a 29-20 lead with 4:23 left. Logan rolled the same dice during the Division 1 state bowl final last season against Palo Alto, didn't come close and
lost that game
by two points as well.
Q:
When will Rancho Cucamonga get noticed?
A:
Hopefully soon. All the Cougars have done this season is shut out their first two opponents, Silverado and Great Oak, by a combined score of 87-0, yet they are still ranked No. 5 in the latest SS-Inland Division
coaches' poll
. Rancho Cucamonga, which returned 14 starters from a team that lost in
double overtime
of an Inland Division semifinal, should gain more attention if it can continue winning handily over the next two weeks. The Cougars travel to Pasadena Muir on Friday and Covina Charter Oak the following week and both teams are ranked in their respective divisions. Rancho Cucamonga's biggest regular-season game is also on the road, Oct. 21 at Upland.
September, 7, 2011
9/07/11
9:55
PM PT
By
Dan Arritt
| ESPNLosAngeles.com
Welcome to Week 1 of the high school football season. Some big games on the docket Friday, several featuring inter-section and inter-county matchups that could go a long way toward determining regional bragging rights.
Let's take a look at some of the best.
A-Game
No. 9 Ventura St. Bonaventure (0-0) at No. 2 Corona Centennial (0-0), Friday (7:30 p.m)
– Back in January, when this game was officially put to ink, folks were already talking about a clash of potential state bowl contenders. St. Bonaventure returns 13 starters from a team that reached the Northern Division semifinals, including 2,400-yard passer
Marc Evans
and 1,200-yard rusher
Shaun Wick
, but it's the player who didn't start last season that might have the biggest impact. Backup quarterback
Nick Arbuckle
drew immense praise while attending eight football camps across the country over the summer and he has been pushing Evans for the starting job. If he doesn't start at quarterback, you can bet Arbuckle will be in the mix somewhere on offense. The Huskies, meanwhile, could be vulnerable at quarterback early on, as
Hayden Gavett
is scheduled make his varsity debut. Until he gets his feet wet, the defending Inland Division champions will have to depend on their experienced defense to keep the score close.
Prediction: Centennial 21, St. Bonaventure 20.
B-List
L.A. Crenshaw (0-1) at No. 18 Norco (0-0), Friday (7:30 p.m.)
– Some would say the advantage in this type of evenly matched game would go to the team that has already played. Normally that would be true, but Crenshaw's confidence may have taken a step back in its 45-14 loss to Alta (Utah) last weekend, the Cougars worst defeat since a 36-point drubbing against Lake Balboa Birmingham in the 2007 City Section semifinals. Not only that, but Crenshaw was humbled by the Cougars last season, losing
25-21
on the same field. Throw in the bright lights of regional television coverage and this could be another long night for the Cougars.
Prediction: Norco 30, Crenshaw 18.
No. 21 Vista Murrieta (0-0) vs. Etiwanda (1-0) at Colony HS, Friday (7 p.m.)
– Etiwanda had one of the more impressive victories last week, at least on paper, knocking off the Eastern Division's top-ranked team heading into the season, Fontana Summit. The truth is, the Eagles really didn't play all that great in the 49-36 victory. Etiwanda quarterback
Larry Cutbirth
managed to avoid the sticky fingers of Boise State-bound cornerback
Donte Deayon
, let's see how he does dodging the pass rush of junior strong safety
Su'a Cravens
and defensive lineman
Jeremy Castro
(Washington).
Prediction: Vista Murrieta 31, Etiwanda 24.
Compton Dominguez (0-1) vs. Redlands East Valley (0-0) at Citrus Valley HS, Friday (7 p.m.)
– Another LA-area team that's licking its wounds after a Week 0 thrashing. Dominguez couldn't keep up with Encino Crespi on defense and couldn't move the ball on offense, adding up to a
48-6
romp. The big question now is, which Dominguez team is this, the one that finished 10-2 last season or 2-8 in 2008? Redlands East Valley, meanwhile, has some lofty predictions to live up to. Some publications have
anointed
the Wildcats as the second-best team in the Inland Empire, even though they've yet to prove they can win a big game outside of Citrus Belt League play.
Predication: Dominguez 27, Redlands East Valley 21.
August, 31, 2011
8/31/11
7:27
PM PT
By
Dan Arritt
| ESPNLosAngeles.com
Through out this season, ESPNLA plans to highlight the Inland Empire's top matchups of the week, whether it's two undefeated teams going head to head in league play, a beefy offensive line against a swarming defensive front, or an offseason transfer meeting up against his former team. And what's a good preview without a prediction?
Here's what to look for this weekend.
A-GAME
Fontana Summit vs. Etiwanda at Fontana A.B. Miller HS, Friday (7 p.m.)
-- One of the top passers in the Southern Section last season goes up against one of the best ball hawks.
Larry Cutbirth
of Etiwanda threw for 2,996 yards and 32 touchdowns last season, both stats among the top 10 in the state's biggest section. He'll have to contend with Boise State-bound senior corner
Donte Deayon
, who hauled in 10 interceptions as a junior, which tied for second in the section. The game was expected to mark the long-awaited return of Etiwanda senior linebacker
Chandler Scott
, who sat out last season because of a knee injury after leading the Baseline League in tackles as a sophomore, but he suffered another knee injury over the summer and is expected to miss the first two games.
Prediction: Summit 26, Etiwanda 21.
B-LIST
San Bernardino Cajon at Temecula Chaparral, Friday (7 p.m.)
-- Chaparral would very much like to spring from the blocks and start the season on a positive note for new coach
Ryan Tukua
. The matchup to watch here is also quarterback vs. cornerback.
Matt Morin
returns behind center for Chaparral and the San Diego State-bound left-hander will be trying to beat a Cajon secondary that includes
Damontae Kazee
, who has committed to Washington but has a brother,
Walter
, who plays running back for San Diego State. Kazee is also Cajon's biggest offensive threat at receiver, and he'll face a defense led by Chaparral strong safety
C.J. Dozier
, who has committed to Arizona State.
Prediction: Chaparral 20, Cajon 17.
Pomona Diamond Ranch at Chino, Friday (7 p.m.)
-- If nothing else, this game should be interesting to watch from a coaching perspective. Chino's balanced offense will stare down a defense coached by former Riverside North, USC and NFL defensive end
Chris Claiborne
, in his first season as defensive coordinator at Diamond Ranch. He'll have to find a way to stop Chino quarterback
Sean Molles
, who threw for 2,343 yards and 29 touchdowns last season, and running back
Xavier Browne
, who totaled 1,275 yards and 20 touchdowns. Claiborne was defensive coordinator the last two seasons at Corona High, where he developed defensive end
DeVante Wilson
, now at USC.
Prediction: Chino 28, Diamond Ranch 10.
La Quinta at Rancho Cucamonga Los Osos, Friday (7 p.m.)
--
Taylor Pope
might have to be a one-man band for La Quinta. The senior quarterback is the lone returning all-Desert Valley League selection from last season's team, and one of the key pieces on defense and special teams for the Blackhawks. Los Osos missed the playoffs last season for the first time since 2004 and returns just eight starters, but the Grizzlies have one of the area's better offensive guards to lean on in 6-4, 280-pound senior
Dylan La Frenz
.
Prediction: La Quinta 14, Los Osos 13.
August, 10, 2011
8/10/11
4:54
PM PT
By
Dan Arritt
| ESPNLosAngeles.com
ESPNLA plans to spend the next 10 days or so previewing the top leagues from the Inland Empire. First up, the Baseline League.

BASELINE LEAGUE

Last season's results: Rancho Cucamonga (11-2, 5-0); Upland (8-4, 4-1); Etiwanda (6-6, 3-2); Los Osos (5-5, 2-3); Glendora (5-5, 1-4); Alta Loma (0-10, 0-5).

Players to watch: Two of the league's top three passers return for their senior seasons. Larry Cutbirth of Etiwanda threw for a league-leading 2,996 yards last season, ninth best in the Southern Section, and 32 touchdowns. He led the Eagles to the team title last month at the Claremont seven-on-seven passing tournament. Rancho Cucamonga quarterback Dimitri Morales also returns after throwing for 1,828 yards and 22 touchdowns while helping the Cougars reach the SS-Inland Division semifinals. Morales was intercepted just once in the final seven games. Kenny Lawler of Upland, who has committed to Arizona State, is the top returning receiver after hauling in 42 passes for 887 yards and nine touchdowns. Up front, offensive tackle Cameron Turner of Rancho Cucamonga is a returning first-team all-Inland Division selection. Defensively, senior middle linebacker Chandler Scott returns for Etiwanda after sitting out last season with a knee injury. As a sophomore, Scott was a first-team all-Baseline League selection after leading his team in tackles. Scott will team with fellow senior linebacker J.J. Everard, who led the league in tackles last season.

Projected order of finish: Rancho Cucamonga, Etiwanda, Upland, Los Osos, Glendora, Alta Loma.

Key games: Sept. 9 – Etiwanda vs. Vista Murrieta @ Ontario Colony HS; Sept. 16 – Etiwanda vs. Norco @ Colony; Sept. 23 – Upland @ Norco; Sept. 30 – Los Angeles Loyola @ Upland, Rancho Cucamonga vs. Redlands @ Los Osos; Oct. 14 – Etiwanda vs. Upland @ Colony; Oct. 21 – Rancho Cucamonga @ Upland; Oct. 28 – Rancho Cucamonga vs. Etiwanda @ Los Osos.

Alumni in the NFL: Eric Weddle, San Diego Chargers (Alta Loma '03); Kenyon Coleman, Dallas Cowboys (Alta Loma '97); Patrick Chung, New England Patriots (Rancho Cucamonga '04); Terrell Thomas, New York Giants (Rancho Cucamonga '03); Gerald Alexander, Carolina Panthers (Rancho Cucamonga '02); Vincent Brown, San Diego Chargers (Rancho Cucamonga '07)

Fast fact: Alta Loma comes in riding a 20-game losing streak after allowing an average of 48 points a game last season. There's reason to be hopeful for a turnaround, however. The Braves return their top two tacklers from last season, senior middle linebacker Phillip Fisher and junior safety Andrew Pacheco.

On the clock: Big VIII League.
October, 27, 2010
10/27/10
5:44
PM PT
By
Dan Arritt
| ESPNLosAngeles.com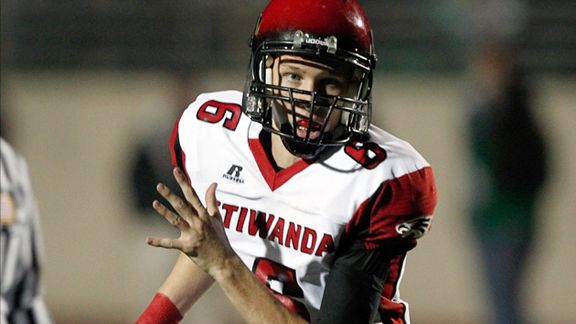 Alex Gallardo/Special to ESPNLA.com
Larry Cutbirth has filled in well in his first season as quarterback at Etiwanda.
Larry Cutbirth
wasn't a complete unknown when the season began. He just wasn't known as a football player.
Cutbirth, a junior quarterback at Etiwanda, was asked to take over this season for
Angel Santiago
, who combined for 6,800 passing yards and 57 touchdowns the previous three seasons. He also ran for 2,167 yards and 27 touchdowns during that span.
Cutbirth has filled his shoes nicely, especially on the passing end. He has thrown for 2,065 yards and 21 touchdowns through seven games, completing 66% of his passes. Both his passing yardage and touchdowns are fifth-best in the Southern Section.
In a 53-34 loss to Upland last Friday, he threw for a season-high 437 yards, including 357 in the first half and all four touchdown passes.
Before this season, Cutbirth was better known as wrestler. He was the Baseline League champion last season in the 152-pound division. Cutbirth has grown two inches since then and now stands 6 feet 5. He plans to wrestle in the 171-pound class this winter.
October, 22, 2010
10/22/10
11:14
PM PT
By
Dan Arritt
| ESPNLosAngeles.com


UPLAND -- Upland did everything possible to keep Etiwanda quarterback Larry Cutbirth off the field Friday night and the strategy worked as the Highlanders pulled away for a 53-34 victory in a Baseline League game at Upland High.

Donta Abron rushed for 170 yards and a touchdown in 20 carries, and backfield mate Cole Chapman had 164 rushing yards in 22 carries and scored two touchdowns to lead Upland.

The Highlanders attempted just eight passes.

After taking a 15-12 lead on a 20-yard touchdown run by slot receiver Kenneth Lawler, the Highlanders (5-2, 2-0) attempted a successful onside kick. Abron then followed with a 60-yard touchdown run.

Cutbirth threw his fourth touchdown pass of the first half to cut the deficit to 29-28 with 5:31 remaining, but Upland reeled off 24 consecutive points to put the game out of reach.

Cutbirth, a junior, completed 23 of 33 passes for 436 yards, including 357 in the first half.

"We wanted him to watch the game instead off playing the game," Upland coach Tim Salter said of Cutbirth, who has now thrown 21 touchdown passes this season.

The Eagles fell to 3-4, 1-1 in league.

Up next for Upland is a key game against Rancho Cucamonga. In the videos after the jump, Salter and Chapman discuss the victory against Etiwanda and the upcoming game against Rancho Cucamonga.


October, 21, 2010
10/21/10
4:01
PM PT
By
Dan Arritt
| ESPNLosAngeles.com
The Baseline League has been a breeding ground for top quarterbacks lately.

Richard Brehaut of UCLA (Rancho Cucamonga Los Osos), Josh Nunes of Stanford (Upland), Angel Santiago of Army (Etiwanda) and Greg Watson of Fresno State (Rancho Cucamonga) have all recently flipped their tassels.

Upland and Etiwanda are continuing the tradition.

The Highlanders (4-2, 1-0 in league), who are hosting Etiwanda in a key Baseline League game Friday night at 7 p.m., is led by Josh's brother, Justin Nunes, who committed to UC Davis last month.

Nunes broke out of three-game stretch without a touchdown pass last weekend, throwing four in a 56-16 victory against Mira Loma Alta Loma.

Etiwanda (3-3, 1-0) leans on the right arm of Larry Cutbirth, who is emerging as one of the top junior quarterbacks in the region. Cutbirth has thrown 17 touchdowns this season, which is tied for seventh in the Southern Section.

Three more to see:

Riverside King (4-2, 2-1 in the Big VIII League) at Norco (5-1, 2-1), Friday – The four teams locked in a second-place tie meet up this weekend and this one figures to be the best. King running back Todd Handley and Norco running back Kelsey Young are two of the top ball carriers in Southern California and both should be handed the rock frequently. ESPNLA.com's pick: Norco 31, King 30.

Corona (4-2, 2-1 in the Big VIII) at Eastvale Roosevelt (5-1, 2-1), Friday – Eric Kyle is quietly averaging nearly 130 rushing yards a game for Corona. Roosevelt running back Joey Legere has scored 15 touchdowns, which leads the Inland Division, and quarterback Aaron Crone has completed 60% of his passes this season, with just two interceptions. ESPNLA.com's pick: Roosevelt 24, Corona 13.

San Bernardino Cajon (4-2, 3-0 in the San Andreas League) at Colton (5-1, 3-0), Friday – These teams have combined to win the last five SAL titles and it appears this season will be no different. Cajon will rely on dual-threat quarterback Thomas Carter. He'll be up against one of the top defenses in the Southland, anchored by linebacker Rodney Hardrick and defensive back Devan Hussey. ESPNLA.com's pick: Colton 30, Cajon 20.
October, 18, 2010
10/18/10
8:00
AM PT
By
Dan Arritt
| ESPNLosAngeles.com
1. After the season started with three consecutive losses, it was pretty clear Etiwanda wasn't as bad as its record indicated. After all, the Eagles averaged 32 points in the losses. Defensively, they were still adjusting to the absence of junior linebacker
Chandler Scott
, who led the Baseline League in tackles as a sophomore but suffered a season-ending knee injury before the start of the season. Etiwanda is now riding a three-game winning streak after knocking off Glendora, 39-27, in a Baseline League opener Thursday night at Ontario Colony High. The Eagles' high-octane offense was on display in the second quarter when they put up 27 points to erase a 14-point deficit.
Larry Cutbirth
continues to look like one of the Southland's top quarterbacks in the class of 2012, throwing three more touchdowns to give him 17 on the season.
2. Gutsy call of the week belongs to Rancho Cucamonga coach
Nick Baiz
, who elected to go for two points during overtime in a Baseline League opener Friday night against host Rancho Cucamonga Los Osos. The roll of the dice paid off when quarterback
Dimitri Morales
found
J.T. Huggins
in the end zone for a two-point pass that sealed the 29-28 victory. Oregon State took the same chance Saturday night against Washington and the gamble
didn't pay off so well
.
3. The Smudge Pot is all but obsolete these days, but the annual Smudge Pot game between Redlands and Redlands East Valley is alive and well. REV won the Citrus Belt League opener, 24-22, on Friday night at the University of Redlands, getting the final points on a 24-yard field goal by
Cody Madsen
as time expired. REV has now won four straight against its cross-town foe. The Terriers had taken their final lead on a 71-yard touchdown run by quarterback
Mike Stallone
on fourth and one with 6:33 remaining, followed by a successful two-point conversion.
September, 16, 2010
9/16/10
7:26
PM PT
By
Dan Arritt
| ESPNLosAngeles.com
If this season's matchup between Phelan Serrano and Upland is anything like a year ago, expect Friday's game to come down to the final whistle.

In Week 2 of the 2009 season, Aaron Long of Serrano appeared to scoop up a fumble with about a minute remaining and return it 56 yards for a touchdown, presumably giving the host Diamondbacks a three-pont lead with the point-after attempt remaining.

However, it was ruled that a referee had inadvertently blown his whistle before the ball was recovered, giving possession to Serrano but eliminating the return. The Diamondbacks were then intercepted on fourth down and Upland escaped with a 21-18 victory.

Serrano went on to lose to Palm Springs in the Southern Section's Eastern Division final. Upland won the Central Division.

This season, the game moves to Upland, where both teams enter 2-0. Serrano is the top-ranked team in the Eastern Division, while Upland has moved to the Inland Division, where it's ranked No. 3 in the latest coaches' poll.

Kickoff is set for 7 p.m.


September, 6, 2010
9/06/10
3:32
PM PT
By
Dan Arritt
| ESPNLosAngeles.com
All of the weightlifting sessions, 7-on-7 passing league games, two-a-day practices and motivational speeches seemed to take a back seat to first-game jitters last week.

As a number of Inland Empire high school football teams began play, just holding onto the ball seemed like a tall order.

Los Osos of Rancho Cucamonga fumbled the snap from center on five of its first six plays from scrimmage Friday night, all while inside the Colony five-yard line. Fortunately, the Grizzlies took the lead for good on an interception return and went on to win, 20-7.

The same night, A.B. Miller High of Fontana gave away a potential upset against Upland by fumbling twice in a 75-second span in the fourth quarter, leading to two touchdowns and a 21-16 victory by the Highlanders.

Great Oak of Temecula was shaky from start to finish against Redlands, finishing with eight turnovers in a 23-16 loss, including two on its first three plays from scrimmage.

A number of Inland Empire teams don't begin play until this week, so it will interesting to see if the trend continues.


September, 2, 2010
9/02/10
11:27
PM PT
By
Dan Arritt
| ESPNLosAngeles.com
Well, that was an exciting start to the high school football season.

Alternating between a bunched up double wing and a spread offense, Summit High of Fontana scored just enough to hold off Etiwanda, 42-35, in the season opener for both schools Thursday night at Miller High in Fontana.

Etiwanda cut the deficit to a touchdown with 43.7 seconds remaining, and Gary O'Leary then recovered a short pooch kick at the Summit 37.

The Eagles took several shots at the end zone in the closing seconds before Summit defensive back Devon Blackmon sealed the victory with an interception as time expired.

It was fitting finish to a strong second half for Blackmon, one of the most heavily recruited players in the Inland Empire. Blackmon, who alternated between quarterback, wingback and receiver, also had a 33-yard touchdown run on the final play of the third quarter, and threw an 11-yard touchdown pass in the fourth, each time extending Summit's lead to two touchdowns.