Los Angeles Preps:

Larry Scott
February, 2, 2011
2/02/11
12:56
PM PT
By
Dan Arritt
| ESPNLosAngeles.com
Below is an updated list of high school football recruits from the Inland Empire and where they're headed.
Tight end
Junior Pomee
and cornerback
Ryan Henderson
of Moreno Valley Rancho Verde are expected to announce their decisions at 5:30 p.m.
Reports
indicate they're headed to USC.
Corona Centennial quarterback
Michael Eubank
just announced he will stick with Arizona State. His decision will be broadcast on FS West at 7 p.m. He had also considered Pittsburgh and Utah.
Eubank committed to the Sun Devils in December but recently had taken a recruiting trip to Pittsburgh. Vista Murrieta quarterback
Derrick Brown
recently switched his commitment from Utah to Washington, which had opened a possible spot for Eubank.
UNDECIDED
Junior Pomee, TE, Moreno Valley Rancho Verde
Ryan Henderson, DB/RB, Moreno Valley Rancho Verde
ARIZONA STATE
Quinton Pedroza, WR/DB, Chino
Brent Walker, OL, Norco
Michael Eubank, QB, Corona Centennial
BOISE STATE
Jake Van Ginkel, K, Upland
BYU
Adam Pulsipher, LB, Temecula Valley
COLORADO
Greg Henderson, DB, Norco
COLORADO STATE
Nuuvali Faapito, F/LB, La Quinta
FRESNO STATE
Ejiro Ederaine, LB, Corona Santiago
February, 1, 2011
2/01/11
6:55
AM PT
By
Dan Arritt
| ESPNLosAngeles.com
With the National Signing Day set for Wednesday, a number of Inland Empire football players have given verbal commitments to various schools across the country. Nothing is official until the papers are signed and returned to the respective colleges, but San Diego State and Oregon have received the most pledges from I.E. athletes. Here's the list of players and where they've committed.

ARIZONA STATE
Michael Eubank, QB, Corona Centennial
Quinton Pedroza, WR/DB, Chino
Brent Walker, OL, Norco

BOISE STATE
Jake Van Ginkel, K, Upland

BYU
Adam Pulsipher, LB, Temecula Valley

COLORADO
Greg Henderson, DB, Norco

COLORADO STATE
Nuvali Faapito, F/LB, La Quinta

FRESNO STATE
Ejiro Ederaine, LB, Corona Santiago

HAWAII
Promise Amadi, Ath., Chino

IDAHO
Dion Bass, DB, Corona Centennial
Todd Handley, RB, Riverside King

IOWA STATE
David Irving, DE/TE, San Jacinto

MONTANA
Nate Harris, RB/DB, Chino Hills

NEVADA
Desman Carter, DB, Fontana Kaiser
Superrior Reid, RB, Riverside Arlington

OREGON
Devon Blackmon, WR, Fontana Summit
Rodney Hardrick, LB, Colton
Ifo Ekpre-Olomu, S, Chino Hills
Jamal Prater, OL, Etiwanda

OREGON STATE
Larry Scott, WR, Corona Centennial

SACRAMENTO STATE
John Taylor, OL, Colton
Blake Robertson, WR, Corona

SAN DIEGO STATE
Darius Guillory, LB, Temecula Chaparral
Jemond Hazely, WR, Corona Santiago
Ryan Jack, LB, Corona Centennial
Paul Pitts, WR, Los Osos
Paul Rodriguez, OL, San Bernardino San Gorgonio
Jonathan Sanchez, DL, Vista Murrieta
Jordan Taylor, OL, Redlands

SAN JOSE STATE
Simon Connette, DB, Corona Santiago
Tyler Ervin, RB, Colton
Sam Boyd, TE, Eastvale Roosevelt

STANFORD
Kelsey Young, RB, Norco

UTAH
Ryan Henderson, DB/RB, Moreno Valley Rancho Verde

USC
DeVante Wilson, DE, Corona

WASHINGTON
Derrick Brown, QB, Vista Murrieta

WASHINGTON STATE
Marcus Mason, RB, Etiwanda

WEBER STATE
Barrinton Collins, RB, Corona Centennial
December, 16, 2010
12/16/10
10:39
PM PT
By
Dan Arritt
| ESPNLosAngeles.com
Two teams, 27 victories, zero losses.

One side will end the season on a perfect note Friday night at the Home Depot Center in Carson, the other will feel the sting of defeat for the first time.

On paper, Corona Centennial seems to have the edge over Palo Alto in the Division 1 state bowl game, but this game won't be played on paper. If forecasters are correct, a steady rain should be falling when the teams kick off around 7:30 p.m.

Slick, muddy fields and wet footballs have a way of neutralizing team speed and often benefit the better defense.

In that case, advantage Palo Alto.

But nothing has stopped the Huskies this season, so why would Mother Nature?

Their no-huddle, up-tempo offense would be tough to stop if it were run by a Pop Warner team, but Centennial features a talented group of fleet-footed thoroughbreds. Senior quarterback Michael Eubank, senior running back Barrinton Collins and senior receiver Larry Scott have been making defenses miserable all season with their ability to break big plays and break them often.


December, 11, 2010
12/11/10
12:37
AM PT
By
Dan Arritt
| ESPNLosAngeles.com


CORONA—The Inland Division playoffs haven't been the runaway train that the regular season was, but the Corona Centennial football team continues to prove it can step on the gas when needed.

The top-seeded Huskies scored 17 unanswered points in the third quarter to pull away from visiting Vista Murrieta and win, 45-21, to claim its sixth Southern Section title this decade.

Barrinton Collins led the way for the Huskies (14-0), rushing for 286 yards in 42 carries and scoring five touchdowns.

"Coach told me we were going to pound the rock and that's what we did," Collins said.

Collins scored on runs of 17, 24 and two yards in the opening half, but the second-seeded Broncos cut Centennial's lead to 21-14 on a 31-yard touchdown run by speedster Javonte Slater with 3 minutes 33 seconds remaining in the half.

That's how it stood heading into the third quarter, when Collins scored on a 13-yard run on Centennial's first drive. Vista Murrieta then fumbled the ensuing kickoff and the Huskies tacked on a 31-yard field goal to increase their lead to 31-14.

The Broncos (12-2) failed to get a first down on their second drive as well, and Collins came right back with his fifth touchdown of the game, a three-yard leap into the end zone that pushed the lead to 38-14.

Vista Murrieta found a reason to get excited when Cody Piecukonis returned a punt 55 yards for a touchdown with 5:13 left in the game. They appeared to force a fumble from Collins on the Huskies' next drive and would have returned it for a touchdown, but the referee had blown the play dead.

Collins thought he had fumbled on the play as well.

"They smacked me pretty good," he said. "I'll be feeling that tonight."

Centennial didn't show any mercy after retaining possession, as quarterback Michael Eubank hit Larry Scott with a 16-yard touchdown pass, giving the Huskies their final 45-21 lead.

Scott was the go-to receiver in the passing game, catching eight passes for 153 yards and a touchdown.

"I thought I'd be the go-to guy because I've been in the previous games," Scott said. "I had a high ankle sprain, so finally I got back to almost 100% and knew I would get a lot of catches."

The Huskies can now sit back and wait for Sunday's CIF bowl selections. Many predict they'll get passed up for the open bowl bid and play Palo Alto in the Division I bowl game.

That's just fine with Collins.

"It doesn't matter, we're here to play for a state championship," Collins said. "If it's our way, we're going to win a state championship, we work too hard."
December, 2, 2010
12/02/10
5:26
PM PT
By
Dan Arritt
| ESPNLosAngeles.com
One of the most impressive efforts of the postseason was delivered by Vista Murrieta in a 45-6 victory last Friday against Norco in an Inland Division quarterfinal.

On defense, the Broncos played like they knew what was coming before the ball was snapped. On offense, they attacked Norco's weaknesses.

Well coached might be the best way to describe Vista Murrieta.

Third-seeded Rancho Cucamonga (11-1) is likely a little faster and more athletic than the second-seeded Broncos (11-1), so the visiting Cougars should make for a great semifinal opponent Saturday night.

Rancho Cucamonga senior running back Sateki Finau carved up Eastvale Roosevelt for a career-high 276 rushing yards and four touchdowns last week in a 51-36 quarterfinal victory. Quarterback Dimitri Morales threw another touchdown pass, giving him 12 touchdowns and no interceptions in the last six games.

They'll have their work cut out for them against the Broncos' defense, however.

San Diego State-bound defensive lineman Jonathan Sanchez holds down one end of the field for Vista Murrieta, often filtering runners inside to leading tacklers Jeremy Castro and Manuel Moreno. The other key cog is sophomore safety Su'a Cravens, who already has scholarship offers from UCLA and Hawaii.

The Cougars played two Southwestern League opponents this season, beating Temecula Great Oak, 34-17, in Week 1, and eliminating Murrieta Valley, 37-13, in the first round of the playoffs. Vista Murrieta beat Great Oak, 45-18, and Murrieta Valley, 38-15, both in league play.

Three more to see:

In the other Inland Division semifinal:

Corona Centennial (12-0) at Chino Hills (10-2), Friday -- Is Chino Hills just a bump in the road in Centennial's run for a section title? Or can the Huskies manage to put up a roadblock, something no other team has accomplished against Centennial this season?

Chances are, the former is much more likely to occur.

Chino Hills, seeded No. 4, has good athletes on the offensive side of the ball in running backs Ifo Ekpre-Olomu and Nate Harris, and an opportunistic defense led by the Oregon-bound defensive back Ekpre-Olomu and nose guard Auston Johnson, who has 19 sacks, but top-seeded Centennial has great athletes at every position.

Centennial quarterback Michael Eubank will likely surpass 1,000 rushing yards and 2,500 passing yards in the game, running back Barrinton Collins is inching up on the 2,000-yard barrier and receiver Larry Scott, who received a scholarship offer from Oregon State last week, is 100 yards away from topping 1,000 for the season.

Chino Hills has taken on two Big VIII League teams with mixed results. The Huskies lost to Corona Santiago, 24-12, in Week 1, but played much better in a 70-42 victory against Corona in the first round of the playoffs.

Centennial, well, the Huskies beat both teams by a combined score of 151-34.

ESPNLA.com's pick: Centennial 54, Chino Hills 24.


September, 17, 2010
9/17/10
11:40
PM PT
By
Sean Ceglinsky
| ESPNLosAngeles.com
CORONA -- For those high school football fans who haven't heard of the name
Michael Eubank
, consider this as a formal introduction.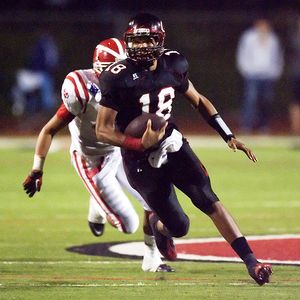 Larry Goren/For ESPNLA.com
Centennial quarterback accounted for 380 yards of offense in his team's rout of Mater Dei.
The 6-foot-5 and 220-pound senior quarterback from Corona Centennial did a little bit of everything on Friday evening, most of it extremely well. And as a result, the host Huskies had little trouble thoroughly defeating Santa Ana Mater Dei, 44-13, in a nonleague game.
"My goal was to come out and make a big statement tonight in front of everyone,'' said Eubank, who completed 11-of-17 passes for 200 yards passing with a pair of touchdown passes. He also carried the ball 13 times for 180 yards on the ground and scored three touchdowns.
Entering the game, Mater Dei quarterback
Max Wittek
was thought to be the main attraction. The USC commit struggled from start to finish though and ended up 11-of-25 for 176 yards with two interceptions.
Turns out, Wittek was overshadowed by his counterpart. And keep in mind Eubank has one scholarship offer thus far, Northern Colorado. Others figure to follow suit after his performance Friday.
"I wanted to prove that I can hang with a USC boy,'' Eubank said. "When people underestimate me, it only motivates me more. I'm hungry. I hope this is an eye-opener for Division I coaches. I'm a dual-threat, I can pass it or run it, you saw that out there. I did what I had to do.''