Los Angeles Preps:

Leuzinger
May, 11, 2012
5/11/12
5:55
PM PT
After two years at St. Bernard, basketball coach Reggie Morris is making the move to Redondo Union, according to a report by the Los Angeles Times.

Morris was a combined 50-17 in his two seasons in Playa del Rey, highlighted by a trip to Sacramento in 2011 for the CIF State Division V championship game. He's no stranger to the Bay League -- Morris previously spent eight years at Leuzinger, guiding the Olympians to their first sectional title in 2010 and helping with the development of eventual NBA All-Star Russell Westbrook.

Redondo went 10-17 last season and finished in fifth place in the Bay League.
February, 12, 2012
2/12/12
7:21
PM PT
The south Los Angeles County boys' basketball top 10 power rankings as the 2012 playoffs get underway:
1. Long Beach Poly (23-1)
Credit the Moore League champion Jackrabbits for shaking off the departure of Ryan Anderson (Boston College) and Alexis Moore (USC) from last year's Division 1AA title team. Then again, Poly never rebuilds -- it reloads. Coach Sharrief Metoyer has done a tremendous job. This week: CIF-SS Division 1AA first round vs. Riverside King, Friday, 7 p.m.
2. Gardena Serra (24-2)
Coach Dwan Hurt has his group riding a nine-game win streak heading into the playoffs. The Cavaliers swept through the Del Rey League, and appear to be the slight favorite in Division 4AA. This week: CIF-SS Division 4AA first round vs. Salesian, Wednesday, 7 p.m.
3. Loyola (21-4)
Not exactly the regular season the Cubs had hoped for, but they can forget about falling short in the Mission League with a championship run in the next couple of weeks. Julian Harrell and Jacob Hazzard lead a deep, dangerous squad. This week: CIF-SS Division 1AA first round vs. Trabuco Hills, Friday, 7 p.m.
4. La Verne Lutheran (19-6)
Lost in senior forward Grant Jerrett's selection to the McDonald's All-American game is the strides sharpshooter Eric Cooper Jr. has taken as a go-to player for the Trojans. Jerrett demands double teams down low, and Cooper, an Arizona commit, is making opponents pay. This week: CIF-SS Division 4AA first round vs. Pasadena Marshall, Wednesday, 7 p.m.
5. Price (19-7)
Mixed results for the Knights last week after beating Compton but losing to fellow Division 4AA contender La Verne Lutheran in overtime. San Diego State signee Skylar Spencer and Co. thrive in transition, so they'll be a tough draw in the playoffs. This week: CIF-SS Division 4AA first round vs. Blair, Wednesday, 7 p.m.
6. St. John Bosco (19-6)
No shame in finishing at 8-2 in the Trinity League, especially with both losses coming against the state's top-ranked squad. If there's consolation for Braves fans, it's that this team, with junior Isaac Hamilton and sophomore Daniel Hamilton at its core, only figures to get better under first-year coach Derrick Taylor. This week: CIF-SS Division 3A first round vs. Jurupa Hills, Wednesday, 7 p.m.
7. Bishop Montgomery (21-4)
Sure, the Knights couldn't get it done against Del Rey League rival Gardena Serra, but wins against Woodland Hills, Westchester, Pacific Hills and Price don't lie. Montgomery is a team to keep an eye on in a stacked bracket. This week: CIF-SS Division 4AA first round vs. Templeton, Wednesday, 7 p.m.
8. Muir (24-2)#
A loss to neighboring rival Pasadena in the regular-season finale didn't discourage coach Gamal Smalley, who led the Mustangs to their first Pacific League crown in over a decade. But the excitement was short-lived, as the Mustangs were disqualified from postseason play and stripped of their title for using an ineligible player. Muir forfeited 20 victories.
9. Damien (24-2)
The Spartans rolled to their second consecutive Sierra League championship, earning a No. 1 seeding in Division 3AAA. They now have a target on their back, and it will be up to Saint Mary's-bound forward Chris Reyes to fight through constant double teams. This week: CIF-SS Division 3AAA first round vs. El Dorado, Wednesday, 7 p.m.
10. Pacific Hills (23-4)
A loss to Windward in the finale denied the Bruins sole possession of the Alpha League title. It didn't affect their postseason aspirations, though, as the Bruins received a No. 1 seeding in Division 4A. This week: CIF-SS Division 4A second round vs. winner of Costa Mesa-St. Monica, Friday, 7 p.m.
Ten more, in alphabetic order
: Crenshaw (22-4), Compton (17-9), Downey (22-5), Fairfax (19-9), Leuzinger (21-5), Mayfair (21-5), Pasadena (19-7), Santa Monica (18-8), Westchester (20-6), Windward (18-8)
# - Denotes season has concluded
Blair Angulo covers preps for ESPN Los Angeles. Following him on Twitter.
January, 29, 2012
1/29/12
9:30
PM PT
The south Los Angeles County boys' basketball top 10 power rankings:

1. Long Beach Poly (18-1)
The Jackrabbits increased their lead to two games in the Moore League standings thanks to Roschon Prince's stellar game at Compton on Friday. The junior wing had 35 points and 12 rebounds. This week: at Lakewood, Wed.; vs. Long Beach Wilson, Fri.; vs. Orange Lutheran in Nike Extravaganza at Mater Dei, Sat.

2. Loyola (18-3)
An up-and-down week ended in a positive way with a 92-84 win against Orange Lutheran at the Fairfax State Preview Classic. Still in the Mission League race, but need some help. This week: at Notre Dame, Wed.; at Harvard-Westlake, Fri.; vs. Taft in Nike Extravaganza at Mater Dei, Sat.

3. Gardena Serra (21-2)
There's great balance throughout coach Dwan Hurt's roster, that much was evident in the Cavaliers' 10-point win against host Fairfax at the State Preview Classic on Saturday. Senior guard Kajon Mack and big Daddy Ugbede complement each other well. This week: vs. Bishop Montgomery, Wed.; vs. Bishop Amat, Fri.

4. La Verne Lutheran (16-5)
A 67-62 overtime loss to Westchester on Saturday snapped a nine-game win streak. The Trojans face an interesting group of competitors in the next few days. This week: vs. Ribet Academy, Tues.; at Renaissance Academy, Wed.; at Mater Dei in Nike Extravaganza, Sat.

5. Price (17-5)
The Knights have won six straight since losing at the Brandon Jennings Invitational in Milwaukee, riding the leadership of junior guard Chance Murray and bouncy forward Skylar Spencer. The upcoming schedule will put their streak in serious jeopardy, though. This week: at Ribet Academy, Fri.; at Alemany, Sat.


January, 23, 2012
1/23/12
12:02
PM PT
The south Los Angeles County boys' basketball top 10 power rankings:
1. Long Beach Poly (15-1)
The Jackrabbits had success at the King Holiday Hoopfest in Seattle, handing Rainier Beach (Wash.) its first loss of the season. An important stretch in the Moore League lies ahead. This week: at Long Beach Jordan, Mon.; vs. Cabrillo, Wed.; at Compton, Fri.
2. Loyola (15-2)
Despite a rough start in the Mission League, the Cubs can ascend to the top of the standings by handling their business this week. This week: vs. Crespi, Mon.; vs. Alemany, Wed.; at Chaminade, Fri.; vs. Orange Lutheran at Fairfax State Preview, Sat.
3. La Verne Lutheran (15-4)
The Trojans beat a Gabe York-less Orange Lutheran team last Monday, but a win is a win. Arizona-bound forward Grant Jerrett is a nominee for the McDonald's All-American game. This week: vs. Hope Centre, Thurs.; at Westchester, Sat.
4. Gardena Serra (19-2)
The Cavaliers are rolling, having routed three opponents since losing to Price on a waved-off field goal that appeared to beat the buzzer. Great depth on this roster. This week: at Cathedral, Fri.; vs. Fairfax at Fairfax State Preview, Sat.
4. Price (13-5)
The Knights have won a pair of close games since losing at the Brandon Jennings Invitational in Milwaukee. This week: vs. Hope Centre, Tues.; vs. Renaissance Academy, Thurs.; vs. Windward at Fairfax State Preview, Sat.
6. St. John Bosco (15-4)
The Braves got just one win at the Allstate National Prep Classic in New Orleans over the weekend, but they did stay undefeated in Trinity League play with a close win against Orange Lutheran. Big test against the region's best team looms. This week: at JSerra, Wed.; vs. Mater Dei, Fri.
7. Bishop Montgomery (16-3)
They may not admit it, but the Knights are already eying their Feb. 1 rematch with Serra, which will likely decide the Del Rey League championship. This week: vs. Bishop Amat, Wed.; vs. La Salle, Fri.
8. Windward (13-6)
The busy Wildcats were idle all of last week, taking in some much-needed rest. Nick Stover and Co. pick up the pace again in the Alpha League. This week: vs. Pacific Hills, Tues.; vs. Sierra Canyon, Wed.; vs. Price at Fairfax State Preview, Sat.
9. Muir (18-1)
The Mustangs defeated neighboring rival Pasadena for the first time in over a decade thanks to the clutch free-throw shooting of Jelani Mitchell. The Pacific League rematch is set for Feb. 9 at Muir. This week: at Arcadia, Mon.; vs. Burbank, Wed.; vs. Hoover, Fri.
10. Damien (18-1)
Can anyone slow down the Sierra League-leading Spartans? They've had their close calls and figure to get tested Saturday against the Inland Empire's best squad. This week: vs. Ayala, Wed.; vs. Claremont, Fri.; vs. Etiwanda at Azusa Pacific, Sat.
Ten more, in alphabetic order
: Crenshaw (15-4), Compton (11-7), Dorsey (18-6), Downey (16-5), Leuzinger (15-4), Pacific Hills (19-3), Pasadena (13-6), Peninsula (14-5), Santa Monica (13-6), Westchester (12-4)
Blair Angulo covers preps for ESPN Los Angeles. Following him on Twitter.
April, 1, 2011
4/01/11
4:22
PM PT
By
Sean Ceglinsky
| ESPNLosAngeles.com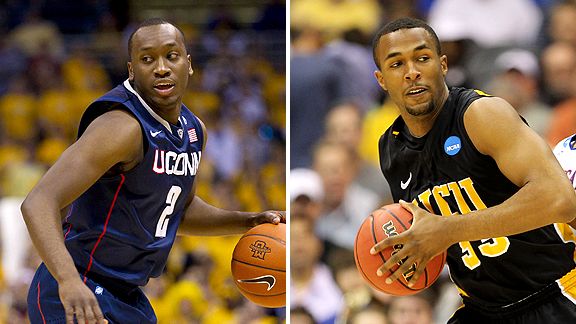 US Presswire, Getty ImagesUConn's Donnell Beverly, left, and VCU's D.J. Haley, both Southland products, will play in the Final Four this weekend.
It's funny how things work out sometimes.
During his time at Lawndale Leuzinger High,
Donnell Beverly
was not the most heavily recruited prep basketball player in the Southland, although the often underestimated point guard did manage to show glimpses of his all-around potential.
Nevertheless, local schools such as UCLA and USC looked elsewhere for a floor general. And while nearby programs Pepperdine and San Diego expressed some varied levels of interest, an all-important scholarship offer never materialized.
Enter Connecticut and coach
Jim Calhoun
.
Apparently, the Huskies noticed something in Beverly the others didn't. Four-plus years later, Beverly is on the verge making an appearance in the Final Four with Connecticut, which plays Kentucky on Saturday at 5:49 p.m. PT in Houston.
"Most people don't know this, but Donnell always had one of those high basketball IQs and I think the Huskies figured that out before anyone else ever did,'' said
Reggie Morris Jr.
, who coached Beverly at Leuzinger and is currently at Playa del Rey St. Bernard.
"I guess you could say that he was a late-bloomer. I always knew he would catch on with some school though. Looking back, everything happens for a reason. I think that Connecticut has been a good fit for Donnell and Donnell has been a good fit for Connecticut.''
Beverly has been a steady contributor for the Huskies, mostly coming off of the bench since his arrival on campus back in the 2007-2008 season. This season, however, his minutes have decreased quite a bit, due in large part to the emergence of Kemba Walker.
Nevertheless, Beverly is two victories away from being fitted for a championship ring. The 6-foot-4 senior has come a long way since his high school days.
He played in the shadows of current Oklahoma City Thunder guard
Russell Westbrook
for two years at Leuzinger. Once Westbrook went to UCLA, Beverly took over. As a senior, he averaged 17.1 points, 6.9 assists and 6.6 rebounds per game for the Olympians.
"I'm happy for Donnell, no one gave him a chance when he was with us at Leuzinger. But look at him now, he's made his mark at Connecticut,'' Morris Jr. said.
HALEY HAPPENS TO FIT IN WELL AT VCU
Speaking of flying under the radar,
D.J. Haley
is another local product who did not receive much, if any, recruiting interest but has landed on his feet nonetheless.
Right around this time last year, the post player and Palmdale High graduate had three offers, none of which came from any of the nation's powerhouse programs.
In the end, Haley picked Virginia Commonwealth, choosing the school over the likes of Iowa State and Wyoming. And the 7-footer, a freshman center, figures to play for the Rams in their Final Four showdown against Butler on Saturday at 3:09 p.m. PT in Houston.
As a senior at Palmdale, Haley did not deliver what many would consider to be eye-opening numbers given the fact he towered over most of his opponents. He averaged 13.7 points, 10.6 rebounds and 3.2 blocks for the Falcons.
Still, his efforts locally caught the attention of those at VCU, particularly coach
Shaka Smart
. Suppose that best explains why Haley started in the Rams' 10-point victory over Kansas in the Elite Eight.
The rest, as the say, is history. Chances are, Haley could not be happier with the way things eventually worked out.
Sean Ceglinsky covers preps for ESPNLosAngeles.com. Follow him on
Twitter
.
February, 16, 2011
2/16/11
10:42
PM PT


CHINO HILLS -- The barrage kept coming and, rather than call time outs, Chino Hills coach Steve Baik kept his hands at his hips. The large lead had evaporated, the momentum gone.

Fortunately, Baik had AJ Hecox.

"Thank God they came through," Baik said. "Otherwise, I would have been called the worst coach in the world."

Hecox scored 14 of his team-high 24 points in the second half, guiding No. 13-seeded Chino Hills past Leuzinger, 71-62, in the opening round of the CIF Southern Section Division 1AA basketball playoffs.

The Huskies blitzed Leuzinger at the start, jumping out to an 18-2 lead midway through the first quarter. But the Olympians chipped away behind sophomore Eric Childress' 14 first-half points. Chino Hills' lead was trimmed to nine, 34-25, at halftime.

Leuzinger squeezed every tick of the break, emerging from the visitors' tunnel some 30 seconds before the start of the third quarter. None of the players made an attempt to warm up. The strategy seemed to pay off.

All of a sudden, it was a game again.

Leuzinger came roaring back, taking its first lead early in the third quarter on a breakaway layup from captain Marshawn McMahan. Still no time out from Baik.

Hecox responded by sinking a three on the other end. The Olympians eventually regained the lead, 44-43, but another Hecox three put the Huskies (22-6) up for good.

"That's the best feeling in the world," Hecox said. "I'm sure any basketball player will say that. When you're making your shots and you feel confident, you feel like you're unstoppable out there."

It was a bittersweet ending for Childress, who finished with a game-high 26 points. It was a different story for McMahan, the top scorer for Leuzinger (17-10). Hecox bottled him up to the tune of 3-for-15 shooting. McMahan had erupted for 29 points against Bay League champion Peninsula on Feb. 1.

Senior Warren Ondatje had 17 for Chino Hills, which didn't win the Sierra League for the first time since 2006. For the Huskies, Wednesday night's victory was a redemption of sorts. The senior group didn't want to be remembered as the team that didn't win.

"This game was real important because no one felt we would make it this far," Hecox said. "No one thought we'd get past the first round. We're still proving people wrong."

And the Huskies will have one more chance to bark Friday against No. 4-seeded Etiwanda (26-2), which took care of Long Beach Wilson.

"We feel like we've got a chance," Baik said. "Etiwanda is a great team. We're just going to have to go to the drawing board and figure out their strengths. We feel like we've got a chance if we compete with some energy."
March, 11, 2010
3/11/10
6:47
PM PT
By
Pedro Moura
| ESPNLosAngeles.com
Back in December, the Taft Toreadors visited Los Angeles-area power Leuzinger and sneaked out with a 60-59 win.

But things are different now, as the Olympians of Lawndale are on a 21-game winning streak heading into Thursday's Southern California Division I second-round regional game. They haven't lost a game since last year, and rival coaches have said they're much improved.

"Oh, they're better," Taft coach Derrick Taylor said Thursday. "But there's no doubt that we're both better teams."

Leuzinger offers a balanced attack unlike most. Each of the Olympians' starters can be prolific scorers, including Amir Garrett (16.8 points a game) and Delon Wright (13.3). Wright didn't play against the Toreadors in December.

Aqeel Quinn and Colroy Gordon combine for another 23 points a game for Leuzinger.

"Any time you've got a team who gets five guys in double figures, you know they're going to be a lot to handle," Taylor said. "No matter who you are."

While Taft tends to rely on stars Bryce Jones and DeAndre Daniels, the Toreadors also have received solid production from reserve Jordan Gathers and Pierson Williams in recent games. Taylor noted that Williams averages more minutes per game than Jones or Daniels.

Gathers and Williams combined to score 27 points in Taft's 66-65 first-round win over Loyola on Tuesday, in which the Toreadors used staunch defense to stop the visiting Cubs from a potential winning shot in the waning seconds.

Taft fell to Westchester last weekend in the City Section Division I championship game at the Galen Center — a loss Taylor attributed partly to the "different atmosphere" in the college-style arena — but the Toreadors rebounded against Loyola. But Leuzinger just hasn't slipped up. The Olympians routed Santa Monica to win the Southern Section Division 1A title and swept past Washington on Tuesday in the opening round of the state playoffs.

Tip-off is 7 p.m. at Taft for tonight's second-round battle.
March, 6, 2010
3/06/10
5:05
PM PT
By
Sean Ceglinsky
| ESPNLosAngeles.com
ANAHEIM -- Delon Wright has lived in the shadow of his big brother for a quite some time now. Far too long. Then again, it's hard not to when you're related to Dorrell Wright, who was picked by the Miami Heat in the first round of the 2004 NBA draft.

Delon, however, took the first step toward finally making a name for himself Saturday by guiding Leuzinger to a 58-39 victory over Santa Monica in a Southern Section Division 1A boys' basketball championship game at the Honda Center.

The title is the first in the 80-plus year history of the school. By bringing home the hardware, Delon can now say he has done something his sibling hasn't.

"I'm going to call Dorrell. Yeah, we'll be talking,'' said Delon, who finished with 13 points, seven rebounds, seven steals, four assists and four blocks. "He wished me luck before the game and wanted me to win a championship for the school.''

Mission accomplished.

Truth be told, the game wasn't close. The Olympians (24-6) led from start to finish. The Vikings (24-7) struggled throughout.

Leuzinger extended its lead to as many as 22 points in the third quarter, seemingly toying with the Vikings at times.

One of the lone highlights for Santa Monica was when Danilo Toskoic leaped for a rebound in the fourth quarter and finished with a follow dunk at 7:16. Too bad the game was well out of reach, with the Vikings down by 20 points at that stage.

Aqueel Quinn was feeling it early on. The senior scored six points, highlighted by a three-point play that gave the Olympians a 22-5 lead at the end of the first quarter.

Toskoic knocked down a three-pointer and James Montgomery had a basket, aside from that, points were hard to come by for the Vikings in the opening eight minutes.

"They jumped on us from the get go,'' Santa Monica coach James Hecht said. "We were tentative and nervous. Once Leuzinger starting feeding off that, we were in trouble."

It was more of the same in second quarter. More tough times on the offensive end of the floor for the Santa Monica, which managed a mere nine points and ended up trailing 31-15 at halftime. The break could not come soon enough for the Vikings.

"They shocked us,'' Montgomery said.
March, 6, 2010
3/06/10
3:16
PM PT
By
Sean Ceglinsky
| ESPNLosAngeles.com
ANAHEIM -- This one was over before it started. At least, it appears that way.

Leuzinger jumped out to a 17-point first-quarter lead in Saturday's Southern Section Division 1A boys' basketball championship game against Santa Monica at the Honda Center. And little changed in the second quarter.

The Olympians continued to apply the pressure and the frustrated Vikings haven't come close to figuring out anything resembling an answer. As a result, they trail, 31-15, at halftime.
March, 5, 2010
3/05/10
11:59
PM PT
By
Sean Ceglinsky
| ESPNLosAngeles.com
And so it begins, March Madness, at the high school level.
Fans of boys' basketball, regardless of whether it's diehard or causal, we highly recommend that you head down to the Honda Center at some point Saturday and sneak in a game, or two, of the Southern Section championships taking place in Anaheim.
All told, six title games will take place at the venue over the course of the day. The early session, in particular, has some interesting matchups. Plenty will be at stake, namely a championship trophy, the one piece of hardware everyone covets.
That said, let's take a look at who's who and what to expect.
DIVISION 3A
For those up at the crack of dawn, Gardena Serra (29-2) and Compton Centennial (25-5) are set to tip-off at 9 a.m. The showdown promises to be an entertaining affair, worth waking up a tad bit early for. You don't want to miss the opportunity to see
Deonte Burton
. The 6-foot-1 senior for the Apaches is as dynamic as they come, a tremendous scorer who's considered one of the West Coast's top unsigned prospects. Serra is no slouch and counters with the talented backcourt tandem of
Vaughn Autry
and
Keith Shamburger
. The guard play figures to be the difference in this one.
DIVISION 2AA
Shortly thereafter, Murrieta Valley (26-4) and Compton (18-12) take the court, scheduled for 10:45 a.m. The Knighthawks have made a rather remarkable run to the finals, upsetting top-seeded Summit and fourth-seeded Alta Loma en route to the championship game. It doesn't appear as if anyone can stop them. The Tarbabes would like to think otherwise.
Cliff Sims Jr.
& Co. come in with plenty of confidence after shocking second-seeded Edison in the semifinals. When all is said and done, one of these Cinderella teams is going to realize its dreams.
DIVISION 2A
No one in Southern California is hotter than top-seeded Rialto Eisenhower (27-5), which enters its 12:30 p.m. game against Pasadena (24-6) with 18 consecutive victories. Picking your poison against the Eagles is tricky given the fact that they have several players capable of scoring in double digits. Focusing attention on any one individual could prove costly. For the Bulldogs to remain close,
Steven Adams
will have to play a prominent role. Make no mistake, all signs point to the 6-foot-9, 230- pound post player being capable. Whether that happens or not remains to be seen.
DIVISION 1A
Santa Monica (24-6) is another one of those teams that was supposed to be on the outside looking in at this stage. The eighth-seeded Vikings didn't stand much of a chance against fourth-seeded Colony or top-seeded Chino Hills. But low and behold, here they are, in the 2:15 p.m. championship game against Leuzinger (23-6). Amir Garrett might be an underclassman, but the 6-foot-6 junior certainly doesn't play like he has limited experience at the varsity level. If he approaches his averages, 17.1 points and 7.4 rebounds per game, the Olympians should take home the title.