Los Angeles Preps:

Lompoc
December, 19, 2011
12/19/11
12:22
AM PT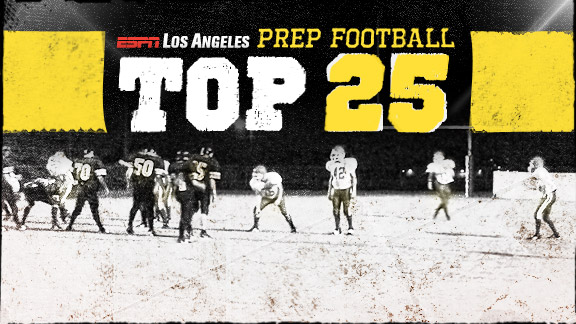 ESPN.com Illustration
Santa Margarita moves into the top spot after winning the CIF State Division I bowl in thrilling fashion. Westlake's stay atop the rankings was short-lived as the Warriors were overwhelmed by a superior Northern California power. The final ESPN Los Angeles prep football Top 25 rankings:
1. Santa Margarita (13-2)
If we learned anything about junior quarterback Johnny Stanton it's that he thrives when the lights shine the brightest. Stanton's go-ahead score with 16 seconds remaining secured the CIF State Division I bowl championship, and it'll be remembered for a long time. Coach Harry Welch won his third bowl game with the third different school. Last week: Beat San Jose Bellarmine, 42-37.
2. Vista Murrieta (9-5)*
The Broncos were a perfect 14-0 on the field but weren't selected for a state bowl game. They could reach the spotlight next year with the dynamic Su'a Cravens returning for the Inland Division champs.
3. Westlake (14-1)
Not exactly how coach Jim Benkert envisioned the CIF State Open Division bowl game, but consolation lies in the fact that it wasn't the first time De La Salle embarrassed a team, and it won't be the last. The Warriors figure to be in the mix again next year, with top playmakers Dashon Hunt and Justin Moore returning. Last week: Lost to De La Salle, 35-0.
4. Narbonne (11-3)
The City Section Division I champions are favored to repeat in 2012, if only because they've got the section's leading passer in Troy Williams (3,247 yards and 34 touchdowns).
5. Corona Centennial (12-2)
Quarterback Hayden Gavett exceeded expectations in his first year as starter following Michael Eubank's graduation. Running back Romello Goodman finished seventh in rushing in the section.
6. San Clemente (12-2)
The Tritons reached the Pac-5 Division championship game but must replace Utah-bound quarterback Travis Wilson next season.
7. Mission Viejo (10-3)
Safety Max Redfield, one of the top defensive backs in the 2013 class, has already bagged an offer from USC. He'll draw plenty of interest next season.
8. Upland (12-1)
No matter what you call them -- the Highlanders or Scots -- Baseline League champion Upland has a good group returning, led by quarterback Nate Romine.
9. Oaks Christian (11-3)
The Lions could take the next step if quarterback Brandon Dawkins, only a sophomore, develops the way many expect him to.
10. St. Bonaventure (10-3)
The Seraphs finished in third place in the Marmonte League and will have to find replacements for leading offensive standouts Shaun Wick and Marc Evans.
December, 12, 2011
12/12/11
12:10
AM PT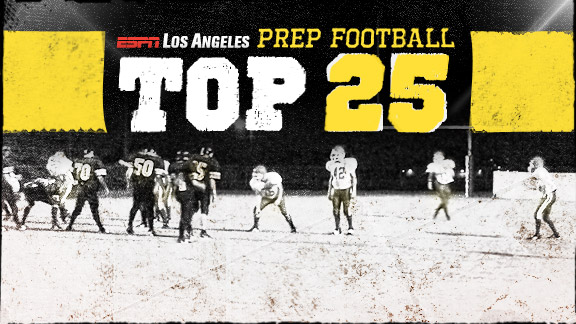 ESPN.com Illustration
Shiny trophies were handed out to sectional champions, led by state-bowl selections Westlake (Northern Division) and Santa Margarita (Pac-5 Division). Harbor City Narbonne claimed the City Section Division I title, moving up to the No. 4 spot in the ESPN Los Angeles prep football Top 25 rankings. Our list heading into the state bowl games:
1. Westlake (14-0)
The Warriors won their second Northern Division championship in three years behind Dashon Hunt's five touchdowns. Westlake is going bowling. Last week: Beat Oaks Christian, 49-42. Next: Open Division state championship game vs. Concord De La Salle at Home Depot Center, Saturday, 8 p.m.
2. Vista Murrieta (9-5)#*
Junior quarterback Nicholas Stephens scored the Inland Division championship-winning touchdown with 26 seconds remaining. They were undefeated on the field, but they didn't get the nod for the Division I state bowl. Last week: Beat Corona Centennial, 35-28.
3. Santa Margarita (12-2)
Coach Harry Welch won his ninth overall championship and first with the Eagles. Quarterback Johnny Stanton had 240 total yards. The Eagles are heading to state. Last week: Beat San Clemente, 27-13. Next: Division I state championship game vs. San Jose Bellarmine at Home Depot Center, Friday, 8 p.m.
4. Narbonne (11-3)*
Emotional leader Tray Boone usually talks the talk, but he backed it up Friday with six touchdown runs and 316 total yards to lead the Gauchos to the City Section Division I title. Last week: Beat Carson, 48-32.
5. Corona Centennial (12-2)*
Quarterback Hayden Gavett and running back Romello Goodman finally ran into the team that could keep up. Last week: Lost to Vista Murrieta, 35-28.
6. Oaks Christian (11-3)*
The Lions were closer to Westlake this time around, but it still wasn't enough in the Northern Division championship game. Last week: Lost to Westlake, 49-42.
7. San Clemente (12-2)*
The Tritons had to settle for a pair of first-half field goals, and it was the difference at Angel Stadium. The Tritons could have put the Eagles on their heels. Last week: Lost to Santa Margarita, 27-13.
8. Mission Viejo (10-3)*
The South Coast League champions have Max Redfield coming back next year. He's projected as one of the top safeties on the West Coast.
9. Upland (12-1)*
Quarterback Nate Romine returns next year for the Baseline League champs.
10. St. Bonaventure (10-3)*
The third-place Seraphs must replace departing seniors Shaun Wick and Marc Evans.
December, 11, 2011
12/11/11
7:07
PM PT
By
Sean Ceglinsky
| ESPNLosAngeles.com


CARSON -- At long last, everyone knows. The secret is out.

The showdowns for next weekend's CIF football state championship bowl games were revealed Sunday afternoon at the Home Depot Center. For the most part, things went according to plan as several highly anticipated matchups came to fruition. The waiting game was merely a formality for some teams. There were, however, more than a few surprises along the way.

"There are always some surprises with the bowl selections and this year is no different from the rest,'' said Mark Tennis, deputy sports editor for ESPNHS.

Westlake Village Westlake (14-0) faces Concord De La Salle (12-1) in the Open Division on Saturday at 8 p.m, as expected. All signs pointed to this marquee game being one of those classic no-brainer type of decisions for the panel of 10 section commissioners.

All of the games will take place at the Home Depot Center.

The Warriors will be making their first state bowl appearance.

The Spartans, on the other hand, are no strangers to making a deep run during postseason play. The perennial powerhouse from Northern California boasts a 3-2 record in bowl games, which includes a 48-8 victory over Anaheim Servite in the Open Division final last year.

"Our goal all year long was to make it to a bowl game,'' Westlake junior quarterback Justin Moore said before learning the Warriors secured a berth. "We worked hard in the spring and summer. To win it all would be something I can could tell my grandchildren some day.''

Things were not quite as easy to determine in the Division I bowl, where Santa Margarita (12-2) and San Jose Bellarmine (12-1) will meet on Friday at 8 p.m.

Some were under the impression that Vista Murrieta (9-5) was worthy of a selection after the Broncos won the Southern Section Inland Division title this past weekend. Moreover, their five losses were by forfeit for using an ineligible player earlier in the season, a violation the school self-reported to the section office.

Nevertheless, Santa Margarita will represent the Southland.

"All we ever wanted is a chance to win the state title, it's something everyone on this team has dreamed out and worked hard for,'' said Santa Margarita's Max Tuerk, a USC commit. "We have been focused since Day 1. If we play our game, we are tough to beat.''


December, 9, 2011
12/09/11
10:42
PM PT
FROM THE LOMPOC RECORD

Lompoc High School completed an undefeated season (14-0) with a 21-0 victory over cross-valley rival Cabrillo in the CIF Southern Section Northwest Division Championship game Friday night at Huyck Stadium in Lompoc.

Lompoc has been the No. 1-ranked team in Southern California's Division 3 all season and is in line for a bid to the state championship game at the Home Depot Center in Carson next week.

The state championship matchups will be announced Sunday.

For Cabrillo, the loss ends an excellent 11-3 season. Two of those losses were to Lompoc — in Friday night's Northwest Division title game and a 42-7 loss in the Los Padres League championship game one month ago. the Conqs' third loss was an early-season, non-league loss to Arroyo Grande.
November, 13, 2011
11/13/11
4:27
PM PT
Undefeated Lompoc received the top seeding, in large part because of its impressive season-opening victory against Arroyo Grande. The Braves breezed through the Los Padres League, surrendering an average of just 7.3 points per game.
Lavon Coleman
and
Taylor Cornejo
form an effective running combination that has Lompoc thinking championship. Here's a breakdown of the division:
The seeds:
No. 1 Lompoc, No. 2 St. Bernard, No. 3 Lompoc Cabrillo, No. 4 Nordhoff.
Best first-round matchup:
Bosco Tech (7-3) at No. 4 Nordhoff (6-4) -- The Bosco Tech Tigers score a lot of points (30.8 per game) and so do the Nordhoff Rangers (35.7). Buckle your seat belts.
Toughest road:
No. 3 Lompoc Cabrillo (8-2) -- Forget the fact Cabrillo was blown out by rival and top-seeded Lompoc, 42-7, in the Los Padres League championship game. Not only would they likely have to go through them again in this bracket, but would probably have to beat undefeated St. Bernard in the semifinal.
Potential shocker:
Santa Inez (5-5) at Torrance (6-4), first round -- Yes, the Santa Inez Pirates have five losses this season, but they played Lompoc tough, losing by only eight. Plus, Torrance was 2-3 in nonleague play.
Darkhorse:
Bishop Montgomery (6-4) -- Del Rey League runner-up Bishop Montgomery hanged with champion and No. 2-seeded St. Bernard in the finale and has a tough running back in workhorse
Michael Turner
. Don't count out the Knights.
Final analysis:
Don't expect many upsets here, given that teams will be busing from the L.A. area to the Lompoc area and vice versa. The top seeds, Lompoc and St. Bernard, shouldn't encounter many problems. All signs point to those two meeting in the title game.
Championship prediction:
St. Bernard vs. Lompoc -- Will Lompoc be able to stop -- or even contain -- St. Bernard quarterback Christian Smith, the senior who has passed for 36 touchdowns 3,140 yards this season? Our guess is no. St. Bernard takes the crown in a thriller, 38-35.
Link to the Northwest Division playoff bracket on CalPreps.com