Los Angeles Preps:

Long Beach Wilson
June, 5, 2012
6/05/12
6:29
PM PT
Right-handed pitcher Chase DeJong of Long Beach Wilson was selected 81st overall by the Toronto Blue Jays on Tuesday in the second round of the MLB Draft.

DeJong, a USC signee, has some family history with the Blue Jays. His older cousin, Jordan DeJong, played briefly with Toronto in 2007. DeJong was 4-3 with a 0.82 ERA and 103 strikeouts in 76 2/3 innings in his senior season at Wilson.

Joe Muņoz, a shortstop from Los Altos who has signed with San Diego State, went 90th overall to the Arizona Diamondbacks.

Tyrone Taylor of Torrance was picked 92nd overall by the Milwaukee Brewers. Taylor, an outfielder who also starred on the gridiron, is a Cal State Fullerton signee.

Bishop Amat infielder Rio Ruiz, a two-sport star who was projected as a possible first-round selection before a blood clot sidelined him for most of his senior season, was taken by the Houston Astros with the first pick of the fourth round, 129th overall. Ruiz, a USC signee, was an AFLAC All-American selection and played on the U.S. youth national team last summer.

Kieran Lovegrove, a right-handed pitcher from Mission Viejo, was picked in the third round by the Cleveland Indians. He was the 110th overall selection.

In the sixth round, the Seattle Mariners selected Huntington Beach Edison shortstop Timmy Lopes, the 191st overall pick.

Ron Miller, a third baseman who left Gardena Serra after his junior season, was selected in the 10th round by the Miami Marlins.

Hunter Virant, a left-handed pitcher from Camarillo, was selected in the 11th round by the Houston Astros. He is committed to UCLA.

Trey Williams from Valencia High, a power-hitting shortstop, was picked in the 11th round by the St. Louis Cardinals. He hit .378 with five home runs and 24 RBIs in his senior season. Williams is committed to Pepperdine.

Jordan Guerrero, a left-handed pitcher from Moorpark High School, was selected in the 15th round by the Chicago White Sox.
May, 18, 2012
5/18/12
6:25
PM PT
Friday's first round was cruel to the Moore League baseball teams.

League champion Long Beach Poly, seeded fourth in the CIF-Southern Section Division 1 bracket, was upset at home by Huntington Beach, 2-1, despite left-hander Chris Castellanos' complete-game effort. The Jackrabbits loaded the bases in the last inning but Jeff Turley lined out to left field.

Second-place Lakewood, meanwhile, dropped a 2-0 decision to Marina. And Long Beach Wilson, behind top MLB Draft prospect Chase DeJong, fell at Newbury Park, 3-0.

They say the postseason is an entirely different monster. Poly, Lakewood and Wilson -- which combined for a 72-19 regular-season record -- now know the saying all too well.
May, 11, 2012
5/11/12
10:53
AM PT
By
Tim Haddock
| ESPNLosAngeles.com
The Santa Margarita boys golf team won the CIF Southern Section team golf championship at Rancho San Marcos in Santa Barbara on Thursday.

Beau Hossler shot a 7-under 65 to lead Santa Margarita to a 363 team score. Long Beach Wilson was second at 370. Andrew Morgan and Chase Nicolai each shot 2-under 70s for Long Beach Wilson.

Great Oak was third at 373. Santa Barbara finished fourth at 374.

The top four teams at the Southern Section team championship advance to the CIF/SCGA regional at Brookside Golf Course in Pasadena next week.
May, 11, 2012
5/11/12
10:50
AM PT
Moore League baseball juggernauts Lakewood and Long Beach Wilson were expected to duke it out for the top spot this season, but Long Beach Poly spoiled the party.

Xavier Lavelle's walk-off two run double in the bottom of the 12th inning led the Jackrabbits to a 2-1 win against Wilson on Thursday night, giving Poly sole possession of the league title for the first time since 1968. Wilson star pitcher Chase DeJong threw 10 innings of no-hit ball and hit a leadoff triple in the top of the 12th that led to the Bruins' go-ahead run.

Poly (24-6, 11-1) entered the week ranked fourth in the CIF-Southern Section Division 1 poll. Wilson (23-7, 9-3) was eighth and Lakewood (25-6, 10-2) ninth.

The CIF-Southern Section playoff pairings will be released Monday at 12:30 p.m.
April, 24, 2012
4/24/12
9:54
PM PT
It has been quite a week for Long Beach Poly pitcher
Chris Castellanos
. It began with a perfect game against Long Beach Wilson and ended Tuesday night a dramatic win against Moore League top dog Lakewood, the 34th-ranked team in the nation according to ESPNHS.
Castellanos went the distance in Tuesday's gut-wrenching 3-2 victory at Blair Field. The junior left-hander escaped a bases-loaded jam in the final inning. Last week Castellanos beat Wilson's
Chase DeJong
and this week he beat Lakewood's
Shane Watson
. Both DeJong and Watson have signed to play at USC next fall.
With the victory, Poly remained in the hunt for the Moore League title, improving to 7-1 in league and 19-4 overall. Lakewood is also 7-1 in league and 22-4 overall.
Other notable baseball action in south Los Angeles County:
For the first time in school history, Pasadena La Salle beat Bishop Amat, 7-6. Bishop Amat, the defending CIF-Southern Section Division 4 champs, blew a five-run lead and dropped only its second league game since joining the Del Rey League in 2007. La Salle (14-6-1, 6-1) and Amat (14-8, 8-1) face off again on Friday at Citrus College, with the winner gaining the upper hand in the league title race.
Bonita improved to 21-1 with a 4-1 win against Thousand Oaks. The Bearcats are the top-ranked team in Division 3.
April, 19, 2012
4/19/12
8:27
PM PT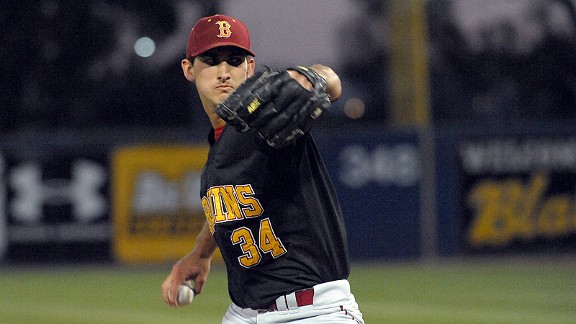 Stephen Dachman, Courtesy of GazettesSports.comChase DeJong enjoys a challenge, which explains why he left a small private school for a large public school.
LONG BEACH --
Chase DeJong
wanted to challenge himself.
In a time when transfers from public to private schools are common, the senior pitcher decided to go the other way, leaving the comforts of Valley Christian in Cerritos for Long Beach Wilson at the end of ninth grade. He could stay and dominate at Valley Christian, where he knew the first and last names of about 600 students, but that would have been easy. No, like any great competitor, DeJong wanted to challenge himself.
It was difficult to leave because he had attended Valley Christian since preschool. His two older brothers had gone there as well. It was home for him, all he ever knew.
"I knew if I wanted to experience a big public school and play against top-level competition, I needed to test myself," says DeJong, the 12th-ranked player in the state according to ESPN.
DeJong adjusted well to the move and, a year later, burst onto the scene with a 10-2 record and 1.00 ERA as a junior. In 50 innings pitched this season the 6-foot-5 right-hander has given up nine earned runs and struck out 71 batters.
"His biggest transition was getting used to the large number of personality types and religious beliefs," says Bruins head coach
Andy Hall
, whose team is 14-6 with all six losses coming by one run. "He's lived a sheltered life. Being exposed to this has helped him mature and grow."
DeJong throws an unmistakeable low-90s fastball and mixes in what Hall describes as a "vicious" curveball. He received his first recruiting letter as an eighth grader and, eventually, was pursued by nearly every major college program before settling on local USC. DeJong broke the news to Trojans head coach
Frank Cruz
with a late-night phone call last August.
"It was 11:45 at night," DeJong says. "I woke him up."
Not that Cruz complained or anything.
DeJong has remained humble through the added attention and higher profile. Hall says he receives baseball cards of DeJong from autograph seekers in his school mailbox. The 18-year-old signs them and sends them back.
April, 18, 2012
4/18/12
10:44
AM PT
Long Beach Poly junior pitcher
Chris Castellanos
retired all 21 batters in a 1-0 victory against Long Beach Wilson at Blair Field on Tuesday night. The left-hander got 13 ground outs and five strikeouts to help the Jackrabbits (17-3) grab sole possession of second place in the Moore League.
"He put it all together," Poly coach
Toby Hess
told
Gazettes.com
. "He had all three pitches working. When he does that, he's tough to hit. He was really pitching tonight, he was carving people up."
Castellanos out-dueled Wilson ace right-hander
Chase DeJong
, a USC signee.
"I honestly had no intentions of a perfect game," Castellanos
told the newspaper
. "It's exciting. I never thought in my wildest dreams that something like this would happen."
January, 19, 2012
1/19/12
12:28
PM PT
Compton (11-7) handed Long Beach Jordan (12-6) its first Moore League loss with a 72-63 overtime win Wednesday night. Victor Robbins overcame leg cramps to lead the Tarbabes with 19 points. Long Beach Poly (14-1) returned from a successful trip to Seattle and manhandled Long Beach Wilson to the tune of 79-33. Roschon Prince had 20 points.

In Western League action, Fairfax (12-6) improved to 4-1 in league with an 80-55 home win over LACES, while Westchester (11-4) blew out Venice, 63-32.

CIF-Southern Section Division 3AAA top-ranked Damien (17-1) took sole possession of first place in the Sierra League with a 63-55 victory against Chino Hills (12-7). Chris Reyes had 24 points, including 12 straight in a clutch fourth quarter. Sharpshooting wing Jared Dizon added 21.

In a battle for first place in the Hacienda League, Bonita (15-4) beat Walnut, 55-40.

Gardena Serra (17-2) remained atop the Del Rey League by defeating Bishop Amat, 52-21. The Cavaliers held the Lancers to just nine points in the first half. Elsewhere in league, Bishop Montgomery (16-3) earned a 72-48 win at Cathedral.
May, 31, 2011
5/31/11
11:34
PM PT
LONG BEACH -- Austin Pettibone knew that if Esperanza won Tuesday night, he'd be taking the mound under the bright lights at Dodger Stadium on Friday. He had to get his hands a little dirty but, sure enough, the Aztecs' ace will toe the rubber at Chavez Ravine.

The right-hander threw two scoreless innings of relief Tuesday, earning the save and helping Esperanza beat Long Beach Wilson, 6-2, in the semifinals of the CIF Southern Section-Ford Championships, presented by Farmers. The Aztecs advanced to Friday night's Division 1 title game at Dodger Stadium, where Pettibone will face off against Riverside J.W. North, which beat Moore League champion Lakewood, 10-4, in the other semifinal.

"It's what you always dream about," Pettibone said. "Pitching at a major league park, in a championship game. Getting the last six outs was nerve-racking, but I knew I had to calm down, throw my stuff and get it done."

Pettibone has three wins and a save in Esperanza's four playoff games. Aztecs head coach Mike Curran never hesitated to bring in his top arm. Six outs away from a trip to the final?

Easiest decision ever.

"He's our guy," Curran said, "we're going to him."

Esperanza (23-10) erased a one-run deficit with a four-run fourth and never looked back. Wilson (26-7) had taken a 2-1 lead in the top half of the inning on a Stefan Miladinovich two-run double that might have gone out at most high school fields. The pro-Bruins crowd could care less, though, as the bleachers at Blair Field rattled loudly.

But the Bruins coughed up the lead on a throwing error by second baseman Daniel DeWolf. They had the tying run at the plate against Pettibone in the sixth, but Mitch Mossman's acrobatic throw to first put an end to the threat.

"That charge and flip was huge," Curran said.

The Aztecs added an insurance run in the sixth to all but punch their tickets to Los Angeles. A potential, intriguing all-Moore League championship game loomed on the horizon. Instead, both Wilson and Lakewood fell in a park they're more than familiar with. The Bruins had won 11 straight.

"I knew we were going to do it," Pettibone said. "When we rolled up I knew we were going to win."
May, 31, 2011
5/31/11
11:06
AM PT
CIF-SOUTHERN SECTION BASEBALL SEMIFINALS

Riverside J.W. North vs. Lakewood at Blair Field (Long Beach), Tuesday, 4 p.m.

As if the Division 1 bracket needed any more intrigue, this matchup features a team that knocked out the other team's starting catcher in a game earlier this season. Lakewood catcher Tyler Schultz suffered a broken shoulder blade when a North base runner plowed into him at the plate. The runner was ejected for violating non-contact rules and Schultz, who took his share of hits as the Lancers' quarterback last fall, was sidelined. Lakewood is riding high following its upset of top-seeded Huntington Beach Edison and highly touted prospect Henry Owens. The probable starter for the Lancers is Nick Torres, who gave up one hit over six innings in a second-round win at Tesoro.

Anaheim Esperanza vs. Long Beach Wilson at Blair Field, Tuesday, 7 p.m.

The Bruins, winners over Simi Valley at Blair Field last week in the quarterfinals, return to the site hoping to duplicate the result. They should be aware of every nook and cranny there -- something that may come in handy in such a tense atmosphere. Wilson head coach Andy Hall has gotten two shutouts in three playoff games and has seen his team outscore the opposition 14-4. Esperanza, the Century League winner, shocked second-seeded Mater Dei in the quarters.

Bonita at Beckman, Tuesday, 3:15 p.m.

The top-seeded Bearcats appear to be too well-balanced for any other team in Division 3. The pitching is there, with ace Justin Garza and Brandon Murfett at the forefront of that success. They're hitting .358 as a team this season. Bonita has outscored eight opponents, 93-9, in the month of May, including 22-1 in the postseason.

Woodbridge at Culver City, Tuesday, 3 p.m.

Who could have guessed that Culver City would still be in the Division 3 race? The Centaurs limped into the postseason, losing seven of their last 11 regular season games, yet they're a win away from getting to the final Dodger Stadium. Tyler Adkison, George Aceves, Ryan Mulvihill and Rodney Bradley are an offensive force.

Torrance vs. Bishop Amat at Dedeaux Field (USC), Tuesday, 6:30 p.m.

Bishop Amat was, at one point earlier this season, the top-ranked team in the entire state. There's immense -- and sometimes untapped -- potential in La Puente. Head coach Andy Nieto saw it on full display last Friday, as the Lancers pummeled Fontana Kaiser, 13-2. They look to carry over that momentum to the Division 4 semifinal against Torrance, a team they lost to, 13-9, in the Redondo Tournament championship game earlier in the year.
May, 31, 2011
5/31/11
6:39
AM PT
Here is a look at Southern Section Championship baseball semifinal games on Tuesday that include Orange County teams.

DIVISION 1

Esperanza (22-10) vs. Long Beach Wilson (26-6) at Blair Field, Tuesday, 7 p.m.


The last time Esperanza reached the semifinals was 2007 when it lost to ... Wilson. The Aztecs are coming off a 5-1 upset of second-seeded Mater Dei after outscoring their first two opponents, 30-11. The Century League champion hit only three home runs in its first 29 games, but have hit four during the playoffs. Nick Catalano (.396, 35 runs, 19 RBIs) has three homers and Ryan Cooper (.427, 31 runs, 24 RBIs) has two. Austin Pettibone (8-4, 2.24 ERA) and Scott Mason (5-0, 2.45 ERA) lead the pitching staff. Wilson, which finished second in the Moore League to another semifinalist, Lakewood, is led by Daniel DeWolf).338, 24 runs, 15 RBIs), Stefan Miladanovich (.309, 14 runs, 20 RBIs), as well as pitcher Chase Dejong (10-2, 1.41 ERA), who has been the winner in all three playoff games, and closer Ty Provencher 1.95 ERA), who committed to Long Beach State. Although Wilson plays some of its home games at Blair Field, Esperanza will be the home team. The winner will play at Dodger Stadium on Friday, 7:30 p.m., against the winner of 4 p.m. game between Lakewood and Riverside North.

DIVISION 2

No. 4 Santa Barbara (23-6) at Mission Viejo (21-13), Tuesday, 3:15 p.m.

Santa Barbara is used to scoring a lot of runs. The Gauchos average 6.8 runs per game, and scored seven in its two most recent playoff victories. Five players have at least 20 RBIs in an offense led by Collin Dewell (.391, 39 runs 33 RBIs) and Spencer Fraker (.359, 37 runs, 20 RBIs). Danny Zandona (10-1, 1.29 ERA) leads the Santa Barbara mound corps, which carries a collective 2.33 ERA. He has appeared in all three playoff games. Mission has only one player with as many as 20 RBIs, Austin Saenz (.495, 44 runs, 25 RBIs), but the Diablos are also averaging more than six runs per game. The winner will play Thursday, 7:30 p.m., at Dodger Stadium against the winner of Etiwanda at No. 2 Arcadia.˙˙


October, 19, 2010
10/19/10
3:29
PM PT
Jalen Moore, Bishop Amat, Jr.

Moore was the definition of clutch in a crucial win against Crespi on Friday night. The junior rushed for 270 yards -- 180 in the second half -- and two touchdowns on 32 carries, guiding undefeated Bishop Amat (7-0) to a 31-28 come-from-behind victory. Moore saved his best for last, scoring from four yards out to put the Lancers ahead, then from three yards out to make it a two-possession game. He iced it with a long run in the waning seconds.
Alexis Hayes, Long Beach Wilson, Jr.
Hayes shot a season-best-tying 35 Thursday to help the Wilson girls' golf team beat Lakewood and improve to 16-2. Hayes was in contention for the Moore League individual title as of Monday.