Los Angeles Preps:

Luke Falk
September, 29, 2011
9/29/11
1:23
PM PT
By
Tim Haddock
| ESPNLosAngeles.com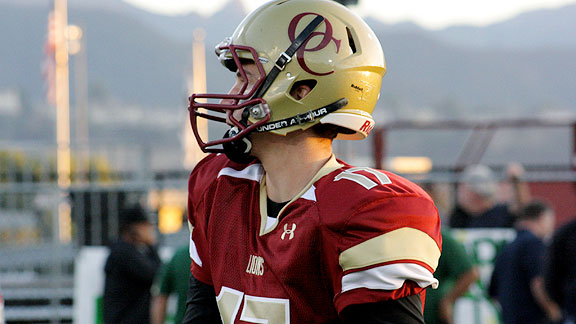 Tim Haddock for ESPNLA.comLuke Falk started two games for Oaks Christian but has decided to return to Utah.
Luke Falk
, the highly touted junior quarterback at Oaks Christian, has left the school and returned to his home in Logan, Utah, with his family.
Oaks Christian coach
Bill Redell
said Falk and his family returned to Utah for "personal reasons" and had "family issues."
Falk started the first two games for Oaks Christian. The Lions lost their season opener to Bellevue (Wash.), but Falk threw for 317 yards and two touchdowns.
Falk started the second game for Oaks Christian against Agoura, but was replaced in the first quarter by sophomore
Brandon Dawkins
. Oaks Christian won the game against Agoura, 50-11.
"We needed to take a look at Dawkins," Redell said. "He looked real good against Agoura."
Dawkins started the third game of the season for Oaks Christian, passing for one touchdown and rushing in another, in a 36-24 win over St. Bonaventure. Falk was the back-up and Redell said he intended to play him in the second half. But Oaks Christian was up 20-3 at halftime and Redell decided to stay with Dawkins the rest of the game.
"If he was the starting QB, he would have stayed," Redell said. "I think he would be here. It didn't work out. He's a great kid. Against Bellevue, he did some good things."
Dawkins will be the starter on Friday night against Calabasas. Redell said he doesn't have a back-up quarterback for the next game and if something happens to Dawkins, he will use a wildcat-type offense with running backs
Ishmael Adams
and
Carlos Mendoza
.
According to a story in the
Salt Lake Tribune
, Falk will return to Logan High School, but won't be able to play on the football team until his senior season.
September, 21, 2011
9/21/11
7:08
PM PT
By
Tim Haddock
| ESPNLosAngeles.com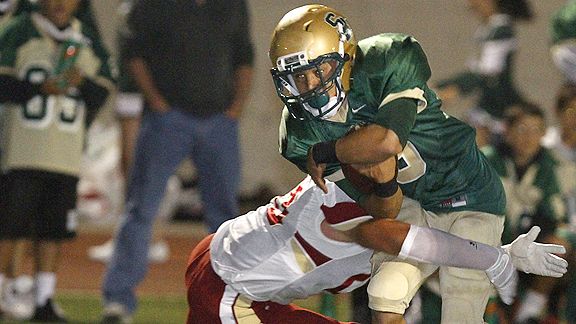 John Lazar/Special to ESPNLosAngeles.comShaun Wick was a key component for St. Bonaventure in 2010 and now he's back for his senior year.
Two days before the biggest game of the year for Oaks Christian, coach
Bill Redell
is still evaluating who he will start at quarterback against St. Bonaventure on Friday night.
St. Bonaventure (2-0) comes in as the No. 5-ranked team in the ESPN Los Angeles prep football rankings with an impressive win over Corona Centennial to open the season.
Oaks Christian (1-1) is the No. 8 team according to ESPNLA and the reigning CIF Southern Section Northern Division champion. The winner of this game will have the early edge for the Marmonte League title.
Luke Falk
started the season opener for Oaks Christian against Bellevue (Wash.) and passed for 235 yards and a touchdown in a 31-21 loss.
Oaks Christian sophomore
Brandon Dawkins
played well against Agoura, going 6-for-6 passing for 121 yards and three touchdowns, in a 50-11 blowout in the league opener last week.
Falk started the game against Agoura but was replaced by Dawkins in the first quarter. Dawkins engineered four touchdown drives in a row to give the Lions a 29-3 lead in the second quarter.
"Both are very talented," Redell said. "It's a tough decision."
St. Bonaventure coach
Todd Therrien
, meanwhile, is using last year's 33-32 overtime loss to Oaks Christian as motivation to prepare his team for Friday night's game.
St. Bonaventure had a 19-0 lead in the third quarter before Oaks Christian rallied back and scored two touchdowns in the final 1:30 to tie the game and send it into overtime.
"We made a crazy amount of mistakes," Therrien said. "When you get someone down, you need to step on their throat and pull their heart out. We didn't do that last year."
Redell said of all the games he has won over the years, last year's win over St. Bonaventure is one that his team didn't deserve.
"(St. Bonaventure) gave it away," Redell said. "They dropped three or four interceptions. They should've won the football game. I told Todd after the game that I should have lost. I'm sure Todd is using that as motivation. I'm using it."
The game is scheduled to start at 7 p.m. at Oaks Christian High School.
Here's a look at some of the other top games in the LA North:
August, 27, 2011
8/27/11
6:42
PM PT
By
Tim Haddock
| ESPNLosAngeles.com


Oaks Christian is coming off a championship season, winning the CIF Southern Section Northern Division title over Marmonte League rival Westlake. The Lions kept most of their defense in tact from a year ago, led by Arizona State-bound linebacker Carlos Mendoza and cornerback Ishmael Adams.

After winning a championship last season, Oaks Christian might be headed for a letdown. But coach Bill Redell points to the tradition that has quickly been established at the school in little more than a decade.

It has become expected the Oaks Christian football teams will win CIF championships. This team has a CIF state bowl game in its sights. Keeping the winning tradition alive at Oaks Christian is the main motivation for this team though.

Here's a closer look at the Lions:

Team: Oaks Christian.

Coach: Bill Redell, 12th year.

2010 Record: 12-2, won CIF Southern Section Northern Division championship, 29-28, over Westlake.

Returning starters: 14 total. Eight on defense, six on offense.

Key players on offense: RB Ishamel Adams, RB Carlos Mendoza, WR Jordan Payton, QB Luke Falk, QB Brandon Dawkins, OL Robert McGee, OL Marcus Piechowski.

Key players on defense: DB Ishmael Adams, LB Carlos Mendoza, DB Jordan Payton, LB Cameron Judge, LB Cole Taylor, DL Marcus Piechowski, DL Marcus Jones.

Difference maker: Jordan Payton. The senior wide receiver will shoulder the load on the offensive side of the ball. He caught 61 passes for 840 yards and nine touchdowns as a junior. Only Blair Holliday, now playing at Duke, had better numbers than Payton last season. Payton will also see considerable time at defensive back. He was committed to USC, but had second thoughts. According the Redell, Michigan is the leader in the clubhouse on the recruiting trail for Payton.

Newcomers: QB Luke Falk, WR Zack Hernandez, WR Zack Bornstein.

Not to be missed: Oaks Christian vs. Bellevue, Wash., Sept 3 at Mission Viejo High. Oaks Christian and the rest of the Marmonte League teams have only one preseason game. Oaks Christian scheduled one of the toughest teams in the country in Bellevue, the reigning 3A state champions from Washington. Bellevue enters the 2011 season as the top-ranked team in Washington and No. 42 team in the country as ranked by ESPN Rise.

Coach's comment: "There's great tradition here that the kids feel they need to continue. In fact we have a T-shirt that says Tradition Never Graduates. I think they want to keep up the tradition of a winning program."

Final analysis: Oaks Christian has been quarterback prep for the past few years. The school has produced Jimmy Clausen, Nick Montana and continued the tradition of sending quarterbacks to major college programs when last year's starter Richie Harrington made it on the Oregon State football team. Bill Redell said the starting quarterback job at Oaks Christian is still up for grabs between junior Luke Falk, a transfer from Utah, and sophomore Brandon Dawkins. The defense, led by linebacker Carlos Mendoza, who is headed to Arizona State, might be the strength of this team. Eight players return on defense, including Ishmael Adams at corner back, one of the top college prospects in the country. Oaks Christian made the jump from the Southern Section Northwest Division to the Northern Division and won a CIF championship. The Lions were slow out of the gate in 2010, going 2-2 to start before winning 10 games in a row including four in the playoffs. Oaks Christian will most certainly be shooting for another Northern Division championship and perhaps a berth in a CIF state bowl game.