Los Angeles Preps:

Malik Felton
February, 1, 2011
2/01/11
4:38
PM PT
Servite, which won a second consecutive Pac-5 football championship this season behind a brick wall defense and a lightning quick running back, swept the top awards for the Southern Section's marquee division.
Hard-hitting linebacker
Matt Inman
was named the defensive player of the year in the division, and running back
Malik Felton
– who began the season as a slot receiver but moved to tailback after a series of injuries – was named the offensive player of the year.
Troy Thomas
, whose team won 25 in a row before losing badly to Concord De La Salle in the California Open Bowl Championship, was named the section's coach of the year.
Eight Servite players made the All-Pac 5 team, while there were seven from Mission Viejo—which was undefeated going into the Pac-5 title game—and four from Los Alamitos.
Others who received top awards in their respective sections were quarterback
Cody Clements
, junior linebacker
Aaron Porter
and Coach
Frank Mazzotta
of La Habra in the Southwest Division; and Garden Grove's
Josh Webb
– who played quarterback, receiver and running back – and Coach
Willy Puga
, and Corona del Mar linebacker
Preston Risser
in the Southern Division.
Here is a complete list of Orange County players who were selected. Click
here
for the list of all divisions.
December, 12, 2010
12/12/10
12:17
AM PT
By
Martin Henderson
| ESPNLosAngeles.com
ANAHEIM – They had been on a collision course all season. Both teams had lived up to the hype as they went through the playoffs. And when they met at Angel Stadium on Saturday to determine the undefeated Pac-5 champion, an unstoppable offense and a bruising defense both showed up.

For the same team.

Second-seeded Servite scored four times in the first half and rode the arm and legs of Cody Pittman, the continued excellence of Malik Felton, and the trademark defense to a decisive 41-27 victory in front of 15,582 fans over the one team that figured to have a chance to beat them. It's the second consecutive championship for Servite (14-0), which also won the Division II State Bowl championship last season.

Instead, top-seeded Mission Viejo (13-1) found the defense of Servite (14-0) just as physical as advertised. The Diablo offense dropped balls – perhaps knowing the jarring hit that would come with every completion – and threw interceptions and didn't look anything like the team that averaged 45.1 points this season.

"They rattled some of us," said Mission Viejo quarterback Alex Bridgford, a junior who fumbled at the one-yard line on Mission Viejo's final play with 52 seconds to go. "We had to come back at the end but it was too late."

This game had seemingly been in the making since last season when Mission Viejo was turned away on a two-point conversion attempt in the final minute of a 19-18 loss to Servite in the semifinals.


December, 4, 2010
12/04/10
11:10
PM PT
By
Martin Henderson
| ESPNLosAngeles.com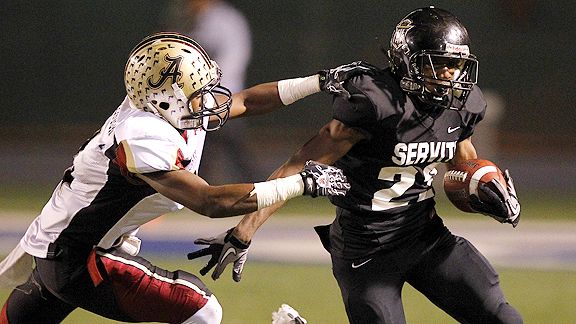 Alex Gallardo/Special to ESPNLA.com
Servite's Malik Felton rushes for some of his 155 yards on the ground to lead the Friars to victory.
CERRITOS – Classic Servite.
Special teams, defense, and
Malik Felton
.
The Friars, seeded second in the Southern Section Pac-5 Division playoffs, lived up to their reputation Saturday when they relied on their sure things to beat previously unbeaten Alemany, 28-21, to advance to their second consecutive championship.
Servite (13-0) will play top-seeded Mission Viejo (13-0) on Saturday at Angel Stadium in a game that features two of the Southland's heavy hitters, a collision course that seems to have been destined since Day 1. They met last year in the Pac-5 semifinals and Servite won, 19-18, when it turned back a two-point conversion attempt in the last minute. The Friars went on to win the section title, then the State Division II Bowl championship.
Their winning streak now stands at 24 games, but it wasn't without some anxious moments against Alemany (12-1).
Vernon Adams
showed just how dangerous he could be. He completed 19 of 34 passes for 278 yards and two touchdowns, and ran 22 times for 140 yards. "Tiring," is how
Troy Niklas
described trying to track down the elusive senior.
November, 29, 2010
11/29/10
7:21
PM PT
By
Martin Henderson
| ESPNLosAngeles.com
1. Mission Viejo is a better team when Tre Madden is on offense. The linebacker is no longer just a wildcat quarterback, but could be the quarterback, period. The Diablos like junior Alex Bridgford – and he's a terrific talent – but he doesn't make Mission's offense as dangerous as it is when Madden lines up at QB. He was three-for-three passing with all completions going for more than 20 yards, he squirmed away from would-be tacklers in the backfield and he threw on the run. Madden is a stud. Of course, the best thing about Mission is that it got duly tested and performed in the clutch. The Diablos fell behind in the fourth quarter, 20-17, the first time this season they have trailed that late in the game. After that, Mission attempted only one pass – by Madden, good for 27 yards to Frank Randal – which set up Dallas Kessman's one-yard run to retake the lead.

2. Really impressive that Servite scored so many points against Crespi. Most critics of the Friars point to their middling offense, so a 40-16 victory was definitely eye-opening. The Servite defense came through again with another strong performance as the Friars opened up a 33-0 lead in the third quarter before giving up a touchdown. And special teams continue to produce, this time London Lewis scoring a touchdown after Cameron Farrell blocked a punt. But the offensive production was stellar. Crespi had given up as many points only once this season, a 53-47 shootout over Taft. Two of Crespi's other three losses were by three points – to Compton Dominguez in the first game under newly hired coach Jon Mack's reign, and to Bishop Amat. The other was a 28-17 loss to third-seeded Alemany. In addition to Malik Felton's emergence as a game-changing back (he had 190 yards and TD runs of 20, 49 and 65 yards) junior quarterback Cody Pittman rushed for 77 yards and passed for 108.


November, 26, 2010
11/26/10
11:15
PM PT
By
Sean Ceglinsky
| ESPNLosAngeles.com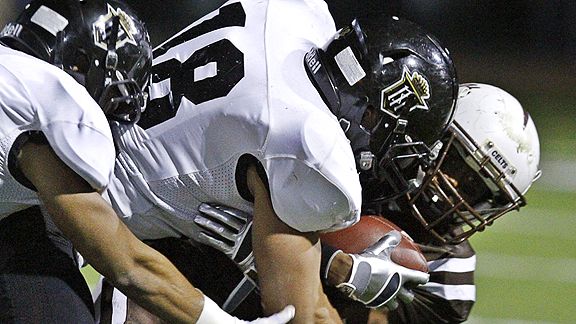 John Lazar/Special to ESPNLA.com
Crespi's M. Ajani Shanks gets tackled by Servite's Butch Pauu in the first half of their Pac-5 quarterfinal game.
ENCINO -- One of their very own came home.
Former Crespi High football coach
Troy Thomas
, also a Celts' alumni, returned to his old stomping grounds Friday night. This time around, however, he was in unfamiliar territory. Thomas was on the opposite sideline as head honcho of Servite, the top-ranked team in ESPNLosAngeles.com's Top 25 rankings.
As much as he attempted to downplay the whole idea of being back at Crespi, you get the sense Thomas was pleased with the Friars' 40-16 victory over the Celts in a Southern Section Pac-5 Division quarterfinal showdown.
"Sure, I recognized a lot of faces tonight, I was here for quite a while. But really, there was no need to make this game any bigger than it already was," said Thomas, who is in his sixth year at Servite after compiling a 34-13 record with the Celts from 2001 to '04. He graduated from Crespi in 1987.
"It's always nice to come back and get a win at your old school. But it wasn't about me. It was about all of our kids and their desire to get the job done. I'm extremely proud of this bunch. They did a great job. ''
With the victory, Servite (11-0) extended its winning streak to 22 consecutive games. Equally important is the fact that the Friars moved one step closer to a successful defense of their division title.
"Coach didn't say much leading up to this game, but deep down, we know he probably wanted this win a little more than the others this season,'' Servite senior
Matt Inman
said. "We got it done for him.''
November, 15, 2010
11/15/10
9:50
PM PT
By
Martin Henderson
| ESPNLosAngeles.com
1. You don't have to play at a high-profile school to have a great high school career. Chris Paul caught eight passes for 191 yards and five touchdowns in a 49-39 Orange Coast League victory over Saddleback and ended his career as Orange County's all-time leader in touchdown receptions. Paul was on the receiving end of 42 scoring passes, giving him three more than Jeremy Childs, who caught 39 for Los Alamitos before graduating in 2005.

2. In his fourth consecutive week as a starting tailback, Malik Felton is making a bid for offensive player of the year honors in Orange County. He broke off a 70-yard TD run against Orange Lutheran, so six of his seven scores in that span are from 11 yards or more, and three are from at least 37. He has 83 carries for 682 yards (8.2 per carry) against St. John Bosco, Mater Dei, Santa Margarita and Lutheran. No easy marks there. Before Sean DeRosa was hurt, Felton had been a wide receiver who carried six times for 79 yards. He has reeled off consecutive games of 196, 185, 163 and 138 -- the latter against Orange Lutheran on 12 carries in a 31-13 victory. He has had TD runs of 11, 11, 87, 6, 37, 70 and 15 yards. It's a short, but impressive, resume.


November, 5, 2010
11/05/10
11:33
PM PT
By
Martin Henderson
| ESPNLosAngeles.com
MISSION VIEJO -- Troy Thomas' voice was low, barely above a whisper, as he answered the question an hour before Servite put its No. 1 ranking in the Southland on the line against No. 18 Santa Margarita: "I'm a little nervous, to be honest."

He was getting ready to face Harry Welch, who like Thomas was a product of Crespi High, who had won eight section titles and two Bowl championships, who had turned Santa Margarita into one of the best teams in the state in only one year.

Thomas had learned from the legend Welch this week while watching Santa Margarita on film, and he fully expected to learn something from the game that was getting ready to be played. "Studying their offense, the things they do, it's good football," Thomas said. "A lot of people run the same things, but it's the little things that are the difference between success and failure."

But Thomas' reclamation of Servite -- six years earlier -- has been similarly impressive, and on Friday at Saddleback College, Servite won a share of its sixth consecutive league championship with a 17-10 Trinity League victory over Welch's proteges.

For Thomas, dating to his days as head coach at Crespi, it's his eighth consecutive league title. Like Welch, maybe Thomas knows what he's doing too.


October, 29, 2010
10/29/10
11:56
PM PT
By
Martin Henderson
| ESPNLosAngeles.com
ANAHEIM – It was a moment that came out of nowhere. Servite's struggling offense that had bogged down time after time when given opportunities to score by its defense, exploded in the second half on one brilliant play.

Malik Felton, pushed into the role of running back a week ago after an injury to Sean DeRosa, shocked Mater Dei and its fans Friday at Angel Stadium with a brilliant 87-yard run that ignited the Friars in a 21-14 Trinity League victory.

Felton finished with 23 carries for 188 yards and two touchdowns, and his stunning sprint – he cut back three times times en route to the end zone – marked the beginning of the end for hopes of an upset for Mater Dei (5-3, 2-1).

There's no telling how many potential recruits Servite (8-0, 3-0) may have won over with its first back-to-back victories over their rival since winning three in a row in 1986-88 – which preceded a 20-year winless streak against the Monarchs.

This victory validated last year's victory, and it will keep the Friars in position to win a sixth consecutive league championship. They will have to beat Santa Margarita (7-1, 3-0) next week at Saddleback College. Santa Margarita defeated St. John Bosco in overtime, 42-41.


October, 26, 2010
10/26/10
7:31
AM PT
By
Martin Henderson
| ESPNLosAngeles.com
Karlee Riggs, Tustin, Sr.

The Tillers' outside hitter registered a huge week to keep her team in the playoff hunt. In a four-game Empire League victory over Western, she had 31 kills, 29 digs and two blocks, and the next day in a nonleague win over Irvine she had 21 kills, 22 digs and six blocks.
Malik Felton, Servite, Sr.

Although normally a slot, Felton was pushed into duty at running back in place of injured Sean DeRosa and delivered Servite's season-high 199 yards rushing – which included two 11-yard touchdown runs in the second half – in a 32-24 victory over St. John Bosco that helped the Friars win their 18th in a row.
October, 25, 2010
10/25/10
5:36
PM PT
By
Martin Henderson
| ESPNLosAngeles.com
1. Servite trailed, 14-12, after St. John Bosco scored with 1:42 left in the second quarter. It's the deepest into a game that the Friars have trailed all season, though they drove 80 yards and retook the lead by halftime. They fell behind JSerra a week earlier, 7-0, after fumbling the opening kickoff at the 22. Are the Friars falling off their game? Not hardly. Bosco is that good, and whether the Braves make the playoffs or not – only three teams from the Trinity League will – they have made huge strides under first-year coach
Jason Negro
.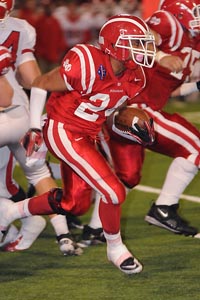 Courtesy of Lou Colazzo
Corbin Anderson has added another dimension to Mater Dei's offense.
A week earlier they led Mater Dei in the fourth quarter and were on their way to a potential game-winning touchdown when an errant snap doomed them. As for Servite,
Malik Felton
had the kind of breakout game I had expected much earlier. Playing the same position as
Chris Nicholls
, a central cog in last season's Pac-5 and State Division II Bowl championship team, Felton put up Nicholls-like numbers: He rushed 24 times for 199 yards and two 11-yard touchdowns in a 32-24 victory over St. John Bosco. Expect Servite to get even better over the next three weeks, and with Mater Dei and Santa Margarita still ahead of them, the Friars will need to be.
2.
Corbin Anderson
played for the first time this season for Mater Dei, and he definitely makes the Monarchs better. He rushed for 113 yards in 18 carries in his debut, a 28-14 victory over an Orange Lutheran team that's a lot tougher than most people think. Coupled with fullback
Todd Hunt
, the emergence of
Sedric Hill
as an excellent complementary receiver to
Victor Blackwell
, and ever-present QB
Max Wittek
, it's going to make for some long nights for Servite leading up to their game on Friday at Angel Stadium.
October, 23, 2010
10/23/10
12:58
AM PT


NORWALK -- Malik Felton showed why he might be Servite's secret weapon -- as if the Friars needed more artillery.

With feature back Sean DeRosa making an in-game switch to safety, Felton rushed the ball 25 times for 211 yards and two second-half scores to carry the Friars -- ranked No. 1 by ESPNLA.com -- to a 32-24 Trinity League win against St. John Bosco at Cerritos College on Friday night. Servite actually trailed in the first half, but Felton's 163 yards in the second proved to be too much for the Braves' chances at an upset.

Sometimes, a little self-motivation goes a long way.

"It seemed like the fire just burned into me," Felton said. "I talked to myself and said, 'Alright, you've got to pick this up. Let's get this going. No problem, you've got this.' "

He was right: He did have it.

Felton, a hybrid receiver who had recently been getting more and more practice reps at running back, scored from 10 yards after a Karlton Dennis blocked punt that set up the Friars (7-0) in premium field position to start the second half. He added an 11-yarder early in the fourth quarter to make it a two-possession game.

"He was ready for this," Servite coach Troy Thomas said. "It isn't like he was playing receiver and not getting reps at running back. He's a running back that plays receiver sometimes."

Servite needed every bit of Felton, the running back.

Down by just eight, the Braves got the ball at their own 11 with just over a minute left. But Servite's defensive front was too powerful, sacking Ray Medina near the goal line to end Bosco's potential game-tying drive before it even began.

Of course, it wasn't all Felton. Quarterback Cody Pittman dinked and dunked his way to 132 yards and a touchdown.


September, 17, 2010
9/17/10
11:48
PM PT
By
Martin Henderson
| ESPNLosAngeles.com
CERRITOS –
Ivory Sully
, the former NFL Ram who coaches linebackers for No. 1 Servite, walked over to head coach
Troy Thomas
45 minutes before the Friars took on No. 15 La Habra in a much-anticipated game between the North Orange County schools.
Thomas asked Sully how the warmups went. Sully leaned into Thomas. "The most focused they've ever been."
No kidding. The defense held La Habra to seven yards on its first possession, and then the offense went 65 yards in seven plays that required only 1 minute 55 seconds. It was a textbook drive, no frills, just seven points on its way to a 23-0 victory at Cerritos College.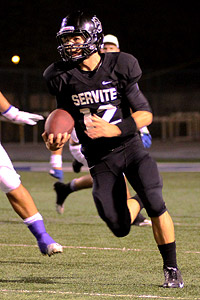 Laurence Martinez
Servite quarterback Cody Pittman, a junior, scrambles for yards in Servite's 23-0 victory over La Habra.

There was plenty of game to play, but last season's Pac-5 champion had delivered a message in the first five minutes.
Quarterback
Cody Pittman
, whose task is replacing the graduated
Cody Fajardo
, swung a pass to
Malik Felton
, whose task is replacing
Chris Nicholls
. It was a safe play, three yards. Then
Sean DeRosa
gained eight, Pittman ran for 17, and another short pass to Felton gained 16. Pittman rushed for 12, DeRosa gained eight and then kept churning into the line until he picked up the yard necessary for the score.
Pittman finished the game with nine carries for 56 yards and completed 14 of 16 passes for 96 yards and one interception. The defense, led by
Matt Inman
, limited La Habra to 148 yards, 37 of which came on one big pass late in the fourth quarter.