Los Angeles Preps:

Mamadou Ndiaye
February, 23, 2012
2/23/12
6:49
AM PT
The second round of the Southern Section boys' basketball playoffs -- and in some cases the third -- is in the books. Here's a look at the most compelling news from Tuesday's games.

Biggest upset: Tesoro should be writing a paper on how to shock the world. Its football team upset Servite in the Southern Section Pac-5 football playoffs, and on Tuesday the basketball team followed suit with a 62-56 victory over second-seeded Canyon Country Canyon in Division 2AA. Jalen Bruce scored 17, Jed Abello 13 and and Tyler Lancona (14 rebounds) and Nick Pallas (12 rebounds) scored 11 apiece.

Worst disappointment: Hands down, Ocean View's exit in the second round of the Division 2AA playoffs was a monumental. The Sea Hawks, in their first season ever without Coach Jim Harris -- who died last year after battling cancer -- but coached by Harris' son, Jimmy Harris, were the top-seeded team in the division. They had won 18 in a row, including a late-season victory over Mission Viejo that catapulted them into the No. 2 position in the Orange County Register top 10. They had not lost since Dec. 17 when 7-footer Conor Clifford was out with an injury. Until now. And it wasn't even close. Cristian Rivera scored 24, Kendall Small 13 and Clifford 11, but those efforts weren't enough against a Thousand Oaks team that made 11 of 12 shots from the three-point arc en route to an 82-66 home victory.

Best performance (in a loss): Second-seeded Sun Valley Village Christian had no answer for Mamadou Ndiaye, the 7-foot-5 center for Brethren Christian. Ndiaye scored 43 points in an 81-66 loss in the 5AA quarterfinals. No one else scored more than eight points.


February, 19, 2012
2/19/12
8:03
AM PT
The upper divisions of the Southern Section boys' basketball playoffs began on Friday with mostly predictable results (OC teams emerged victorious from all seven games in which they were involved in Division 1A). In the lower divisions, they played the second round, and a darkhorse in 3AA -- seventh-seeded Servite -- pulled up lame before hitting the backstretch.
Biggest upset
: In only its second varsity season, Yorba Linda (11-17) went into Servite (11-18), long known for its distracting fans and a veteran of the Trinity League gantlet, and scored a 62-55 second-round victory in Division 3AA behind the play of
Sharthak Mukhopadhyay
, who scored 21 points. Mukhopadhyay scored 14 in the fourth as the Mustangs stretched a 37-33 lead after three quarters to nine points with 3 1/2 minutes remaining -- only to watch Servite close to within two points with 33 seconds remaining as
Tre Hunter
hit a pair of threes and a free throw. Hunter scored 12 of his 27 in the fourth, but Yorba Linda made five of six free throws in the final half-minute to hold on. The Mustangs next play at Charter Oak, which KO'd second-seeded Santa Barbara San Marcos, 48-45.
Best performance
: When you're 7 feet 5 inches, you're supposed to be dominating, and that was the case for
Mamadou Ndiaye
, who helped No. 7 Brethren Christian (24-5) win on the road at Temecula Linfield Christian, 66-54. The victory sets up BC with a home game in the quarterfinals against second-seeded Sun Valley Village Christian (26-2), which is a big hurdle toward winning the 5AA championship. Ndiaye scored 27 points, had 16 rebounds and blocked seven shots. He was 12 of 17 from the field, a performance that included nine dunks. He is averaging 23.4 points, 13.9 rebounds and five blocks. It wasn't completely Ndiaye's show: freshman
Brandon Bryson
scored 18, well above his 4.9 on the season.
Best comeback
: There's no margin for error in a single-elimination playoff, so credit El Toro (21-8) for taking care of business in the second half of its 56-50 victory over Long Beach Cabrillo (10-15). The Chargers were down, 29-23, at halftime before a 16-8 run in the the third quarter to seize the lead.
Jordan Faison
scored 21, and
Ryan Roberts
12 as fifth-seeded El Toro set up a second-round game at Huntington Beach (16-12) , a 52-28 winner over Katella.
Best start
: Tesoro opened a 12-0 lead in the first quarter, which helped the Titans hold off Westminster, 48-38, as
Jalen Bruce
and
Andrew Lee
scored 11 apiece. Westminster (16-11) finished with a flourish -- the Lions outscored Tesoro (15-12) in the fourth quarter, 20-13, accounting for more than half their points in the final eight minutes. The Titans will host second-seeded Canyon Country Canyon on Tuesday in the second round of the 2AA playoffs.
Best backstory
: The game finished the way many anticipated, but it's worth noting anyway. Two years ago,
Xavier Johnson
was playing at Temecula Chaparral. Then he transferred to Mater Dei, the Monarchs won a state title with a large group of underclassmen, and this year they are among the top teams in the nation. In the first round, Johnson's former team ventured into the Meruelo Events Center and faced their former player. Johnson and
Katin Reinhardt
scored 17 apiece to lead the top-seeded Monarchs to a 79-34 victory over Chaparral (17-11). Mater Dei (25-2) led after one quarter, 23-17, but Chaparral scored only four, seven and six points the remaining three quarters. It would have been a more interesting match-up if Johnson had stayed. He didn't. And the rest is history. And backstory.
Best highlight
: A lot of dunks are overrated. This one isn't.
Gabe York's one-handed slam off a lob pass
was the defining moment of third-seeded Orange Lutheran's 70-46 victory over Dana Hills (11-15) in the first round of the 1A playoffs. The Lancers (17-10) got 24 points from the 6-foot-2 Arizona-bound guard -- and maybe got
the
highlight of the year.
February, 2, 2012
2/02/12
3:14
PM PT
By
Sean Ceglinsky
| ESPNLosAngeles.com
HUNTINGTON BEACH -- Heads turn. Jaws drop. Gasps follow. Cameras flash.
The circumstance does not matter. The second
Mamadou Ndiaye
steps onto the basketball court in uniform or exits the gym in civilian clothes afterward, the junior from Brethren Christian draws plenty of attention. It's something that simply comes along with the territory when you are 7 feet, 5 inches tall.
[+] Enlarge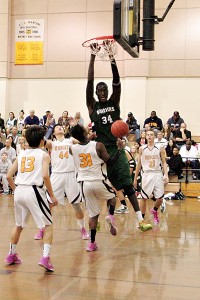 Courtesy of Art RamosAt 7-foot-6, Mamadou Ndiaye's decision to sign with UC-Irvine was a big surprise -- literally.
That is not a typo. Ndiaye is 7 feet 5.
An unassuming teenager seemingly in a grown man's body. An overgrown man's body, that is. An 18-year old underclassman from Senegal with a future that appears to be limitless given his improving skill set. The upside Ndiaye possesses is off the charts, in fact. A college scholarship almost certainly waits in the wings. A career in the NBA thereafter remains a distinct possibility.
You can't teach size, after all.
Perhaps most interesting, aside from his potential path in life, is the somewhat mysterious journey Ndiaye has been on so far, as well as the tight-lipped nature of Ndiaye and those closest to him.
"Things have been crazy around our little high school lately,'' Brethren Christian coach
Jon Bahnsen
said. "We've had camera crews here for Mamadou every day the past month or so. He's been all over the local news and papers, on websites; it's been overwhelming. Everyone wants to know more about Mamadou. I'm consistently getting calls from college coaches and scouts interested in him too. To be honest, he doesn't like the attention.''
Video of Ndiaye's exploits on the hardwood have circulated all over the country -- and world, for that matter -- the past couple of weeks. Not surprisingly, he has become an Internet sensation of sorts. As of Thursday, one of his YouTube clips has more than 660,000 hits. Another is closing in on 525,000.
For those hoping to catch a glimpse of Ndiaye -- he averages 23 points, 13 rebounds and five blocks -- the Warriors (18-5 overall) play at Newport Beach Crean Lutheran on Friday night.
Receiving recognition on a regular basis, however, does not seem to sit particularly well with Ndiaye. His legal guardians refuse to speak with the media and have not allowed him to share his side of the story with reporters since Ndiaye's arrival at Brethren Christian around this time last year.
When approached, Ndiaye is non-confrontational. Often times, he prefers to offer up a big smile and the occasional: "What's up..." Aside from that, he and his camp mostly keep quiet.
December, 13, 2011
12/13/11
8:08
PM PT
One of the dominant players of the young basketball season is at tiny Brethren Christian in Huntington Beach, where there's nothing tiny about
Mamadou Ndiaye
. He stands 7 feet 5 inches, which is reflected in his numbers: 25.4 points, 14.8 rebounds and 6.2 blocks as the Warriors have won six of their first nine games.
His coach,
John Bahnsen
,
has called the experience "interesting."
Ndiaye is a foot taller than his tallest teammate,
Jesse Walker
, and 14 inches taller than the next-tallest teammates, junior
Dakota Warren
and freshman
Guy Demazeliere
.
Against Brethren's best opponent, El Toro -- a 62-36 loss -- Ndiaye had 20 points, 14 boards, four blocks and nine turnovers. In his second year in the U.S., the Senegal native is a work in progress, but there's one apart of his game that is virtually untouchable: You can't coach height.