Los Angeles Preps:

Manual Douglas
December, 20, 2011
12/20/11
5:55
PM PT
Here's an all-encompassing look at the top performers in south Los Angeles County for the 2011 prep football season.

MOST VALUABLE PLAYER

Troy Williams, Narbonne, Junior -– Williams was superb in managing Narbonne's no-huddle spread attack. He did it with his arm (3,247 passing yards, 34 touchdowns), he did it with his legs (587 yards, 11 scores), and he made the right decisions with the football. The junior quarterback guided the Gauchos to the City Section Division I title.

OFFENSIVE MVP

Robert Lewis, South East, Senior -– Opposing coaches schemed to stop Lewis but the electrifying tailback still averaged 10 yards per carry and amassed 2,023 yards and 30 touchdowns for the City Section Division II champs. Coach Derwin Henderson pegged him as the city's best all-around talent. Lewis has verbally committed to Southern Methodist.

DEFENSIVE MVP

Ellis McCarthy, Monrovia, Senior -– The mind-boggling numbers aren't quite there because the big guy faced double- and triple-teams on a weekly basis. Coach Ryan Maddox built his defense around the 305-pound defensive tackle and it paid off with Monrovia capturing its second straight Mid-Valley Division championship. McCarthy has offers from all over, including Cal, USC, Florida, Oregon and Washington.

SPECIAL TEAMS MVP

Jack Schneider, Charter Oak, Junior -– With 89 total points, Schneider was the region's top scorer among kickers. In 12 games he made 65 extra points for the Sierra League champions.

COACH OF THE YEAR

Manual Douglas, Narbonne –- By the end of the season, Douglas had his Gauchos playing as well as any team in the area. Narbonne finished 11-3 and reached its third City Section title game in the last four years. Douglas scheduled tough with games at Long Beach Poly and Tesoro, and the strategy paid dividends.

FIRST TEAM OFFENSE

QB – Steven Rivera, Arroyo, Sr. –- Rivera capped his stellar four-year stay at Arroyo by passing for 3,408 yards and 38 touchdowns, leading the Knights to the Mission Valley League title.

RB – Tray Boone, Narbonne, Sr. –- The shifty back rushed for six touchdowns in the City Section Division I title game to finish with 1,400 yards and 22 touchdowns. He did all of this in an offense that primarily throws the ball.

RB – Marquise Bias, Monrovia, Sr. -– The powerful Bias pounded his way to 260 yards and three touchdowns in the Mid-Valley Division title game, and finished with more than 1,500 yards for the season.

WR – Bryce Treggs, St. John Bosco, Sr. –- The Cal commit made Trinity League defenses look foolish, hauling in 11 touchdowns to go along with 1,377 receiving yards.

WR – Darreus Rogers, Carson, Sr. –- Rogers, a USC commit, was the City Section's leading receiver with 1,251 yards. He had a monster performance in the title game but it wasn't enough for the Colts.

WR – Alex Villalobos, San Gabriel, Sr. -– The slot-type Villalobos was the state leader with 2,001 receiving yards. He added 21 touchdowns for the Mid-Valley Division runner-up Matadors.

OL - Beau Leati, Narbonne, Sr. -- City Section coaches selected Leati as the lineman of the year and for good reason. He anchored a line that opened gaping holes for Boone and protected Williams.

OL – Lacy Westbrook, Dominguez, Sr. -– The UCLA commit was out when the Dons started the season with two losses, but his added a major spark to their ground attack.

OL – Beau Boyster, St. John Bosco, Sr. -– The Braves averaged more than 400 yards of offense per game and the Arizona commit was in the middle of it, with his protection of strong-armed Rene Medina.

OL – Gerrad Kough, Pomona, Sr. -– The Colorado commit spearheaded a Pomona running game that averaged more than 215 yards per game.

OL – George Castro, West Covina, Sr. -– West Covina was 25th in the state in rushing yards per game (332) and Castro was a big reason why.

PK – Mason Bryant, Monrovia, Jr. -– Bryant did it all for the back-to-back champion Wildcats as a receiver, defensive back and kicker, totaling 117 total points.

P - Conrad Ukropina, Loyola, Sr. –- Six of Ukropina's 25 punts were downed inside the 20-yard line, and he averaged 43 yards per punt, the best in the Pac-5 Division.

SECOND TEAM

QB – Travis Santiago, Charter Oak, Sr.
RB – Jimmy Frazier, West Covina, Sr.
RB – Kurt Scoby, Charter Oak, So.
WR – Richard Smith, Long Beach Poly, Sr.
WR - Antoine Anderson, Narbonne, Sr.
WR – Hunter Duran, Arroyo, Sr.
OL – Chase Eldredge, Palos Verdes, Sr.
OL – Chad Wheeler, Santa Monica, Sr.
OL – Justin Johnson, Dorsey, Sr.
OL – Alec Zenner, San Dimas, Sr.
OL – Nico Falah, St. John Bosco, Jr.
PK - Ret Tilman, Culver City, Sr.
P – Hayden Hunt, Long Beach Poly, Sr.

FIRST TEAM DEFENSE

DL – Demetric McKinney, West Adams, Sr. -– McKinney recorded a state-leading 26 sacks in only 12 games.

DL – Jeremiah Allison, Dorsey, Sr. -– Allison will be used as a linebacker in college but he was fierce coming off the three-point stance for Dorsey. Allison had 14 sacks for the Coliseum League champions, giving him 34 over his last two seasons.

DL – Jesse Ojeda, San Dimas, Sr. -– He only measures 5-feet, 7-inches but Ojeda was a force for the Saints, getting to the quarterback 17 times.

LB – Brett Walsh, Monrovia, Jr. -– Walsh was second in the entire Southern Section with 192 tackles, thriving behind McCarthy's havoc up front. He added eight sacks, and figures to garner attention during the offseason.

LB – Sergio Gonzalez, Ganesha, Jr. -– The outside linebacker led the Mid-Valley Division with 17 sacks.

LB – Nuoye Clemmons III, West Adams, Sr. -– Clemmons ranked second in the City Section with 146 tackles.

LB – Salamo Fiso, Long Beach Poly, Sr. -– The Arizona State commit spearheaded a strong Jackrabbits defense with 117 tackles.

DB – Kevin Page, Dorsey, Sr. -– Page intercepted six passes, including a big one on the road to clinch a victory at Alemany.

DB – Tyrone Taylor, Torrance, Sr. -– The Cal State Fullerton baseball signee had 190 tackles from the safety position.

DB – Shane Baumann, St. John Bosco, Sr. -– Baumann was in the middle of every defensive play, it seemed. He ranked fifth in the Pac-5 Division with 126 tackles and also had five interceptions.

DB – Mark Wright, Rolling Hills Prep, Sr. –- Wright had 10 interceptions in nine games, good for a tie for second place in the state.

SECOND TEAM

DL – Alonzo Williams, Long Beach Poly, Sr.
DL – Robbie Haines, Arcadia, Sr.
DL – Daniel Rios, Rosemead, Jr.
LB – Keishawn Haley, Culver City, Jr.
LB – Matt Rowe, Long Beach Poly, Sr.
LB – Jabari Ruffin, Downey, Sr.
LB – Thomas Brown, Gardena Serra, Sr.
DB – Trayvon Watson, West Adams, Sr.
DB – Gabriel Marks, Venice, Sr.
DB – Naijel Hale, Lakewood, So.
DB – Chris Solomon, West Covina, Sr.
December, 10, 2011
12/10/11
1:14
AM PT


MONTEREY PARK -- The "Tray Way," as Narbonne folk have come to know it, was the only way Friday night.

Tray Boone, Narbonne's emotional leader, did all he could to make people proud, then did all he could to fight those pesky tears. In the end, it was far too much to take in.

Behind Boone's six rushing touchdowns, the Narbonne Gauchos beat neighboring rival Carson, 48-32, claiming the City Section Division I championship at Weingart Stadium on the campus of East Los Angeles College. Narbonne won its first title since sharing the throne with league foe San Pedro in 2008. Carson, which has 11 championships to its name, lost in the final for the second year in a row.

"This was my last high school game with these guys," said the glossy-eyed Boone. "To win the championship is amazing."

The game was a rematch of the Oct. 21 thriller in Harbor City, which Narbonne won, 38-37, when Carson botched a potential game-tying extra-point attempt in the final minute. Following last week's blowout of Coliseum League champion Dorsey, junior quarterback Troy Williams acknowledged how difficult it would be to beat a team twice during the same season.

Thanks to his dynamic tailback, Williams' worst fears never materialized.

Boone had 200 total yards and four touchdowns in the first half alone, and the senior finished with 316 yards, showing no ill effects from last week's head injury that knocked him out at halftime.

"That's the man right there," Williams said as Boone walked by with the championship plaque in hand.

Meanwhile, Williams -- the City Section's leading passer -- wasn't his usual self, visibly hobbling to his spot after every play. After passing for a season-low 75 yards, he admitted that he might have a fractured left leg. But Narbonne (11-3), making its third finals appearance in four years, still clicked offensively.

Among his six touchdowns, Boone had scoring runs of 36, 35 and 11 yards. He touched the ball 33 times, averaging nine and a half yards per touch.

"I never thought I'd run the ball so much in my life," Gauchos offensive coordinator Tim Kaub said. "I'd be stupid for not giving the ball to Tray Boone."

Fifth-seeded Carson (8-6) started the game the way it needed to. Safety Jerrod Moton intercepted Williams' second pass of the night to set the Colts up near midfield. On the very next play, tailback Roger Jones stormed into the end zone for the quick 7-0 lead.


December, 3, 2011
12/03/11
12:00
AM PT


HARBOR CITY -- Say no more, Narbonne. We hear you loud and clear.

The Gauchos made a resounding statement Friday night, crushing Dorsey, 41-7, to end the debate about which team rightfully deserved the No. 2 seeding in the City Section Division I playoffs. Second-seeded Narbonne will face fifth-seeded Carson in the all-Marine League championship game Dec. 9 at Weingart Stadium on the campus of East L.A. College. Carson stunned top-seeded San Pedro, 24-19, in the other semifinal.

Based on a past result, Narbonne (10-3) is the slight favorite to capture the crown. The Gauchos beat Carson 38-37 on Oct. 21 when the Colts botched a potential game-tying extra-point attempt in the final minute.

"It's good to be in the final three of the last four years," Narbonne coach Manual Douglas said.

The win was nearly devastating on two fronts. Quarterback Troy Williams, the leading passer in the City Section, did not play in the second half after suffering a left leg injury on what looked like a malicious hit by a Dorsey lineman. (Williams finished with 202 yards and three touchdowns on 12 of 18 passing, which propelled him past the 3,000-yard mark for the season. He also rushed for 46 yards and another score.


November, 3, 2011
11/03/11
3:52
PM PT
Big league implications throughout the Southland this week. Here are Friday night's top five games in south Los Angeles County: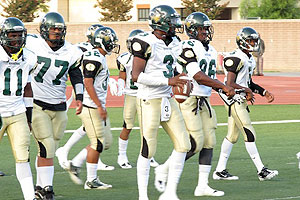 Blair Angulo/For ESPNLA.comNarbonne quarterback Troy Williams (3) looks to lead the Gauchos to a victory over undefeated San Pedro on Friday.
No. 19 Narbonne at No. 20 San Pedro, 7 p.m.
-- For quite a while now, Narbonne coach Manual Douglas has been eying the top seeding in the City Section Division 1 playoffs. The time has come for his Gauchos (6-2, 3-0) to prove they deserve it. The Marine League title goes to the winner. Narbonne's uptempo offense averages nearly 32 points, but San Pedro (8-0, 3-0) hasn't given up more than 20 in any game this season.
Damien at No. 23 Charter Oak, 7 p.m.
-- Head over to Covina if you want some touchdowns. Or stay away if you like defensive stops. Over their last six games, the Damien Spartans (6-2, 2-1 Sierra) have given up an average 27 points. That's music to quarterback Travis Santiago's ears, for sure. Charter Oak (7-1, 3-0) has one of the most explosive attacks in the region, averaging 42 points.
Garfield vs. Roosevelt at East L.A. College, 7:30 p.m.
-- The longtime rivals meet for the 77th time, and the game is expected to be played in front of another capacity crowd of 20,000. The East Los Angeles Classic is one of the area's most treasured traditions, dating to 1926 and spanning generations. It's really a toss-up this year: Garfield is 4-5 overall but 4-1 in the Eastern League; Roosevelt is 5-3 and 3-1.
La Puente at Duarte, 7 p.m.
-- With a win, the unblemished La Puente Warriors (8-0, 5-0) can intensify the magnitude of next week's gigantic matchup against three-time defending Montview League champion Azusa. The Warriors are led by quarterback Ivan Vasquez and his 19-1 touchdowns-to-interceptions ratio. Duarte (6-2, 4-1) is still mathematically in contention for the league title.
Downey at Dominguez, 7 p.m.
-- The streaking Dominguez Dons (6-2, 3-0) have won six straight, finding a groove that went missing in blowout losses to Crespi and Redlands East Valley. A win against Downey should set up a San Gabriel Valley League championship game next week at Paramount, which is favored against Warren.
October, 22, 2011
10/22/11
12:09
AM PT



HARBOR CITY -- Troy Williams got on one knee and looked on, hoping he'd get his hands on the football at least one more time.

Turns out, he didn't have to.

Narbonne and its star junior quarterback earned a pivotal Marine League victory Friday night, 38-37, thanks to a bad snap by Carson's special teams unit on the potential game-tying extra-point attempt. With just over a minute remaining, quarterback Kevin McMahon had soared into the end zone from a yard out, pulling the Colts to within one. But, as fate would have it, the bad snap got away and Narbonne's sideline erupted.

The Gauchos snapped Carson's 15-game league winning streak.

"I had a feeling they'd miss," Williams said. "That was real fortunate for us right there."

Narbonne, No. 24 in the ESPN Los Angeles prep football Top 25 rankings, covered up the ensuing onside kick and Williams picked up a crucial first down with his legs to seal it. He scored the go-ahead touchdown on a three-yard sneak with 3:02 left in the game. Williams passed for 231 yards and two touchdowns, completing 15 of 27 attempts, and added 78 yards rushing.

"We've been talking about this since my freshman year," Williams said.

Carson coach Elijah Asante, one of the most rah-rah personalities in the area, defended his decision not to go for two points and the win.

"You kick the extra point and you go into overtime," Asante said. "That's what you do. That's the proper way to approach the game. You play in overtime and give yourself a chance to come back. If you miss [the extra point], you lose."

Narbonne (5-2) now appears to be the favorite in league and has a monster matchup against undefeated San Pedro (7-0) looming on Nov. 4 which will likely decide the champion.


October, 18, 2011
10/18/11
5:40
PM PT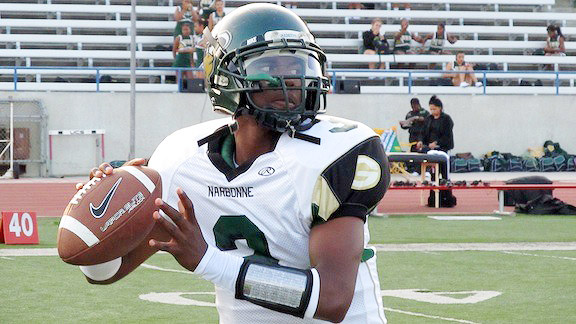 Blair Angulo / For ESPNLosAngeles.com
Narbonne's Troy Williams leads the section in passing yards (1,549) and is tied for third in touchdowns (11).
Are the Narbonne Gauchos favored heading into Friday night's Marine League doozy against Carson? They might be.
Here's the reasoning: Carson lost to Long Beach Poly by 20 on Sept. 9 and, a week later, Narbonne did a little better, falling to Poly by just three. If those margins against a common opponent are any indication, the Gauchos appear to have the edge, right?
Well, Narbonne coach
Manual Douglas
isn't buying it.
"They lost, we lost," he said. "We're both losers."
Friday's loser will face an uphill climb in league. Narbonne (4-2), the 2008 champion, has won three straight since losing at Tesoro. Carson (3-3) has won two in a row since losing to Mission Viejo and has claimed the league title the last two years. Undefeated San Pedro (6-0) is also in the mix.
"They talk a lot and believe in themselves," Carson coach
Elijah Asante
said of Narbonne. "They talk -- you hear it from their coaches, you hear it from their players. They're definitely not scared of us. They want it."
Narbonne has reason to be confident with
Troy Williams
, the top quarterback in the City Section, calling the shots. The strong-armed junior leads the section in passing yards (1,549) and is tied for third in touchdowns (11). He has also ran for five scores.
Asante knows exactly what his team is up against. He got a firsthand look at Williams while coaching at USC's "Rising Stars" camp in the summer and came away impressed.
"He's something else," Asante said. "He is raw but his progression over the summer, what I saw is that he's got it. We're going to go after him. We're not going to make it comfortable for him."
The Gauchos' counter?
"We have a stallion back there," Douglas said, "and we have to protect him."
Blair Angulo covers preps for ESPN Los Angeles. Following him on Twitter.
September, 20, 2011
9/20/11
11:14
AM PT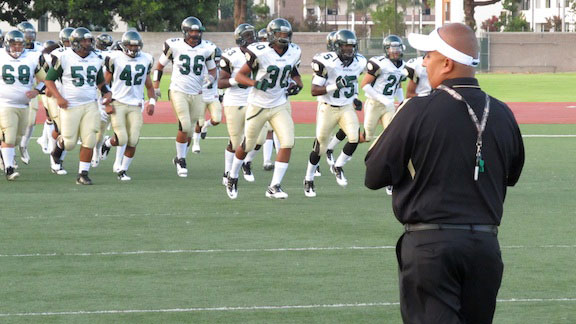 Blair Angulo For ESPNLA.comNarbonne coach Manual Douglas looks on as his team warms up before a recent game.
Narbonne football coach
Manual Douglas
wants to avoid a repeat, for obvious reasons.
In their second game last season, the Gauchos played Long Beach Poly tough only to lose by three in a game that went down to the final moments. Last Friday in their second game this season, Narbonne again lost to Poly, again by a mere three points, 19-16, as quarterback
Troy Williams
' last-minute heaves toward the end zone fell incomplete.
Douglas is quick to point out that his team, after losing to the Jackrabbits last season, dropped its next two games. And like any coach, Douglas is aware of the striking similarities.
Now he hopes history doesn't repeat itself.
"We can't have a great game, lose and not do anything with it," Douglas said.
On Thursday, City Section contender Narbonne (1-1) travels to Tesoro (2-1) for another intersectional duel. The Gauchos then face Gardena Serra (2-1) at home and Culver City (2-0) on the road before kicking off Marine League play on Oct. 14.
Blair Angulo covers preps for ESPNLosAngeles.com. Follow him on Twitter.
September, 16, 2011
9/16/11
11:48
PM PT


LONG BEACH -- The Long Beach Poly Jackrabbits dodged a pair of bullets Friday night. Actually, they were more like missiles.

Narbonne quarterback Troy Williams' desperate, final-minute heaves fell incomplete and Poly, the No. 2 team in the ESPN Los Angeles Top 25 football rankings, escaped with a 19-16 intersectional victory at Veterans Stadium. The loss could have been disastrous for Poly's psyche heading into next week's highly anticipated meeting with Orange County powerhouse Mission Viejo.

"Obviously, when you're trying to win the game and it seems like the momentum has shifted on the other team's side, you always get a little worried," Poly coach Raul Lara said. "But I've been doing this now 21 years. I don't panic anymore. It's just like, 'Kids, c'mon, we've got to execute.' "

Narbonne nearly pulled off the shocker. With about 45 seconds remaining and facing a third and long, Williams rolled right and launched from midfield. Receiver Greg Clark got behind Randall Goforth, dove for the ball and, for a moment, had possession before it bounced out of his hands. Williams tried again on fourth down but it wasn't nearly as close.

"We could have easily won," Gauchos coach Manual Douglas said. "It would have been nice had it worked."

Poly (3-0) took a 19-14 lead on a two-yard touchdown pass from Chaiyse Hales to tight end Bradford Carter late in the third quarter. The Jackrabbits purposely took a safety with less than two minutes remaining to make it 19-16.

Poly zoned in on Williams, one of the top junior prospects in the area, and tried to contain him as much as possible. The strategy worked, as Williams threw for 162 yards on 11 of 23 passing to go along with only eight rushing yards. Williams was dropped for a loss nine times, this after torching Palos Verdes for 343 total yards and three touchdowns in a season-opening win for Narbonne (1-1) a week earlier.

"We just had a game plan against him," Poly linebacker Matthew Rowe said.