Los Angeles Preps:

Marmonte League
April, 27, 2012
4/27/12
7:18
AM PT
Orange County football, certainly at the upper levels, will have a much different look in the fall. The Southern Section finalized placement for football leagues on Wednesday, with the biggest news involving the premier Pac-5 Division.

The Sunset League is out, the Marmonte League is in.

That means the league has essentially swapped out the likes of Huntington Beach Edison, Newport Harbor and Los Alamitos for Ventura St. Bonaventure, Westlake Village Oaks Christian and Westlake.

All three of those Marmonte programs have played in State Championship Bowl games.


December, 17, 2011
12/17/11
11:15
PM PT
CARSON -- Westlake coach
Jim Benkert
was putting the finishing touches on his postgame speech when, suddenly, one of his players shouted, "At least we got a ring!" Laughs followed, and even Benkert cracked a smile.
At last, a positive.
Previously undefeated Westlake, the CIF-Southern Section Northern Division champion, stumbled early and never recovered, losing to perennial power De La Salle, 35-0, Saturday night in the 2011 CIF State Football Championship Open Division Bowl game presented by Farmers. It was so ugly that a running clock was used at the start of the fourth quarter -- a state bowl game first -- and Warriors fans streamed out of Home Depot Center well before the final whistle blew.
"It was a big stage and our kids did their best," Benkert said. "We just made too many mistakes."
De La Salle (13-1), ranked No. 11 in the ESPN High School national poll, captured its third straight Open Division bowl championship. The Spartans recently won their 20th consecutive CIF section championship and were making their sixth straight appearance in a state bowl game.
Westlake got a taste of what Crenshaw and Servite experienced the last two years. The Warriors (14-1) didn't necessarily get manhandled, moving the chains 14 times in the first half. For proper perspective, the mighty Servite Friars didn't get a first down on De La Salle until midway through the third quarter in last year's 48-8 loss.
"De La Salle is a great football team," said Westlake's
Dashon Hunt
, who was held to only 48 rushing yards. "Our mistakes turned into touchdowns."
Another sour note for the Marmonte League champs: Westlake was the only Southern Section representative to lose during the bowl weekend. Sierra Canyon claimed the Division IV title with a 27-13 victory over Le Grand and Santa Margarita beat San Jose Bellarmine 42-37 for the Division I crown.
Warriors junior quarterback
Justin Moore
will have plenty to think about during the offseason. He had thrown only four interceptions heading into Saturday, but was picked off twice on Westlake's last two drives of the first half. Both throws were intercepted inside the end zone.
"We didn't make the plays when we needed to," Moore said. "If you do that it's going to come back to hurt you."
Spartans running back
Tiapepe Vitale
opened the second half with short touchdown run, making it 28-0. Loud chants of "D-L-S" echoed from the stands. Minutes later, it was Wisconsin-bound quarterback
Bart Houston
diving past the goal line to give De La Salle the 35-0 lead.
The Warriors had their chances early. A fumble recovery in the second quarter gave them new life, but a 27-yard touchdown pass from Houston to a wide-open
Michael Hutchings
-- on a fourth-and-11 call, for good measure -- had the Warriors cheerleaders looking the other way.
De La Salle showed its dominance in the blink of an eye, breaking the scoreless tie on Vitale's 37-yard touchdown scamper. Westlake was forced to punt on its first possession and, moments later, Houston followed with a sneak for the two-touchdown lead midway through the first quarter.
"That's a good football team over there," Benkert said as De La Salle players carried the trophy. "We didn't take them out of their game."
But, like the player pointed out after the game, at least Westlake got some bling this season.
Blair Angulo covers preps for ESPN Los Angeles. Follow him on Twitter.
October, 6, 2011
10/06/11
10:15
PM PT
By
Sean Ceglinsky
| ESPNLosAngeles.com
MOORPARK -- Pick your poison: Shaun Wick or Zack Green.

It did not matter Thursday night as neither could be stopped.

The running back tandem for Ventura St. Bonaventure did just about whatever it wanted to against Moorpark. When all was said and done, Wick and Green combined for 170 yards on the ground in 33 carries in a 28-17 Marmonte League victory on the road.

"Our goal was to grind it out, wear them down, we did that,'' Wick said. "We feel like we can pick up yards any time. We showed everyone we can get the job done.''

The Seraphs (4-1, 3-1) were impressive from start top finish, no question about it. Their recent No. 5 spot in the ESPNLosAngeles.com rankings was a worthy selection.

The Musketeers (3-2, 2-2) were overmatched, plain and simple.

Tony Mack picked off Marc Evans' pass in the fourth quarter and Moorpark capitalized on the turnover. Grant Rohach directed a nice drive and Aaron Stanton capped things off with a 14-yard touchdown run to cut the deficit to 28-17 with 6:15 left in the game.

The Musketeers, however, would not get any closer.

Wick and Green were instrumental in directing a 13-play drive that took the final 6:08 off the clock in the fourth quarter to secure the victory.

"Our defense was in a hole the night,'' Moorpark coach Tim Lins said.

Wick, a senior, is the featured back. He finished with 110 yards in 19 carries. Green is the backup. Nevertheless, the junior had 60 yards in 14 rushes.

"I know my role on this team,'' Green said. "Shaun is the man this year. I respect him and he helps me out. Hopefully, next year, it will be time to shine.''


September, 16, 2011
9/16/11
11:01
PM PT
By
Sean Ceglinsky
| ESPNLosAngeles.com
MOORPARK -- Goat or hero? It was one or the other for Jamie Sutcliffe. The senior from Thousand Oaks had his choice of monikers and the latter ended up sticking.

Sutcliffe nailed a 40-yard field goal as time expired Friday night to lift the visiting Lancers to a 27-24 victory over Moorpark in a Marmonte League opener for both teams.

"Staying calm, cool and collected, that's all I was thinking about,'' Sutcliffe said.

Easier said than done.

Keep in mind, he had missed three of four field-goal attempts before splitting the uprights for the game-winner. Talk about pressure. Nevertheless, Sutcliffe delivered when it mattered most.

"You're only as good as your last kick, that's something us kickers believe,'' Sutcliffe said. "I made sure not to worry about my other chances. I put those kicks in the back of mind. I had already moved on. My thought was the kick in the fourth quarter was the most important one of my career. Glad it went in. Glad I made it.''

Grant Rohach had Moorpark (1-1, 0-1) in position to win with less than three minutes left in the fourth quarter. Max Player had other ideas. He interceped a Rohach pass at the Lancers 8-yard line.

Behind the passing of Clark Abourisk and the running of Nathan DeBeikes, Thousand Oaks (2-0, 1-0) marched downfield to set the stage for Sutcliffe.

"Jamie is our guy, he is the one we want up there in pressure situations,'' Lancers coach Mike Leibin said. "I told him to keep his head down. He did. He banged that kick home, it would have been good from 50-plus yards. I had confidence in him the whole time.''


September, 1, 2011
9/01/11
10:36
PM PT
WeAreSC.com's
Garry Paskwietz
joins 710 ESPN's
Pete Fox
for an in-depth look at Marmonte League football.
To listen to the complete podcast, click here

August, 24, 2011
8/24/11
6:21
PM PT
By
Sean Ceglinsky
| ESPNLosAngeles.com
With several standout players from last season off playing college football nowadays, Westlake hopes it can successfully reload, rather than rebuild. And initially, it appears as if the Warriors have some of the pieces of the puzzle in place to get the job done quickly.
Westlake figures to go as far as
Justin Moore
takes it this season. In the past, the junior quarterback was an attentive understudy to
Nick Isham
, a three-year starter before signing with Louisiana Tech. Moore's job won't be any easier following the departure of
Nelson Spruce
and
Tavior Mowry
, both of whom graduated after being integral parts in the program in the past.
Nevertheless, optimism remains high on campus. Westlake, after all, is used to dealing with a high turnover. Coach
Jim Benkert
and his boys have been down this road before.
Here is a closer look at the Warriors:
Team:
Westlake
Coach:
Jim Benkert, 23rd year.
2010 Record:
12-2, lost in the CIF Southern Section Northern Division championship game.
Returning starters:
12 total. Seven on offense. Five on defense.
Key players on offense:
QB Justin Moore, WR Cody Tuttle.
Key players on defense:
DL Justin Solis (Colorado commit), DB Dashon Hunt (UCLA commit), DL John Stuart, DL Shayne Henley, LB David Ortiz.
Difference maker:
Moore, who takes over underneath center. It will be interesting to see how much information has been retained thus far and how he applies the things he has learned. One thing is certain: The 6-foot, 175-pounder is a playmaker. If Moore does not get things done with his arm, rest assured, the multifaceted underclassman will get things done with his feet.
Newcomers:
WR Jake Rothschiller, LB Kyle Rothschiller.
Not to be missed:
vs. Oaks Christian, Thursday Oct. 6. The Warriors will be revenge-minded in this Marmonte League showdown, especially after narrowly losing, 29-28, to the Lions in the Northern Division title game a season ago. When it comes to bulletin-board material, none is needed between these two crosstown rivals. Both know how much is at stake every time they meet.
Coach's comment:
"Here we go again, football time. We like the group we have here too, they all seem to know what is expected of them. These kids understand we don't have many easy games on our schedule. When we step out there on the field, we expect to be challenged most times. Our guys are not going to back down from anyone. We're ready to get things started.''
Final analysis:
If the Warriors plan on duplicating their success from last year, plenty will depend on the play of Moore. Good thing for him is, the whole offensive line returns, more than likely a year stronger and wiser. On the defensive side of the ball, the unit also remains largely intact. That said, Westlake appears poised to make some noise again this season, from start to finish.
Sean Ceglinsky covers preps for ESPNLosAngeles.com. Follow him on
Twitter
.
February, 1, 2011
2/01/11
11:12
PM PT
By
Sean Ceglinsky
| ESPNLosAngeles.com
SIMI VALLEY -- Each time the Simi Valley High boys' basketball team needed a big play Tuesday night, regardless of whether it was a bucket, rebound, assist, steal or block, the Pioneers turned to Jonathan Davis. And more often than not, he delivered.

For example, in the waning moments of the fourth quarter against Thousand Oaks, the senior converted a layup with 1:40 left to essentially seal a 48-44 victory and move Simi Valley into a first-place tie with the Lancers atop the Marmonte League standings.

"We need Jonathan to go, because when he does, we're a tough team to beat,'' Pioneers coach Christian Aurand said. "When we needed a basket late, he'd blow by the double-team heading for him and racked it. You've got to love having a player like that on your side.''

With three more games remaining in the regular season, Simi Valley (17-6, 9-2) can clinch a share of the league championship if it wins out the rest of the way. No. 17 in the ESPNLosAngeles.com top 20 rankings, Thousand Oaks (20-3, 9-2) is in the same position.

"In our league, it's all about being able to steal a game on the other teams court. Tonight, we ran into a tough team, unfortunately,'' Lancers coach Rich Endres said.

The Lancers also ran into a tough individual: Davis, of course. The 6-foot-8 forward, who is heading to George Washington, finished with 15 points and 12 rebounds. Can't forget to mention that he added two blocks and two assists in more than 30 minutes of action.


January, 11, 2011
1/11/11
2:17
PM PT
By
Sean Ceglinsky
| ESPNLosAngeles.com
CALABASAS -- When it comes to boys' basketball in the highly competitive Marmonte League, the best thing to do is expect the unexpected. It's that simple.

Nearing the midway point of the season, no clear-cut favorite has emerged as the front-runner in the league standings. And as difficult as it may seem to some, things at the top became a bit more muddled after Monday night's results.

Jeremy Lieberman made the game-winning layup with less than two seconds left in the fourth quarter to not only lift Calabasas to a rather surprising 56-55 victory over visiting Thousand Oaks, but forge a three-way tie for first place.

The Lancers (15-2, 4-1) entered the showdown in control of their own destiny, in sole possession of the league's top spot. With the setback, however, they fall into a deadlock with the Coyotes (13-5, 4-1) and Simi Valley (12-5, 4-1).

"That's just the way things go around here, we tend to beat up on each other all of the time,'' Calabasas coach Jon Palarz said. "It's cliché, but anyone can win on any given night and we went out and proved it against Thousand Oaks.''

Perhaps the victory helped out Simi Valley the most. The Pioneers, after all, lost to the Lancers, 71-55, on Friday night. Now, all of sudden, they are right back in league race heading into a pair of league games later this week.

Each team will meet the other one more time in league. And chances are, things will be ultimately decided at some during the final week of regular season play, in mid-February. In the meantime, there's no reason to predict the unpredictable.

"I've been coaching around here for a while now, and honestly, nothing surprises me anymore," said Simi Valley's Christian Aurand, one of the league's longest tenured coach in his 12th year at the helm. "There are no easy games when any of us get together, that's just one of those facts in life. If there's one thing that I know, one thing that I have learned in my day, it's going to be a battle to the end. ''
October, 4, 2010
10/04/10
8:48
AM PT
By
Tim Haddock
| ESPNLosAngeles.com


1. The Westlake football team is the only undefeated team in the Marmonte League. After a 31-12 win over Oaks Christian on Friday night, Westlake improved to 4-0 overall, 3-0 in league. Four teams are tied for second place in the Marmonte League standings. Oaks Christian, St. Bonaventure, Moorpark and Thousand Oaks each have 2-1 records in league play. Oaks Christian and Moorpark suffered their first league losses of the season on Friday night. Moorpark lost on a 35-yard touchdown catch by St. Bonaventure's Jeremy Sanchez in the fourth quarter. Thousand Oaks shut out Royal, 48-0. Receiver Richard Mullaney caught 10 passes for 190 yards and three touchdowns for Thousand Oaks.

2. Pretty much everybody knows that Trey Smith, the son of actor Will Smith, plays for the Oaks Christian football team. Oaks Christian has its share of star power with NHL Hall of Famer Wayne Gretzky walking the sidelines when his son Trevor is playing and Jay Schroeder, former Raiders and Redskins quarterback, as an assistant offensive coach. What's not so well known is that Westlake has its own Hollywood following. Kirstie Alley of "Cheers" fame was in the stands rooting for the Westlake football team on Friday night at Oaks Christian High School. She is a friend of quarterback Nick Isham's family. After the game, after Isham did his television interviews and guided Westlake to a win over Oaks Christian, Alley was on field telling Isham that he made it look so easy. It took almost three quarters for Westlake to start pulling away, but, yes, in the end, Isham made easy work of Oaks Christian.


September, 27, 2010
9/27/10
7:01
PM PT
By
Tim Haddock
| ESPNLosAngeles.com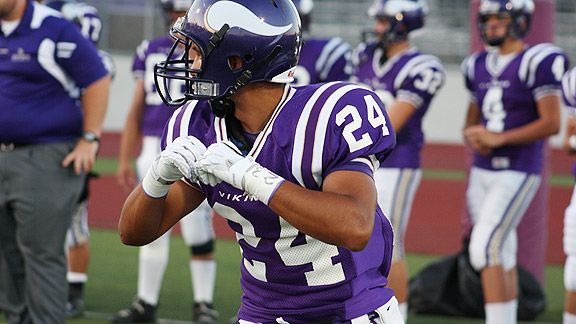 Tim Haddock/Special to ESPNLA.com
Valencia wide receiver Max Rodriguez, who sat out the first two games because of an injury, hopes to add another dimension to the offense.
1. It turned out to be a blowout weekend in the Marmonte League. Westlake shut out Royal, 52-0. Moorpark throttled Agoura, 37-7. Oaks Christian beat Calabasas, 47-6. Even what looked like the most evenly matched game, Thousand Oaks vs. Newbury Park, turned into a bit of a laugher. Thousand Oaks, behind back-up quarterback
Jackson Lucht
, beat Newbury Park, 35-14. Westlake, Moorpark and Oaks Christian each have 2-0 records after the second week of Marmonte League play. Thousand Oaks, St. Bonaventure, Royal and Simi Valley are each 1-1. Newbury Park, Agoura and Calabasas are each 0-2. And yes, Newbury Park is the best 0-2 team in the Marmonte League.
2. Crespi continues to impress.
M. Ajani Shanks
and
Rhasheed Johnson
each scored two touchdowns in their team's 52-6 win over Chula Vista. Quarterback
Kenny Stenhouse
didn't break any school records in this one, but was effective for 217 yards and two touchdowns. Crespi hasn't been beating up on cupcakes either. They beat Clovis West last week, 34-33. They take on Vista Murrieta, the seventh-ranked team in the ESPNLA.com poll, on Friday night.
September, 6, 2010
9/06/10
12:05
PM PT
By
Tim Haddock
| ESPNLosAngeles.com


1. Alemany quarterback Vernon Adams scored a touchdown on a 1-yard keeper and threw for another in his team's 20-17 win over Oaks Christian. He guided Alemany to the Oaks Christian 1-yard line to set up a game-winning field goal. But his biggest play of the game came as holder. Adams nearly fumbled the snap on Martin Meza's game-winning 18-yard field goal with 14 seconds left in the game. After having the football slip through his hands, Adams calmly replaced the ball on the tee and Meza knocked through the chip shot.

2. Trevor Gretzky's debut at quarterback for Oaks Christian had some high points and low points. He completed his first five passes and did not have an incompletion in the first half. He finished the game 16-for-22 for 194 yards. He completed passes of 35 and 42 yards showing he has the arm strength to extend the field. But his biggest play of the game came in the first quarter when he ran the ball in for an 18-yard touchdown to tie the game, 7-7. Gretzky was the leading rusher for Oaks Christian, gaining 39 yards on nine carries. He was also sacked three times.

3. Three Foothill League teams had successful opening nights. Golden Valley impressively won its first game of the season, 31-19, over Simi Valley. The Grizzlies went 0-10 last year and were shut out six times. Saugus beat Burroughs, 26-20, with some fourth-quarter heroics from quarterback Jared Carbajal. He threw the game-winning touchdown – a 3-yarder to Denley Rodriguez– with three minutes left in the game. Carbajal completed only five passes in the game for 36 yards, but he rushed for 132 yards on 18 carries. Hart won its season opener, 21-7, over El Camino Real. Junior quarterback Cory Mayes was 14-of-25 for 213 yards and three touchdowns. Hart linebacker Justyn Eddins had two sacks. Hart avenged a 33-28 loss to El Camino Real in the first game of the 2009 season.

4. The restructured Serra League went 3-2 in the first week of the high school football season. Alemany, Loyola and Bishop Amat were winners. Crespi and Notre Dame Sherman Oaks lost. Alemany and Loyola's wins were close. Alemany beat Oaks Christian, 20-17, and Loyola beat Mira Costa, 10-7. Crespi lost to Dominguez, 14-11, and Notre Dame lost to Gardena Serra, 34-7.

5. The newly expanded Marmonte League teams went 2-3 on opening night. Five of the 10 teams in the Marmonte League were in action. Thousand Oaks and Newbury Park won their games. Thousand Oaks beat Hueneme, 51-14, and Newbury Park beat Buena, 21-14. Oaks Christian, Moorpark and Simi Valley lost their season openers.
August, 31, 2010
8/31/10
1:48
PM PT
By
Tim Haddock
| ESPNLosAngeles.com
Oaks Christian is not used to losing football games. Since the 2004 season, the team is 80-4. The Lions are used to scoring points too. Last year, the team averaged 47.3 points per game playing in the Tri-Valley League.

Things will be different this year for Oaks Christian.

No longer is the team in the Tri-Valley League and beating up on Bishop Diego and Nordhoff.

Oaks Christian is making a huge leap to the Marmonte League and will be playing against Westlake, the reigning CIF-SS Northern Division champions, and Moorpark, which lost to Westlake in the Northern Division championship game.

Oaks Christian coach Bill Redell knows his team has some challenging games and perhaps some rough waters ahead. Not just one or two challenging games, but just about every Marmonte League game is against a quality opponent. There's a good chance Oaks Christian might lose two or three games. That hasn't happened since the 2007 season when Oaks Christian went 11-3.

Coming off a 13-1 season, with the only loss in the Northwest Division championship game to Gardena Serra, Redell said he isn't quite sure how his team will respond if they lose a game.

"Several of those losses have been by a point," Redell said. "That remains to be seen. We have to be able to represent ourselves and our school – you're dealing with young kids – my feeling is if we do lose one, they will handle that the way they should. That remains to be seen."

Oaks Christian opens at home against Alemany on Friday night.