Los Angeles Preps:

Marquis Thompson
December, 12, 2010
12/12/10
12:13
AM PT


LOS ANGELES -- Aesthetics are a matter of opinion. Things are more beautiful to some than they are to others.

But everyone in attendance at the Coliseum on Saturday would agree that countless penalties and 12 combined turnovers made for some ugly, sloppy football.

It was a beautiful sight in Crenshaw's eyes, though, as the Cougars captured their second straight City Section Division I title with a 45-7 win over Carson.

After all, championship trophies are always pretty.

Really, Crenshaw's defense was its best offense, scoring three touchdowns and forcing nine turnovers. The Cougars (12-2) didn't get an offensive score until the fourth quarter, when Jerry McConico found Reggie William for a seven-yard touchdown to make it 25-0.

The Cougars picked off Carson quarterback Justin Alo five times -- three of which were returned all the way back for scores.

Crenshaw star DeAnthony Thomas scored on one of his two interceptions and added a fancy touchdown run to push the lead to 31-0.

"I just try to be a big player, you know," said the 5-foot-9 Thomas, who cried after playing his final high school game.

Thomas will be back the Coliseum next fall, with many expecting him to be an immediate impact at USC. Despite concerns about his size, he plans on being a running back at the next level.

"I can make plays on the offensive side and defensive side," Thomas said. "I'm trying to go for the Heisman (Trophy), make plays and be a leader for USC."

Thomas and teammate Marquis Thompson got emotional near the end of the game, embracing each other without an attempt to fight back tears.

"This was a young team," Thompson said. "We had to pull it together. We had to make these young dudes work hard."

The hard work paid off. Alo threw two interceptions in the first quarter, while Myles Johnson and Dion Willis each lost fumbles. Both of Alo's interceptions were returned for touchdowns -- Thomas had one of 16 yards, Shaquille Shelton had the other for 43 yards.

The Cougars weren't much better in their attempt to move the ball, which kept Carson (11-3) within striking distance. Tracy Harris intercepted McConico twice -- once in the end zone, the other near the goal line -- in the first quarter. The Colts failed to capitalize.

Alo's third interception -- this one by Qujuan Floyd -- put Crenshaw inside the Carson 10 with 23 seconds remaining in the first half. But the Cougars settled for a Jose Arias 26-yard field goal when McConico missed his receivers on consecutive throws.

Crenshaw's offense didn't get many style points in this one, but that didn't seem to matter to coach Robert Garrett. When a few players tried to surprise him with the patented Gatorade bath, Garrett spotted them and opened his arms wide as if to say, "Come and get me."

Before the season, the Cougars had hoped to return to the CIF State Open Division Bowl game. Two losses to start erased those aspirations, but Thomas was proud of the way his team bounced back.

"I knew the first two games would be tough with a lot of sophomores on the team," Thomas said. "But they came through. By the sixth week we were rolling.

"A lot of us have been playing together since we were little. I'm glad we got this last win."
November, 12, 2010
11/12/10
11:21
PM PT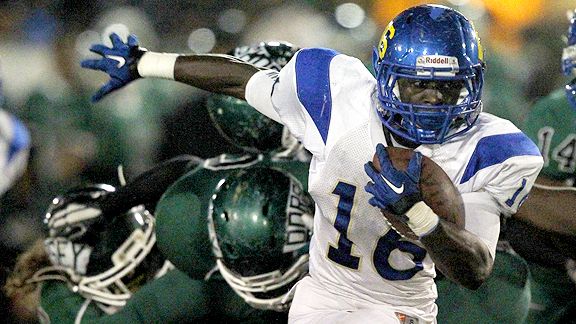 Alex Gallardo/Special to ESPNLA.comUS Presswire
Crenshaw's DeAnthony Thomas had 171 yards in offense in only 13 touches against Dorsey.
LOS ANGELES -- Crenshaw's message was loud and clear Friday night.
The city belongs to the Cougars and no one else after a 53-12 victory over Dorsey.
The clash between the top two City Section teams turned into a laugher quick, with No. 9 Crenshaw building a 34-0 lead after the first quarter. Just minutes later, it was 47-0.
This was one loud, cruel message: Los Angeles is not big enough for both Crenshaw and Dorsey. It's one or the other. And for the sixth straight year, it was all Cougars.
Blue and yellow might make green on the color wheel, but on Friday, that combination made green disappear.
Rancho Cienega Park's Jackie Robinson Stadium -- packed to the brim at kickoff -- thinned out during halftime. The music stopped playing. Fans behind Dorsey's bench traded in their dance moves for blankets. Much of the large crowd bolted before Crenshaw emerged with the one-sided victory and a probable No. 1 seeding for the City Section playoffs.
"We controlled our own destiny," Crenshaw coach
Robert Garrett
said. "There shouldn't be any question for the seeding."
August, 31, 2010
8/31/10
5:54
PM PT
We know what future USC Trojans
De'Anthony Thomas
and
Marcus Martin
mean to Crenshaw. The two are game-breakers on both sides of the ball.
Click here
to learn more about Crenshaw's
other
impact player, senior quarterback
Marquis Thompson
.