Los Angeles Preps:

Marti Sementelli
April, 13, 2012
4/13/12
5:05
PM PT
By
Tim Haddock
| ESPNLosAngeles.com
Birmingham High of Lake Balboa graduate
Marti Sementelli
is making headlines in North Carolina as a member of the Montreat College baseball team.
She is 0-1 with a 5.22 ERA in nine appearances for Montreat and was recently promoted to the school's varsity team.
Umpire
Porky Spencer
told the
Asheville Citizen-Times
, "Pound for pound, I've never seen any pitcher that's tougher than Marti."
She has five strikeouts and two walks in 11 2/3 innings with the varsity team.
May, 16, 2011
5/16/11
3:27
PM PT
By
Tim Haddock
| ESPNLosAngeles.com
The Valencia baseball team won the Foothill League championship with a 6-2 win over Canyon. Hart finished a game behind Valencia in second place with West Ranch coming in third. Hart and West Ranch won their regular-season finales on Friday. Valencia was ranked No. 5 in last week's CIF Southern Section Division I poll. Two of the Vikings' top pitchers are nursing arm injuries and might not be available when playoffs start. In the West Valley League, Chatsworth beat Birmingham, 11-1 in five innings, in the regular-season finale and won the league title. El Camino Real finished in second. Woodland Hills Taft, Cleveland of Reseda and Birmingham are tied for third place in the league standings. El Camino beat Taft, 8-6, in the regular-season finale. In the Valley Mission League, San Fernando beat Kennedy of Granada Hills, 4-2, to finish with a share of the league title. San Fernando and Kennedy are co-champions of the Valley Mission League. Kennedy handed San Fernando its first league loss of the season on Wednesday. San Fernando bounced back to beat Kennedy on Friday. The City Section playoff pairings will be announced Wednesday.
Westlake and Thouands Oaks are representing the Marmonte League well in the CIF Southern Section Divison I boys volleyball playoffs. Both teams advanced to the semifinals and are in the final four. Westlake defeated fourth-seeded Newport Harbor in five games in the quarterfinals. Thousand Oaks knocked out St. John Bosco in five games. Westlake faces Mater Dei in Santa Ana on Tuesday. Mater Dei eliminated top-seeded Mira Costa in the quarterfinals. Thousand Oaks is home against second-seeded Santa Margarita, the last seeded team left in the playoffs. In the Division III bracket, top-seeded Burroughs of Burbank beat Cypress in three games and advanced to the semifinals. The Bulldogs play fourth-seeded South Torrance. Third-seeded Camarillo swept Arcadia in the quarterfinals. The Scorpions will play second-seeded Cerritos Valley Christian in the semis.
The Foothill League will be well represented in the CIF Southern Section track and field finals at Cerritos College this weekend. Canyon's Kenny Stone qualified for four events in Division II. He will compete in the 200 and 400 as well as on the 4x100 and 4x400 relay teams. The 4x100 relay team of Max Archuleta, Dominic Pennucci, Darius Rudolph and Stone broke the league record at the CIF prelims in 42.00 seconds. James Weiner from Saugus qualified for three events in the Division II finals. He will compete in the 100, 200 and on the 4x100 relay team. Jenna Vincej of Saugus qualified in the 200 and 400 and is on the 4x400 relay team. Four girls from Saugus, Kaylin Mahoney, Stephanie Bulder, Karis Frankian and Jessica McCall, qualified in the 3,200. Valencia's Faith Anumba qualified for two events in the Division I meet. She will compete in the triple jump and the long jump.
Birmingham pitcher Marti Sementelli will continue her baseball career in college at Montreat College, an NAIA school in North Carolina. She is a pitcher for Birmingham High School and started against Ghazaleh Sailors from San Marcos in what is believed to be the first time two girls opposed each other on the mound in a high school baseball game. Sementelli earned the win in that game, 6-1 in favor of Birmingham. According to MaxPreps.com, Sementelli has appeared in 12 games and is 2-1. In 22 innings, she has struck out 14 and walked six.
Doug MacKenzie, who coached the Canoga Park baseball team to a City Section championship in 1987 at Dodger Stadium in his final season, died Thursday at his home in Glendale, according to the Los Angeles Times. He was 85. He coached at Canoga Park for 37 years and went to Eagle Rock High School and Occidental College. In addition to coaching at Canoga Park, he was a baseball coach at Ribet Academy and Bellarmine-Jefferson High School in Burbank.
March, 1, 2011
3/01/11
10:45
PM PT
LAKE BALBOA -- When
Marti Sementelli
was 5 years old, she started playing baseball in the Van Nuys/Sherman Oaks Parks and Recreation league. When she was 7, she started pitching in Little League.
On Saturday, the 18-year-old Birmingham senior will start for her high school baseball team against San Marcos from Santa Barbara.
She will be going up against senior
Ghazaleh Sailors
in what is believed to be the first matchup of girl starters in a baseball game in California high school history.
There were 1,012 girls playing baseball on high school teams in the United States in 2008, according to the National Federation of State High School Associations. California had the most girls playing baseball with 385, but none of them faced each other as opposing pitchers.
[+] Enlarge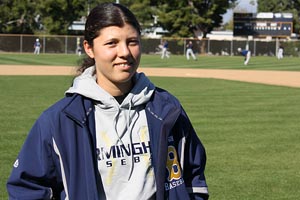 Tim Haddock/Special to ESPNLosAngeles.com Marti Sementelli will start for the Birmingham baseball team on Saturday against Ghazaleh Sailors from San Marcos.
"I don't think anyone's ever seen something like that before," Sementelli said.
Sementelli pitched 25 innings and won one game as a junior for Birmingham. Sailors is making her varsity debut. Both girls are making their first starts of the season.
While the girls play for high school teams that are separated by hundreds of miles, they are no strangers. Sementelli and Sailors were teammates on the United States national team that won the bronze medal in the World Cup of Women's Baseball in Venezuela over the summer.
Baseball has been a part of Sementelli's life since she was a toddler. She grew up with grass and mounds on the infield as opposed to dirt and circles as is the custom in softball.
For Sementelli, softball was never an option. She doesn't know how to play softball, not that it would be that difficult for her to pick up. She's just never played softball. Baseball is more her speed and style.
"My dad taught me when I was little," Sementelli said. "I never, ever thought about playing softball. My dad played in high school. He taught me everything about baseball."
Matt Mowry
, the Birmingham baseball coach, said Sementelli is treated no different than any other player on the baseball team. Not by the coaches and especially not by her teammates.
"The key is, she doesn't expect anything different," Mowry said. "It's nothing new to her. She's been around it her whole life."
Sementelli isn't the first girl Mowry has coached on the Birmingham baseball team.
Andy Parsons
played for Birmingham in 1996 and 1997 when Mowry was an assistant coach on the baseball team. She was a second baseman who could turn a double play as well as anyone, Mowry said.
In the 17 years Mowry has coached baseball at Birmingham, Sementelli and Parsons are the only two girls to make the varsity team. By comparison, there were two girls on the Birmingham football team in the fall.
Attracting national attention is nothing new to Sementelli. She was featured in a New York Times story on girls who play baseball two years ago when she was on the junior varsity team at Burbank High School. She was in a
Nike television commercial
, donning a backward Boston Red Sox cap, when she was in junior high.
Sailors is not so used to the limelight. She was 0-2 on the junior varsity baseball team at San Marcos in her junior season.
When it comes to pitching ability, Sementelli said she and Sailors are comparable.
"She's practically the same as me," Sementelli said. "It'll be an even playing field. She throws about the same speed as I do. It will be a pretty good battle pitching against each other. I'm looking forward to the game."