Los Angeles Preps:

Marvin Hall
January, 24, 2011
1/24/11
11:58
AM PT
1. What you've heard about Los Angeles Price forward Norvel Pelle is true -- he can fly with the best of them. During a spectacular sequence Saturday night in the California Elite Showcase at the University of La Verne, Pelle blocked Arizona-bound forward Grant Jerrett not once or twice, but three times before slamming one home at the other end. Pelle's 20 points paced Price to a 79-65 over fellow small school La Verne Lutheran. Pelle is taking his talents to St. John's next fall.

2. Speaking of big men, Damien's Chris Reyes might be someone to keep an eye on. The junior had 22 points, 15 rebounds and seven blocks Friday in a win at Chino Hills Ayala, with 18 of his points coming after the break. Damien coach Matt Dunn acknowledged that Reyes needed better concentration to start and he got it from his big guy. The Spartans (18-2) could have had a monster weekend, but they lost to undefeated Mission Viejo, 56-51, on Saturday despite 25 from Reyes.

3. Scoring machine Cezar Guerrero injured himself early in the second half of St. John Bosco's 61-55 home loss to JSerra on Friday and did not return. The star guard had scored 17 points at the time of his exit, yet the Braves still trailed by nine. He had 41 points and nailed the game-winner at Orange Lutheran three nights earlier. It was another setback for Bosco, which hasn't been able to put wins together during Trinity League play. JSerra was winless in league heading into Friday.

4. Three-star quarterback Joseph Gray (Los Angeles, Calif./Dorsey) switched his commitment from Washington to San Jose State on Friday. The senior prospect thrived in the Dons' spread offense last season, passing for 3,030 yards and 31 touchdowns. He had verbally committed to the Huskies in October, but wavered when he took an official visit to San Jose last week. Washington has commitments from two other Dorsey standouts -- linebacker Matthew Lyons and receiver Marvin Hall. National signing day is Feb. 2.

5. Compton's basketball team has taken care of business the last two weeks, meaning it heads into Wednesday's Moore League showdown at Long Beach Poly with a semblance of momentum. Top-ranked Poly has ripped Compton twice already by a combined 35 points. The Tarbabes' average of 80 points the last four games offers some optimism.
November, 11, 2010
11/11/10
12:27
PM PT


The Big One will finally hit Friday night.

Epicenter: Rancho Cienega Park, the site of the highly anticipated Crenshaw-Dorsey football game. The winner claims the Coliseum League title and a No. 1 seeding for the City Section playoffs. The loser, well, gets to hear about it for another year.

"It's going to be a very intense game," Dorsey receiver Marvin Hall said. "If we execute and do what we have to do, we shouldn't have a problem. But if we let them get going, we should have a rough time."

Really, it applies to both teams. The Dons (9-0) want to prove that their explosive offense is for real, as they seek their first title since 2001. The Cougars (7-2) are no longer a contender for the state bowl bid, but nothing would make up for two early-season losses like a rivalry win.

They've been on a collision course for weeks, with each team following a relatively easy path to get here.

Crenshaw, ranked No. 9 by ESPNLA.com, has outscored its opponents 365-17 since losing at Norco on Sept. 10. The Cougars have posted three consecutive shutouts.

No. 16 Dorsey, meanwhile, has scored 40 or more points in six of its nine games. Washington-bound quarterback Joseph Gray's 28 touchdown passes ranks ninth in the state. Hall, Gray's main target, has averaged nearly 25 yards per reception. He has accumulated seven scholarship offers in the last two months after coming into the season with zero.

The sideline smack talk promises to be lively. UCLA starting tailback Johnathan Franklin, who was on the last Dorsey team to defeat Crenshaw in 2006, will be there.

"Dorsey, 50 to nothing," Franklin said with a wide smile Wednesday following the Bruins' practice. "We're going to win it."

Three more to see:

San Pedro (6-3, 3-1) at Narbonne (5-4, 3-1), Friday, 7 p.m.
The second spot in the Marine League and a guaranteed playoff berth are up for grabs.

Chaminade (8-1, 3-1) at St. Paul (6-3, 2-2), Friday, 7 p.m.
Chaminade hopes to rebound after nearly pulling off the upset against No. 4 Serra last week.

Beverly Hills (6-3, 3-1) at Culver City (5-4, 2-2), Friday, 7 p.m.
Both teams need this one with Inglewood (7-2, 4-0) all but guaranteed the Ocean League title.
October, 16, 2010
10/16/10
12:40
AM PT


LOS ANGELES -- 710 ESPN Radio's Beto Duran covered the Dorsey-Locke game Friday night at Rancho Cienega Park as the Dons, ranked No. 18 by ESPNLA.com, rolled to a 56-26 victory in their Coliseum League opener.

Dorsey quarterback Joseph Gray, a Washington commit, passed for 385 yards and seven touchdowns. Gray hurt his left ankle in the second quarter and missed a series but did come back to play. But after his seventh TD pass he limped around and had to be carried off the field.

One of the beneficiaries of Gray's big night was Marvin Hall, who had 150 receiving yards and three touchdown catches. Running back Robbie Gassaway had two TD catches, Domonique Mays had two touchdowns and Keith Lakey had one for Dorsey, which improved to 6-0 overall.

Locke, which fell to 3-3, was led by quarterback Ronnie McKamie, who passed for 230 yards and two touchdowns before leaving the game in the second half because of an injury.
September, 13, 2010
9/13/10
6:52
PM PT
Blair Angulo/For ESPNLA.com
It doesn't seem as if Lakewood's football team has many weaknesses.
Some observations from Week 1 in the South Los Angeles region.
1. There may not be a better defensive team than Lakewood. Coach
Thadd MacNeal
is thrilled with the Lancers' run defense -- and for good reason. Lakewood was downright stingy at St. John Bosco on Friday, allowing the only score on a reverse wideout pass at the end of the first half. If there's a cause for concern, it would be the special teams, which missed a pair of easy field-goal attempts and muffed a punt.
2. It's a shame we're not headed for an undefeated showdown between Moore League rivals Long Beach Poly and Lakewood. The Jackrabbits suffered an ugly 32-7 loss to visiting Ventura St. Bonaventure on Friday. Perhaps the Seraphs are as good as the score indicates, or maybe Poly's passing attack isn't as refined as originally thought.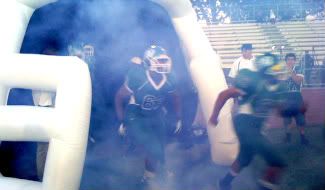 Blair Angulo/For ESPNLA.com Dorsey came out firing on Thursday.
3. Don't be too alarmed by Crenshaw's 0-2 start. The defending state runner-up Cougars are good, having lost both road games by a combined nine points. But good may not be good enough -- they needed to be great to get back to the state title game.
4. Watch out for Dorsey if
Joseph Gray
gets into a rhythm. The senior quarterback started hot, cooled off, then turned it on in a win Thursday over Woodland Hills Taft. A deep corps of receivers -- led by speedster
Marvin Hall
-- gives Gray enough options to spread it around in Dorsey's no-huddle offense.
5. Venice running back
Teondray Caldwell
is opening some eyes early.
Click here
for a quick feature on what he's done so far, including a seven-touchdown performance against Harvard-Westlake.
September, 10, 2010
9/10/10
1:18
AM PT


It might be your night when a quick hitch route develops into something much greater.

Dorsey receiver Marvin Hall ran the simple pattern on the first play from scrimmage Thursday night and quarterback Joseph Gray got him the ball.

What followed is exactly what coaches dream of when they draw up their first plays.

"We wanted to get off to a fast start," Dorsey coach Paul Knox said smiling. "We wanted to control this game."

An aggressive side-step following the catch allowed Hall to turn it into an 80-yard race down the sideline, proving that nothing is ever simple when you factor in his speed. He was at it again minutes later, adding a score of 21 yards.

Ladies and gentleman, we give you Dorsey's X-factor.

"Marvin has really matured," Knox said. "Last year he started for us, but he wasn't the focal point of our offense. With a year of experience, he knows what we're asking of him and he's been delivering."

The fast start propelled No. 17 Dorsey (2-0) past visiting No. 23 Woodland Hills Taft, 37-24, at Jackie Robinson Stadium.


September, 9, 2010
9/09/10
12:03
PM PT
A player's jersey number says a lot about who he is. Sometimes it says a lot about what he wants to become.

Forget about filling someone's shoes, Dorsey's Marvin Hall wants to fill someone's jersey.

He wears No. 13 because it's the same number former Dons star Stafon Johnson wore. Johnson gave opponents headaches from 2002-05, rushing for a City Section record 5,777 yards and 58 touchdowns before moving on to USC.

Teams studied No. 13 on film, coaches drew up plans to stop him. But in the end all they got was a good view of No. 13's backside, chasing him up the field.

"I wear my number because Stafon wore it," Hall said. "I look up to him because of all the great things he has accomplished."


September, 6, 2010
9/06/10
12:02
PM PT
1. Lakewood (1-0): Led by a dominant defensive front, the Lancers have potential to put up their share of zeroes. Next: 9/10 at St. John Bosco (1-0) - Last: 49-0 W vs. Locke.

2. Long Beach Poly(1-0): A new-found passing attack has the Jackrabbit faithful thinking about the DeSean Jackson days. Next: 9/10 vs. St. Bonaventure (0-0) - Last: 42-28 W vs. Bakersfield.

3. Serra (1-0): With the toughest test out of the way, the Cavaliers appear primed for another undefeated season. Next: 9/10 vs. Redondo Union (1-0) - Last: 34-7 W at Sherman Oaks Notre Dame.

4. Crenshaw (0-1): An injury to tailback De'Anthony Thomas meant another loss for the Cougars. Next: 9/10 at Norco (0-0) - Last: 12-17 L at North Gwinnett (Suwanee, Ga.).

5. Bishop Amat (1-0): The Rio Ruiz-to-Zachary Shay connection looks like a key for the Lancers. Next: 9/10 at Compton Dominguez (1-0) - Last: 23-0 W at Garfield.