Los Angeles Preps:

Matt Adam
September, 9, 2011
9/09/11
10:38
PM PT


MISSION VIEJO -- The highly anticipated Rumble at the Ranch on Friday turned out to be remarkably one-sided as No. 6 Santa Margarita scored a 39-7 victory over No. 24 Tesoro at Saddleback College.

The game wasn't as close as the score. Santa Margarita (2-0) committed two turnovers and several 15-yard penalties, but that didn't stop it from thoroughly beating its neighborhood rival.

"We played much better than I had any right to expect this early," said second-year coach Harry Welch. "Johnny Stanton is a pretty special kid. If I was playing agianst him, I'd be worried. Awfully great to have River Cracraft back (from an injury). And how about that defense?"

Stanton passed for 225 yards and two touchdowns to River Cracraft—he had five catches for 112 yards—as the Eagles (2-0) look forward to playing another local team next week, Trabuco Hills (2-0).

Stanton was 11 of 18 and his scores went for 34 and 15 yards. The dual-threat QB also scored on a seven-yard run that gave Margarita a 21-0 lead with 3 minutes 47 seconds left in the first half. He also carried 10 times for 66 yards, and Ryan Wolpin carried 14 for 115.

That defense dominated Tesoro (1-1), whose primary offensive weapons are versatile quarterback Matt Adam and running back Nate Tago.


September, 2, 2011
9/02/11
11:56
PM PT
By
Tim Haddock
| ESPNLosAngeles.com


VALENCIA -- Tesoro running back Nate Tago didn't get his hands on the football that much against Hart, but he made the most of his touches.

The junior running back scored four touchdowns and led his team to a 35-21 win over Hart at College of the Canyons in the season opener for both teams Friday night.

Tago only carried the ball 11 times for 61 yards, but he scored on runs of 6, 2 and 3 yards. He also caught three passes for 70 yards.

"I just told my linemen, give me a hole. I'll make the rest happen," Tago said. "That's what they did. The thing you do with linemen is give them compliments. That gets them fired up, makes them block more."

His longest play from scrimmage came on a 46-yard touchdown swing pass from quarterback Matt Adam. Tago scored three touchdowns in the first half to give Tesoro a 21-7 lead at halftime.

"The first half started really slow, four and out the first drive," Tago said. "Matt wasn't hitting his targets. I told the line, I'm going to step up right now. The line did a great job blocking, three touchdowns, it was just good work for the linemen."

Tesoro opened the third quarter scoring a pair of touchdowns in 47 seconds. The first came on a 25-yard run by Adam that put Tesoro up, 28-7, with 6:47 to play in the third quarter. The second touchdown came on a 3-yard run by Tago, his fourth touchdown of the game.

Tesoro coach Brian Barnes said the two quick touchdowns in the third quarter were the difference makers.

"It helped solidify the game for us," Barnes said.


November, 6, 2010
11/06/10
12:01
AM PT
LAS FLORES -- It was a chant that resonated throughout Titan Stadium, emerging from a small crease but growing louder and clearer as Friday night's game wore on.

"We are, M-V! We are, M-V!"

And with the way things unraveled, Mission Viejo's cheering section might as well have been yelling, "We are, envied." The Diablos, ranked No. 3 by ESPNLA.com, are the premier South Coast League team, proving it with a sound, 30-7, road victory over No. 17 Tesoro.

Backup quarterback Tre Madden led Mission Viejo with 213 yards of total offense, running for a touchdown and throwing another in the second quarter to help build a 21-0 cushion at halftime. Quarterback Alex Bridgford missed a majority of the second half as he dealt with a hip injury, but still managed to throw for 173 yards on 11-for-18 passing.

Tailback Dallas Kessman had 67 yards on 21 carries, tacking on a 19-yard touchdown run with less than four minutes to put the game away.

"I'm very proud of our kids," Mission Viejo coach Bob Johnson said. "We've had the roughest schedule in the county. We've gone through it [even though] everyone is playing very well against us."


November, 1, 2010
11/01/10
11:01
AM PT
By
Martin Henderson
| ESPNLosAngeles.com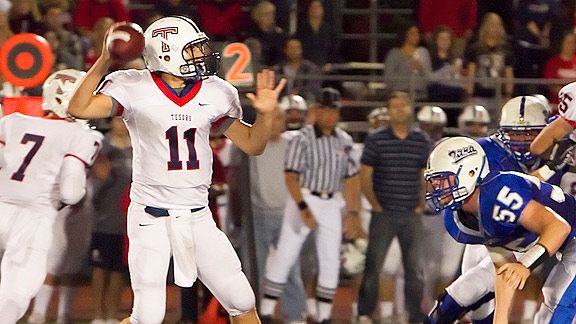 Courtesy of Tony Tribolet
Matt Adam (11) passed for three touchdowns as Tesoro dominated Dana Hills, 38-3.
1. The most surprising result of the weekend had to be the outstanding and dominant performance by Tesoro in a 38-3 South Coast League victory over Dana Hills (3-6, 0-3). The Titans (7-1, 2-0) dominated Dana in a way that neither Mission Viejo (a 52-26 winner) nor San Clemente (42-28) could. The result makes this week's showdown with MV (8-0, 2-0) all the more interesting. Given the mostly lackluster schedule and the milquetoast performances in recent weeks by Tesoro, the thinking here was that Coach
Brian Barnes'
team was toast. Instead, they hinted that they were getting into playoff shape as the defense shut down dynamic
Trent Mason
, and
Matt Adam
passed for three touchdowns (two to
Kyle Woolbright
) and four different players found the end zone.
2. Servite seems to be a different animal with
Malik Felton
as the tailback. His ability to take it to the house – witness his game- and head-turning 87-yard TD run on Friday -- has added a dimension to the Friars that had been lacking. However, the most important thing that may have come from Servite's 21-14 victory over Trinity League rival Mater Dei was the performance by junior quarterback
Cody Pittman
on a fourth quarter touchdown drive. The kid whose task was to replace
Cody Fajardo
showed poise, completed all four of his passes, and ran three times for 36 yards, including a big 24-yard gain that preceded Felton's six-yard scoring run. Every week he gets closer to being the guy who can lead this team to a championship, and he also gains the confidence of teammates as he succeeds in new situations. And, lest we forget, for all the concerns about him and the team's lack of offensive punch, he's 8-0 as a starter.
September, 9, 2010
9/09/10
6:41
AM PT
By
Martin Henderson
| ESPNLosAngeles.com
When the game was made at the end of last season, it might not have seemed like such a big deal. A couple of neighborhood schools – one private, one public – agreeing to a friendly neighborhood game called "The Rumble at the Ranch." That was before Harry Welch was hired by the private school, Santa Margarita, to be its football coach and supporters of the public school, Tesoro, reported him and the school to the CIF-Southern Section for a recruiting violation.

Welch and the school self-imposed a penalty that was agreed to by the section -- the Eagles suffering a bruised ego in the process -- and both schools went about their business. Each opened the 2010 season with one-sided victories. Santa Margarita, under its new (and legendary) coach, defeated two-time section finalist Diamond Ranch, 56-0. Tesoro, under the wunderkind who guided the program to the Pac-5 finals two seasons ago, beat Cerritos Valley Christian, 54-0.

Both coaches agree that the future could be at stake when they meet Friday at Tesoro. The winner of this game will take the inside track toward enticing parents who want their sons in the Rancho Santa Margarita area to play for a winner.