Los Angeles Preps:

Matt Inman
February, 1, 2011
2/01/11
4:38
PM PT
Servite, which won a second consecutive Pac-5 football championship this season behind a brick wall defense and a lightning quick running back, swept the top awards for the Southern Section's marquee division.
Hard-hitting linebacker
Matt Inman
was named the defensive player of the year in the division, and running back
Malik Felton
– who began the season as a slot receiver but moved to tailback after a series of injuries – was named the offensive player of the year.
Troy Thomas
, whose team won 25 in a row before losing badly to Concord De La Salle in the California Open Bowl Championship, was named the section's coach of the year.
Eight Servite players made the All-Pac 5 team, while there were seven from Mission Viejo—which was undefeated going into the Pac-5 title game—and four from Los Alamitos.
Others who received top awards in their respective sections were quarterback
Cody Clements
, junior linebacker
Aaron Porter
and Coach
Frank Mazzotta
of La Habra in the Southwest Division; and Garden Grove's
Josh Webb
– who played quarterback, receiver and running back – and Coach
Willy Puga
, and Corona del Mar linebacker
Preston Risser
in the Southern Division.
Here is a complete list of Orange County players who were selected. Click
here
for the list of all divisions.
December, 17, 2010
12/17/10
11:54
PM PT
There are several athletes who could be considered the face of Servite football, such as running back Malik Felton, who changed the team's offense when he switched from wide receiver mid-season, or lineman Troy Niklas, who is the big-time college. But it would be hard to argue that the player in the center of the defense isn't that person.

Matt Inman, a senior linebacker, has played with injuries for the past two years, and when the Friars (14-0) step on the field at Home Depot Center against Concord De La Salle (13-0) on Saturday night in the CIF State Open Division bowl game, Inman still won't be 100 percent. He has been bothered by a high ankle sprain this season. A year ago, chronic stingers down his neck and arms and a cyst in his tailbone made him more than uncomfortable.

"Against Mater Dei, he had nothing left," Servite coach Troy Thomas said. "He could barely walk. He was in a boot for two weeks and kept playing. We gave him a rest against Jordan. We had to convince him to stay out. He's an old school guy. When people see him, he's a brute linebacker who hits people, but he's so much more than that. He really is a good teammate. They know how much he gives, how much he cares, how much he sacrifices."

That's one reason his teammates can easily talk about the team rather than the individual. And when Inman talked to his teammates they listened. He talked about not winning a championship for the ring, but for the opportunity to play another week with the brothers in the locker room. Then they went out and beat Mission Viejo in the Pac-5 finals, 41-27.

"I'm not a big pregame speech guy," Thomas said. "I think they're made in the offseason and leading up to the week, everything's been said or it's too late.

"But when it comes from a player it means something on game day. Before this game he got emotional. He said we're playing for one more week, it's not about the ring. It was a great emotional speech. I think the team felt it, and I know the coaches did."

So Inman and his teammates will step on the field one last time this season trying to complete a perfect season. They have won 25 games in a row and will try to beat a program that once won 151 in a row. And when De La Salle lines up on offense, the face they will see is Inman's.
December, 14, 2010
12/14/10
6:39
AM PT
By
Martin Henderson
| ESPNLosAngeles.com
1. Mission Viejo coach Bob Johnson said he wasn't trying to make excuses, but he recognized that the first half of the top-seeded Diablos' 41-27 loss to second-seeded Servite was "a disaster," as his team made too many mistakes and dropped too many passes. Servite coach Troy Thomas quipped, "We dropped a lot of their passes too."

2. All the respect in the world for Alex Bridgford, the Mission Viejo QB who finished 21 of 48 for 274 yards, a touchdown and an interception. Bridgford got crushed on the final play of the game and fumbled one yard from the end zone. In tears during the postgame award presentation, the junior showed the leadership mettle that will serve him well in the long run. He stood in and answered questions about the only loss his team suffered all season. That was in contrast to one of his senior teammates who refused to even acknowledge the reporter without so much as an "I'd rather not talk." From where I stand, Bridgford is the Man.

3. Helping top-seeded Garden Grove win its first-ever football title, Josh Webb's performance in a 31-30 Southern Division victory over Beckman might have been the single-most exciting football performance I've seen in 30 years of covering high school sports. I was there the night Santa Margarita quarterback Carson Palmer outdueled Tustin running back DeShaun Foster, and I've seen plenty of highlight reel footage from the pressboxand the sidelines. I'm not sure anything compared to the dynamic performance by Webb on the biggest stage Garden Grove can play; his five-yard touchdown run (with a somersault) after taking a backward pass and then his conversion run (with a 360-degree rotation across the top of two defenders) with 1:27 left in the game was the best set of back-to-back plays I've seen. Ever.


December, 12, 2010
12/12/10
12:17
AM PT
By
Martin Henderson
| ESPNLosAngeles.com
ANAHEIM – They had been on a collision course all season. Both teams had lived up to the hype as they went through the playoffs. And when they met at Angel Stadium on Saturday to determine the undefeated Pac-5 champion, an unstoppable offense and a bruising defense both showed up.

For the same team.

Second-seeded Servite scored four times in the first half and rode the arm and legs of Cody Pittman, the continued excellence of Malik Felton, and the trademark defense to a decisive 41-27 victory in front of 15,582 fans over the one team that figured to have a chance to beat them. It's the second consecutive championship for Servite (14-0), which also won the Division II State Bowl championship last season.

Instead, top-seeded Mission Viejo (13-1) found the defense of Servite (14-0) just as physical as advertised. The Diablo offense dropped balls – perhaps knowing the jarring hit that would come with every completion – and threw interceptions and didn't look anything like the team that averaged 45.1 points this season.

"They rattled some of us," said Mission Viejo quarterback Alex Bridgford, a junior who fumbled at the one-yard line on Mission Viejo's final play with 52 seconds to go. "We had to come back at the end but it was too late."

This game had seemingly been in the making since last season when Mission Viejo was turned away on a two-point conversion attempt in the final minute of a 19-18 loss to Servite in the semifinals.


December, 4, 2010
12/04/10
11:10
PM PT
By
Martin Henderson
| ESPNLosAngeles.com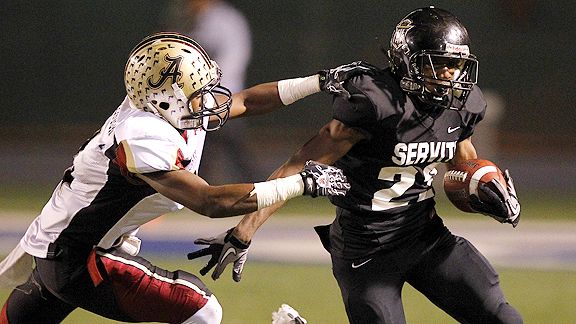 Alex Gallardo/Special to ESPNLA.com
Servite's Malik Felton rushes for some of his 155 yards on the ground to lead the Friars to victory.
CERRITOS – Classic Servite.
Special teams, defense, and
Malik Felton
.
The Friars, seeded second in the Southern Section Pac-5 Division playoffs, lived up to their reputation Saturday when they relied on their sure things to beat previously unbeaten Alemany, 28-21, to advance to their second consecutive championship.
Servite (13-0) will play top-seeded Mission Viejo (13-0) on Saturday at Angel Stadium in a game that features two of the Southland's heavy hitters, a collision course that seems to have been destined since Day 1. They met last year in the Pac-5 semifinals and Servite won, 19-18, when it turned back a two-point conversion attempt in the last minute. The Friars went on to win the section title, then the State Division II Bowl championship.
Their winning streak now stands at 24 games, but it wasn't without some anxious moments against Alemany (12-1).
Vernon Adams
showed just how dangerous he could be. He completed 19 of 34 passes for 278 yards and two touchdowns, and ran 22 times for 140 yards. "Tiring," is how
Troy Niklas
described trying to track down the elusive senior.
November, 26, 2010
11/26/10
11:15
PM PT
By
Sean Ceglinsky
| ESPNLosAngeles.com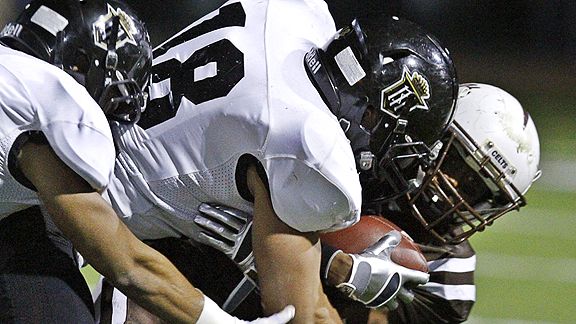 John Lazar/Special to ESPNLA.com
Crespi's M. Ajani Shanks gets tackled by Servite's Butch Pauu in the first half of their Pac-5 quarterfinal game.
ENCINO -- One of their very own came home.
Former Crespi High football coach
Troy Thomas
, also a Celts' alumni, returned to his old stomping grounds Friday night. This time around, however, he was in unfamiliar territory. Thomas was on the opposite sideline as head honcho of Servite, the top-ranked team in ESPNLosAngeles.com's Top 25 rankings.
As much as he attempted to downplay the whole idea of being back at Crespi, you get the sense Thomas was pleased with the Friars' 40-16 victory over the Celts in a Southern Section Pac-5 Division quarterfinal showdown.
"Sure, I recognized a lot of faces tonight, I was here for quite a while. But really, there was no need to make this game any bigger than it already was," said Thomas, who is in his sixth year at Servite after compiling a 34-13 record with the Celts from 2001 to '04. He graduated from Crespi in 1987.
"It's always nice to come back and get a win at your old school. But it wasn't about me. It was about all of our kids and their desire to get the job done. I'm extremely proud of this bunch. They did a great job. ''
With the victory, Servite (11-0) extended its winning streak to 22 consecutive games. Equally important is the fact that the Friars moved one step closer to a successful defense of their division title.
"Coach didn't say much leading up to this game, but deep down, we know he probably wanted this win a little more than the others this season,'' Servite senior
Matt Inman
said. "We got it done for him.''
November, 5, 2010
11/05/10
11:33
PM PT
By
Martin Henderson
| ESPNLosAngeles.com
MISSION VIEJO -- Troy Thomas' voice was low, barely above a whisper, as he answered the question an hour before Servite put its No. 1 ranking in the Southland on the line against No. 18 Santa Margarita: "I'm a little nervous, to be honest."

He was getting ready to face Harry Welch, who like Thomas was a product of Crespi High, who had won eight section titles and two Bowl championships, who had turned Santa Margarita into one of the best teams in the state in only one year.

Thomas had learned from the legend Welch this week while watching Santa Margarita on film, and he fully expected to learn something from the game that was getting ready to be played. "Studying their offense, the things they do, it's good football," Thomas said. "A lot of people run the same things, but it's the little things that are the difference between success and failure."

But Thomas' reclamation of Servite -- six years earlier -- has been similarly impressive, and on Friday at Saddleback College, Servite won a share of its sixth consecutive league championship with a 17-10 Trinity League victory over Welch's proteges.

For Thomas, dating to his days as head coach at Crespi, it's his eighth consecutive league title. Like Welch, maybe Thomas knows what he's doing too.


October, 29, 2010
10/29/10
12:06
AM PT
By
Martin Henderson
| ESPNLosAngeles.com
Servite and Mater Dei renew their 50-year rivalry tonight at Angel Stadium with first place on the line in the Trinity League.

Servite is ranked No. 1 in the ESPNLA top 25, and Mater Dei is ranked No. 12. Both teams have loads of momentum. Servite (7-0, 2-0) has won 18 in a row, including last season's Pac-5 title and State Division II Bowl Championship -- as well as a 30-20 victory over the Monarchs.

That victory, in which Cody Fajardo passed for two touchdowns and ran for another, ended a 20-year winless streak for the Friars. Their best showing over the previous two decades was a 0-0 tie in 1992.

This year, Servite lacks a player with the offensive charisma of Fajardo, who is now at Nevada Reno, but the defense seems to be even better led by linebackers Matt Inman and Butch Pauu, lineman Jody Thomas and defensive backs Jordan Jones and Karlton Dennis. Servite's first unit has allowed only six touchdowns this season, and two of those were on drives of 22 yards or less.

The Friars' special teams figure to gives Servite an advantage as well. They have blocked three punts in the last two weeks, all leading to touchdowns, and with strong-legged Connor Loftus -- he has kicked a 52-yard field goal already this season -- Servite figures to have the edge.


October, 15, 2010
10/15/10
11:53
PM PT
By
Martin Henderson
| ESPNLosAngeles.com
MISSION VIEJO -- Another game, another workmanlike performance by Servite, the No. 1 team in the ESPNLA top 25.

Defense and special teams played a significant role in Servite's Trinity League opener, a 41-7 victory over previously undefeated JSerra.

Servite improved to 6-0, 1-0; JSerra is 5-1, 0-1.

Servite's first team defense shut down JSerra's offense and allowed only 81 yards before it went to the sidelines for the fourth quarter, having not only knocked the air out of the Lions' 42.6 scoring average, but also knocking starting QB Jake Hall out of the game with a possible concussion. The lone touchdown it allowed came after Servite fumbled the opening kickoff at the 22.

Joey Kimpler's touchdown gave JSerra a 7-0 lead. It was the first time this season that Servite has trailed in a game.

"When adversity strikes us," said Troy Niklas, a two-way starter on the line, "we hit it back in the face."

They do, and they hit hard. Servite is one of the most physical teams in the Southern Section and wore down the Lions as the game progressed.

Special teams also contributed in a big way, blocking two punts that led to touchdowns.


October, 14, 2010
10/14/10
9:00
AM PT
By
Martin Henderson
| ESPNLosAngeles.com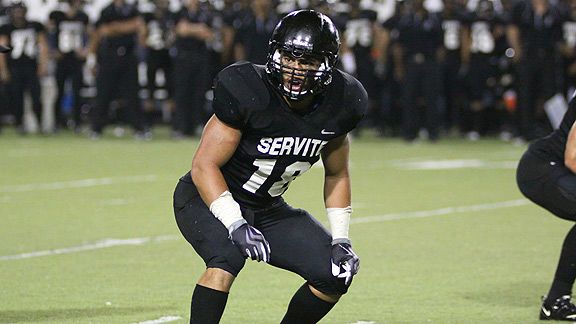 Courtesy of Laurence Martinez
The Trinity League is tougher than ever, and that has top-ranked Servite and linebacker Butch Pauu (18) looking over their shoulder.
In the four years of its existence, the Trinity League is responsible for two Pac-5 and two State Bowl championships, but Thursday ushers in a new era for the Southern Section's marquee league.
It's better than ever.
Mater Dei (3-2) plays host to St. John Bosco (4-1) at Santa Ana Stadium to begin the league's fifth year, and Bosco won't be the pushover it has been. Orange Lutheran (3-2) plays host to Santa Margarita (4-1) at Orange Coast College, and the visiting Eagles won't have any resemblance to the team that failed to win a league game for the first time in its history a year ago. Servite (5-0) – which has won or shared five straight league titles, including the league's first outright championship a year ago – visits JSerra (5-0) at Saddleback College to face a program that last week defeated a team by the same margin as highly regarded Bishop Amat.
First-year coaches
Harry Welch
at Santa Margarita (he has won two state bowl titles with different teams) and
Jason Negro
at Bosco (he guided Trabuco Hills to its section finals in two of the past three years) have elevated those programs already and seem to be the biggest reasons for the new landscape. There are no more also-rans in the league. Now, everyone is an also-running.
"It's always had elite teams in the league, and it had the appearance at times that it was top heavy – the Big Three," said Negro, whose squad is led by senior running back
Martin Brown
and several juniors. "It's more of a complete league now, from 1 to 6 you've got teams capable of winning this league. It's a shame there are only going to be three teams selected for the playoffs out of this. . . . There's going to be somebody not in the playoffs who could win one or two playoff games."
September, 3, 2010
9/03/10
12:45
AM PT
By
Martin Henderson
| ESPNLosAngeles.com
Jody Thomas
is a dreamer. He gets told each week by Servite defensive line coaches
Chris Barrett
and
Mike Pitre
to picture himself having success. Imagine himself making big plays. You know, "Be the ball." But really, who could imagine the 5-foot-10, 225-pound tackle intercepting two passes, returning a fumble for a touchdown and sacking the quarterback?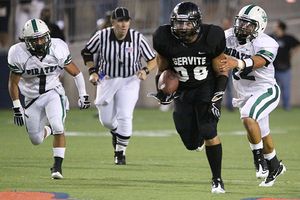 Courtesy of Laurence Martinez
Jody Thomas returns an interception during Servite's 31-7 win over Oceanside.
Yet that's what Thomas did Thursday as he set the tone for a Servite defense that led the way in a 31-7 victory over Oceanside to begin the 2010 prep season. The game matched Servite, ranked No. 1 in the ESPNLA top 25 and the reigning Division II State Bowl champion, against Oceanside, ranked No. 2 in San Diego and the reigning Division I State Bowl champion.
Oceanside is in rebuilding mode, but with six consecutive section titles, 16 consecutive appearances in the semifinals, and a 39-game unbeaten streak, the program guided by
John Carroll
– who was defensive coordinator on Servite's 1982 and 1983 championship teams – isn't exactly poverty stricken in the talent department.
Servite's defense was rebuilding, too. Rebuilding its defensive line, where Thomas is the only returning starter, and that was because he was a replacement for injured star
Kirifi Taula
(Arizona). Flanked by brothers
Jarrett
and
Jherramya Leuta-Douyere
and
Connor Einck
, they had an outstanding game collectively, relegating the defense's anchor, linebacker
Matt Inman
, to spectator.