Los Angeles Preps:

Max Archuleta
January, 30, 2012
1/30/12
7:11
AM PT
By
Tim Haddock
| ESPNLosAngeles.com
West Ranch running back Jeffrey Coprich verbally committed to Cal. He is being recruited as an athlete and said he will have a chance to play a variety of positions when spring practices start.

He was being recruited by Northwestern and Hawaii in addition to Cal.

Canyon running back Max Archuleta is headed to Yale to play college football. He was also being recruited by Columbia, John Hopkins and Amherst.

National Signing Day for high school football players is Wednesday.
October, 19, 2011
10/19/11
9:58
PM PT
By
Tim Haddock
| ESPNLosAngeles.com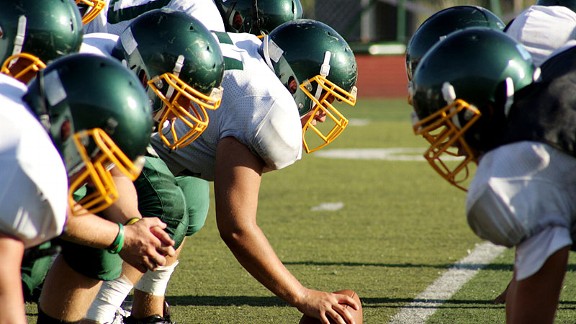 Tim Haddock/For ESPNLA.comCanyon will be facing a tough defense when it takes on Valencia in a key Foothill League game.
The Canyon football team has been rolling over opponents, averaging 49.8 points. The Valencia football team has been shutting down opposing offenses, yielding an average of 12.2 points.
When the two teams meet on Friday night at Valencia High School, it will be a classic matchup of an explosive offense vs. a stingy defense.
Except that the Valencia offense woke up against West Ranch in the Foothill League opener last week.
Valencia (3-3), the reigning Foothill League champ, scored a season-high 31 points in a 31-14 win over West Ranch. Running back
Jake Solley
rushed for 99 yards and two touchdowns for Valencia, which came into the game averaging only 13.6 points.
Canyon (6-0), the No. 20 team in the ESPNLA top 25 rankings, is coming off a 51-28 win over Saugus. The Cowboys eclipsed the 50-point mark for the fourth time this season and have been beating teams by a average margin of 36 points per game.
Canyon quarterback
Jonathan Jerozal
threw three touchdowns passes, two to receiver
Drew Wolitarsky
, in the game against Saugus. But Canyon coach
Rich Gutierrez
said it was the emergence of the running attack that has led to Canyon's high scores and eye-popping statistics.
Canyon running back
Max Archuleta
has rushed for 727 yards and scored eight touchdowns in six games. He is averaging 121.1 yards per game and 7.8 yards per carry. Gutierrez says Archuleta is a phenomenal athlete, but he had no idea how much of an impact he would make on the offense.
"I didn't know what to expect," Gutierrez said. "The offensive line is doing their thing. It's execution. It's increased our options."
With a running game that demands attention, Jerozal and Wolitarsky have been able to shine throughout the season. It has also given receivers
Coley Apsay
and
Brenden Stach
chances to make plays.
Gutierrez calls Apsay, the starting point guard on the Canyon basketball team, his team's most consistent player.
"Coley's one of our best athletes," Gutierrez said. "He's a solid possession receiver."
Valencia will definitely be the toughest defense Canyon has faced all season. But Gutierrez says he expects a tough game every week.
"They have great players, great coaches," Gutierrez said. "I don't want to take anything away from Saugus, but I almost see every week as the toughest test we have. I see every game as a tough game. They got talented kids. It's good stuff."
Here's a look at some of the other top games in the L.A. North:
June, 6, 2011
6/06/11
3:40
PM PT
By
Tim Haddock
| ESPNLosAngeles.com
Simi Valley freshman Sarah Baxter won the 3,200 in the CIF State Track and Field championships at Buchanan High School in Clovis. Her time of 10:13 was the fourth-fastest time in the nation this year. She finished ahead of Rancho Bernardo's Molly Grabill, in second, and Torrey Pines' Alli Billmeyer in third. Harvard-Westlake's Cami Chapus, who won the 1,600 in a personal-best time of 4:40.88, was ninth in the 3,200.
The Oaks Christian boys 4-x-100 relay team set a school record and won the CIF State championship in 41.19 seconds. The team of Ronny Camacho, Ishmael Adams, Terry Johnson and Vincent Saucer won the first state relay championship in school history for Oaks Christian. Roosevelt was second in 42.18 seconds.
The Canyon boys 4-x-100 relay team broke the Foothill League record at the CIF State Track and Field championships over the weekend. The team of Max Archuleta, Kenny Stone, Dominic Pennucci and Darius Rudolph ran the relay in 41.78 seconds in the preliminaries on Friday to set the Foothill League mark and qualify for the final race. The Canyon boys finished sixth in 42.18 seconds.
Saugus runner Stephanie Bulder competed in two events at the CIF State Track and Field championships. She was sixth in the 1,600 and was 13th in the 3,200. Her time of 4:47.81 in the 1,600 was a personal best by six seconds. She was one of three runners from Saugus in the 3,200 race. Teammates Kaylin Mahoney finished 12th and Karis Frankian was 20th.
Valencia's Faith Anumba was the first athlete in school history to qualify in two events in the CIF State meet. She posted top-10 performances in the long jump and triple jump. She was seventh in the long jump and ninth in the triple jump.
May, 16, 2011
5/16/11
3:27
PM PT
By
Tim Haddock
| ESPNLosAngeles.com
The Valencia baseball team won the Foothill League championship with a 6-2 win over Canyon. Hart finished a game behind Valencia in second place with West Ranch coming in third. Hart and West Ranch won their regular-season finales on Friday. Valencia was ranked No. 5 in last week's CIF Southern Section Division I poll. Two of the Vikings' top pitchers are nursing arm injuries and might not be available when playoffs start. In the West Valley League, Chatsworth beat Birmingham, 11-1 in five innings, in the regular-season finale and won the league title. El Camino Real finished in second. Woodland Hills Taft, Cleveland of Reseda and Birmingham are tied for third place in the league standings. El Camino beat Taft, 8-6, in the regular-season finale. In the Valley Mission League, San Fernando beat Kennedy of Granada Hills, 4-2, to finish with a share of the league title. San Fernando and Kennedy are co-champions of the Valley Mission League. Kennedy handed San Fernando its first league loss of the season on Wednesday. San Fernando bounced back to beat Kennedy on Friday. The City Section playoff pairings will be announced Wednesday.
Westlake and Thouands Oaks are representing the Marmonte League well in the CIF Southern Section Divison I boys volleyball playoffs. Both teams advanced to the semifinals and are in the final four. Westlake defeated fourth-seeded Newport Harbor in five games in the quarterfinals. Thousand Oaks knocked out St. John Bosco in five games. Westlake faces Mater Dei in Santa Ana on Tuesday. Mater Dei eliminated top-seeded Mira Costa in the quarterfinals. Thousand Oaks is home against second-seeded Santa Margarita, the last seeded team left in the playoffs. In the Division III bracket, top-seeded Burroughs of Burbank beat Cypress in three games and advanced to the semifinals. The Bulldogs play fourth-seeded South Torrance. Third-seeded Camarillo swept Arcadia in the quarterfinals. The Scorpions will play second-seeded Cerritos Valley Christian in the semis.
The Foothill League will be well represented in the CIF Southern Section track and field finals at Cerritos College this weekend. Canyon's Kenny Stone qualified for four events in Division II. He will compete in the 200 and 400 as well as on the 4x100 and 4x400 relay teams. The 4x100 relay team of Max Archuleta, Dominic Pennucci, Darius Rudolph and Stone broke the league record at the CIF prelims in 42.00 seconds. James Weiner from Saugus qualified for three events in the Division II finals. He will compete in the 100, 200 and on the 4x100 relay team. Jenna Vincej of Saugus qualified in the 200 and 400 and is on the 4x400 relay team. Four girls from Saugus, Kaylin Mahoney, Stephanie Bulder, Karis Frankian and Jessica McCall, qualified in the 3,200. Valencia's Faith Anumba qualified for two events in the Division I meet. She will compete in the triple jump and the long jump.
Birmingham pitcher Marti Sementelli will continue her baseball career in college at Montreat College, an NAIA school in North Carolina. She is a pitcher for Birmingham High School and started against Ghazaleh Sailors from San Marcos in what is believed to be the first time two girls opposed each other on the mound in a high school baseball game. Sementelli earned the win in that game, 6-1 in favor of Birmingham. According to MaxPreps.com, Sementelli has appeared in 12 games and is 2-1. In 22 innings, she has struck out 14 and walked six.
Doug MacKenzie, who coached the Canoga Park baseball team to a City Section championship in 1987 at Dodger Stadium in his final season, died Thursday at his home in Glendale, according to the Los Angeles Times. He was 85. He coached at Canoga Park for 37 years and went to Eagle Rock High School and Occidental College. In addition to coaching at Canoga Park, he was a baseball coach at Ribet Academy and Bellarmine-Jefferson High School in Burbank.