Los Angeles Preps:

Max Hazzard
February, 23, 2012
2/23/12
5:03
PM PT
By
Sean Ceglinsky
| ESPNLosAngeles.com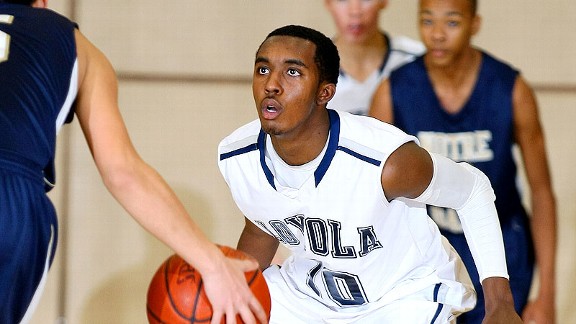 Courtesy of Nick KozaJacob Hazzard will lead Loyola into the CIF-SS Division 1AA quarterfinals on Friday against Upland.
LOS ANGELES -- About an hour before the opening tip,
Jacob Hazzard
goes through his pregame routine. Sitting alone in the corner of the locker room and seemingly collecting his thoughts, the senior from Los Angeles Loyola pulls out a pen and writes No. 42 on his shoes.
The digits are significant to him, of course. They hold a spot close to his heart.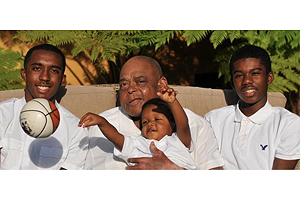 Courtesy of Hazzard familyJacob Hazzard, left, and younger brother Max Hazzard, right, have fond memories of their grandfather, Walt, center, who had a decorated career at UCLA and in the NBA. Walt Hazzard died in November.
No. 42 adorned the jersey of his grandfather, the late
Walt Hazzard
, during his days in college at UCLA and the NBA thereafter. It's the younger Hazzard's way of not only paying homage to the patriarch of the family, but preparing himself mentally and physically for the task at hand.
"Not a day goes by without me thinking about my grandfather," Jacob Hazzard said. "We always called him Papa. He was a great man, a person worth remembering at all times.''
Walt Hazzard died Nov. 18 at Ronald Reagan UCLA Medical Center. He was 69. He had suffered a stroke in 1996 and endured complications following heart surgery. The loss hit the family hard, to be sure, and was felt throughout the basketball community.
Grandfather's memory lives on, nonetheless. Grandson would not have it any other way.
"Papa was a big influence, a role model, to many people all over the world, not just me,'' Hazzard said. "Growing up, I was like a sponge and tried to soak up all of his knowledge, both on and off the court. He was always there for me, for everyone in our family. I think most knew about him as the great Walt Hazzard. But not many people got to see the grandfather side.
"It was really tough for me when he died. The gym, the basketball court, has been my sanctuary ever since that day. It's the place I have gone to escape and remember all of the good times we had together. It's the place that makes me feel like he's smiling down on me.''
With basketball obviously in his blood, Hazzard appears to be following a path eerily similar to that of his well-known namesake. The 5-foot-10 guard is a key contributor for the Cubs (23-4 overall), who are No. 4 in the ESPNLosAngeles.com top 20 rankings. Hazzard & Co. travel to Upland on Friday night for a Southern Section Division 1AA quarterfinal showdown.