Los Angeles Preps:

Max Redfield
April, 17, 2012
4/17/12
10:56
AM PT
Seven players from Inland Empire schools made the initial ESPN 150 football recruiting rankings, led by the Southland's most coveted prospect
Su'a Cravens
of Vista Murrieta.
Cravens, a safety, is ranked 15th overall nationally, but first in the state and first at his position. Rancho Cucamonga defensive backs
Chris Hawkins
(69th overall) and
Tahaan Goodman
(128th), Moreno Valley Rancho Verde receiver
Demorea Stringfellow
(74), Redlands East Valley defensive end
Kylie Fitts
(90), Upland defensive end
Joe Mathis
(120) and J.W. North tight end
Marcus Baugh
(127) are the other Inland Empire representatives.
Mission Viejo safety
Max Redfield
, ranked 31st overall, is the only Orange County player listed.
Alemany receiver
Steven Mitchell
(136) and Westlake defensive back
Dashon Hunt
(140) are considered to be the top recruits in the L.A. North region, while Santa Monica receiver
Sebastian Larue
checks in at 149th overall and is the only rep from the L.A. South.
Hawkins and Fitts have already committed to USC, Hunt is committed to UCLA and Baugh recently pledged for Ohio State.
Click here
for the complete ESPN 150 rankings:
February, 28, 2012
2/28/12
10:22
PM PT
By
Tim Haddock
| ESPNLosAngeles.com
MISSION VIEJO --
Michael Cramer
scored 17 of his game-high 20 points in the second half for Mission Viejo and sparked a third-quarter surge to oust Crescenta Valley, 65-60, in the semifinals of the CIF-Southern Section Division 1A playoffs on Tuesday night.
Cramer was instrumental in Mission Viejo's little third-quarter run that separated the two teams in a closely contested game.
[+] Enlarge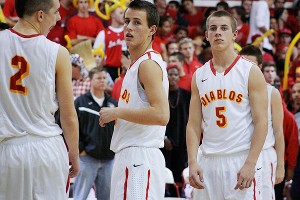 Tim Haddock/For ESPNLA.comMission Viejo's Michael Cramer (2) had a big second half to lift the Diablos over Crescenta Valley.
Mission Viejo (27-3), ranked No. 17 by ESPN Los Angeles, outscored Crescenta Valley, 8-0, early in the third quarter and turned a one-point, halftime lead into a seven-point advantage. Cramer scored six of his team's eight points in that run and Mission Viejo built a lead it would not surrender.
Crescenta Valley (26-5) jumped out to the early lead, 22-15, in the first quarter. But Mission Viejo rallied to take a 29-26 lead near the end of the second period.
Dylan Kilgour
hit a pair of 3-pointers just before halftime to give Crescenta Valley a one-point lead, 32-31. But Mission Viejo's
Max Redfield
scored a basket at the end of the first half for a 33-32 lead.
"It's a credit to our guys' toughness and ability to play through adversity," Crescenta Valley coach
Shawn Zarganian
said. "That's what these guys are about."
Crescenta Valley opened the second half with a 6-2 run to take a 38-35 lead. That's when Mission Viejo started to break away.
Cramer converted two free throws to give his team a one-point lead, 39-38.
Evan Zeller
made it 41-38 with a basket. Then Cramer pushed the lead to 45-38 with a basket and a pair of free throws.
October, 7, 2011
10/07/11
11:16
PM PT


REDLANDS -- What do they have to lose? That's what coach Kurt Bruich said before the game, this notion of playing a team such as Mission Viejo that was nationally ranked. "If you win," Bruich said, "it puts you on the map."

Rand-McNally may be looking for the Redlands East Valley football program any day now after the Wildcats, ranked No. 21 in the ESPNLA Top 25 rankings, delivered the biggest victory in school history, a 10-7 decision over No. 2 Mission Viejo.

The Diablos, visitors on the University of Redlands campus stadium, weren't just any No. 2 team; they were ranked No. 31 in the nation in the Powerade Fab 50.

"We just beat a national ranked, state-ranked, perennial powerhouse, and we beat them on defense," Bruich said. "Special teams and defense. ... It's a big win for the Inland Division."

No question, Mission Viejo (4-2) was beat up; the Diablos were missing their top three running backs, Jahleel Pinner, Buzzy Yokoyama and Daniel Marx. But REV was missing its top two runners, Darreus Parrison and Taylor Thompson.

That left the quarterbacks to shoulder much of the load. Austin Decoud led REV with 45 yards rushing, and he completed eight of 14 passes for 68 yards and an interception. Alex Bridgford completed 11 of 28 passes for 196 yards and two interceptions, and he was sacked three times -- once on the game's final desperate drive.

Ultimately, the game was a battle of solid defenses, and in the end, REV (5-0) made more plays that mattered.

The biggest of those came in the second quarter with REV holding a 3-0 lead. A REV punt hit the ground and bounced into the back of the leg of Mission Viejo's Max Redfield at the 25-yard line, then bounced toward the end zone with a den of Wildcats in pursuit.

Eventually, Tanner Shreve got his hands on it and fell the last yard into the end zone for a touchdown. David Massuere's point-after made it 10-0, a lead taken into the fourth quarter.

"This is the biggest win ever," Shreve said. "We just made REV history. I've got to give it up for the defense."


October, 3, 2011
10/03/11
11:29
PM PT
1. If you want to know how tough it is to play a difficult schedule, one needs to look no further than La Habra, which lined up No. 1 Servite, No. 10 Orange Lutheran and No. 14 St. John Bosco in consecutive weeks ending Friday. The Highlanders played the first two games tough, then got pasted against Bosco in a home game, 41-6, in which they scored on the last play of the game on a short pass from
Sean Sparling
to
Gabriel Sahegian
. The physical pounding, not to mention the talent of the skill players, and the mental duress, add up even for a program that has won four consecutive Division VI-level championships. A year ago, the Highlanders played the same three teams, but in games 1, 3 and 5; La Habra lost to Orange Lutheran, 21-17; Servite, 23-0; and Bosco, 35-17. It's that week after week after week pressure -- which can really take its toll in the third week -- that makes the gauntlet so hard. It brings into sharper focus the performance of a program such as Servite over the past 2 1/2 years in which it has had an all-comers type of schedule.
2. It was a very uncharacteristic performance by Servite, which for the last two seasons would be hard-pressed to find a game in which it lost the battle of special teams or gave up back-to-back scores in the waning moments of the half. Yet that's what happened Friday at Las Vegas Bishop Gorman; ranked No. 10 in the nation in the
ESPN Rise Powerade Fab 50
, the host Gaels scored one touchdown on a kickoff return to open the game, and scored two touchdowns in the final two minutes of the first half. Servite may give up one score late in the half, but two? Never happens. Well, not until now. Add to that the game-winning 39-yard field goal with 1:03 remaining, and that accounts for 24 points in a 31-28 loss. Very uncharacteristic, even against a national power. Servite, by the way, went into the game ranked No. 13 but dropped to 28th.
3. Has the offense at Mission Viejo caught up to the defense? Without
Jahleel Pinner
in the lineup because of an ankle injury, the Diablos ripped off 31 points against then-No. 22 Carson. Although it ended up being a blowout, Carson hung tough through the first half, trailing 10-0. But touchdown passes from
Alex Bridgford
-- 74 yards to
Max Redfield
and 75 yards to D.J. Wilson -- on his first two completions of the second half broke the game open. In consecutive games against Long Beach Poly and Carson, the Diablos have not allowed an offensive touchdown.
September, 30, 2011
9/30/11
11:44
PM PT


CARSON -- No Jahleel Pinner, no problem for unfazed Mission Viejo.

An ankle sprain limited Pinner to cheering duty and the Diablos' leading rusher had plenty to root for, as Mission Viejo breezed past Carson, 31-0, on Friday night. The replacements, Marcus Collins and Daniel Marx, combined for 164 yards of total offense while filling in for the USC commit.

"We have guys that can step in," Mission Viejo quarterback Alex Bridgford said. "Marcus Collins stepped in very well and Daniel Marx, who we got back from a concussion, is a great player. He's huge, he's fast, he's a hard worker ... and he's just a sophomore."

Bridgford did his part, too, bouncing back from a shaky first half to finish with 207 yards and three touchdowns on 7 of 18 passing. D.J. Wilson, the Diablos' other dynamic weapon, had only two receptions -- one of 75 yards and another of 27 -- but he reached the end zone on both.

Mission Viejo (4-1), the No. 3 team in the ESPN Los Angeles top 25 rankings, took a narrow 10-0 lead into the locker room at the break. The Diablos emerged a more determined bunch, with Bridgford hitting Max Redfield for a 74-yard score on his first pass of the second half.

"We had those earlier in the game, but I just missed those reads," Bridgford said.

The offensive improvements weren't needed, really. Mission Viejo's defense was superb, shutting out a Carson spread that had put up 26 points against Mater Dei and 21 against Santa Margarita. USC-bound Darreus Rogers was targeted often but was held to only one catch, for a mere 13 yards.


September, 10, 2011
9/10/11
9:21
PM PT
The Mission Viejo football team had
a wonderful trip
to the Tri-State area, one of those once-in-a-lifetime memory-makers. Then came the football game Saturday against the No. 1 team in the nation, Don Bosco Prep from Ramsey, N.J.
It might be a while before the Diablos shake that game loose from the memories, too.
That's because the Ironmen gave Mission Viejo something to remember with a 35-7 beating in an East-West showdown that matched the five-time defending state champion against one of the perennial powers of the Southern Section. It was the 36th consecutive victory for Don Bosco, and the 60th in 61 games.
Mission Viejo coach Bob Johnson said the result was mostly due to Don Bosco's effort, particularly on defense.
"They're very talented, as good as any team I've ever planned for," he said. "They have eight legit D-1 guys on defense. We knew it when we scheduled them. You can't take anything away from them. On defense, they have off-the-chart talent."
He said his team did have its chances, though, but missed on a halfback pass in which the receiver was behind the defense, and twice got inside the 20-yard line but came away empty. Also, he said, "we got a rash of injuries" including his fullback and center—on the second series—that also changed the dynamic.
"Not much went our way," he said. "We're better than the score. But I was real proud—the kids never stopped fighting."
September, 2, 2011
9/02/11
11:43
PM PT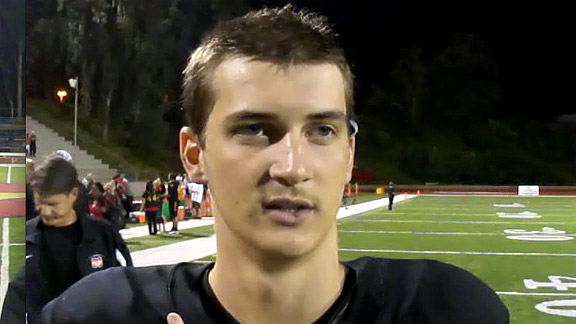 Martin Henderson for ESPNLA.comMission Viejo quarterback Alex Bridgford had only 10 completions but accounted for 260 yards and four touchdowns through the air.
MISSION VIEJO -- For Mission Viejo, its season-opening victory over Bakersfield Centennial was a lot of hit and miss, and in the end, a lot of fingers crossed.
The 35-6 nonleague victory in the Mission Viejo Classic was pretty complete, even though the central figures said there was a lot of room for improvement. But Diablos players walked off the field hoping for the best from
Buzzy Yokoyama
, who started at running back and got a sack from the nickel position on defense.
Yokoyama went to the hospital with a possible foot or ankle injury.
"We're really knocking on wood, praying, for any kid," coach
Bob Johnson
said. "He was a real contributor to us in a fast way and good way. he's a wonderful kid.. We haven't had him but for a few months, but he's fit in like a glove, like he's been here for four years. For anybody I feel bad their senior year like that, who's done a lot."
A senior transfer from Newport Harbor who missed three games last year because of a knee injury, Yokoyama carried five times for 35 yards, including a 26-yard run — his final carry of the night. That was part of a five-play, 72-yard drive capped by
Jahleel Pinner's
six-yard run for a 28-6 lead with 6:31 left in the third quarter.
Pinner carried 13 times for 57 yards and also caught a short pass that he took in for a 15-yard score and a 7-0 lead.
September, 25, 2010
9/25/10
12:16
AM PT
By
Pedro Moura
| ESPNLosAngeles.com


LONG BEACH -- No Tre Madden, no problem.

No. 3-ranked Mission Viejo stormed into Veterans Stadium on Friday without its star player and flat-out dominated No. 16 Long Beach Poly behind a steady dose of power running from Dallas Kessman and Jahleel Pinner and an especially stout defense. The two backs -- often lining up together in a dual-threat I-formation -- combined to rush for 247 yards and five touchdowns as the Diablos rolled to a big nonleague victory, 37-7.

Mission Viejo forced five turnovers and blocked a punt early in the first quarter that pushed the momentum in its favor. Both Jackrabbits quarterbacks, juniors Chaiyse Hales and Emmanuel Lara, struggled mightily to get passes off against a fierce Diablos pass rush, and Mission safety Max Redfield seized the opportunity with two first-half interceptions.

"We played real well tonight," Mission Viejo coach Bob Johnson said. "We had some good breaks early on and we made some of our own breaks too."

The Diablos (4-0) had sometimes started slowly early this season on offense, but Friday's game was a complete turnaround. Their first drive saw Kessman and Pinner run straight through Poly's defense and into the end zone, as the two totaled 89 yards on eight carries on the drive, capped off by a four-yard touchdown run from Kessman.

Three plays later, Mission Viejo had the ball again after Andrew McPeak jumped on a blocked punt at the Poly 31-yard line. Another four plays and the Diablos had a 14-0 lead, with Pinner taking it in for a 10-yard score.