Los Angeles Preps:

Michael Thomas
April, 10, 2012
4/10/12
6:51
PM PT
By
Dan Arritt
| ESPNLosAngeles.com
The class of 2013 continues to develop into the best in Inland Empire history, as J.W. North tight end Marcus Baugh committed to Ohio State on Tuesday.

Baugh, at 6 feet 4, 215 pounds, caught 30 passes for 528 yards and seven touchdowns while helping the Huskies to a 10-2 record last fall. He also recorded seven sacks as a defensive end.

The Buckeyes aren't known for recruiting out West, but that could change with Urban Meyer now at the helm. While at Utah in 2003-04, Meyer stacked his team with West Coast talent.

Ohio State had one player from the West Coast on its 2011 roster, walk-on wide receiver Donald Senegal, who played quarterback at Monroe High School in L.A., and then spent a season at Moorpark College in 2008.

In its most recent recruiting class, former Woodland Hills Taft wide receiver Michael Thomas, who spent a season at Fork Union Military Academy in Virginia before signing with Ohio State, was the only recruit with West Coast ties.

Last month, Rancho Cucamonga cornerback Chris Hawkins committed to USC.

The most prized recruit from the I.E. remains Vista Murrieta strong safety/running back Su'a Cravens, who has offers from approximately 40 schools, including USC, Ohio State, Michigan, Notre Dame and Alabama, but Upland defensive lineman Joe Mathis is drawing offers from many of the same schools.
March, 7, 2012
3/07/12
11:12
PM PT
By
Sean Ceglinsky
| ESPNLosAngeles.com
WOODLAND HILLS -- The similarities between
Julian Richardson
and his father, former UCLA star and NBA veteran
Pooh Richardson
, are many. Both on and off the court.
With his dad watching from the stands Wednesday, the younger Richardson gave spectators at El Camino Real High a glimpse of how the apple does not fall far from the tree in a Southern California Regional playoff game.
[+] Enlarge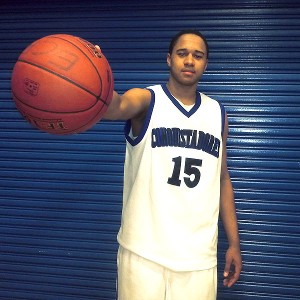 Sean Ceglinsky for ESPNLA.comJulian Richardson, son of former UCLA star Pooh Richardson, had a big second half to lead El Camino Real to a win in the state tournament.
The up-and-coming sophomore guard scored 13 of his 23 points in the third quarter to help guide the Conquistadors to a 71-63 come-from-behind victory over visiting Ontario Colony in a Division II first-round game. Richardson also finished with five rebounds and two assists.
"I don't feel any added pressure, my dad has always taught me to be my own man,'' Richardson said. "He has been supportive and it's great having him around. I try to be a sponge and soak up some of his knowledge. He has helped me out with my game a lot over the years.''
That was apparent in the second half after Richardson got off to a particularly slow start for El Camino Real (24-7). Trailing by seven points at intermission, the 6-foot-3 underclassman heated up quick and scored 13 points over a six-minute stretch of the third quarter.
As a result, Colony (22-10) led 50-48 to start the fourth quarter.
Richardson got to work in the paint down the stretch. He was fouled multiple times and his handful of free throws helped the Conquistadors complete the comeback.
"My time is done on the basketball court, it's fun for me to sit back and watch my son play now,'' Pooh Richardson said. "You always want the best for your kids and I never told him that he had to follow in my footsteps. He does his own thing and I'm proud of him.''
March, 2, 2012
3/02/12
10:29
PM PT
By
Tim Haddock
| ESPNLosAngeles.com


LOS ANGELES -- El Camino Real's Julian Richardson made only one 3-pointer in the fourth quarter of the CIF City Section Division 2 boys championship game against Garfield on Friday night.

But his 3-pointer midway through the fourth quarter proved to be the difference in El Camino Real's 62-53 win over Garfield at the Roybal Learning Center.

"Julian can shoot from anywhere," El Camino Real coach Dave Rebibo said. "These were tough, hard-minded kids who battled."

Garfield took the lead for the first time in the game, 47-46, on a 3-pointer by Richard Castro. The score was tied three times early in the fourth quarter before El Camino Real started pulling away in the closing minutes.

Richardson finished with a game-high 27 points. While Richardson's shot gave El Camino Real the lead for good, Maleke Haynes provided the dagger that put the game away.

He hit a 3-pointer, his only field goal of the game, with 1:30 left to play and gave his team a 55-49 lead.

"He just made a huge play," Rebibo said. "That really kinda sealed the deal for us."

Richardson was 1-for-5 from 3-point territory and scored only five points. His timely 3-pointer, combined with Garfield's poor free-throw shooting in the fourth quarter, assured El Camino Real of victory.

Garfield was 3-for-11 from the free-throw line in the fourth quarter. Even though Garfield had trouble making its free throws, the Bulldogs were down only two points in the final two minutes of the game.

Joe Joaquin and Francisco Aguilar each scored 15 points to lead Garfield.

Michael Thomas had a double-double with 13 points and 12 rebounds for El Camino Real.

"El Camino's a stomping ground now," Rebibo said. "It's a team to be reckoned with."
February, 26, 2012
2/26/12
11:25
PM PT
By
Tim Haddock
| ESPNLosAngeles.com
Crespi, Village Christian and Oaks Christian lost in the CIF basketball playoffs.
Thousand Oaks continues its unexpected and impressive run in the Division 2AA playoffs eliminating top-seeded Ocean View and eighth-seeded Riverside Poly last week.
Grant is in the championship game of the City Section Division III playoffs against Bell.
Renaissance Academy is rolling through the Division 6 playoffs, averaging 97.6 points per game, and is in the championship game against Cal Lutheran.
As a result, Thousand Oaks, Grant and Renaissance Academy move in to the top 10. Crespi, Village Christian and Oaks Christian drop out.
Here is a look at the L.A. North top 10 in championship week:
(1) Woodland Hills Taft (27-3) – The reigning City Section Division 1 champs nearly blew a 21-point lead over Crenshaw in the semifinals on Saturday night. Taft held on for a 64-63 win in the semifinals to advance to its fifth title game in a row. Top-seeded Taft plays seventh-seeded Dorsey at Cal State Dominguez Hills on Saturday at 8.
(2) Alemany (27-4) – The Warriors beat Bishop Amat and Santa Margarita to advance to the championship game of the Southern Section Division 3A playoffs. Alemany is averaging 80.7 points per game in the playoffs. Marqueze Coleman recorded a double-double with 28 points and 12 rebounds against Santa Margarita in the semifinals.
(3) Calabasas (26-3) – The Coyotes have won 11 games in a row and are in the championship game of the Southern Section Division 3AA playoffs. Calabasas beat Torrance, 67-46, in the semifinals. They were up 16 points at halftime. Jeremy Lieberman led three players from Calabasas in double figures with 14 points.
(4) Royal (23-6) – The Highlanders have won eight games in a row and are in the semifinals of the Division 2AA playoffs against Sunny Hills. They beat Tesoro, 54-49, in the quarterfinals. J.R. Powell scored 18 points and Scott Woods had 10 points and seven blocks against Tesoro.
(5) El Camino Real (21-7) – The Conquistadores advanced to the championship game of the City Section Division II playoffs after a 60-37 win over Narbonne in the semifinals. Michael Thomas scored 20 point and had 10 rebounds for El Camino Real against Narbonne.
(6) Providence (26-4) – Marcus LoVett Jr. scored 46 points against Kilpatrick in the semifinals of the Division 5A playoffs. Providence has won 10 games in a row and will play Holy Martyrs Armenian in the championship game.
(7) Oak Park (24-7) – The Eagles knocked out second-seeded St. John Bosco, 67-66, in the semifinals of the Division 3A playoffs. Third-seeded Oak Park meets top-seeded Alemany in the championship game.
(NR) Thousand Oaks (21-9) – The 15th-seeded Lancers are in the semifinals of the Division 2AA playoffs. They eliminated the No. 1 seed, Ocean View, and the No. 8 seed, Riverside Poly. Unseeded Inglewood awaits Thousand Oaks in the semifinals. The Sentinels knocked out fourth-seeded Canyon of Anaheim and 12th-seeded Cajon.
(NR) Grant (27-5) – It's been 24 years since the Lancers have played for a City Section championship. Grant is in the Division III title game against Bell. The last time the Lancers were in the City Section championship, they lost to Jordan in the Division 3A playoffs. With Gor Plavchyan, who scored 21 points against Banning in the semifinals, the outcome of this one might be much different.
(NR) Renaissance Academy (23-6) – Since losing three games in a row in the first week of February, the Wildcats have won four in a row, including three in the Division 6 playoffs. They are in the championship game against California Lutheran.
September, 24, 2010
9/24/10
11:28
PM PT
By
Sean Ceglinsky
| ESPNLosAngeles.com
MISSION HILLS -- Alemany's Saladin McCullough had one important responsibility during the waning moments of Friday's intersectional football game against visiting Woodland Hills Taft and that was to hold onto the ball.

Rest assured, the senior didn't fumble. In fact, he turned what was supposed to be a rather basic running play off the end into an exciting 24-yard touchdown run with less than five minutes left on the fourth quarter clock to essentially clinch a 36-26 victory over the Toreadors.

"I was trying to stay inbounds, chew up some clock, and there was no way I was going to cough up the ball in that situation, our coaches would've been all over me,'' McCullough said. "Once I saw the hole, I hit it and took off down the sideline. No one was going to catch me from behind.''

The highlight reel run by the determined McCullough gave Alemany (4-0), No. 12 in ESPNLosAngeles.com's Top 25 rankings, a 36-20 lead and all but ruined any hopes Taft (1-2) might have had at making a comeback.

The Warriors weren't satisfied with a three-point lead early in the fourth quarter. Accordingly, Jericho Richardson scooped a Taft fumble and returned it 52 yards for a score to extend the advantage to 30-20 with 10:52 left in the game.

Cisrow McClain scored on a 3-yard touchdown run with 1:44 remaining in the fourth quarter, but it was too little too late for Taft. The damage had already been done by Alemany, which came up with big play after big play.