Los Angeles Preps:

Miguel Villegas
February, 21, 2012
2/21/12
11:07
PM PT
LOS ANGELES -- Price boys' basketball coach
Michael Lynch
poked his head out the locker room door Tuesday night, peered down the hallway and, finally, cracked a smile that screamed relief.
After Price defeated visiting Windward, 76-62, for the third time this season, Lynch could finally exhale.
"It's incredibly tough to beat a team three times," Lynch said. "Windward coach
[Miguel] Villegas
is a really good coach and he's got a good team. We knew we were in for a war. Really, I wouldn't have scheduled them had I known what the divisions would be like."
Fourth-seeded Price (22-7) advanced to face top-seeded Gardena Serra in the CIF-Southern Section Division 4AA semifinals on Friday night, with the winner moving on to play the winner of Crespi-La Verne Lutheran in the title game at Anaheim Arena. The Knights had beaten Windward, 69-64, in the Santa Monica Tournament on Dec. 7 and again, 65-41, at the Fairfax State Preview Classic on Jan. 28.
But there was much at stake in the third meeting. Price's two prior victories would mean nothing without a third.
"Every time you play a team you want to pretend like it's your first time playing them," said Price senior forward
Skylar Spencer
, who had 14 points and five blocks.
Teammate
Kahlil Johnson
scored 15 of his game-high 23 points in the first half, and put an exclamation point on the game with back-to-back breakaway dunks in the final moments. He sank two 3-pointers late in the first half to pace the Knights to a 37-32 lead at intermission.
"Kahlil is a shooter," Lynch said. "He can really shoot the basketball. Once he gets on a roll and feels it, the ball is going down."
The third time wasn't the charm for the Windward Wildcats (20-9). They closed to within two late in the third quarter despite the absence of leading scorer
Nick Stover
, who was whistled for his fourth foul just two minutes into the second half.
"At halftime we talked about [Stover] having three fouls," Lynch said. "We said, 'Whoever he's guarding, we're going at him.' The referees were calling the game pretty straight up on both sides. We knew they'd blow the whistle if we really attacked him."
Stover, a Loyola Marymount signee, finished with only 13 points, well below his average of 22 per game. Guard
Jordan Wilson
had 14, and
Luke Silverman-Lloyd
and
Charles Dawson
each had 10 for the Wildcats.
"We knew the third time would be the hardest," Johnson said. "And it was."
Blair Angulo covers preps for ESPN Los Angeles. Follow him on Twitter.
January, 24, 2012
1/24/12
10:21
PM PT
By
Sean Ceglinsky
| ESPNLosAngeles.com
LOS ANGELES -- It was a look. Brandon Taylor shot a confident glance in the direction of his bench and the senior point guard for Los Angeles Pacific Hills took over down the stretch.

Seemingly unstoppable throughout, Taylor was at his absolute best in the waning moments of Tuesday night's showdown against Los Angeles Windard and finished with 34 points to guide the visiting Bruins to a 68-56 victory in a game with first place at stake in the Alpha League standings.

"Brandon was confident, you could tell in his overall demeanor,'' Pacific Hills coach Ivan Barahona said. "When he told me not to worry and that he's got things under control, I calmed down a little bit. He was right. You have to be impressed when a kid delivers like he did tonight.''

Taylor scored eight points over the course of the final eight minutes to secure the all-important victory for the Bruins (20-3, 4-0), No. 13 in the ESPNLosAngeles.com top 20 rankings.

The Wildcats (13-7, 2-1), No. 7 in the recent poll, never found an answer for him.

"I came into this game feeling good, I wasn't about to overreact, or buckle under the pressure late in the game,'' Taylor said. "My goal was to play with intensity, but stay poised. I wasn't worried about how many points I scored. The only things that matters in the end is winning games.''

Taylor started the second half similar to the way he finished the first. Scoring appeared to come with relative ease against a defense geared toward limiting his effectiveness. He had nine points in the third quarter to help the Bruins build what proved to be an insurmountable 54-37 lead.


December, 27, 2011
12/27/11
11:02
PM PT
South Los Angeles County will be well represented in the quarterfinals of the 22nd annual Holiday Classic but, surprisingly, highly regarded La Verne Lutheran won't be a part of it.
Playa del Rey St. Bernard, Los Angeles Windward and Lakewood Mayfair advanced Tuesday, moving on in the National Division bracket of the week-long tournament hosted by San Diego's Torrey Pines High School. La Verne Lutheran, one of the state's top teams, was held to only 30 points in a loss to Newark (Calif.) Memorial.
The results:
Newark (Calif.) Memorial 45, La Verne Lutheran 30
The Trojans (7-2) couldn't decipher Memorial's pressure defense, and Arizona-bound forward Grant Jerrett never got going.
San Jose Archbishop Mitty 61, Compton 47
The Tarbabes (6-5) trailed by double digits early before bouncing back to tie it at the half, but they ran out of steam against Mitty, the No. 16 team in the POWERADE ESPNHS Fab 50 national rankings. Victor Robbins was a bright spot with 21 points.
St. Bernard 68, Houston St. Thomas 61
Guard Lance Booker's 16 points and clutch perimeter shooting paced the St. Bernard Vikings (6-5).
Torrey Pines 67, Dominguez 55
Forward Arnold Anderson had 20 points but it wasn't enough for the struggling Dons (3-7).
Windward 66, Seattle O'Dea 62
Coach Miguel Villegas might have found his next standout in freshman Mason Shepherd, who had team highs of 19 points and 13 rebounds to lead the Wildcats (6-4).
Mayfair 51, Sacramento Sheldon 43
The Monsoons (7-3) forced 19 turnovers and used a strong fourth-quarter run to pull away for good.
Wednesday's quarterfinals schedule
:
Newark Memorial vs. St. Bernard, 3:50 p.m.
Torrey Pines vs. Woodland Hills Taft, 5:25 p.m.
Mayfair vs. DeMatha (Md.), 7 p.m.
Windward vs. Archbishop Mitty, 8:35 p.m.
Blair Angulo covers preps for ESPN Los Angeles. Follow him on Twitter.
December, 6, 2011
12/06/11
6:20
PM PT
Loyola, Long Beach Poly and La Verne Lutheran are ranked in
the preseason POWERADE ESPNHS Fab 50 national rankings
, and they lead the way in our opening edition of the south Los Angeles County boys' basketball top 10:
1. Loyola (4-0)
Key players:
PG Parker Jackson-Cartwright, SG Justin Childress, SG Jacob Hazzard, SF Julian Harrell (Penn)
Last season:
The Cubs went 25-6 and won the CIF-Southern Section Div. I-A championship before losing by two to eventual state champion Mater Dei in regionals.
Why they're here:
Jackson-Cartwright, only a sophomore, is already considered the top point guard in the state. Mix in the shooting of Childress and Hazzard -- as well as the versatility of Harrell -- and the Cubs have a lineup that few can match.
2. Long Beach Poly (3-1)
Key players:
SF Roschon Prince, PF Jordan Bell, PG Chris Croom, SG Reuben Strickland
Last season:
The Jackrabbits posted a 30-2 record and captured the Division 1AA title in Anaheim before losing to eventual state champion Mater Dei in regionals.
Why they're here:
Poly coach Sharrief Metoyer lost his top two to graduation -- state player of the year Ryan Anderson (Boston College) and Alexis Moore (USC) -- but there's more than enough talent left. Prince and Bell might be the best one-two combination in the county.
3. La Verne Lutheran (4-0)
Key players:
PF Grant Jerrett (Arizona), SG Eric Cooper Jr. (Arizona), SF McKay Anderson, SG Cameron Osorno
Last season:
The Trojans overcame off-the-court adversity, finishing with a 25-5 mark and a second consecutive state championship.
Why they're here:
Jerrett, a long and lean power forward, is arguably the top prospect on the West Coast. Coach Eric Cooper Sr. returns nine letter-winners from last year's team, including son Eric Cooper Jr., a sharp-shooting junior who makes teams pay for double-teaming Jerrett down low.
4. St. John Bosco (4-0)
Key players:
SG Isaac Hamilton, PF Anthony January (UTEP), SF Darryl Matthews, SG Daniel Hamilton
Last season:
The Braves finished 21-9 and were eliminated in the quarterfinals of the CIF-SS Division 4AA playoffs.
Why they're here:
New coach Derrick Taylor, who built Woodland Hills Taft into a City Section power, has the Braves thinking about the Trinity League crown. Getting past defending state champion Mater Dei won't be easy, but Bosco has Isaac Hamilton, a transfer from Crenshaw who is one of the nation's top juniors.
5. Price (3-1)
Key players:
PF Skylar Spencer (San Diego State), PG Chance Murray, SG Chris Sandifer
Last season:
The high-flying Knights went 24-8 and fell just short against La Caņada in the CIF-SS Division 3AA championship game.
Why they're here:
Yes, Price lost guard Askia Booker (Colorado) and ultra athletic forward Norvel Pelle to graduation but don't dismiss coach Michael Lynch's bunch. Spencer is another high-soaring scorer who's lethal in fast break opportunities, and Murray, a junior, already has a scholarship offer from UCLA.
March, 26, 2011
3/26/11
2:36
PM PT



SACRAMENTO -- Windward basketball coach Miguel Villegas had done his best to maintain composure in the interview room at Power Balance Pavilion, answering questions with a stern look while his players smiled and giggled.

After five minutes, he could no longer fight the tears.

Villegas broke down, dedicating the Wildcats' 63-57 victory over Richmond Salesian in the CIF State Boys Division IV championship to Daniel Tan, a former Windward player who died in January of multiple sclerosis. Windward took turns carrying a sewn portrait of Tan, an avid supporter who graduated in 2007. The Wildcats captured their second state title in three years.

"There's nothing that we can't accomplish," Villegas said. "I think these kids definitely did that this year."

Harvard-bound forward Wesley Saunders led the way with 15 points and nine rebounds, but he didn't do it alone. Three other Windward (27-8) players scored in double figures: Nick Stover and Luke Silverman-LLoyd each had 13, Charles Dawson had 12.

The Wildcats' biggest lead was nine, early in the fourth quarter, following an emphatic dunk by Saunders. But he was called for a technical foul after saluting the Windward student section on his way back to the other end. Salesian (26-12) cut the deficit to three, but Stover's three-pointer with 1:23 left gave the Wildcats a nice cushion.

"It was kind of a dagger play," Salesian coach Bill Mellis said.

Windward's zone defense held Salesian to 34-percent shooting (21 for 62), including just five for 22 from beyond the arc. Jabari Bird, one of the top guards in the 2013 class, had a game-high 23 points, but Windward limited 310-pounder Freddie Tagaloa, a highly touted offensive lineman, to just six.

"I thought it was a good zone," Mellis said. "Windward is long, active and able to cover a lot of ground. I also thought they did a good job of taking away our inside game."
March, 24, 2011
3/24/11
11:17
PM PT
By
Sean Ceglinsky
| ESPNLosAngeles.com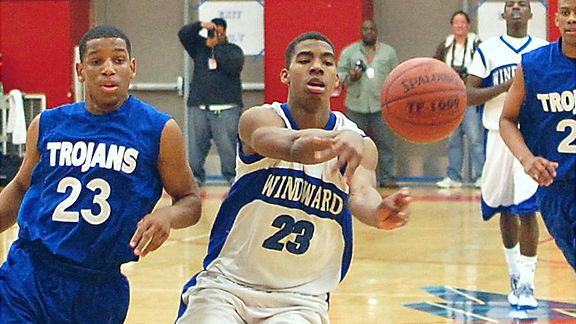 Dave KeeferWesley Saunders leads Windward in nearly offensive and defensive category this season.
LOS ANGELES -- When talk typically takes place about some of the Southland's premier prep basketball players, the name
Wesley Saunders
is mentioned. And rightfully so, considering the 6-foot-5 senior forward from Los Angeles Windward High is one of best around.
Make no mistake, hitting jumpers from the perimeter, battling for position underneath the basket for rebounds, handing out assists to wide-open teammates and elevating high above the rim to block opponents shots are skills that separate Saunders from his peers.
His undeniable talents on the hardwood, however, do not define him.
As good he is on the court, Saunders is equally talented off the court.
Finding a balance between basketball and the books might be difficult for some, but not Saunders. He has proven to be the consummate student-athlete this season and is largely responsible for guiding the Wildcats (26-8 overall) to the CIF Division IV State championship game against Richmond Salesian (25-11) on Saturday at Power Balance Pavilion in Sacramento. The opening tipoff is for 11:15 a.m.
"Wesley is special, a ball and a hoop aren't the only things that matter to him. Education comes first and that's different in this day and age,'' Windward coach
Miguel Villegas
said.
Saunders carries a high grade-point average and he scored more than 1800 on the SAT.
On all-important game days, Saunders is similarly focused.
March, 17, 2011
3/17/11
7:40
PM PT
By
Tim Haddock
| ESPNLosAngeles.com
Boys Division IV

Colony High School in Ontario

Oaks Christian (26-7) vs. Windward (25-8) Saturday, 7 p.m.

This will be the second meeting of the season between Oaks Christian and Windward. The two teams met for the first time at Windward on Feb. 5.

Windward's Wesley Saunders had a big night shooting. The senior power forward scored 26 points and was 10-of-18 from the field. He also had 13 rebounds and five assists. Windward outscored Oaks Christian, 20-8, in the fourth quarter to pull away for a 72-53 win.

"He was the big difference in that fourth quarter," Windward coach Miguel Villegas said.

The Harvard-bound Saunders led three players from Windward in double figures in that game against Oaks Christian. Jordan Wilson scored 14 points and Charles Dawson had 12.

Blair Holliday led Oaks Christian with 19 points and made two 3-pointers. Chass Bryan was the only other player from Oaks Christian who scored in double figures. He had 12.

Oaks Christian hasn't lost a game since the setback to Windward in February. The Lions have an eight-game winning streak, including 66-48 over Buckley in the Southern Section Division 4A championship game.

Windward has won nine of its past 10 games. The only loss was against Orange Lutheran, 78-71, in the Southern Section Division 4AA championship.

Key players: Oaks Christian has four players who are averaging double figures in scoring. Bryan is leading the team with 15.3 points per game and 4.7 assists per game. Holliday, who's headed to Duke to play football, is second on the team with 12.0 points per game.

Dillon van der Wal is the team's leading rebounder at 9.3 per game and is scoring 11.0 points per game. He's going to Vanderbilt to play football. Taylor Hange is scoring 10.3 points per game.

Windward has a triple scoring threat in Saunders, Wilson and Nick Stover. Saunders leads the team in scoring with 20.2 points per game. He is also the team's leading rebounder at 10.0 per game and leads the team with 3.3 assists per game.

Stover is second on the team in scoring with 15.9 points per game. Wilson, the team's sophomore guard, is averaging 11.0 points per game. Luke Silverman-Lloyd has made 65 3-pointers and is shooting 38 percent from beyond the arc.
March, 2, 2011
3/02/11
10:01
PM PT
ANAHEIM -- Sometimes it's good to be greedy.

Senior James Douglas realized it and delivered Wednesday night, scoring 27 points to help Orange Lutheran claim the CIF Southern Section Division 4AA boys' basketball title with a 78-71 win over Windward at Anaheim Arena.

Don't call Douglas selfish, though. The Northern Arizona-bound guard also led the top-seeded Lancers with nine rebounds and six assists. He wasn't about to head back to Orange without the trophy.

"When my team needs it, I get going," Douglas said. "I knew I had to be aggressive."

Douglas came out hard, scoring nine points in the first quarter as Lutheran (26-6) jumped out to a 24-6 lead. He had another eight in the second, helping the top-seeded Lancers to a 10-point advantage at the break.

"They started off real fast on us and we were opposite," Windward coach Miguel Villegas said. "We couldn't hit a shot and exerted a lot of energy to get back into this ballgame."

It was only a matter of time, Douglas said, until the second-seeded Wildcats (23-8) made their run. Windward forward Wesley Saunders believed nerves were his team's biggest issue. They had taken the court immediately after the school's girls' team celebrated its own CIF title win.

The Wildcats, behind 24 points and 13 rebounds from Saunders, climbed the mountain and assumed a 50-49 lead with less than two minutes remaining in the third. Windward went into the final quarter leading 54-51 after outscoring Lutheran 22-9 in the third.

It looked like the small school of 345 students would make it two for two in Anaheim.


March, 18, 2010
3/18/10
2:00
PM PT
By
Dan Arritt
| ESPNLosAngeles.com
You know you've arrived when Denzel Washington stops by just to say hello.

Windward High of Los Angeles, which only a few years ago was nothing more than a speck on the boys' basketball landscape, is now a prime destination for blue-chip players, college recruiters and even Academy Award-winning actors.

The Wildcats have rose to the top through hard work by Coach Miguel Villegas and his staff, who have changed the mentality of the program, developed top age-group players and benefitted from a marquee transfer or two.

Windward is one step away from advancing to the Division 5 state championship game for the second consecutive season. The Wildcats are scheduled to play La Verne Lutheran on Saturday at 3 p.m. in the Southern California Regional Division 5 final at Colony High in Ontario.

"Seven years ago, people were laughing at me," Villegas said. "No one knew who Windward was until last year. Now, my phone doesn't stop ringing."

The program gained notice about five years thanks to Cedric Latimer, an all-Southern Section forward who graduated in 2006 and went on to play for Santa Clara and then transferred to St. Francis (Pa.).

It turned the corner with the development of 6-foot-4 guard Darius Morris and the arrival last season of 6-10 center Anthony Stover, who Villegas said, "put the frosting on the cake.".

Morris was a four-year starter at Windward who led the Wildcats to the state title last season and recently completed his freshman season at Michigan, where he played in all 32 games, starting 19. Stover red-shirted for UCLA last season.

Also on last season's team was point guard Malcolm Washington, the son of Denzel, who was a walk-on at Penn this winter.

The cupboard was hardly left bare, however.

Returning this season is 6-5 junior wing Wesley Saunders, who is averaging 22.9 points and 10.7 rebounds. Saunders is being heavily recruited by a number of top schools. He has already made an unofficial visit to Arizona.

Added to the mix this season is one of the top freshmen in the nation, 6-6 forward Chauncey Hill, and 6-4 sophomore Nick Stover, the younger brother of Anthony.

"A lot of parents have realized they don't need their sons to go to a big-time school to get looked at," Villegas said.

While the program has lured some top talent, Villegas also made it clear that Windward demands its basketball players to be more than just good scorers and defenders.

"Windward is not going to let you in on athletic ability alone," he said.