Los Angeles Preps:

Mike Leach
January, 25, 2012
1/25/12
4:01
PM PT
By
Sean Ceglinsky
| ESPNLosAngeles.com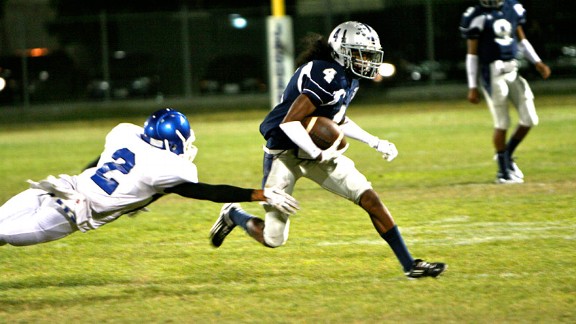 Courtesy of Jackie SattiSouth East's Robert Lewis says he will announce his college choice on Friday night.
LOS ANGELES -- It appeared as if
Robert Lewis
had, at long last, made up his mind about his final destination for college when the senior from South Gate South East gave a verbal commitment to Washington State a couple of weeks ago. Questions about the pledge, however, remain.
Lewis plans to put a stop to all of the second-guessing and make things official on Friday night when a ceremony will be held on his high school campus and the 5-foot-10, 160-pound running back will decide between his final three schools, Oregon, Southern Methodist and Washington State.
"I'm going to make my announcement this weekend at my school and pick the hat of my college choice in front of all my family and friends,'' Lewis said. "I'm still exploring all my options, but the recruiting process is almost over for me. Anything can happen in the next two days.''
There was some who thought San Diego State had recently emerged as a player. When Lewis decided to cancel a visit earlier this month, the talk about the Aztecs subsided.
Utah made a last ditch effort to lure him Salt Lake City. The same thing can be said about Texas Tech and the Red Raiders' desire to wow him with everything Lubbock had to offer.
"We've talked plenty about recruiting in the past, and I know Robert likes Washington State, but I don't think it's a lock that he'll commit to the Cougars,'' South East coach
Derwin Henderson
said. "He also likes SMU, that program has been high on his list since the beginning. We're all in the dark about his decision. I can tell you this, we'll find out on Friday night when he decides.''
The Mustangs and coach
June Junes
initially received a verbal commitment from Lewis in February. At the time, all signs pointed to the program, essentially, being the frontrunner.
January, 20, 2012
1/20/12
10:48
AM PT
By
Sean Ceglinsky
| ESPNLosAngeles.com
LOS ANGELES -- Patience is a virtue, as they often say, and
Jaydon Mickens
can attest to that much. The old adage, in fact, accurately describes how the Los Angeles (Calif.) Dorsey senior has attempted to recently approach the whole recruiting process.
Mickens has carefully weighed his options. And in doing so, the 5-foot-9 and 170-plus pound athlete has emerged as one of the nation's more sought-after unsigned recruits around and it appears as if his final destination could end up being Oklahoma State.
"I visited the Cowboys last weekend, liked what they had to offer and they're my leader now,'' Mickens said. "Things have been crazy for me lately, a lot of schools have interest in me. I almost rushed into some things, but am glad I waited to my pick.''
He gave a verbal commitment to USC, initially. Something happened along the way though. The lines of communication, unfortunately, broke down between him and the Trojans. Somewhat surprisingly,
Lane Kiffin
& Co. were no longer an option.
With the window of opportunity seemingly open once again, several programs stepped up their efforts to land him, mostly from the Pac-12 Conference.
"It didn't seem like the Trojans had big plans for me, I didn't think it was going to be a good fit, that's why I started to look at other schools,'' Mickens said.
Washington was once considered as a major player, as recently as a week ago. The Huskies, however, have been put on the back-burner. At least temporarily.
Oregon is in the midst of making a late run to secure a commitment from Mickens. He traveled North to Eugene on Friday morning for a visit with the Ducks.
Plans are in the works for a recruiting trip to Washington State on Jan. 28. With new coach
Mike Leach
in the mix, and the offensive system he brings to the table, you can't count out the Cougars. Mickens' game appears tailor-made for playing in Pullman.
Playing the waiting game has its advantages, apparently.
"Things happen for a reason, and I have a tough decision to make, but I'm not worried about things,'' Mickens said. "I plan on making my choice on signing day.''
"If I had to pick one, like I said before, it's Oklahoma State, that program brings a lot to the table. My next two visits are going to be big though. I would say that Oregon, Washington State and Washington are all about tied for second right now. They're all real close.''
Sean Ceglinsky covers preps for ESPNLosAngeles.com. Follow him on
Twitter
.