Los Angeles Preps:

Mike Stallone
September, 26, 2011
9/26/11
6:27
PM PT
By
Dan Arritt
| ESPNLosAngeles.com
Outside of the Baseline League, which league race is the toughest to predict?
The Mojave River League looks about as wide open as, well, the Mojave River. Apple Valley, Sultana and Oak Hills are sporting 3-0 records, and Serrano probably has a slight edge on those three, despite owning a 2-2 record. That's because Serrano has played a much stiffer nonleague schedule so far, highlighted by a 10-point loss to Upland two weeks ago. Upland then turned around and battered Norco, 54-27.

Is the Big VIII League looking more like the Big II at this point?
That would be correct. Corona Centennial is running on all cylinders after trouncing Chaparral last weekend, and J.W. North thinks its 2001 again. Other than that, Norco took a big step backward with its loss to Upland, Roosevelt is sputtering like an '85 Yugo and Riverside Poly couldn't even beat a team from the Mountain Pass League last weekend. The Big VIII's combined record is 11-13, while the Baseline is 15-9.

What's the most surprising 4-0 team?
Yucaipa is well known for its baseball and cross-country programs, but most of the top football players in area come down the hill and play for Redlands East Valley. However, the Thunderbirds defeated San Gorgonio, 42-31, on Friday night to run their record to 4-0 for the first time since 1997. Clayton Leach-Mead, a junior quarterback, has been the linchpin on offense for the Thunderbirds, passing for 370 yards and five touchdowns and rushing for 699 and seven scores. Defensively, senior inside linebacker Nate Pascale has five sacks, just one short of his total last season.

Which team has surpassed Roosevelt as the biggest disappointment in the I.E.?
Roosevelt got a much-needed victory last week, so now it's Redlands that seems to be falling apart at the seams. The Terriers have lost three straight games to fall to 1-3 and it won't get any easier as they play Rancho Cucamonga (4-0) at Los Osos High this week. With quarterback Mike Stallone returning this season, as well as talented running back Darryl Miller, Redlands was expected to make a run at REV for the Citrus Belt League title. At this rate, however, the once-mighty Terriers might have a hard time just getting into the playoffs.

Biggest gamble of last weekend?
Carter was trailing Lakeside, 7-0, in the fourth quarter Friday night and was just stopped on third down to bring out the punt team. A bad snap sent the punter, Clayton Atlas, into the end zone to retrieve the bouncing ball. Even though Atlas was not tackled and never went to the turf, one of the referees signaled a safety on the play. After the referees huddled, it was determined that the whistle was inadvertently blown and the kick would be replayed. On the second chance, Atlas kept the ball on a fake punt and ran 33 yards for a first down. The next play, Gaylon Maxie ran 48 yards for a touchdown and the Lions decided, 'Why not go for two points?' They won that gamble as well, taking an 8-7 lead in a game they eventually won, 14-7.
August, 11, 2011
8/11/11
10:53
PM PT
By
Dan Arritt
| ESPNLosAngeles.com
CITRUS BELT LEAGUE

Last season's results: Redlands East Valley (8-3, 5-0); Redlands (7-3-1, 3-2); Yucaipa (6-5, 3-2); Fontana A.B. Miller (5-5, 3-2); Rialto Eisenhower (1-9, 1-4); Fontana (0-10, 0-5)

Players to watch: Redlands East Valley will have the luxury of a 1-2 punch in the backfield. Jesse Riley was a first-team all-league selection as a junior last season, playing a key role in a 24-22 victory against rival Redlands by rushing for 146 yards and two touchdowns. He'll be joined by junior Taylor Thompson, who brings a more bruising running style. REV also returns quarterback Austin Decoud and a dominant offensive lineman in Dominique Robertson, who reportedly has an offer on the table from Arizona State. Edmund Faimalo also returns up front, as well as junior tight end Blake Braun, both first-team all-league picks a year ago. Defensively, the Wildcats will lean on defensive lineman Justin Sedivy and outside linebacker Trevor Douglass. Redlands figures to provide the biggest obstacle for REV again this season. The Terriers also return their quarterback, senior Mike Stallone, and a gifted ball carrier in junior Darryl Miller, who left an impression at the end of last season by rushing for 137 yards and two touchdowns in a first-round playoff loss to Norco. The most heralded newcomer to the CBL is Reshawn Hooker of A.B. Miller. Hooker, a senior linebacker who transferred from San Bernardino Arroyo Valley in the offseason, is rated as the 49th best player in the state by Rivals.com. He reportedly has scholarship offers from six Pac-12 schools, including UCLA. Boise State is also high on his preference list. Yucaipa made the playoffs last season as the league's third-place team and the Thunderbirds will be counting on junior quarterback Clayton Leach-Mead to continue his improvement. Nate Pascale led their defense with six sacks last season.

Projected order of finish: Redlands East Valley, Redlands, A.B. Miller, Yucaipa, Eisenhower, Fontana.

Key games: Sept. 9 – Compton Dominguez vs. Redlands East Valley @ Perris Citrus Hill HS, Fontana Summit @ Redlands; Sept. 16 – A.B. Miller @ Arroyo Valley; Sept. 23 – Los Angeles Dorsey vs. Redlands East Valley @ Citrus Hill, Etiwanda @ A.B. Miller; Sept. 30 – Redlands vs. Rancho Cucamonga @ Rancho Cucamonga Los Osos HS, Redlands East Valley @ Chino Hills; Oct. 7 – Mission Viejo vs. Redlands East Valley @ Univ. of Redlands; Oct. 21 – Redlands East Valley @ Redlands; Oct. 28 – Yucaipa @ Redlands; Nov. 4 – A.B. Miller @ Yucaipa; Nov. 10 – Redlands East Valley @ Yucaipa, Redlands @ A.B. Miller.

Alumni in the NFL: Nick Barnett, Buffalo Bills (A.B. Miller '99); Victor Butler, Dallas Cowboys (Eisenhower '05); Ryan Clady, Denver Broncos (Eisenhower '04).

Fast fact: The Inland Empire has developed some intense rivalries in recent years but none have quite reached the level of Redlands East Valley and Redlands. It was one-sided at first, with Redlands winning the first five meetings between 1998 and 2002 by a combined score of 237-6. Since then, Redlands East Valley has taken control, winning six of the last eight, including four straight.

On the clock: Desert Valley League.
November, 8, 2010
11/08/10
3:58
PM PT
By
Dan Arritt
| ESPNLosAngeles.com
1. The most exciting finish occurred in the Citrus Belt League. Redlands took a 7-3 lead with just over two minutes remaining Friday night against A.B. Miller of Fontana, but the Rebels took it back on a five-yard touchdown run by quarterback Eric Shufford with 33 ticks left. Down three points again, the Terriers returned the ensuing kickoff to the Miller 11-yard line. With 11 seconds remaining, Redlands quarterback Mike Stallone rolled out looking to throw the ball, but instead ran and was tackled on the one-yard line as time expired. With the 10-7 win, Miller (5-4, 3-1) takes over sole possession of second place and can claim a share of the league title with a victory Thursday against visiting Redlands East Valley (7-2, 4-0).

2. Palm Springs put itself in good position to win its second Desert Valley League title in the last three years with a 16-7 victory against visiting La Quinta. The Indians (8-1, 4-0) just need to beat winless Cathedral City in its final regular season game Friday at Palm Springs High. Nephi Garcia continues to be primary cause of the Indians' success. He scored both touchdowns against La Quinta and kicked a 34-yard field goal, finishing with 101 rushing yards in 15 carries.

3. How tight is the Mountain Pass League race? Four teams begin the final week of the regular season with 3-1 records. The four-way tie was created Friday night when host Perris Citrus Hill knocked off first-place Hemet West Valley, 15-13. Beaumont and San Jacinto also won their games to move into a tie for first. The league race will be settled Friday night when Beaumont plays West Valley at San Gorgonio Middle School and Citrus Hill travels to San Jacinto. One of the losers will likely miss the playoffs.


October, 18, 2010
10/18/10
8:00
AM PT
By
Dan Arritt
| ESPNLosAngeles.com
1. After the season started with three consecutive losses, it was pretty clear Etiwanda wasn't as bad as its record indicated. After all, the Eagles averaged 32 points in the losses. Defensively, they were still adjusting to the absence of junior linebacker
Chandler Scott
, who led the Baseline League in tackles as a sophomore but suffered a season-ending knee injury before the start of the season. Etiwanda is now riding a three-game winning streak after knocking off Glendora, 39-27, in a Baseline League opener Thursday night at Ontario Colony High. The Eagles' high-octane offense was on display in the second quarter when they put up 27 points to erase a 14-point deficit.
Larry Cutbirth
continues to look like one of the Southland's top quarterbacks in the class of 2012, throwing three more touchdowns to give him 17 on the season.
2. Gutsy call of the week belongs to Rancho Cucamonga coach
Nick Baiz
, who elected to go for two points during overtime in a Baseline League opener Friday night against host Rancho Cucamonga Los Osos. The roll of the dice paid off when quarterback
Dimitri Morales
found
J.T. Huggins
in the end zone for a two-point pass that sealed the 29-28 victory. Oregon State took the same chance Saturday night against Washington and the gamble
didn't pay off so well
.
3. The Smudge Pot is all but obsolete these days, but the annual Smudge Pot game between Redlands and Redlands East Valley is alive and well. REV won the Citrus Belt League opener, 24-22, on Friday night at the University of Redlands, getting the final points on a 24-yard field goal by
Cody Madsen
as time expired. REV has now won four straight against its cross-town foe. The Terriers had taken their final lead on a 71-yard touchdown run by quarterback
Mike Stallone
on fourth and one with 6:33 remaining, followed by a successful two-point conversion.
October, 12, 2010
10/12/10
3:49
PM PT
By
Dan Arritt
| ESPNLosAngeles.com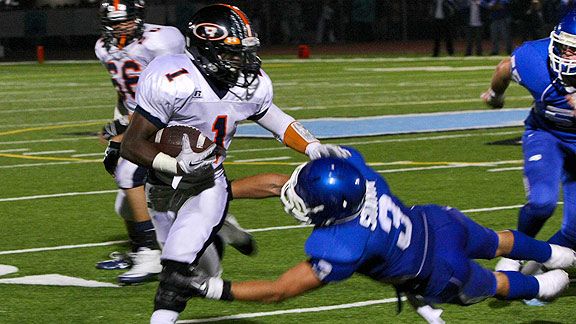 Courtesy of Paul Moureaux
Eastvale Roosevelt running back Buster Jackson helped the Mustangs upset Norco, 24-21, and create a logjam in the Big VIII League standings.
Corona Centennial continues to sit on its perch while the rest of the Big VIII League teams knock each other off. Corona Santiago defeated Eastvale Roosevelt in Week 3, then turned around and lost to Riverside King in Week 4. A night later, Roosevelt toppled Norco, putting ESPNLA.com in a no-win situation when it comes to establishing an Inland Empire top 10.
1. (1) Centennial, 5-0
The Huskies are averaging 51 points this season, putting them on pace for 714 through 14 games. Only Westlake Village Oaks Christian (2004, '06) and Bloomington (1994, '96, '97) have scored more in Southern Section history. Last week: Beat Riverside Poly, 52-8. Next: vs. Riverside North, Friday.
2. (3) Vista Murrieta, 4-1
Javonte Slater is headed to USC on a track and field scholarship, but he continues to prove he's more than just a straight-ahead runner. He had a season-high 145 rushing yards last weekend against Palisades. Last week: Defeated Palisades, 45-16. Next: vs. Temecula Chaparral, Thursday.
3. (2) Norco, 4-1
Something happened on the way to that showdown with Centennial on Oct. 29. The Cougars got run down by the Mustangs of Roosevelt. Last week: Lost to Roosevelt, 24-21. Next: at Santiago, Friday.
4. (4) Fontana Kaiser, 5-0
OK, so the Cats aren't perfect, giving up their first points since Week 1. Still, they managed to score 55 points in a game that lasted just under 90 minutes because officials used a running clock from the second quarter on. Last week: Beat Hesperia, 55-14. Next: vs. Mira Loma Jurupa Valley, Friday.
5. (10) Roosevelt, 4-1
Excuse the Mustangs for over-celebrating their upset victory against Norco last weekend. The program is only four years old and, quite frankly, that was its biggest victory to date. Last week: Beat Norco, 24-21. Next: vs. Poly, Friday.