Los Angeles Preps:

Miles Poullard
March, 20, 2012
3/20/12
3:35
PM PT
By
Dan Arritt
| ESPNLosAngeles.com
Rachel McCoy probably won't be surprising anyone this season. The 6-foot-3 junior at A.B. Miller came out of the blue last June to win a state title in the girls' high jump at Buchanan High School in Clovis

She was the only athlete to clear the bar at 5-8, and just missed on her three attempts at 5-10. After playing basketball for the Rebels over the winter, she tuned up for this track and field season by winning the high jump at the Fontana City track meet earlier this month.

Here's a list of the Inland Empire's other top underclassmen at last season's state finals:

Kelly Rhines, Sr. at Los Osos – third in the girls' 200 (24.31)

Jordie Munford, Jr., Rancho Cucamonga – second in the girls' 300 hurdles (41.90) and fifth in 100 hurdles (14.21)

Jade Miller, Sr., Great Oak – eighth in the girls' 300 hurdles (43.37).

Erika Reddish, Sr., Vista Murrieta – ninth in the girls' 1,600 (4:50.52).

Tanya Sapa, Jr., La Sierra – third in the girls' shot put (41-6 ¾)

Ashlie Curenton, Sr., Victorville – third in the girls' long jump (18-7 ½).

Kiethyon Moten, Sr., Indio – second in the boys' 110 hurdles (14.46)

Zach Lewis, Sr., Ramona – fourth in the boys' 300 hurdles (38.1)

Bernard Quinn, Sr., Vista Murrieta – fifth in the boys' 400 (48.18).

Brett Moulton, Jr., Corona Santiago – ninth in the boys' 800 (1:56.04).

Luis Gutierrez, Sr., Rancho Cucamonga – third in the boys' 1,600 (4:06.51).

Ryan Hunter-Simms, Sr., San Gorgonio – third in the boys' discus (176-6)

Jaelen Spencer, Jr., Sultana – third in the boys' triple jump (48-3 ¼)

Miles Poullard, Sr., Colony – tied for fifth in the boys' high jump (6-5)

Peter Chapman, Sr., Murrieta Valley – fifth in the boys' pole vault (15-0)
March, 7, 2012
3/07/12
11:12
PM PT
By
Sean Ceglinsky
| ESPNLosAngeles.com
WOODLAND HILLS -- The similarities between
Julian Richardson
and his father, former UCLA star and NBA veteran
Pooh Richardson
, are many. Both on and off the court.
With his dad watching from the stands Wednesday, the younger Richardson gave spectators at El Camino Real High a glimpse of how the apple does not fall far from the tree in a Southern California Regional playoff game.
[+] Enlarge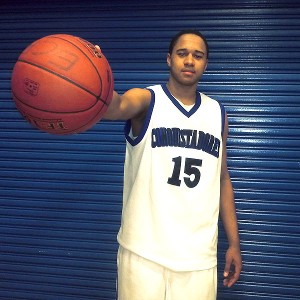 Sean Ceglinsky for ESPNLA.comJulian Richardson, son of former UCLA star Pooh Richardson, had a big second half to lead El Camino Real to a win in the state tournament.
The up-and-coming sophomore guard scored 13 of his 23 points in the third quarter to help guide the Conquistadors to a 71-63 come-from-behind victory over visiting Ontario Colony in a Division II first-round game. Richardson also finished with five rebounds and two assists.
"I don't feel any added pressure, my dad has always taught me to be my own man,'' Richardson said. "He has been supportive and it's great having him around. I try to be a sponge and soak up some of his knowledge. He has helped me out with my game a lot over the years.''
That was apparent in the second half after Richardson got off to a particularly slow start for El Camino Real (24-7). Trailing by seven points at intermission, the 6-foot-3 underclassman heated up quick and scored 13 points over a six-minute stretch of the third quarter.
As a result, Colony (22-10) led 50-48 to start the fourth quarter.
Richardson got to work in the paint down the stretch. He was fouled multiple times and his handful of free throws helped the Conquistadors complete the comeback.
"My time is done on the basketball court, it's fun for me to sit back and watch my son play now,'' Pooh Richardson said. "You always want the best for your kids and I never told him that he had to follow in my footsteps. He does his own thing and I'm proud of him.''
January, 30, 2012
1/30/12
3:48
PM PT
By
Dan Arritt
| ESPNLosAngeles.com
1. One way to get a grip on the size of Indio's upset last week against Palm Desert is to scan the results before and after that night. In a Desert Valley League opener Jan. 3, the Rajahs were smoked by Palm Desert, 72-39. The Aztecs, who came into last week ranked No. 8 in the Inland Empire by ESPNLA, probably thought they were winding down a similar stroll last Monday, holding an 11-point fourth-quarter lead inside Indio's gym. But the Rajahs staged a monumental rally and won, 60-59, on a last-second layup by Xavier Thomas. They barely had time to savor the victory, however, getting blown out two days later, 75-45, against Palm Springs. On Friday night, Indio received a taste of its own medicine, losing on a last-second basket by Xavier Prep, 60-59.

2. Don't be fooled by the wispy 6-foot-2 frame on Colony senior guard Miles Poullard. He cleared a personal-best 6-11 in the high jump at last season's Southern Section Masters track and field meet, eventually finishing fifth in state. Poullard was flying high last week after the Titans avenged an earlier loss to Don Lugo in Mt. Baldy League play. Poullard scored eight of his game-high 26 points in the fourth quarter as Colony held off the Conquistadors, 67-61. Don Lugo beat the Titans by two points earlier this month, only the second league loss in the last seven years for Colony.

3. It's easy to find Brad Amburgey on the floor. The Big Bear High junior guard has made a state-leading 99 three-pointers in 259 attempts this season (38.2 percent), taking 76 percent of his field-goal attempts from beyond the arc. He set a San Bernardino County record with 117 threes last season, which was third most in the state. Amburgey, who averages a state-leading 5.2 threes a game, is 31 makes short of cracking the Southern Section all-time top 10 for a season. He has three regular season games remaining, followed by the single-elimination playoffs. If he stays on the same pace during his senior year, he has a good shot to move into the section's top five for career three-pointers.


January, 4, 2012
1/04/12
3:27
PM PT
By
Dan Arritt
| ESPNLosAngeles.com
BIG VIII LEAGUE

Where they stand: Each team played a league game in mid-December. They resume play tonight with the following schedule: J.W. North @ Corona Centennial; Corona Santiago @ Norco; Corona @ Riverside King; Roosevelt @ Riverside Poly.

Last year's finish: Centennial (14-0); Roosevelt (12-2); Corona (8-6); J.W. North (7-7); Santiago (6-8); Poly (5-9); King (3-11); Norco (1-13).

Players to watch: Aaron Peck (J.W. North), 6-4, Sr., F; Dorian Butler (J.W. North), 6-5, Jr., F; Marcus Baugh (J.W. North), 6-5, Jr., F; Deshon Taylor (J.W. North), 6-0, So., G; Sam Finley (Centennial), 6-2, Jr., G; Sedrick Barefield (Centennial), 6-0, Fr., G; Dorion Barnett (Santiago), 6-3, Jr., F; Alex Blumenfeld (Santiago), 6-0, Sr., G; Marcos Hazelwood (Corona), 6-1, Sr., F; Jeremiah Abdelmeesh (Norco), 6-2, Sr., F; Kendall Brown (Roosevelt), 6-4, Sr., G; Jalen Young (Roosevelt), 6-5, Sr., G; Shawn Joseph (Roosevelt), 6-3, Sr., G; Noah Prouse (Poly), 6-6, Sr., F; Jeff Gonzalez (Poly), 6-6, Sr., F; Brandon Pippenger (King), 6-8, Sr., C; Nikko Turner (King), 5-8, Sr., G; Mark Wilson (King), 6-0, Sr., G.

Predicted order of finish: J.W. North, King, Poly, Centennial, Corona, Roosevelt, Santiago, Norco.

MOJAVE RIVER LEAGUE

Where they stand: Already tightly bunched after a handful of MRL games in mid-December, league play resumes tonight with Oak Hills @ Hesperia and Apple Valley @ Sultana. Serrano plays Friday @ Hesperia.

Last year's finish: Sultana (10-2); Oak Hills (9-3); Hesperia (5-7); Serrano (6-7); Apple Valley (1-11).

Players to watch Daaron Flagg (Sultana), 6-4, Sr., G; Robmar Porter (Sultana), 6-4, Sr., F; Brian Enriquez (Sultana), 6-2, So., G; Chrishtian Buttler (Sultana), 5-9, Sr., G, Denzel McCloney (Serrano), 6-0, Sr., G; Timmall Thomas (Serrano), 5-10, Jr., G; Daniel Davis (Oak Hills), 6-4, Sr., F; J.T. Roach (Apple Valley), 6-3, Jr., F.

Predicted order of finish: Sultana, Oak Hills, Serrano, Apple Valley, Hesperia.

MT. BALDY LEAGUE

Where they stand: Half the teams got a head start on league play before the holidays. They all play Friday night, with Don Lugo @ Colony, Chino @ Chaffey and Garey @ Montclair.

Last year's finish: Colony (11-1); Montclair (10-2); Ontario (8-5); Don Lugo (7-5); Garey (4-8); Chino (1-11); Chaffey (1-11).

Players to watch: Miles Poullard (Colony), 6-2, Sr., G; Everett Turner (Colony), 6-0, Jr., G; Devyn Sampson (Montclair), 6-3, Sr., G; Bobby Talamantes (Montclair), 5-9, Sr., G; Jody Smith (Montclair), 6-1, Jr., G; Marciano Rogers (Ontario), 6-3, Sr., G; Devonte Turner (Ontario), 6-3, Sr., G; Eric Ortiz (Ontario), 6-1, Sr., G; Josh Thompson (Don Lugo), 6-4, Sr., G; Jon Garnica (Chino), 6-1, Sr., G.

Predicted order of finish: Colony, Montclair, Ontario, Don Lugo, Chino, Garey, Chaffey.

Up next: Baseline, Mountain Pass and Southwestern leagues.
December, 6, 2011
12/06/11
6:37
PM PT
By
Dan Arritt
| ESPNLosAngeles.com
With the boys' basketball season a week under way, some teams have already proved they're a force to be reckoned with, while a few others have started a step slow. Here's a look at the teams and players to watch in the coming months, and where you can see them play.

1. J.W. North, 4-0

The Huskies return their top two scorers from last season's 19-11 team. Aaron Peck, a 6-4 senior forward, was an all-Division 2A selection after averaging a team-high 17.5 points and nine rebounds. He forms a dangerous trio up front with 6-5 junior forwards Marcus Baugh (10.0 ppg, 7.5 rpg) and Dorian Butler (7.8 ppg, 6.0 rpg). Rancho Verde transfer DeShon Taylor, a sophomore guard, more than shores up the back court.

2. Etiwanda, 3-1

The Eagles graduated their top five scorers from last season's team that advanced to the Division 1AA semifinals but should regroup well behind their next superstar, sophomore guard Jordan McLaughlin. The 5-11 ball handler scored 20 points Saturday night in a 72-61 loss to LaVerne Lutheran in the Rose City Classic championship game in Pasadena. Etiwanda will also count on 6-4 junior forward Sheldon Blackwell and 6-3 senior guard Dominique Walker.

3. Murrieta Valley, 5-0

The Nighthawks graduated their top two scorers from a team that finished 24-4 last season but appear to have filled the gaps in a hurray, evident by their 58-54 victory last weekend against Rancho Verde in the final of the Big Daddy tournament at Citrus Hill High. Darius Butler, a 6-3 senior forward, and Reid Shackelford, a 5-11 senior guard, appear willing and able to step into scoring roles. Butler is averaging 21 points through the first five games after averaging 8.7 last season, and Shackelford has bumped his scoring average up from 3.6 last season to 18.8. Jackson Helms, a 6-7 senior forward, is also rounding into one of the region's better big men.

4. Rancho Verde, 3-1

Jordan Grace, a 6-2 senior guard, is a returning Division I-AA selection. He'll team up nicely with 6-foot senior guard Kendall Schmidt, who transferred from Woodcrest Christian after averaging 25 points a game last season. Sophomore guards Jalen Hall and Tre Nottingham and 6-3 junior forward Lance Jones give the Mustangs additional depth, while 6-6 newcomer Khalil Fuller, the brother of Vanderbilt guard Kyle Fuller, will push to join the rotation.

5. Colony, 3-1

The Titans return their two best players from last season's team, which finished 20-10, including 11-1 in the Mt. Baldy League, and advanced to the Division 2AA quarterfinals. Miles Poullard, a 6-2 senior guard, and Everett Turner, a 6-foot junior guard, were all-Division 2AA selections last season. With no player taller than 6-4 on the roster, the Titans will need to maintain an up-tempo pace to be successful.


June, 3, 2011
6/03/11
7:26
AM PT
By
Dan Arritt
| ESPNLosAngeles.com
The CIF-State boys' track and field track championships Friday and Saturday at Clovis Buchanan High School should provide some memorable moments.
Jonathan Cabral
of Agoura and
Remontay McClain
of Covina are each defending champions in two events and both could take down some long-standing records. As far the distance races, they might be as close at the finish line as the sprints. Here's a rundown of the 16 events.
400 RELAY
The story of this race isn't so much who's in, but who's out. Long Beach Poly, the defending state champion and a regular state finalist in the one-lap relay over the years, was disqualified at the Masters Meet last weekend, and 2009 winner Gardena Serra dropped the baton a week earlier at the section finals. That leaves top qualifier Eastvale Roosevelt as the team to beat, with Westlake Village Oaks Christian a distant second.
1,600 METERS
It will be difficult to top the excitement as this race unfolded at the Masters Meet. Jantzen Oshier of Mission Viejo Trabuco Hills and Elias Gedyon of Los Angeles Loyola locked up in a dead sprint to the finish line with Oshier holding on to win in 4:09.06, one one-hundredth of a second faster than Gedyon. Oshier has run about five seconds faster this season at the Orange County Championships but Gedyon is the defending state champion
110 HURDLES
Buckle your seat belts for this one. Cabral comes in with a blazing qualifying time of 13.27. Though it was wind aided, Cabral proved at the Masters Meet that he has a legitimate shot of breaking the national high school record of 13.30, set 21 years ago by Chris Nelloms of Dunbar High in Dayton, Ohio. It's likely he'll be racing against the clock as the next-fastest qualifier, Jacob Hare of San Diego Scripps Ranch (13.99), will likely be a hurdle behind.
400 METERS
This event could go a long way toward determining the team title. Shaquille Howard of Long Beach Poly was the top qualifier out of Masters (47.15) but six others qualified in under 48 seconds. Bernard Quinn of Vista Murrieta will need a top finish to give the Broncos a shot at the team title, so will the Serra pair of Pete Lauderdale (47.74) and Francisco Olliquii (47.98).
100 METERS
McClain is a no-namer no more. A year after a surprising sweep in the sprint events, the Covina senior is not only a favorite to defend his titles, but he has a decent shot at toppling the state meet record in the 100. McClain is coming off a victory in the 100 in 10.34, but has gone as low as a wind-aided 10.28 and a wind-legal 10.31. The state meet record is 10.30, set in 1992 by Riley Washington of San Diego Southwest.
800 METERS
Immanuel Hutchinson has already established himself as the all-time best 800 runner in Riverside County history, now he can add to his collections by winning a state championship. Hutchinson is the No. 1 qualifier in the two-lap event, winning in 1:50.50 last weekend, the fastest time in the state this season. Myles Andrews of Long Beach Poly, fourth in this event last season, is the No. 2 qualifier at 1:51.33.
300 HURDLES
If all goes as planned, Cabral will try to become the first multi-event champion at the meet. He toyed with the competition at the Masters Meet, hanging with the pack until midway through the turn and then blowing them away to win by 10 meters. None of the other qualifiers are within a second of Cabral's nation-leading time of 36.19, so barring any stumbles he should defend his title with ease.
February, 22, 2011
2/22/11
11:20
PM PT
By
Dan Arritt
| ESPNLosAngeles.com


MISSION VIEJO — Creating a mismatch is one thing, completely changing the game's outcome is another. Isaac Neilson managed to do both Tuesday night in a Southern Section Division 2AA boys' basketball quarterfinal.

The 6-foot-10 senior center for Mission Viejo finished with 20 points, 17 rebounds and seven blocked shots in the 71-54 victory against visiting Ontario Colony. And those were just the numbers found in the box score. He did a lot more to perplex the Titans.

"He altered all of our shots," said Colony junior guard Miles Poullard, who managed a team-high 16 points.

Neilson, who has signed with Brigham Young but first plans to take a two-year LDS mission when he turns 19 in December, caused the Titans to throw up some wild shots nearly every time they penetrated Mission Viejo's zone defense. They didn't have much luck hitting from outside, either.

The 10th-seeded Titans (20-10) made an effort to crash the offensive boards, but Neilson would usually claim the rebound and quickly start an odd-numbered fast break with a crisp outlet pass.

"It helped that we went up and down the court," Neilson said. "They got three guys on you, just like that, so you have to quickly get the ball out."

Colony scored the first six points of the game on fast-break opportunities but the second-seeded Diablos (28-1) quickly adjusted and took their first lead with 2 ½ minutes remaining in the opening quarter. Mission Viejo carried a 7-0 run into the second quarter to take an 18-14 lead it would never surrender.

After falling behind by as many as 10 in the second quarter, the Titans scored the last five points of the first half and trailed, 32-29, at the intermission. That was as close as Colony would get, however. The Diablos scored the first four points of the second half and stretched the lead to 14 by the end of the third quarter.

Colony coach Jerry De Fabiis struggled to guard Neilson with his lone big man, 6-6 senior Chris Mays, so he elected to go with a small lineup and Neilson and the Diablos made him pay for that too.

"We thought that was about the only way we could try and get the tempo up," De Fabiis said. "We needed to try and get back in the game, pressure them, and that worked at the end of the half but the second half they were good enough to know how to get the ball through."

Michael Cramer contributed 19 points and Evan Zeller had 13 for Mission Viejo, which moves on to the semifinals Friday. The Diablos will play sixth-seeded Fontana Summit, a winner against third-seeded Anaheim Canyon, at an alternate site to be determined.
January, 21, 2011
1/21/11
11:00
PM PT
By
Dan Arritt
| ESPNLosAngeles.com


ONTARIO -- The winning streak hasn't quite crossed generations, but it's definitely a topic at the dinner table.

The Ontario Colony boys' basketball team won its 55th consecutive Mt. Baldy League game Friday night against visiting Montclair, rallying from an eight-point third-quarter deficit to win, 78-71.

"My brother actually went here, he started the streak," said junior guard Miles Poullard. "If we lose, I'd have to deal with him the rest of my life."

Tyler Poullard graduated from Colony in 2006, the year the school won its only section title in boys' basketball. Several other Titans also have siblings who are part of the winning streak, which began with the league opener in the 2005-06 season.

The program's last league loss came against Montclair on Feb. 8, 2005.

"It's something they're very much aware of and something they want to keep going," said Colony coach Jerry De Fabiis, who also guided the Titans to section final appearances in 2005 and '08. "When we were down eight, you could hear them talking about it, 'we ain't losing this tonight.' It's in the back of our mind and something these kids take a lot of pride in."