Los Angeles Preps:

Minnesota Vikings
August, 13, 2011
8/13/11
7:27
PM PT
By
Dan Arritt
| ESPNLosAngeles.com
INLAND VALLEY LEAGUE

Last season's results: Moreno Valley Rancho Verde (13-1, 7-0); Riverside Arlington (9-3, 6-1); Moreno Valley Valley View (6-5, 5-2); Riverside La Sierra (6-5, 4-3); Moreno Valley (3-7, 3-4); Moreno Valley Vista del Lago (4-6, 2-5); Moreno Valley Canyon Springs (2-8, 1-6); Ramona (0-10, 0-7).

Players to watch: As they say at Rancho Verde, the Mustangs don't rebuild, they reload. They showed their skill in June during a seven-on-seven passing tournament at UCLA, finishing 8-0 behind senior quarterback Carlos Hernandez. He'll have a pair of solid receivers to look to in senior Breon Redman, a returning first-team all leaguer, and junior Demorea Stringfellow, who already has a scholarship offer from UCLA. Kevin Shelton is a potential Division 1 recruit on the offensive line and he'll be re-joined by all-leaguer Robert Rodriguez. The defense should be well anchored by all-Central Division linebacker Blair Brown and defensive backs DeVonte Collier and Leroy Holt. Rancho Verde should face some stiff competition from La Sierra, which boasts the league's best front seven on defense. A.J. Fanene had a league-leading 18 ½ sacks last season, ninth-most in the Southern Section, and piqued the interest of USC during spring combines. Noel Quiones led the IVL with 156 tackles, including seven sacks, and fellow linebacker Tim Mummert also produced seven sacks. Offensively, the Eagles will be directed by junior quarterback Johnny Salazar, a returning starter. Valley View features the league's top returning running back. Michael Harrison racked up 1,120 yards and 16 rushing touchdowns last season. He surpassed the 100-yard mark in the final five regular-season games. The defense will be led by all-league linebacker Michael Khoury. Moreno Valley will also likely rely on its running game. Ieremia Talia ran for 971 yards last season, averaging 7.3 yards a carry en route to earning all-league honors. Canyon Springs should also improve with the return of its top two receivers, senior Jeff Hernandez and junior Kendrick Newburn. Arlington is expected to face a rebuilding year this season but the Lions have a strong pass defender in senior Alex Garcia, a first-team all-league selection.

Projected order of finish: Rancho Verde, La Sierra, Valley View, Arlington, Canyon Springs, Vista del Lago, Moreno Valley, Ramona.

Key games: Sept. 2 – Perris Citrus Hill vs. Canyon Springs @ Moreno Valley; Sept. 16 – Valley View vs. Riverside Patriot @ Riverside Rubidoux HS, Moreno Valley @ Palm Springs; Sept. 23 – Rancho Verde @ Romoland Heritage, Arlington @ La Quinta; Sept. 30 – Arlington vs. Valley View @ Ramona; Oct. 7 – Rancho Verde @ Valley View; Oct. 14 – Rancho Verde vs. La Sierra @ Riverside Norte Vista HS; Oct. 21 – La Sierra @ Valley View; Nov. 11 – Arlington @ Rancho Verde.

Alumni in the NFL: Tyron Smith, Dallas Cowboys (Rancho Verde '08); D'Aundre Reed, Minnesota Vikings (Rancho Verde '06); Da'Mon Cromartie-Smith, Pittsburgh Steelers (Rancho Verde '05); Derrick Ward, Houston Texans (Valley View '98).

Fast fact: Rancho Verde has won 31 consecutive regular-season games but that success hasn't carried into the postseason. The Mustangs did not advance past the semifinals in 2008 and 2009, and were upset by Colton in the Central Division finals last season, despite entering the playoffs as the top-seeded team in the division.

On the clock: Mt. Baldy League.
August, 10, 2011
8/10/11
9:42
PM PT
By
Dan Arritt
| ESPNLosAngeles.com
BIG VIII LEAGUE

Last season's results: Corona Centennial (14-1, 7-0); Roosevelt (9-3, 5-2); Norco (9-3, 5-2); Corona (5-6, 3-4); Corona Santiago (4-6, 3-4); Riverside King (4-6, 2-5); Riverside North (2-8, 2-5); Riverside Poly (3-7, 1-6).

Players to watch: The strength of Centennial lies in the trenches this season, and Milo Jordan can take much of that credit. He was the league's defensive co-most valuable player last season after helping the Huskies win the Inland Division title and advance to the Division 1 state bowl championship game. Jordan committed to Arizona State in June. Also returning to the Huskies' defensive front is Ngata Tuihalamaka, who led the Huskies with 4½ sacks last season. Centennial also returns three offensive linemen, led by senior tackle Lio Lafaele. Norco also returns most of its young offensive line from a season ago, as well as sophomore quarterback Coltin Gerhart. But no doubt the marquee player is outside linebacker Scott Starr, who committed to USC shortly after he was offered last spring. North should also improve behind senior quarterback/defensive back Justin Gheorghe, who was a first-team all-Big VIII selection on offense and defense last season. Gheorghe tasted success last spring as an outfielder for the North baseball team, which won the SS-Division 1 title at Dodger Stadium. Roosevelt, Santiago and Poly should also benefit from the return of their starting quarterbacks. Aaron Crone of Roosevelt threw for a league-leading 23 touchdown passes last season, Santiago junior Michael Darr averaged a league-best 206.1 passing yards a game and Steven Hamm returns behind center for Poly. Santiago might have the league's best offensive linemen in Isaiah Folasa, who committed to UCLA last month. Garry Lewis of Corona looks like the league's best athlete. The senior wide receiver had the second-fastest time in the 40-yard dash (4.41 seconds) at the Nike SPARQ Combine last spring in Long Beach.

Projected order of finish: Centennial, Norco, North, Santiago, Roosevelt, Poly, Corona, King.

Key games: Sept. 9 – Ventura St. Bonaventure @ Centennial; Los Angeles Crenshaw @ Norco; Sept. 16 – Centennial vs. Mater Dei @ Santa Ana Stadium; Sept. 23 – Upland @ Norco, Temecula Chaparral @ Centennial, North @ Fontana Kaiser; Sept. 30 – Norco @ Roosevelt; Oct. 7 – North @ Centennial, Santiago @ Norco; Oct. 14 – North vs. Poly @ Riverside College, Centennial @ Santiago; Oct. 21 – Norco @ Centennial; Oct. 27 – Santiago vs. North @ Riverside College; Nov. 4 – Centennial @ Roosevelt; Nov. 10 – Santiago @ Roosevelt; Nov. 11 – North @ Norco.

Alumni in the NFL: Lonie Paxton, Denver Broncos (Centennial '96); Toby Gerhart, Minnesota Vikings (Norco '06); Heath Farwell, Minnesota Vikings (Corona '00).

Fast fact: Centennial and Norco are intense rivals in the Inland Empire but a number of former players have gone on to become close teammates at Arizona State. Seven Centennial grads are listed on the 2011 roster, including four potential starters on defense, led by last season's Pac-10 Defensive MVP, linebacker Vontaze Burfict. Norco boasts six players on the Sun Devils roster, led by Garth Gerhart, the brother of Coltin and Toby Gerhart, considered one of the top centers in the NCAA.

On the clock: Citrus Belt League
September, 15, 2010
9/15/10
5:29
PM PT
By
Dan Arritt
| ESPNLosAngeles.com
Todd Gerhart
is facing another one of those clock management situations.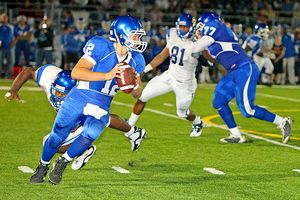 Courtesy of Rob Helfman
Todd Gerhart will coach his son Coltin, above, Friday before beginning a weekend odyssey to see his other two sons play football this weekend.
The Norco High football coach will be on the sidelines Friday night when his youngest son,
Coltin
, a freshman starting quarterback for the Cougars, plays Etiwanda at Colony High in Ontario.
He will then hustle to the Ontario Airport after the game, board a red-eye flight to Atlanta and then on to Wisconsin, where he'll watch his middle son,
Garth
, play center for Arizona State in its game Saturday evening against the Badgers.
Gerhart will then hop on another plane Sunday morning and fly to Minnesota, where he'll root for his oldest son,
Toby
, a rookie running back for the Minnesota Vikings. Gerhart is hoping to make his NFL debut after being on the inactive list last Thursday against New Orleans.
He will then fly back to Southern California on Monday morning, just in time to hold practice.
"I can't miss practice,'' he said.