Los Angeles Preps:

Montigo Alford
March, 25, 2011
3/25/11
10:49
PM PT


SACRAMENTO -- The glass slipper fit, but the clock had to strike midnight eventually.

Fontana Summit's surprise run ended Friday night, as the SkyHawks fell to San Jose Archbishop Mitty, 53-50, in the CIF State Boys Division II basketball championship at Power Balance Pavilion. Summit had made it out of the Southern California Regional as the No. 10 seed and in just its fifth year as a varsity program.

"This is the best group of kids you would want to coach," Summit coach Steven Hickey said. "We as a staff are so proud of these guys. It hurts, but I'm still proud of them."

Summit (28-8) had the ball trailing by one with 18.7 seconds left, but an errant pass by Dorian Cason led to a Mitty (32-2) bucket. Montigo Alford missed the tying shot at the other end, giving the Monarchs their first state title.

"It felt amazing," Mitty forward Aaron Gordon said. "There are no words to express how good that felt. ... I had an out-of-body experience when that ball went over (Alford's) head."

Gordon, one of the top sophomore prospects in the nation, had 17 points and tied a CIF State title-game record with 21 rebounds. Mitty survived despite the fact that Gordon did not score in the final 12 minutes as he battled foul trouble.

Summit (28-8) scored the game's first seven points before Mitty capped the opening quarter on a 9-2 run. Gordon had 13 points and 12 rebounds in the first half alone, guiding the Monarchs to a 26-19 lead at the break. About the only thing he did wrong was pick up a technical foul for smacking the glass after thunderous two-handed dunk.

The SkyHawks opened the second half on a 10-3 spurt to tie it up and hung tough for the remainder. They went into the fourth quarter down three and finally pulled even with 30 seconds left on a lay in by Quinton Lilley. Cason had a game-high 19 to go along with 14 boards. Summit would have been in trouble if not for its 11 free throw makes in the second half. They missed all 17 of their three-pointers.

"I love my guys," Hickey said. "They can't all go in."
March, 24, 2011
3/24/11
6:08
PM PT
CIF STATE BOYS DIVISION II

At Power Balance Pavilion, Sacramento

Matchup: Fontana Summit (28-8) vs. San Jose Archbishop Mitty (31-2), Friday, 8 p.m.

How they got here: Summit: beat Narbonne, 72-70 (OT); Ventura, 66-45; Peninsula, 79-74; San Diego Lincoln, 74-69 to win the Southern California Regional.

Archbishop Mitty: beat Casa Grande, 71-43; Las Lomas, 70-61; Woodcreek, 67-44 to win the Northern California Regional.

Key Players: Point guard Montigo Alford willed Summit to a comeback effort against San Diego Lincoln, scoring 15 of his team-high 18 in the second half. The SkyHawks have more options, including Darrick Arnold, Devon Alexander and sixth-man Cameron Lewis. Mitty's Aaron Gordon, the brother of former UCLA forward Drew Gordon, is ESPNU's eight-best prospect for the class of 2013.

What to expect: As the top-seeded team in the Northern California Division II Regional, Archbishop Mitty was supposed to be in this position. The Monarchs have been here twice before, in 2007 and 2008. They lost to Santa Ana Mater Dei both times. It's a different story for Summit. No one expected the SkyHawks' flight to Sacramento after they received a No. 10 seeding for the Southern California Regional. The odds were even greater last week at Galen Center, where Summit faced off against one of the state's best teams in Lincoln. So can the surprising SkyHawks, in only their fifth year as a varsity program, do it again?
March, 15, 2011
3/15/11
6:40
AM PT
By
Dan Arritt
| ESPNLosAngeles.com
ESPNLA is taking a closer look this week at the Inland Empire basketball teams that qualified for the Southern California Regional championship games Saturday at USC's Galen Center. Today, the spotlight is on the Summit boys' basketball team, which plays San Diego Lincoln in the Division 2 final at 4 p.m.

SUMMIT (27-7)

Location: Fontana.

League: Sunkist.

Resume: An extra-long football season took a bit of a toll on the SkyHawks early on, as standout point guard Montigo Alford was a running back for the Eastern Division finalists. They're rolling on all cylinders heading into the program's first regional final, however. Summit cut its teeth during the regular season with two games against Etiwanda and another against Corona Centennial, the top two programs in the I.E. The SkyHawks then cruised through Sunkist League play without much competition before they were seeded sixth in the Division 2AA playoffs. They proved good enough to advance to the semifinals before losing to second-seeded Mission Viejo, 73-69. The SkyHawks found their footing with an overtime victory against Harbor City Narbonne in the opening round of the regionals, then traveled to second-seeded Ventura and won, 66-45. Thanks to Santa Ana Foothill's first-round upset of Mission Viejo, the 10th-seeded SkyHawks did not have to go through the Diablos to reach the final, but rather Palos Verdes Peninsula. Summit battled back from an eight-point deficit at the start of the fourth quarter Saturday and beat the visiting Panthers, 79-74.

Roster: Alford was the player everyone was waiting on heading into the season but 6-7 power forward Dorian Cason has been carrying Summit from the start. Cason has consistently scored in double digits and provided mismatches with his long, athletic frame. If high school basketball players had to wait until after their senior seasons to sign letters of intent--like football players do--Cason probably would have received more options. Instead, he signed with Portland, which got a steal. Summit also features junior guard Devon Alexander, who scored all 17 of his points in the second half against Peninsula, including two big 3-point baskets in the final two minutes. Two other junior guards, Isaiah Taylor and Darrick Arnold, and senior wing Cameron Lewis, are key contributors.

Reality: A year ago, Summit's season came crashing to an end against Lincoln in a regional quarterfinal. The SkyHawks held a one-point lead with under two minutes remaining but Lincoln scored the final six points and won, 72-67. That should either serve to motivate Summit, or intimidate the SkyHawks, since Lincoln is even stronger this season. The Hornets have lost just one game and that came against Long Beach Poly, ranked No. 1 in the state heading into its upset loss Saturday against Mater Dei in a Division 1 regional semifinal. Again leading the way for Lincoln is Norman Powell, a 6-4 senior shooting guard who signed with UCLA. He's averaging 20.4 points after putting up 19.7 as a junior. The SkyHawks also need to keep tabs on 6-4 sophomore twins Tyree and Tyrell Robinson, who could spend time guarding Cason.

Prediction: Lincoln 80, Summit 71.
March, 9, 2011
3/09/11
4:57
PM PT
By
Dan Arritt
| ESPNLosAngeles.com
Before the Etiwanda boys' basketball team could prepare for the rematch, the Eagles had to take care of the mismatch.

They marched to Fresno on Tuesday and knocked off Central Section champion Bullard, 69-49, setting up a second-round game Thursday at Long Beach Poly.

Etiwanda lost to the Jackrabbits by seven points last week in a Southern Section Division 1AA semifinal. A year ago, the Eagles beat Poly in the section semifinals, only to lose in regional playoff rematch.

Byron Wesley led the way against Bullard, totaling 18 points and 11 rebounds.

It's the fifth straight season the Central Section Division 1 champion has lost to a visiting team from Southern California in the regional opener.

Summit climbs over Narbonne

The Fontana Summit boys' basketball team returned from 10 days off to win its Southern California Regional Division 2 first-round game Tuesday night, taking down host Harbor City Narbonne in overtime, 72-70.

The seventh-seeded SkyHawks fell behind by 11 points in the first half but made up the deficit behind 22 points from senior point guard Montigo Alford. Still, they were on the verge of falling behind with 6.1 seconds remaining in regulation after Shailo Leafa was fouled while making a lay up. He missed the free throw, however, and the game went to overtime.

Summit (25-8) took the lead for good when 6-6 senior forward Dorian Cason made one of two free throws with 26.6 seconds remaining. Narbonne, which won the City Section Division 2 title Saturday, then missed their final three field-goal attempts.

The SkyHawks will head back on the road Thursday, traveling to second-seeded Ventura for a second-round game.

Palm Springs cooled off

The Palm Springs boys' basketball team ran into a hot team, and an even hotter player.

The Indians couldn't stop Chatsworth and sharp-shooting guard Derrick Hector, who made eight of nine three-point attempts and scored 30 points in the 74-66 victory at Chatsworth High.

In the City Section Division 3 championship game Saturday, Hector scored 21 of his 26 points in the second half to lift the Chancellors to a 66-61 victory against L.A. Garfield.

Palm Springs, playing its first state playoff game in school history, received 21 points and nine rebounds from 6-9 center Dillon Floyd, 20 points from Marcus Hall and 11 from Thaddeus Gray.


February, 10, 2011
2/10/11
3:43
PM PT
By
Dan Arritt
| ESPNLosAngeles.com
1. Corona Centennial (22-3, 13-0) at Eastvale Roosevelt (18-5, 12-1), tonight, 7:30 p.m. – Centennial's high-scoring offense will take on Roosevelt's stingy defense for the second time this season in a Big VIII League game. A win by the Mustangs and they'll share the league championship. Centennial won the first meeting, 59-56, on Jan. 20. Michael Caffey scored 25 points in that game, but has been hobbled with an ankle injury since last week. The Mustangs almost got caught looking ahead Tuesday before squeaking by Riverside King, 61-59. Udun Oskue, a 6-foot-5 senior forward for the Mustangs, is averaging 15 points in the last four games.

2. Riverside Patriot (22-4, 8-1) at Fontana Summit (20-6, 9-0), tonight, 6:30 p.m. – The SkyHawks won the first Sunkist League meeting, 64-50, at Patriot on Jan. 25, dominating the paint by scoring 24 of 27 field goals from within five feet. Summit point guard Montigo Alford did most of the dissecting that game, handing out 11 assists. The Warriors, who have finished runner-up in league the last three seasons, will need to count on shooters Bryan Saffel and Matt Scogebo if the they want to get over the hump.

3. Glendora (21-5, 6-3) at Upland (17-9, 5-4), tonight, 6:30 p.m. – Upland has bounced back from the brink to win its last two Baseline League games against difficult opponents and now sits in third place with one game remaining. Second-place Glendora beat the Highlanders by one point on Jan. 25.

4. San Jacinto (14-12, 8-1) at Perris Citrus Hill (16-9, 9-0), Friday, 7:30 p.m. – Oyintonye Akamande, a 6-foot senior guard for Citrus Hill, scored a season-high 23 points in the first Mountain Pass League meeting, a 60-55 victory by the visiting Hawks on Jan. 26. Anthony Rounds, a 6-6 junior forward, is usually Citrus Hill's leading scorer, averaging 19.4 points and 10.2 rebounds.

Looking ahead: Southern Section playoff selections, Sunday, noon-2 p.m.
December, 3, 2010
12/03/10
12:43
AM PT
By
Dan Arritt
| ESPNLosAngeles.com
Top 10

1. Etiwanda – The Eagles return five of their top seven players from a team that lost by three points to Mater Dei in the Southern Section Division 1AA final. Byron Wesley, a 6-foot-5 small forward who has signed with USC, is one of the top players in the state. Running the point will be Jordan Daniels, undersized at 5-8 but a lightning-quick ball handler who is drawing interest from mid-major colleges.

2. Corona Centennial – The Huskies finished 25-5 last season, losing by six points to Etiwanda in a section quarterfinal. Dominique Dunning, a 6-4 wing who has signed with New Mexico, was the Big VIII League most valuable player last season and a first-team Division. I-AA selection. He'll have plenty of support with the return of second-team senior guards Michael Caffey and Gelaun Wheelwright.

3. Murrieta Valley – The Nighthawks return their top three players from last season's team that won the Division 2AA title. Justin Gudger, a 6-4 senior forward, averaged a team-high 17 points and six rebounds and was named the Division 2AA player of the year. Austin Quick, a 6-3 senior guard, averaged 14.1 points before missing the postseason with a knee injury, and 6-1 senior guard Mark Tarabilda averaged 8.1.

4. Redlands East Valley – The Wildcats return their top three scorers, leading rebounder and top two assist leaders from a team that finished 17-11 last season. Paulin Mpawe, a 6-9 senior center who signed with Pepperdine, averaged 9.4 points, 11.4 rebounds and 3.4 blocks while earning first-team all-Citrus Belt League honors. Another first-teamer, 5-11 senior guard Terrell Todd, averaged a team-high 16.7 points, and 5-7 senior guard Greg Dishman averaged 10.1 points and 3.9 assists.

5. Upland – John Gilliam, a 6-2 senior guard, returns after leading the 21-9 Highlanders to the Division 1AA quarterfinals. He averaged a team-high 21.2 points last season, and was named the Baseline League co-most valuable player and a Division 1AA first-team selection. Myles Pearson, a 5-11 junior guard also returns. He averaged 9.7 points last season and a team-high 2.7 assists.


September, 13, 2010
9/13/10
5:47
PM PT
By
Dan Arritt
| ESPNLosAngeles.com
1. Riverside Poly defensive back
Matt Peck
intercepted four passes in a 31-7 victory Friday night against Riverside Ramona. Peck, a 5-foot-10, 185-pound junior, picked off two passes in the second quarter and two more in the fourth. It's the most interceptions in a Southern Section game since
Martin Ciccolini
of Encino Crespi had four in 2004. The section record is five, held by six players.
2. Summit of Fontana was without two key players Friday night against Redlands, a game that ended in a 24-24 tie.
Devon Blackmon
, a heavily recruited all-purpose player for the SkyHawks, sat out because of an ankle injury he sustained in the first quarter of the season opener Sept. 2 against Etiwanda. Summit was also without running back
Montigo Alford
, who had a mild concussion. Another player, defensive back
Dante Jackson
, tore his rotator cuff against Etiwanda and is lost for the season.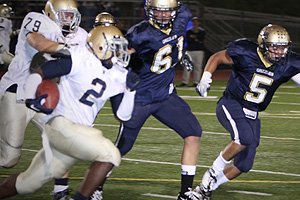 Courtesy of Charlene Bradley
Denzel Foster of J.W. North rushes for yardage against Los Osos.
3.
Mark Paredes
returned to the sidelines at J.W. North in Riverside on Friday night, a place from where he guided the Huskies to two Southern Section titles during an eight-year stint. He left North in 2001 to become an assistant at Riverside College. North sophomore running back
Denzel Foster
welcomed him back with a 92-yard touchdown run in the opening quarter against Los Osos of Rancho Cucamonga but was stopped on fourth down in the game's final minutes, spoiling Paredes' return in the 26-21 loss.
4. Upland looked more like a contender for the Baseline League title Friday night, getting three touchdown passes from quarterback
Justin Nunes
and turning three fumble recoveries into touchdowns in a 42-21 victory against visiting Tustin. A week earlier, the Highlanders returned two fourth-quarter fumbles for touchdowns to escape with a 21-16 victory against A.B. Miller of Fontana.
5. Roosevelt of Eastvale became just the fifth 11-man team from Riverside County to score at least 80 points in a game when it defeated host Torrance, 80-27 on Friday night. The Mustangs scored on every offensive possession in the first half while building a 41-13 lead.
September, 2, 2010
9/02/10
11:27
PM PT
By
Dan Arritt
| ESPNLosAngeles.com
Well, that was an exciting start to the high school football season.

Alternating between a bunched up double wing and a spread offense, Summit High of Fontana scored just enough to hold off Etiwanda, 42-35, in the season opener for both schools Thursday night at Miller High in Fontana.

Etiwanda cut the deficit to a touchdown with 43.7 seconds remaining, and Gary O'Leary then recovered a short pooch kick at the Summit 37.

The Eagles took several shots at the end zone in the closing seconds before Summit defensive back Devon Blackmon sealed the victory with an interception as time expired.

It was fitting finish to a strong second half for Blackmon, one of the most heavily recruited players in the Inland Empire. Blackmon, who alternated between quarterback, wingback and receiver, also had a 33-yard touchdown run on the final play of the third quarter, and threw an 11-yard touchdown pass in the fourth, each time extending Summit's lead to two touchdowns.