Los Angeles Preps:

Mt. Baldy League
February, 9, 2012
2/09/12
1:50
PM PT
By
Dan Arritt
| ESPNLosAngeles.com
Heading into the final couple days of the boys' basketball regular season, every league title in the Inland Empire has been clinched by an outright champion, except one.

That will be settled tonight when Colony hosts Montclair in a Mt. Baldy League final at 6:30 p.m.

The Titans are 18-8 overall and 10-1 in league play. Montclair is 21-3 and 9-2. Also still in the mix is Don Lugo at 19-6, 10-2. The Conquistadors wrapped up their regular season Tuesday with a 65-51 victory at Chaffey. A win by Montclair tonight and the league title will be shared by all three.

Don Lugo would have wrapped up a share of the league title and Montclair would be out of the hunt if not for Don Lugo's forfeit of a two-point victory Jan. 9 against Montclair. The Conquistadors were penalized for using a player who was supposed to be serving a one-game suspension after getting ejected the previous game, a two-point victory against Colony.

Colony came back to beat Don Lugo in the rematch, and Don Lugo toppled Montclair in their second meeting, setting the stage for tonight's showdown.

The Titans will have added motivation, as it was Montclair who last season ended Colony's 59-game unbeaten streak in league play.
January, 9, 2012
1/09/12
4:31
PM PT
1. A surprise early leader has emerged in the Big VIII League, as Roosevelt is the lone unbeaten team after three games. Despite a pair of three-game losing streaks this season, the Mustangs (8-7, 3-0) have won the three that counted, knocking off Norco, Riverside Poly and Corona in league play -- the two most recent wins by double digits. Roosevelt doesn't have a go-to guy on offense. Senior guards Kendall Brown (11.1 ppg), Shawn Joseph (10.5), Jalen Young (8.2) and Jevion Roland (8.0) have taken turns leading the team in scoring this season. Tonight's another big test for the Mustangs, as they host preseason league favorite J.W. North (11-4, 2-1) at 6 p.m.

2. The Mt. Baldy League was expected to be a two-horse race between Colony and Montclair, but Don Lugo staked a claim Friday night with a 72-70 victory against visiting Colony, only its second league loss in the last 64 games. Now the Conquistadors (10-4, 2-0) have a date tonight at Montclair (14-1, 2-0) at 6:30 p.m., with the winner taking sole possession of first place. With the recent domination of Colony in the Mt. Baldy League, the Conquistadors haven't been in this position in a long time. It will be interesting to see if they can pull off another big win.

3. Palm Desert tuned up for Wednesday's showdown at Palm Springs with a 72-43 victory Friday night at Coachella Valley. The Aztecs (10-3, 2-0) have dropped five straight Desert Valley League games against the Indians (8-4, 2-0), including their only two league losses the last two seasons. They ramped up for this occasion with a strong nonleague schedule. Most impressive was a 15-point loss Dec. 10 against the state's top-ranked team, Mater Dei, when Palm Desert trailed by just four points at the start of the fourth quarter. Lakers coach Mike Brown, whose son, Elijah, plays for the Monarchs, reportedly took the time afterward to compliment the Aztecs on their effort.


August, 15, 2011
8/15/11
11:32
PM PT
By
Dan Arritt
| ESPNLosAngeles.com
MT. BALDY LEAGUE

Last season's results: Chino (11-1, 6-0); Ontario Colony (7-4, 5-1); Montclair (5-6, 3-3); Pomona Garey (5-6, 2-4); Ontario (4-6, 2-4); Chino Don Lugo (3-7, 2-4); Ontario Chaffey (2-8, 1-5).

Players to watch: Hard to imagine it was just two years ago that Chino finished 0-10. The Cowboys rebounded last season in their first year in the Mt. Baldy League and appear even more stacked this season. Chino returns six first-team all-league players, led by senior quarterback Sean Molles, a three-year starter who passed for 2,343 yards and 29 touchdowns last season. He had at least one touchdown pass in every game and was intercepted just six times. Chino should also be well balanced with the return of the league's leading running back, senior Xavier Browne, who totaled 1,275 rushing yards and 20 touchdowns as a junior. Matt Pantell is a returning two-way lineman for the Cowboys, and Ronnie Velarde, Anthony Adamo and Isaiah Brenes provide valuable experience on defense. Colony's chances of dethroning Chino increased twofold with the addition of offseason transfer Bryan Harper, who played quarterback and defensive back during his injury-shortened junior year at Fontana Carter. Harper, ranked the 94th-best recruit in the state by Rivals.com, has committed to Washington as a cornerback. He played just four games last season before breaking a collarbone but still led Carter with 427 passing yards and four touchdowns. As a sophomore, he threw for 1,302 yards and combined for 15 touchdowns through the air and on the ground. Harper will have the league's top returning receiver in his sights, senior Chaz Nelson, who also had three interceptions as a defensive back. Also returning on defense is first-team all-league linebacker Eddie Martinez, who led the Titans with 86 tackles, and linebacker/tight end Robert Wagner, another first-team all-leaguer. Don Lugo might have the Inland Empire's best-kept secret in linebacker Milton Williams III, a 6-1, 210-pound senior. With his 4.7 speed and 30.5-inch vertical leap, Williams is drawing interest from USC and a handful of other Pac-12 schools. Chaffey hopes to improve on last season's results with the return of running back Carnell Spencer, who averaged 119 yards in his last four games, and leading tackler Matthew Boice, a junior linebacker.

Projected order of finish: Chino, Colony, Don Lugo, Chaffey, Garey, Montclair, Ontario.

Key games: Sept. 1 – Colony @ West Covina South Hills; Sept. 9 – Fontana Carter @ Chaffey; Sept. 16 – Chino @ Oak Park; Sept. 23 – Azusa @ Don Lugo; Sept. 30 – Chino @ Don Lugo; Oct. 7 – Don Lugo @ Colony; Oct. 21 – Colony @ Chaffey; Oct. 28 – Chino @ Colony; Nov. 4 – Chaffey @ Don Lugo.

Alumni in the NFL: Sedrick Ellis, New Orleans Saints (Chino '03); Greg Salas, St. Louis Rams (Chino '06); Jarron Gilbert, New York Jets (Chino '05); R.J. Stanford, Carolina Panthers (Chino '06).

Fast fact: Ontario said good-bye to coach Steve Randall in the offseason. In just five years, Randall compiled more wins than any other coach in school history, but couldn't pass up an assistant coaching offer at Citrus College in Glendora. Randall was replaced by Ronald Stocking, Jr., who spent the last two seasons as linebackers coach at Mira Loma Alta Loma High and prior to that was an assistant coach at Colony for five years.

On the clock: San Andreas League.
November, 22, 2010
11/22/10
4:09
PM PT
By
Dan Arritt
| ESPNLosAngeles.com
1. The Baseline League went 3-0 in Inland Division play Friday night, while the Citrus Belt League was 0-3. The biggest upset victory in the division belonged to Etiwanda, the third-place team from the Baseline, which defeated CBL champion Redlands East Valley, 21-16. The Eagles have been forced to outscore teams this season because its defense had allowed an average of 35.6 points coming into the playoffs. The defense came through against REV, however, returning a fourth-quarter fumble 100 yards for a touchdown, stretching its lead to 21-10.

2. What a day for Ifo Ekpre-Olomu of Chino Hills. He began Friday by committing to play for Oregon, then went out that night and scored four touchdowns in a 70-42 victory against Corona in an Inland Division first-round game. Ekpre-Olomu had two touchdown runs of six yards, another for 53 and a 100-yard kickoff return for a score. As lopsided as the final score appears, the Huskies led only, 49-42, heading into the fourth quarter.

3. A more impressive fourth-quarter surge was delivered Friday night by Riverside La Sierra in a 54-49 loss to Palm Springs in a Central Division first-round game. The Eagles scored 32 points in the final quarter, turning a laugher into a nail-biter. "I started the night 57 years old and I ended it 83," Palm Springs coach Steve Fabian told the Desert Sun after the game. Fabian decided to rest star running back Nephi Garcia after taking a 37-point lead and nearly regretted it.


November, 15, 2010
11/15/10
4:02
PM PT
By
Dan Arritt
| ESPNLosAngeles.com
1. The best Inland Empire team not to make the playoffs is Rancho Cucamonga Los Osos. The Grizzlies were officially eliminated Friday when they lost to second-place Upland, 41-38, on a 29-yard field goal by Jake Van Ginkel with 3.9 second remaining. Earlier this season, Los Osos lost in overtime, 29-28, against league champion Rancho Cucamonga. It's the third consecutive season that Upland has ended the Grizzlies' season. The Highlanders beat Los Osos in the Central Division championship game last season and in a semifinal the year before.

2. Temecula Great Oak had a 14-point halftime lead and its playoff future in hand Friday night, but then Temecula Valley turned the tables in the Southwestern League finale and scored 27 unanswered points to win, 34-21, spoiling the Wolfpack's postseason hopes. Great Oak's loss was Murrieta Valley's gain, however, as the Nighthawks got a second life after blowing a chance to control their own playoff destiny the night before in a 27-20 loss to Temecula Chaparral.

3. Coming into the season, Victorville Victor Valley had been a combined 5-23 the last seven seasons in the Desert Sky League, earning one trip to the playoffs in that span. Last season, the Jackrabbits finished 7-3 overall but failed to make the playoffs after losing to Ridgecrest Burroughs in the regular-season finale. On Friday, the Jackrabbits had a chance to win the league title with a victory against Burroughs and this time they pulled it off, 25-24, thanks to a 26-yard field goal by Isaiah Kepley with 1:14 left.


October, 11, 2010
10/11/10
8:00
AM PT
By
Dan Arritt
| ESPNLosAngeles.com
1. After an upset-filled weekend in the Big VIII League, only two of the eight teams remain unbeaten in league play. Corona Centennial and Corona are each 2-0, followed by Norco, Eastvale Roosevelt, Corona Santiago and Riverside King at 1-1. With only four teams receiving automatic qualifying berths into the Inland Division playoffs, the four teams tied for third are quickly facing must-win situations this week. The same goes for the eight-team San Andreas League, which is part of the Central Division. Colton and San Bernardino Cajon are 2-0, followed by four teams at 1-1.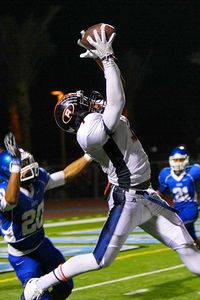 Courtesy of Paul Moureaux
Eastvale Roosevelt receiver Sam Boyd goes up for a catch Friday night during a 24-21 upset against host Norco in a Big VIII League game.
2. Payback was the theme in the Mt. Baldy League. Ontario ended a six-game losing streak against host Ontario Chaffey with a resounding 38-14 victory Thursday night in what is dubbed the annual Cat Bowl.
Joseph Davis
returned the opening kickoff for a touchdown and later caught a 72-yard scoring pass to lead the way for Ontario. The following night, Montclair ended a three-game losing streak to Chino Don Lugo with a 17-13 victory at Don Lugo.
3. Defensive effort of the week goes to Menifee Paloma Valley, which limited high-scoring Bloomington to just 151 total yards in a 38-14 victory Friday night at Bloomington, including only eight yards in the second half. The Bruins came in averaging 266 yards and 30 points a game.
Fahad Al-waiely
, a 5-foot-6, 190-pound linebacker, led Paloma Valley with 11 tackles and linebacker
Caleb Ennis
had seven tackles and 1 ½ sacks.