Los Angeles Preps:

Nate Tago
November, 18, 2011
11/18/11
8:00
AM PT
Tesoro (6-4) vs. Edison (8-2) at Orange Coast College, Friday, 7 p.m.
If the team that showed up two weeks ago against Mission Viejo shows up against Edison, then Tesoro might deliver one of the upsets of the night against the Sunset League champion. If the team that showed up last week against San Clemente shows up against Edison, it could be a long night for the South Coast League's third-place team. Running back Nate Tago (12 TDs, 110 yards/game) and quarterback Matt Adam (7 TDs, 5 int.) have to find a way against an Edison defense that doesn't get the recognition it deserves: it has allowed more than 14 points only twice this season, a 22-20 loss to Mater Dei on the last play of the game, and a 27-14 setback to top-seeded Servite. The offense is led by quarterback Chase Favreau (15 TDs, 5 int., 169 yards/game), who is a serious running threat; he averaged 81 yards against four of Edison's five best opponents, Mater Dei, Huntington Beach, Newport Harbor and Los Alamitos. But he gained only one yard against Servite. That might be the kind of effort necessary for Tesoro, which has 16 underclassmen in the starting lineup, to advance past the first round of the Pac-5 Division.

Huntington Beach (8-2) vs. Loyola (8-2) at L.A. Valley College, Friday, 7 p.m.
Huntington Beach hasn't had a football team this formidable since Tony Gonzalez was an Oiler in the early 1990s. The question is, in this battle of second-place teams, can the public school knock out the private one? Michael Chislock (23 TDs, 5 int., 195 yards/game) will have something to say about it. Chislock leads an HB offense that's averaging 35 points, and the defense held opponents to two touchdowns or less six times. No matter how good Chislock is, he will likely need significant support from running back Nolan Biegel in order to keep Loyola's defense honest. Even though Loyola is averaging nine points fewer, the Cubs have played a significantly tougher schedule heading into the Pac-5 playoffs. They beat Newport Harbor by 27 points while HB won by 28. Also Loyola has a 28-14 victory over St. John Bosco, the kind of signature victory that Huntington Beach is hoping to pick up.

Lakewood (7-3) at San Clemente (9-1), Friday, 7:30 p.m.
Can Lakewood go deep into Orange County and emerge victorious? Any team that can hang with St. John Bosco -- as the Lancers did in a 35-31 loss -- should be able to represent in the Pac-5. Brock Dale (26 TDs, 5 int.) has averaged 189 yards passing and the offense has scored fewer than 31 points only once, a 38-21 loss to fourth-seeded Long Beach Poly (9-1). This may be San Clemente's best team ever, which means this is the year to make some playoff noise. They have the quarterback in Utah-bound Travis Wilson (16 TDs, 6 int., 159 yards/game), running back in Mike Elespuru (12 TDs, 120 yards/game), and a first-rate offensive line led by one of the nation's top prospects, Kyle Murphy. The defense is allowing less than two touchdowns per game. Both teams have a common opponent in Long Beach Cabrillo; San Clemente won its opener, 35-6, and Lakewood won three weeks ago, 31-6. One of Lakewood's losses was a forfeit to Compton (3-7), a team that it beat 54-0.

Esperanza (7-3) vs. El Toro (9-1) at Trabuco Hills HS, Friday, 7 p.m.
Only three players in Orange County have rushed for more yardage than Troy Poole's 1,584 -- which he did in only nine games. That's what makes this the game of the night in the Southwest Division, the clash of styles. Esperanza's running game against El Toro's passing game led by Conner Manning (26 TDs, 4 int.), whose 271.1 yards per game is second to Northwood's Ricky Bautista (283.5). Jacob Funari has also rushed for 1,002 yards and 15 TDs. Esperanza has its own passing threat in Mike Tumlinson (21 TDs, 11 int., 191.1 yards/game), who is completing 66 percent of his passes during the regular season. Espy averages 36 points and El Toro 41; this has shootout written all over it.

Laguna Hills (7-2) vs. Cypress (8-2) at Western HS, Friday, 7 p.m.
Laguna Hills was undefeated before losing its last two games heading into the Southwest Division playoffs. The Hawks -- selected as an at-large team -- have something to prove. Wanting to do it, and doing it, are different things and Vincent "Bug" Rivera may have something to say about it. The running back for fourth-seeded Cypress is a difference maker; his 31 touchdowns are second only to Saddleback Valley Christian's John Curran (38), and Rivera is averaging 9.0 yards per carry. Believe it or not, both teams have only one victory over an opponent with a winning record.

Woodbridge (5-5) vs. Rancho Alamitos (9-1) at Bolsa Grande HS, Friday, 7 p.m.
For winning the Garden Grove League, Rancho Alamitos was rewarded with the third-place team from the Southern Division's best league, one that lost to second-seeded Corona del Mar, 31-30, three weeks ago. Derek Calderon (13 TDs) leads Woodbridge with 136.6 yards/game, while Brett Hurley (21 TDs) paces Rancho Alamitos at 131.9. This could go to the wire, which would be familiar territory for Woodbridge: two of its last three games have been decided by one point.
October, 25, 2011
10/25/11
4:29
PM PT
1. A week after a stunning fourth quarter comeback -- down 28-0 -- Aliso Niguel might have had El Toro right where it wanted. Well, not really. The Wolverines were no match for El Toro, which scored 27 points in less than six minutes in the second quarter en route to a 47-0 Sea View League victory. Jacob Furnari and Conner Manning led the way for El Toro (7-1, 2-0). Furnari had 20 carries for 286 yards -- more than half of the 534 he had gained though the first six games -- and three touchdowns; Manning completed 12 of 20 passes for 209 yards and four touchdowns. Aliso (5-2, 1-1), which was ranked No. 10 in the Southwest Division going into the game, isn't ranked now. El Toro is ranked No. 5, but another Sea View team, Laguna Hills (6-0, 1-0), is No. 4. Don't let the rankings throw you; El Toro is the team to beat. They play in the season finale on Nov. 11.

2. Anything can happen, but it's unlikely, and that means that Huntington Beach should have secured a place in the Pac-5 playoffs with a 35-7 Sunset League victory over Newport Harbor. It's the program's first victory over the Sailors since 1991 -- back when Tony Gonzalez was at the school -- as Michael Chislock ran for two touchdowns and passed for two more; he threw for 356 yards. The Oilers' next two games are against teams expected to finish ahead of them in the standings, Edison and Los Alamitos, before finishing with Fountain Valley.

3. For the same reason, Tesoro's victory over Trabuco Hills (5-3, 0-2) was huge. The Titans (5-2, 1-0) should have punched their ticket into the playoffs with a decisive 26-14 South Coast League victory. They should secure at least third place in the five-team league, contending with No. 9 San Clemente (8-0, 2-0) and No. 8 Mission Viejo (5-2, 1-0). Maybe the biggest statistic of the night was Tesoro holding Trabuco Hills running back Mitchell Simonsen to 14 yards on eight carries; he had been averaging more than 140 yards per game. Also big was the commitment to the ground game by Tesoro; Nate Tago carried 20 times for 134 yards and a score, and Blake Rodgers carried 11 times for 100 with two touchdowns. Matt Adam attempted only 10 passes (three of 10, 27 yards. The constant pounding paid dividends; Tesoro led at halftime, 6-0.


September, 9, 2011
9/09/11
10:38
PM PT


MISSION VIEJO -- The highly anticipated Rumble at the Ranch on Friday turned out to be remarkably one-sided as No. 6 Santa Margarita scored a 39-7 victory over No. 24 Tesoro at Saddleback College.

The game wasn't as close as the score. Santa Margarita (2-0) committed two turnovers and several 15-yard penalties, but that didn't stop it from thoroughly beating its neighborhood rival.

"We played much better than I had any right to expect this early," said second-year coach Harry Welch. "Johnny Stanton is a pretty special kid. If I was playing agianst him, I'd be worried. Awfully great to have River Cracraft back (from an injury). And how about that defense?"

Stanton passed for 225 yards and two touchdowns to River Cracraft—he had five catches for 112 yards—as the Eagles (2-0) look forward to playing another local team next week, Trabuco Hills (2-0).

Stanton was 11 of 18 and his scores went for 34 and 15 yards. The dual-threat QB also scored on a seven-yard run that gave Margarita a 21-0 lead with 3 minutes 47 seconds left in the first half. He also carried 10 times for 66 yards, and Ryan Wolpin carried 14 for 115.

That defense dominated Tesoro (1-1), whose primary offensive weapons are versatile quarterback Matt Adam and running back Nate Tago.


September, 2, 2011
9/02/11
11:56
PM PT
By
Tim Haddock
| ESPNLosAngeles.com


VALENCIA -- Tesoro running back Nate Tago didn't get his hands on the football that much against Hart, but he made the most of his touches.

The junior running back scored four touchdowns and led his team to a 35-21 win over Hart at College of the Canyons in the season opener for both teams Friday night.

Tago only carried the ball 11 times for 61 yards, but he scored on runs of 6, 2 and 3 yards. He also caught three passes for 70 yards.

"I just told my linemen, give me a hole. I'll make the rest happen," Tago said. "That's what they did. The thing you do with linemen is give them compliments. That gets them fired up, makes them block more."

His longest play from scrimmage came on a 46-yard touchdown swing pass from quarterback Matt Adam. Tago scored three touchdowns in the first half to give Tesoro a 21-7 lead at halftime.

"The first half started really slow, four and out the first drive," Tago said. "Matt wasn't hitting his targets. I told the line, I'm going to step up right now. The line did a great job blocking, three touchdowns, it was just good work for the linemen."

Tesoro opened the third quarter scoring a pair of touchdowns in 47 seconds. The first came on a 25-yard run by Adam that put Tesoro up, 28-7, with 6:47 to play in the third quarter. The second touchdown came on a 3-yard run by Tago, his fourth touchdown of the game.

Tesoro coach Brian Barnes said the two quick touchdowns in the third quarter were the difference makers.

"It helped solidify the game for us," Barnes said.


September, 1, 2011
9/01/11
2:36
PM PT
By
Tim Haddock
| ESPNLosAngeles.com
The Hart football team is in a bit of a rebuilding mode. The team missed the playoffs for the first time in coach
Mike Herrington
's career in 2010. The Indians won only one Foothill League game, against Golden Valley, which is looking for its first league win in school history.
The 2010 season was a forgettable one for the proud program at Hart.
Herrington and Hart can give their fans a boost on opening night against a tough Tesoro team from Rancho Santa Margarita at College of the Canyons in Valencia on Friday.
Tesoro comes from the South Coast League with Mission Viejo and San Clemente. The Titans finished in third place in league and advanced to the quarterfinals of the CIF Southern Section Pac 5 Division playoffs last year.
But Hart will need a big game from sophomore quarterback
Connor Wingenroth
. He is getting the start against Tesoro because starter
Cory Mayes
is recovering from mononucleosis and missed a good chunk of summer practices.
"He just got cleared yesterday (Tuesday) and he hasn't got to practice much," Herrington said. "We're going with the back-up Connor Wingenroth. We have confidence in Connor."
Aside from Mayes, Herrington said the rest of his players are healthy and ready to go.
"We're pretty healthy right now, some bumps and bruises, nothing serious," Herrington said. "We're looking to be pretty strong the first game."
Tesoro has an experienced team that includes junior running back
Nate Tago
who led the team in rushing and touchdowns last season as a sophomore. He rushed for 419 yards and eight touchdowns and gained 4.8 yards per carry.
"They're a big, physical team," Herrington said. "They have a lot of returning starters from last year. It's going to be a big challenge for us."
Other games:
Canoga Park at Jefferson, tonight (7 p.m.)
-- Canoga Park opens on the road against Jefferson. Canoga Park's
Randy Uzoma
, who is being touted as the fastest football player in the San Fernando Valley, will have his first chance to shine against Jefferson. Jefferson was 9-2 and lost in the first round of the City Section Division II playoffs to Franklin in 2010. Canoga Park went 5-5 and did not make the playoffs last season.
Pasadena vs No. 5 Alemany at Alemany, Friday (7 p.m.)
-- It looks like Alemany might be easing into the 2011 football season. After a undefeated run through the Serra League and a run to the semifinals of the CIF Southern Section Pac 5 Division playoffs in 2010, Alemany opens at home against a Pasedena team that went 4-6 and finished in fifth place in the eight-team Pacific League last year.
No. 11 Crespi vs. Dominguez, Friday (7 p.m.)
-- Crespi has a tough opener, on the road against Dominguez. The two teams met in the season opener last season and Dominguez won, 14-11.
Palos Verdes vs. Moorpark, Friday (7 p.m.)
-- Moorpark's preseason consists of one game and Palos Verdes will be a good test. Palos Verdes went 10-2 and advanced to the quarterfinals of the CIF Southern Section Northern Division playoffs in 2010.
Serrano vs. Paraclete at Antelope Valley College, Friday (7 p.m.)
-- Paraclete won the CIF Southern Section East Valley Division championship and opens against a Serrano team that made it to the semifinals of the Southern Section Eastern Division playoffs.
Bellevue vs No. 8 Oaks Christian at Mission Viejo High School, Saturday (8:30 p.m.)
-- Oaks Christian will playing in prime time on Prime Ticket to open the season. Bellevue is the reigning Washington 3A state champions and the top-ranked team in Washington.
Del Oro vs. No. 14 Westlake at Del Oro High School, Saturday (8 p.m.)
-- Westlake starts the high school football season with a long road trip to Northern California. Del Oro won the CIF Sac-Joaquin Section Division III championship in 2010.
Follow Tim Haddock on Twitter @thaddock.
September, 13, 2010
9/13/10
4:30
PM PT
By
Martin Henderson
| ESPNLosAngeles.com
The Santa Margarita-Tesoro game turned out to be everything you could hope for in a series opener.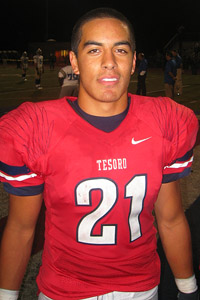 Martin Henderson/For ESPNLA.com
Nate Tago scored four touchdowns last week for Tesoro, which is averaging 43 points a game.
Special jerseys, big plays, a come-from-behind victory, and a couple of guys trying to cover up the "T" on the side of the mountain with a Santa Margarita flag.
Hopefully, this game gets played beyond next season. It works for Edison-Mater Dei and Edison-Servite, and it already has a decent nickname, Rumble at the Ranch (seems like Rancho would have been more apropos given the schools are in Rancho Santa Margarita).
I love the answer that Tesoro coach
Brian Barnes
gave when asked about why he would play a private school just down the toll road from him: "Why not?"
Indeed!
September, 10, 2010
9/10/10
11:53
PM PT
By
Martin Henderson
| ESPNLosAngeles.com
RANCHO SANTA MARGARITA -- No question the game Friday between Tesoro and Santa Margarita was a big game in the community. Billed as the "Rumble at the Ranch," sporting a playoff atmosphere and no doubt holding the attention of Pop Warner players who will determine in the next couple of years where they will go to school, Tesoro coach
Brian Barnes
made the game extra big in the locker room. For the first time in his four seasons as coach, Barnes broke out the red jerseys instead of the home blues for Tesoro.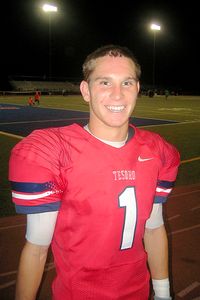 Martin Henderson/For ESPNLA.com
Andrew Facon of Tesoro returned a fumble 51 yards for a touchdown to give his team its first lead in a 32-21 win over Santa Margarita.
It almost backfired.
Barnes said after his team's 32-21 victory that the jerseys had been in his garage for four months, and only a few coaches even knew what was coming. He revealed a red jersey under his jacket before the game telling his team, "We'll be red-out in the stands and we'll be red-out on the field." However, his players came out so hyped up they brought out the yellows – as in flags – and gave up touchdowns to Santa Margarita on its first two possessions.
"It might have hurt us at the beginning," Barnes said of his move, which had been reserved for homecoming games under the coach who preceded him,
Jim O'Connell
. "We came out with so much emotion. They psyched themselves out of playing. As the game went on, they slowed down and started playing the football they've been taught to play. Coach [
John
]
Hall
on defense had a hell of a game plan for them. Once we relaxed and settled in and played the way we play it came out good for us.
September, 9, 2010
9/09/10
6:41
AM PT
By
Martin Henderson
| ESPNLosAngeles.com
When the game was made at the end of last season, it might not have seemed like such a big deal. A couple of neighborhood schools – one private, one public – agreeing to a friendly neighborhood game called "The Rumble at the Ranch." That was before Harry Welch was hired by the private school, Santa Margarita, to be its football coach and supporters of the public school, Tesoro, reported him and the school to the CIF-Southern Section for a recruiting violation.

Welch and the school self-imposed a penalty that was agreed to by the section -- the Eagles suffering a bruised ego in the process -- and both schools went about their business. Each opened the 2010 season with one-sided victories. Santa Margarita, under its new (and legendary) coach, defeated two-time section finalist Diamond Ranch, 56-0. Tesoro, under the wunderkind who guided the program to the Pac-5 finals two seasons ago, beat Cerritos Valley Christian, 54-0.

Both coaches agree that the future could be at stake when they meet Friday at Tesoro. The winner of this game will take the inside track toward enticing parents who want their sons in the Rancho Santa Margarita area to play for a winner.