Los Angeles Preps:

Nelson Spruce
April, 16, 2012
4/16/12
4:07
PM PT
By
Tim Haddock
| ESPNLosAngeles.com
Westlake defensive back Dashon Hunt has received a scholarship offer from Colorado. He has offers from UCLA and Oregon State as well.

Hunt verbally committed to UCLA, but is fielding offers from other schools.

Westlake defensive linemen Johnny Stuart and Justin Solis are heading to Colorado in the fall. Westlake graduate Nelson Spruce completed his freshman season at Colorado as a wide receiver.
December, 7, 2011
12/07/11
6:44
AM PT
By
Tim Haddock
| ESPNLosAngeles.com
Westlake defensive end and tight end
Johnny Stuart
has committed to Colorado,
according to a report in the Daily News.
He will join fellow Warrior defensive end
Justin Solis
to Colorado in the fall.
Westlake graduate and receiver
Nelson Spruce
is already at Colorado and completed his freshman season on the team.
Westlake plays Oaks Christian in the Southern Section Northern Division championship game on Friday night.
Sierra Canyon offensive lineman
Andrew Terry
has committed to Brown University. Sierra Canyon plays Paraclete in the East Valley Division championship game at Antelope Valley College on Saturday night.
August, 24, 2011
8/24/11
6:21
PM PT
By
Sean Ceglinsky
| ESPNLosAngeles.com
With several standout players from last season off playing college football nowadays, Westlake hopes it can successfully reload, rather than rebuild. And initially, it appears as if the Warriors have some of the pieces of the puzzle in place to get the job done quickly.
Westlake figures to go as far as
Justin Moore
takes it this season. In the past, the junior quarterback was an attentive understudy to
Nick Isham
, a three-year starter before signing with Louisiana Tech. Moore's job won't be any easier following the departure of
Nelson Spruce
and
Tavior Mowry
, both of whom graduated after being integral parts in the program in the past.
Nevertheless, optimism remains high on campus. Westlake, after all, is used to dealing with a high turnover. Coach
Jim Benkert
and his boys have been down this road before.
Here is a closer look at the Warriors:
Team:
Westlake
Coach:
Jim Benkert, 23rd year.
2010 Record:
12-2, lost in the CIF Southern Section Northern Division championship game.
Returning starters:
12 total. Seven on offense. Five on defense.
Key players on offense:
QB Justin Moore, WR Cody Tuttle.
Key players on defense:
DL Justin Solis (Colorado commit), DB Dashon Hunt (UCLA commit), DL John Stuart, DL Shayne Henley, LB David Ortiz.
Difference maker:
Moore, who takes over underneath center. It will be interesting to see how much information has been retained thus far and how he applies the things he has learned. One thing is certain: The 6-foot, 175-pounder is a playmaker. If Moore does not get things done with his arm, rest assured, the multifaceted underclassman will get things done with his feet.
Newcomers:
WR Jake Rothschiller, LB Kyle Rothschiller.
Not to be missed:
vs. Oaks Christian, Thursday Oct. 6. The Warriors will be revenge-minded in this Marmonte League showdown, especially after narrowly losing, 29-28, to the Lions in the Northern Division title game a season ago. When it comes to bulletin-board material, none is needed between these two crosstown rivals. Both know how much is at stake every time they meet.
Coach's comment:
"Here we go again, football time. We like the group we have here too, they all seem to know what is expected of them. These kids understand we don't have many easy games on our schedule. When we step out there on the field, we expect to be challenged most times. Our guys are not going to back down from anyone. We're ready to get things started.''
Final analysis:
If the Warriors plan on duplicating their success from last year, plenty will depend on the play of Moore. Good thing for him is, the whole offensive line returns, more than likely a year stronger and wiser. On the defensive side of the ball, the unit also remains largely intact. That said, Westlake appears poised to make some noise again this season, from start to finish.
Sean Ceglinsky covers preps for ESPNLosAngeles.com. Follow him on
Twitter
.
February, 1, 2011
2/01/11
2:31
PM PT
By
Tim Haddock
| ESPNLosAngeles.com
Here's the next round of football recruits and where they have committed ahead of Wednesday's signing day. A couple of Crespi kids are headed to Fresno State. The LA North produced quite a number of talented wide receivers. Nelson Spruce from Westlake is headed to Colorado. Blair Holliday from Oaks Christian is going to Duke.

Colorado

Will Oliver, K, Harvard-Westlake

Nelson Spruce, WR, Westlake

Cornell

Curtis Arndt, OL, Moorpark

Duke

Blair Holliday, wide receiver, Oaks Christian

Fresno State

Charles Washington DB, Crespi

Ronald Ussery DL, OL, Crespi
December, 3, 2010
12/03/10
11:24
PM PT
By
Sean Ceglinsky
| ESPNLosAngeles.com
WESTLAKE VILLAGE -- Revenge is sweet. And no one understands this better than the members of the Westlake High football team.

All signs pointed to the Warriors finishing up regular-season play with an undefeated record. Ventura St. Bonaventure, however, had other ideas and the Seraphs ended up playing the role of spoiler earlier this year with an unexpected victory over Westlake.

On Friday night, at long last, the Warriors earned a bit of redemption with a 37-27 victory over visiting St. Bonaventure in a Southern Section Northern Division semifinal playoff game.

"Oh yeah, we remember when they beat us, that was a tough loss, you don't get over something like that, it sticks with you for a while,'' Westlake senior Nick Isham said about the Seraphs' 32-31 double overtime victory over the host Warriors in a Marmonte League back in early November.

"We came into this game confident, there was no way we were going to let St. Bonaventure get the best of us again, at our place. We wanted this win and nothing was going to stop us from getting it. We got our revenge.''

With the victory over the Seraphs (11-2), the Warriors (12-1) advance to next week's title game against Westlake Village Oaks Christian, a 42-33 winner over Valencia in the other Northern Division semifinal.


October, 2, 2010
10/02/10
1:13
AM PT


WESTLAKE VILLAGE -- Westlake receiver Nelson Spruce scored two touchdowns for his team in a 31-12 Marmonte League win over Oaks Christian on Friday night. He caught seven passes for 115 yards.

His biggest catch of the night came on a 21-yard pass from quarterback Nick Isham in the third quarter.

Westlake, the No. 2-ranked team by ESPNLA.com, was up 21-12 and had just scored a touchdown on 1-yard keeper by Isham.

Oaks Christian, the No. 12 team in the ESPNLA.com rankings, was driving down the field and looking to close the gap when a fumbled snap led to a crucial turnover.

Defensive end Johnny Stuart scooped up the loose ball for Westlake on the Oaks Christian 27-yard line. Westlake took over on the 21-yard line.

On the next play from scrimmage, Isham hit Spruce with a touchdown pass in the corner of the end zone to give Westlake a comfortable 28-12 lead. The touchdown knocked the wind out of the Oaks Christian offense.

Isham was 21-for-26 passing and threw for 268 yards, two touchdowns and one interception. Spruce was Isham's favorite target. Jared Fry caught four passes for 31 yards. Tre'Shon Wilson caught two passes for 71 yards. He caught a pass along the sideline that he turned into a 63-yard reception in the third quarter.

After the two teams played a scoreless first quarter, Westlake struck first capping a second-quarter drive with a 3-yard touchdown run by Tavior Mowry. He rushed for 113 yards on 20 carries.


September, 16, 2010
9/16/10
11:13
PM PT
By
Sean Ceglinsky
| ESPNLosAngeles.com
WESTLAKE VILLAGE -- If the Thousand Oaks High football team thought it was going to somehow, someway, pull off an improbable victory over heavily favored Westlake on Friday night, the Lancers were sadly mistaken.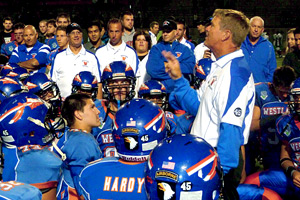 Sean Ceglinsky/For ESPNLA.com
Westlake coach Jim Benkert addresses his team after its Marmonte League-opening win over Thousand Oaks on Thursday night.
The Warriors reminded visiting Thousand Oaks who was the superior program and did so from the opening kickoff until the final whistle en route to a 31-3 victory in a Marmonte League opener for both schools.
"We came out and did our thing tonight, losing wasn't an option,'' Westlake quarterback
Nick Isham
said. "This was a statement game for us. We want to be known as one of the best teams around and this win means a lot.''
The Warriors (2-0, 1-0) are No.2 in the ESPNLosAngeles.com Top 25 rankings and they looked every bit the part. Opening up what proved to be an insurmountable 21-3 halftime lead certainly helped matters and ruined any momentum the Lancers (1-1, 0-1) might have had initially.
Westlake entered the fourth quarter with a 25-point advantage, but that didn't stop it from putting more points on the board.
Alex Ball
kicked a 20-yard field goal to give the Warriors a 31-3 lead at the 11:55 mark, but only after the drive was kept alive by
Tavior Mowry
, who converted a crucial fourth-and-short opportunity at the Lancers' 25-yard line.