Los Angeles Preps:

Nicholas Stevens
December, 19, 2011
12/19/11
12:18
AM PT
By
Dan Arritt
| ESPNLosAngeles.com
Well, that's a wrap on the 2011 high school football season. The Inland Empire is certainly more respected than ever for what it accomplished this fall, beating Pac-5 Division foes Mission Viejo, Alemany, Crespi, Loyola, Tesoro and Mater Dei. They also staged a few memorable matchups against each other, none better than Vista Murrieta's 35-28 come-from-behind victory against defending champion Corona Centennial in the Inland Division championship game. Here's a look at the final top 10 of the season.

1. Vista Murrieta, 9-5 – The Broncos went undefeated on the field, beating state-ranked J.W. North, Upland and Centennial in the final three rounds of the Inland Division playoffs. Vista Murrieta self-reported an ineligible player prior to Southwestern League play -- a player who would quickly become eligible --leading to the forfeiture of all five nonleague victories. Many believe the Broncos deserved a state bowl bid but were passed up in favor of two-loss Santa Margarita, largely due to their forfeits. Vista Murrieta will be an early favorite to make the trip next season, as its best player, running back/strong safety Su'a Cravens, is set to return, as well as quarterback Nicholas Stevens and middle linebacker Bryce Smith, the Inland Division's leading tackler.

2. Corona Centennial, 12-2 – Before the season, Centennial coach Matt Logan said the Huskies would need four or five games to find their footing. Try six quarters. The Huskies won 12 straight after their season-opening loss to St. Bonaventure, all but one by a wide margin. They quickly developed chemistry between a veteran offensive line and first-year senior starters Hayden Gavett at quarterback and Romello Goodman at running back and churned out yardage like past seasons. They came up one drive short against Vista Murrieta, however.

3. Upland, 12-1 – For most of the season, the Highlanders seemed like the front runner to unseat Centennial, but they ran into the same Vista Murrieta storm as the Huskies and saw their run end with a 39-18 semifinal loss. Still, they opened plenty of eyes with a 38-23 nonleaguue victory against L.A. private-school power Loyola and another one-sided victory against Baseline League foe Rancho Cucamonga.

4. Rancho Cucamonga, 11-2 – With 14 starters back from a team that lost in double overtime of the 2010 Inland Division semifinals, the Cougars came into this season ranked No. 2 in the ESPNLA Inland Empire preseason rankings. They weren't as prepared as Upland and lost that clash, but got off the mat to beat fourth-seeded Redlands East Valley in the Inland Division quarterfinals and then put a scare into top-seeded Centennial in the semis before ultimately losing, 41-21.

5. Redlands East Valley, 11-1 – Give the Wildcats credit for turning the national spotlight on the I.E. in Week 5 with their 10-7 victory against nationally ranked Mission Viejo. They went on to finish the regular season undefeated but fell back into their habit of losing early in the playoffs. A nonleague victory against City Section-power Dorsey also stands bright on their resume.


December, 10, 2011
12/10/11
1:00
AM PT
By
Dan Arritt
| ESPNLosAngeles.com


MURRIETA -- Coming into the football season, there was no doubt where the strength lied on the Vista Murrieta football team. They had some jewels on the defensive side of the ball, but were young and inexperienced on offense.

They sure learn in a hurry.

The Broncos won a shootout, 35-28, against high-scoring Corona Centennial in the Inland Division championship game Friday night at Vista Murrieta High, scoring the winning touchdown on a 30-yard run by junior quarterback Nicholas Stevens with 26 seconds remaining.

The offense had grown so confident, they were begging coach Coley Candaele to pass on setting up for a field goal while trailing by a point in the final minute and go for the touchdown.

"We were setting up for a field goal, there was no doubt," Candaele said. "The offensive guys were wanting to take shots and I was being conservative and wanted to put it in our kicker's hands. They were playing for the pass too, and we got them on the run."

Stevens faked a handoff then weaved through the defense en route to the biggest touchdown in school history.

"I just started running for my life," he said. "Our goal was to get in field goal range, and the line blocked the play perfectly and the hole opened up."

Stevens also threw two touchdown passes for the Broncos (9-5), who will wait until Sunday to hear whether they've been accepted for a state bowl bid next week at Home Depot Center. Vista Murrieta went undefeated on the field, but had to forfeit five nonleague game for using an ineligible player who was later granted a hardship waiver to continue playing.

"If they don't choose us, then it's wrong, just pure wrong," Candaele said.


December, 7, 2011
12/07/11
6:46
PM PT
By
Dan Arritt
| ESPNLosAngeles.com
The CIF-Southern Section Inland Division championship game is upon us, and it couldn't arrive soon enough. In a much-anticipated rematch of last season's title game, Vista Murrieta is scheduled to host defending champion Corona Centennial on Friday at 8 p.m. Here's a position-by-position breakdown of what to look for and which team likely owns the edge.

Quarterback

Centennial senior Hayden Gavett had some big shoes to fill this season but has performed beyond expectations. He enters the game with 2,051 passing yards and 19 touchdowns, along with 1,009 rushing yards and 16 scores. Vista Murrieta junior Nicholas Stevens is another first-year starter who took over for a graduated Pac-12 Conference recruit. Stevens has shown great progress during the postseason and enters with 1,558 passing yards and 12 touchdowns, plus an additional 798 yards and eight scores on the ground. He has just one turnover in the last eight games. Advantage: Centennial.

Running back

It has been a while since the Inland Empire has seen a running back go on a postseason tear like Romello Goodman of Centennial. He has rushed for 993 yards and 15 touchdowns during the playoffs, eclipsing the 300-yard barrier in all three victories. He enters the game with 2,581 rushing yards, which betters the 15-game total of teammate Barrington Collins last season. He's tied with Collins with 42 touchdowns. The Broncos spread the ball around much more on offense. Stevens is always a threat to run, while Aaron Piecukonis is usually called on to get the tough yards early on. The big-play artist, goal-line specialist and late-game closer is Su'a Cravens, who has 14 touchdowns in 72 carries this season. Advantage: Centennial.

Receiver

Issac Crandall and Chase Krivashei have been the go-to guys when Centennial feels like throwing the ball. Crandall, a transfer from Roosevelt, has 33 receptions for 580 yards and eight touchdowns. Krivashei has caught 37 balls for 596 yards and six scores. The best receiver for Vista Murrieta is Cravens, but he can't play everywhere so his opportunities are usually limited. Darion Williams is another skilled two-way player who uses his athleticism to make plays when needed, and Cody Piecukonis demonstrated his big-play abilities in a 39-18 semifinal victory last week against second-seeded Upland. Advantage: Vista Murrieta.


October, 14, 2011
10/14/11
11:20
PM PT
By
Dan Arritt
| ESPNLosAngeles.com


TEMECULA -- Su'a Cravens of Vista Murrieta left no doubt who the player of the game was Friday night. He may have even cemented himself as the best player in the Inland Empire this season.

What's scary is, he's only a junior.

Cravens caught the go-ahead touchdown pass in the second half against Chaparral, returned an interception for a game-clinching score in the final minutes and caused and recovered a key fumble deep in Vista Murrieta territory in the fourth quarter, lifting the Broncos to a 27-10 victory in the Southwestern League opener at Chaparral High.

"Su'a was definitely in the spotlight tonight," said Vista Murrieta coach Coley Candaele. "He made plays on offense and defense that allowed us to win this game."

The Broncos had trouble just getting the ball in their hands during the first half.

They had just three offensive possessions in the first two quarters, with the first two drives ending without a first down.

Cravens sparked the third drive with nice 18-yard reception over the middle. After a 50-yard completion from Nicholas Stevens to Darion Williams, Stevens then found running back Aaron Piecukonis for a 16-yard touchdown pass, tying the score, 7-7, with just under five minutes left in the opening half.

Chaparral booted a 19-yard field goal on the final play of the second quarter to take a 10-7 lead into halftime, but the Broncos came out throwing to start the second half. The drive was kept alive by a roughing-the-passer penalty on third and 10 inside Vista Murrieta territory. Stevens then hit Cravens on a 14-yard pass on third and seven, and followed up with a 17-yard touchdown strike to Cravens on third and 16.


September, 30, 2011
9/30/11
10:35
PM PT
By
Sean Ceglinsky
| ESPNLosAngeles.com
ENCINO -- The unthinkable nearly happened to Vista Murrieta in the first quarter of Friday's game at Encino Crespi. The Broncos star player, Su'a Cravens, went down with what appeared to be a sternum injury. Turned out, it was only a scare.

The highly-touted junior returned in the second quarter. Returned in a big way, mind you. Cravens had an interception and scored a pair of touchdowns, one rushing and the other receiving, to guide Vista Murrieta to an impressive 38-20 victory.

"I wasn't coming out, no way, this one was too big of a game,'' Cravens said. "I got popped pretty good and the hit stung. I played through the pain though. If the coaches told me that I couldn't have returned, I would've jumped in the lineup somehow.''

Indeed it was a big game. Crespi (4-1) entered the showdown as the odd-on favorite with a No. 4 spot in the ESPNLA.com rankings.

The Broncos (4-0) were not considered a slouch. They boasted a No. 17 ranking in the ESPNLA poll and will likely move up next week.


September, 21, 2011
9/21/11
6:22
PM PT
By
Dan Arritt
| ESPNLosAngeles.com
The first four teams in the Inland Empire top 10 face off against formidable opponents this week, none more intriguing then Norco hosting Upland on Friday night. J.W. North put itself on the map last week with a huge upset against Alemany. Will there be another J.W. North-like performance in the I.E. this week? Here's the best of the best.
A-Game
(I.E. rankings included)
[+] Enlarge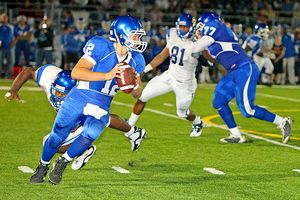 Courtesy of Rob HelfmanNorco sophomore quarterback Coltin Gerhart hopes to repeat the big game he had against Upland last season.
No. 7 Upland (3-0) at No. 3 Norco (2-0), Friday (7 p.m.)
– Norco sophomore quarterback
Coltin Gerhart
had a break-out performance in this meeting last season. As a freshman, he rushed for 80 yards and two second-half touchdowns to lift the Cougars to a
35-21
victory at Upland. Gerhart, the brother of Minnesota Vikings running back
Toby Gerhart
, is coming off the best performance of his high school career, rushing for 227 yards and three touchdowns in a 42-36 victory against No. 10 Etiwanda. Norco's defensive backs will have their hands full covering
Kenny Lawler
, one of the top receivers in the Southland. Look for the
Arizona State-commit
to be the difference.
Calpreps.com computerized projection: Norco 34, Upland 24.
ESPNLA: Upland 31, Norco 27.
B-List
Chaparral (0-2) at No. 1 Corona Centennial (1-1), Friday (7:30 p.m.)
– The Huskies appear to be back on track after defeating Mater Dei last Friday,
28-20
. They cut down on their penalties, didn't commit any turnovers other than a bad snap on the punt team and rallied back from a 13-point late third-quarter deficit. Chaparral may have found itself in the second half of a 31-19 loss to Oceanside two weeks ago. The Pumas had a bye last week to either work out more kinks or resume their bad habits. They remain dangerous, however, with
San Diego State-bound
quarterback
Matt Morin
leading the offense and
Arizona State-bound
strong safety
C.J. Dozier
heading the D.
Calpreps.com: Centennial 38, Chaparral 19.
ESPNLA: Centennial 31, Chaparral 21.
No. 2 Rancho Cucamonga (3-0) at Charter Oak (3-0), Friday (7 p.m.)
– The Cougars take a step up in competition for the fourth consecutive week, and another one-sided victory might actually get the attention of the coaches who vote for the
SS-Inland Division poll
, who have kept Rancho Cucamonga lodged at No. 5 since the start of the season. But the Cougars can't worry about that, they need to keep their focus on stopping Charter Oak sophomore running back
Kurt Scoby
, who's proving to be one of the region's best, averaging 138 rushing yards a game.
Calpreps.com: Rancho Cucamonga 31, Charter Oak 14.
ESPNLA: Rancho Cucamonga 45, Charter Oak 21.