Los Angeles Preps:

Nick Colletta
January, 10, 2012
1/10/12
10:04
PM PT
GLENDORA --
Jordan McLaughlin
has grown a couple of inches since last year. His arms are more defined. He's not faster but, rather, quicker. He can dunk with two hands now.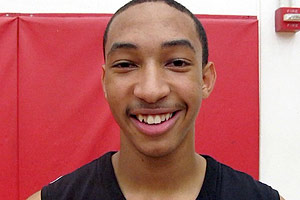 Blair Angulo/ESPN.comJordan McLaughlin has emerged as a top-flight PG and one of Cali's top recruits.
And the scary thing is, the sophomore figures to keep growing, keep adding muscle, keep sharpening his tools.
McLaughlin put on a versatile display Tuesday night, scoring a game-high 21 points in Etiwanda's 56-35 victory against Glendora in the Baseline League opener. He sank six 3-pointers, including three in a row that set the tone early. Later, the 5-foot-11 point guard put an exclamation point on it with a thunderous breakaway two-handed slam.
"Right now he's being overlooked," Etiwanda coach
Dave Kleckner
said. "People aren't aware of him, people don't know about him, but it's early. I'm sure once his name gets out there by the end of this year, I think people will be a lot more familiar with his name."
Etiwanda improved to 16-1, its only loss coming more than five weeks ago against highly regarded La Verne Lutheran. The Eagles used their suffocating defense to fluster Glendora (12-5), holding the home team to only five points in an ugly second quarter.
Glendora junior
Nick Colletta
, one of the region's top perimeter shooters, did not make a field goal, getting his five points at the charity stripe. Colletta missed seven weeks of full-contact play earlier this season, but longtime coach
Mike Leduc
didn't want to use that as an excuse.
"Tonight we didn't show up," Leduc said. "When that happens, we're going to have a tough time."
Sam Flemming
added 11 points for the Eagles, who are favored to claim their sixth consecutive league title. Glendora gets another shot at the defending champs on Jan. 27 at Etiwanda.
McLaughlin opened the game by nailing three long-range jump shots.
Brandon Townes
and
Dominique Walker
also hit from behind the arc, forcing the Tartans to extend their zone scheme and freeing up the paint. From there, McLaughlin captained a deliberate tempo.
"He did have some minutes where he had to be the floor general as a freshman," Kleckner said. "I think it was great for his development. Now in his sophomore year he just looks so natural at that position."
McLaughlin also was a beneficiary of the NBA lockout when former Etiwanda and UCLA standout
Darren Collison
, now the starting point guard for the Indiana Pacers, used his old gym to work on his game. McLaughlin took some pointers on foot speed and refined his jumper.
"I've grown a lot," McLaughlin said with a smirk, "and I hope to grow more."
Blair Angulo covers preps for ESPN Los Angeles. Follow him on Twitter.
January, 9, 2012
1/09/12
9:23
PM PT
By
Dan Arritt
| ESPNLosAngeles.com
BASELINE LEAGUE

League openers: Tonight – Etiwanda @ Glendora; Upland @ Los Osos; Alta Loma @ Rancho Cucamonga.

Last year's finish: Etiwanda (9-1); Glendora (6-4); Upland (6-4); Los Osos (5-5); Rancho Cucamonga (4-6); Alta Loma (0-10).

Players to watch: Jordan McLaughlin (Etiwanda), 5-11, So., G; Sheldon Blackwell (Etiwanda), 6-4, Jr., F; Brandon Townes (Etiwanda), 6-2, Sr., G; Sam Flemming (Etiwanda), 6-0, Sr., F; Nick Colletta (Glendora), 6-5, Jr., F; Kyle Gordon (Glendora), 6-4, Sr., G; Myles Pearson (Upland), 5-10, Sr., G; Ferrell Marshall (Upland), 6-0, Sr., G; Malcolm Drumwright (Rancho Cucamonga), 6-1, Jr., G; Victor Joseph (Rancho Cucmamonga), 6-1, So., G; Adom Jacko (Alta Loma), 6-6, Sr., F; Jonathan Solomon (Los Osos), 6-3, Sr., F.

Predicted order of finish: Etiwanda, Glendora, Rancho Cucamonga, Upland, Los Osos, Alta Loma.

MOUNTAIN PASS LEAGUE

League openers: Tonight – Beaumont @ Citrus Hill; Hemet @ West Valley; Tahquitz @ San Jacinto.

Last year's finish: Citrus Hill (10-0); San Jacinto (8-2); Beaumont (5-5); Tahquitz (4-6); West Valley (2-8); Hemet (1-9).

Players to watch: Anthony Rounds (Citrus Hill), 6-7, Sr., F; Ralph Myles (Citrus Hill), 5-0, Sr., G; Dejon Brown (Beaumont), 6-2, Sr., G.; Andrew Walker (Beaumont), Jr.; Kris Acevedo (Hemet), 6-0, Sr., G; P.J. Murrieta (San Jacinto), 5-10, So., G; Roosevelt Adams (West Valley), 6-4, Sr., F; Robert Edwards (West Valley), 6-4, Jr., F; David Walker (Tahquitz), 6-1, Sr., G.

Predicted order of finish: Citrus Hill, Beaumont, San Jacinto, West Valley, Hemet, Tahquitz.


December, 16, 2011
12/16/11
10:23
PM PT
GLENDORA -- The final for the Pride of the Foothills Classic boys basketball tournament is set.

La Verne Damien and Northview will square off in Saturday night's title game at Glendora High School. Damien (8-1) came back to beat Chino Don Lugo, 85-80, Friday night behind 25 points and 11 rebounds from St. Mary's-bound forward Chris Reyes. Northview (10-1) upset tournament host Glendora (8-2), 55-42, which was without junior standout Nick Colletta (back injury). Tartans coach Mike Leduc said he hopes to have Colletta, who averaged 24 points per game last season, back in the starting lineup by the end of the month.

Don Lugo, with only four bench players, got tired and blew a 12-point lead. Damien erased a late 10-point deficit, going on a 26-11 run in the final six minutes to close it out.

"Offensively, we valued every possession," Damien coach Matt Dunn said. "We persevered."

The championship game will tip off Saturday at 7:30 p.m.
February, 17, 2011
2/17/11
12:13
PM PT
Some key performances and upsets in the first round of the CIF Southern Section boys' basketball playoffs, with a focus on teams located in south Los Angeles county:
Division 1A

-- Walnut upset No. 10-seeded Tesoro, 57-51.
Division 2A

-- Top-seeded Peninsula, the Bay League champion, extended its win streak to 24 games with a 62-28 victory against Fullerton Troy. Sophomore Nick Colletta's game-high 28 points were not enough for No. 4-seeded Glendora, which was blindsided by Eastside, 72-65, in overtime. No. 5-seeded Mayfair advanced with a 66-43 win against Westlake. No. 7-seeded Gahr moved on with an 84-52 victory over Indio. Mira Costa upset No. 6-seeded San Bernardino, 62-54.
Division 3AA

-- Top-seeded Price had no problem with Ramona, winning 90-49. No. 4-seeded La Verne Lutheran got 20 points and nine boards from Arizona-bound forward Grant Jerrett to beat Claremont, 66-48.
Division 4AA

-- No. 8-seeded Northview beat Northwood, 77-76, in double overtime. Brian Johnson had 37 for Northview. Tyler Hill scored 20 for No. 6-seeded Bishop Amat in a 59-47 win over San Luis Obispo. No. 2 Windward got 24 points from Nic Stover and 22 from Wesley Saunders in an 83-65 victory against Cathedral.
February, 1, 2011
2/01/11
9:41
PM PT
GLENDORA -- Whatever you do, don't call it a bounce back. No, Etiwanda coach Dave Kleckner insisted that his team had long dismissed Saturday's loss, its first of the season.

Instead, refer to Etiwanda's 53-42 win at Glendora on Tuesday as a return to normalcy. This is what the Eagles (23-1, 7-0), ranked No. 6 in ESPNLA.com's latest rankings, expected all along. Saturday wasn't a bump on the road -- more like a traffic sign or lane marking. With the win, Etiwanda clinched a share of the Baseline League title and can take it outright Friday against Upland.

"It had nothing to do with our game on Saturday, that's over with and we're focused now on winning a league title," Kleckner said. "Heading into the season our goal was to be undefeated league champions and we've still got three games to go to accomplish that."

With USC-bound Byron Wesley on its side, Etiwanda might very well finish with the lone blemish -- a 70-64 loss to Loyola at the Fairfax State Preview Classic. Sensing that he needed to take control, Wesley had a team-high 19 points Tuesday. Eleven came after halftime and virtually offset the 20 super sophomore Nick Colletta dropped for Glendora (19-5, 4-3).

Etiwanda actually trailed, 24-22, at the half before revving its defensive intensity in the third quarter.