Los Angeles Preps:

Nick Stover
April, 24, 2012
4/24/12
2:41
PM PT
Los Angeles Windward forward Nick Stover, a Loyola Marymount signee, earned most valuable player honors at the Collision XIV all-star game at El Camino College on Saturday night, leading the CIF Southern Section boys' team to a 113-106 victory against the City Section.

Stover had 19 points and San Diego State-bound forward Skylar Spencer of Price added 18 for the Southern Section, which won for the sixth time in the event's 14-year history. Woodland Hills Taft's Anthony January had a game-high 24 for the City Section.

The City Section girls' team won its game, 68-67, after erasing an 18-point deficit. Pasadena Poly's Michelle Miller, who this season passed Lisa Leslie for third place on the Southern Section career scoring list, had 19 points.
February, 21, 2012
2/21/12
11:07
PM PT
LOS ANGELES -- Price boys' basketball coach
Michael Lynch
poked his head out the locker room door Tuesday night, peered down the hallway and, finally, cracked a smile that screamed relief.
After Price defeated visiting Windward, 76-62, for the third time this season, Lynch could finally exhale.
"It's incredibly tough to beat a team three times," Lynch said. "Windward coach
[Miguel] Villegas
is a really good coach and he's got a good team. We knew we were in for a war. Really, I wouldn't have scheduled them had I known what the divisions would be like."
Fourth-seeded Price (22-7) advanced to face top-seeded Gardena Serra in the CIF-Southern Section Division 4AA semifinals on Friday night, with the winner moving on to play the winner of Crespi-La Verne Lutheran in the title game at Anaheim Arena. The Knights had beaten Windward, 69-64, in the Santa Monica Tournament on Dec. 7 and again, 65-41, at the Fairfax State Preview Classic on Jan. 28.
But there was much at stake in the third meeting. Price's two prior victories would mean nothing without a third.
"Every time you play a team you want to pretend like it's your first time playing them," said Price senior forward
Skylar Spencer
, who had 14 points and five blocks.
Teammate
Kahlil Johnson
scored 15 of his game-high 23 points in the first half, and put an exclamation point on the game with back-to-back breakaway dunks in the final moments. He sank two 3-pointers late in the first half to pace the Knights to a 37-32 lead at intermission.
"Kahlil is a shooter," Lynch said. "He can really shoot the basketball. Once he gets on a roll and feels it, the ball is going down."
The third time wasn't the charm for the Windward Wildcats (20-9). They closed to within two late in the third quarter despite the absence of leading scorer
Nick Stover
, who was whistled for his fourth foul just two minutes into the second half.
"At halftime we talked about [Stover] having three fouls," Lynch said. "We said, 'Whoever he's guarding, we're going at him.' The referees were calling the game pretty straight up on both sides. We knew they'd blow the whistle if we really attacked him."
Stover, a Loyola Marymount signee, finished with only 13 points, well below his average of 22 per game. Guard
Jordan Wilson
had 14, and
Luke Silverman-Lloyd
and
Charles Dawson
each had 10 for the Wildcats.
"We knew the third time would be the hardest," Johnson said. "And it was."
Blair Angulo covers preps for ESPN Los Angeles. Follow him on Twitter.
February, 10, 2012
2/10/12
5:09
PM PT
By
Sean Ceglinsky
| ESPNLosAngeles.com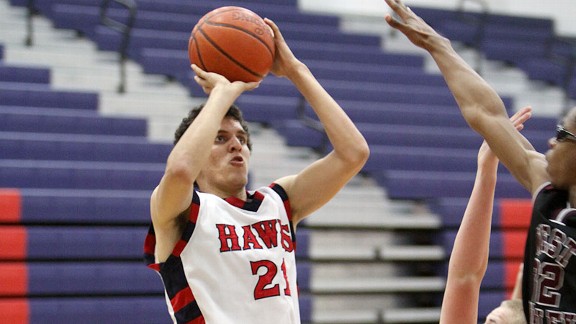 Citrus Hill HSAnthony Rounds was born in the I.E., but moved to the Midwest and elsewhere before returning to SoCal.
PERRIS -- Chances are not many Southland prep basketball followers have heard of
Anthony Rounds
. The senior from Citrus Hill, after all, has not been considered a household name in prep circles.
His days of being a relative unknown on the local landscape, however, appear to be coming to an end. Rounds has developed into a legitimate prospect and the Hawks figure to be a dangerous opponent in CIF-Southern Section postseason play next week as a result.
"Anyone familiar with our program knows that everything runs through Anthony; he's proven capable of shouldering the heavy burden,'' Citrus Hill coach
Tim Hatch
said. "It's one of those good news and bad news deals. He's not on many people's radar, but once they see him play, the perception about him changes. It's happened more times than I count, actually.''
His numbers this season are comparable to those of his much more well-known counterparts from the greater Los Angeles area. At 6 feet 7, 210-plus pounds, Rounds averaged 18 points, 12 rebounds and nearly three blocks per game in the regular season. Capable of playing in the post or on the wing, he's also contributed close to a pair of assists and steals per night.
Nevertheless, higher-profile peers such as Santa Ana Mater Dei's
Katin Reinhardt
and
Xavier Johnson
typically receive most of the recognition. The same thing can be said about Woodland Hills Taft's
Anthony January
and Los Angeles Windward's
Nick Stover
. Rightfully so considering each individual is worthy of such praise given their respective bodies of work.
"Lack of attention always makes me work harder, I don't mind, that stuff doesn't bother me, it keeps me motivated,'' Rounds said. "When people don't talk about me, it just makes me hungry to succeed, to go out and prove everyone wrong. I can play with the best. I think that I have been sneaking up on some people for while. I feel like I'm ready to finally breakout.''
Behind Rounds, the Hawks (15-10 overall) won a share of the Mountain Pass League title and signs point to them being prepared for the Division 3-AAA playoffs. If Citrus Hill manages a way to find some success in the first couple of rounds and makes a run toward quarterfinals or semifinals, several interesting showdowns could end up materializing for Rounds.
January, 24, 2012
1/24/12
10:21
PM PT
By
Sean Ceglinsky
| ESPNLosAngeles.com
LOS ANGELES -- It was a look. Brandon Taylor shot a confident glance in the direction of his bench and the senior point guard for Los Angeles Pacific Hills took over down the stretch.

Seemingly unstoppable throughout, Taylor was at his absolute best in the waning moments of Tuesday night's showdown against Los Angeles Windard and finished with 34 points to guide the visiting Bruins to a 68-56 victory in a game with first place at stake in the Alpha League standings.

"Brandon was confident, you could tell in his overall demeanor,'' Pacific Hills coach Ivan Barahona said. "When he told me not to worry and that he's got things under control, I calmed down a little bit. He was right. You have to be impressed when a kid delivers like he did tonight.''

Taylor scored eight points over the course of the final eight minutes to secure the all-important victory for the Bruins (20-3, 4-0), No. 13 in the ESPNLosAngeles.com top 20 rankings.

The Wildcats (13-7, 2-1), No. 7 in the recent poll, never found an answer for him.

"I came into this game feeling good, I wasn't about to overreact, or buckle under the pressure late in the game,'' Taylor said. "My goal was to play with intensity, but stay poised. I wasn't worried about how many points I scored. The only things that matters in the end is winning games.''

Taylor started the second half similar to the way he finished the first. Scoring appeared to come with relative ease against a defense geared toward limiting his effectiveness. He had nine points in the third quarter to help the Bruins build what proved to be an insurmountable 54-37 lead.


January, 8, 2012
1/08/12
12:47
AM PT
Four of the five boys' basketball teams that traveled south on Interstate 5 Saturday emerged with victories in the second annual San Diego vs. Los Angeles Hoops Challenge.
Woodland Hills Taft beat showcase host San Diego Lincoln, 52-48. The Toreadors (11-3) blew a 15-point lead but showed resilience. Taft junior guard
Chris Yanku
had 16 points, including two clutch free throws to ice it with six seconds left.
Gardena Serra (13-1) beat St. Augustine, 60-48, behind 18 points each from seniors
Dakarai Tucker
and
Daddy Ugbede
. La Verne Lutheran (12-4) defeated La Costa Canyon, 62-47. Windward (12-5) got 31 points from
Nick Stover
to beat Francis Parker, 71-59.
Compton Centennial beat Horizon, 57-46. Long Beach Jordan was the only L.A. representative to lose, doing so to Torrey Pines, 50-48.
Other action involving south Los Angeles County schools:
In the feature game of the second annual Under Armour Brandon Jennings Invitational in Milwaukee, Wis., L.A. Price (11-5) lost to Baltimore Patterson, 85-76. San Diego State-bound
Skylar Spencer
had 14 points and 12 blocks.
Dorsey (13-5) won its seventh straight game, beating Fremont, 72-46, for the Gold Division championship in the Huntington Park tournament. L.A. Franklin (12-5) needed all of
Zach Hinton
's 28 points to beat LACES, 62-61, in overtime for the Silver Division crown. Garfield (14-3) beat Locke 79-65 to claim the Bronze Division title.
Crenshaw (11-3) couldn't knock off streaking Etiwanda (15-1), losing 63-56 at The Great Inland Empire Shootout in Rialto.
Blair Angulo covers preps for ESPN Los Angeles. Follow him on Twitter.
December, 31, 2011
12/31/11
9:56
AM PT
The Loyola Cubs aren't hibernating this winter.
Loyola (11-0), which had three losses by this time last season, stayed unbeaten Friday night with a 66-53 win against National Jesuit Christmas Classic tournament host North Bethesda (Md.) Georgetown Prep. The Cubs
claimed their third tournament championship trophy
of the season, and now turn their attention to Mission League play.
Penn-bound forward
Julian Harrell
, who had 17 points in the title game, earned tournament most valuable player honors.
Other results from Friday's tournament action:
DeMatha (Md.) 74, Windward 64
Windward (8-5) could never get over the hump in the second half, losing to 10th-ranked DeMatha in the Torrey Pines Holiday Classic National Division championship. Still, it was an impressive week in San Diego for the Wildcats. Point guard
Jordan Wilson
and forward
Nick Stover
were named to the all-tournament team.
Bishop Montgomery 84, L.A. Washington 55
The Bishop Montgomery Knights improved to 11-2 by winning the Redondo Sea Hawk Beach Classic. They captured the Westchester Tip-off Classic title earlier in the season.
La Verne Lutheran 98, Compton 95 (4 OT)
The early game in the losers' bracket at the Torrey Pines Holiday Classic tournament was a dandy. Compton (7-7) had a two-point lead with four seconds remaining in the third overtime but La Verne Lutheran's
Grant Jerrett
, an Arizona signee, sent the game into a fourth period with a difficult tying shot. Lutheran (10-3) had a three-point lead with 3.1 seconds left in the second overtime but Compton's
Lorenzo Murphy
sank a clutch sank a clutch 3-pointer. Jerrett had hit a tying 3-pointer with under 30 seconds remaining in the first overtime. Compton's sensational senior
Victor Robbins
nailed a tying 3-pointer at the end of regulation. Jerrett finished with 35 points, while Robbins had 30.
Sun Valley Village Christian 58, Pasadena Muir 47
Muir (11-1) fell for the first time this season, failing to capture its third consecutive La Salle/Temple City Holiday Classic tournament crown.
December, 29, 2011
12/29/11
11:00
PM PT
La Verne Damien beat Riverside J.W. North 53-36 to win the 58th annual Covina Christmas tournament Thursday night. The top-seeded Spartans (13-1) got 19 points and 12 rebounds from St. Mary's-bound forward Chris Reyes, who subsequently was named the tournament's most valuable player.

Other tournament results involving south Los Angeles County schools:

Windward 71, Woodland Hills Taft 59
Loyola Marymount-bound Nick Stover had 30 points in the Holiday Classic tournament's National Division semifinal in San Diego. Windward (8-4) will meet DeMatha (Md.), the nation's 10th-ranked team, in the championship game Friday at 8:15 p.m.

Loyola 64, Tampa Jesuit 43
The nationally-ranked Loyola Cubs (10-0) advanced to the title game of the fourth annual Father George National Jesuit Christmas Classic boys' basketball tournament in North Bethesda, Md., about 15 miles north of downtown Washington D.C. Loyola will face tournament host Georgetown Prep in the championship game Friday at 5 p.m. PT.

L.A. Washington 68, Crespi 58
The Washington Generals (7-8) pulled off the surprise win in the Redondo Union Sea Hawk Beach Classic tournament semifinals, handing previously unbeaten Crespi its first loss of the season. They will play Torrance Bishop Montgomery in Friday's final.

Bishop Montgomery 70, L.A. Price 63
The other semifinal in Redondo was a scoring fest. Bishop Montgomery (11-2) added to its impressive résumé, which already includes wins over Westchester, Taft, Washington and Gardena Serra.
December, 14, 2011
12/14/11
8:03
AM PT
In a battle of defending state champions, Windward upset nationally-ranked La Verne Lutheran, 64-62, Tuesday night behind LMU-bound forward Nicholas Stover's 27 points.

Windward point guard Jordan Wilson sank a three to give his team a nine-point lead heading into the fourth quarter, and the Wildcats (3-3) extended their lead to as many as 13 before the Trojans (5-1) stormed back.

It was somewhat of a surprising result, given that Windward had already lost to Oaks Christian, Price and Santa Monica. La Verne Lutheran was ranked No. 46 in the POWERADE ESPNHS Fab 50 rankings heading into the game.

Regardless, each squad is a serious contender for the CIF-Southern Section Division 4AA crown, and this figures to be a learning experience for both.
December, 6, 2011
12/06/11
6:20
PM PT
Loyola, Long Beach Poly and La Verne Lutheran are ranked in
the preseason POWERADE ESPNHS Fab 50 national rankings
, and they lead the way in our opening edition of the south Los Angeles County boys' basketball top 10:
1. Loyola (4-0)
Key players:
PG Parker Jackson-Cartwright, SG Justin Childress, SG Jacob Hazzard, SF Julian Harrell (Penn)
Last season:
The Cubs went 25-6 and won the CIF-Southern Section Div. I-A championship before losing by two to eventual state champion Mater Dei in regionals.
Why they're here:
Jackson-Cartwright, only a sophomore, is already considered the top point guard in the state. Mix in the shooting of Childress and Hazzard -- as well as the versatility of Harrell -- and the Cubs have a lineup that few can match.
2. Long Beach Poly (3-1)
Key players:
SF Roschon Prince, PF Jordan Bell, PG Chris Croom, SG Reuben Strickland
Last season:
The Jackrabbits posted a 30-2 record and captured the Division 1AA title in Anaheim before losing to eventual state champion Mater Dei in regionals.
Why they're here:
Poly coach Sharrief Metoyer lost his top two to graduation -- state player of the year Ryan Anderson (Boston College) and Alexis Moore (USC) -- but there's more than enough talent left. Prince and Bell might be the best one-two combination in the county.
3. La Verne Lutheran (4-0)
Key players:
PF Grant Jerrett (Arizona), SG Eric Cooper Jr. (Arizona), SF McKay Anderson, SG Cameron Osorno
Last season:
The Trojans overcame off-the-court adversity, finishing with a 25-5 mark and a second consecutive state championship.
Why they're here:
Jerrett, a long and lean power forward, is arguably the top prospect on the West Coast. Coach Eric Cooper Sr. returns nine letter-winners from last year's team, including son Eric Cooper Jr., a sharp-shooting junior who makes teams pay for double-teaming Jerrett down low.
4. St. John Bosco (4-0)
Key players:
SG Isaac Hamilton, PF Anthony January (UTEP), SF Darryl Matthews, SG Daniel Hamilton
Last season:
The Braves finished 21-9 and were eliminated in the quarterfinals of the CIF-SS Division 4AA playoffs.
Why they're here:
New coach Derrick Taylor, who built Woodland Hills Taft into a City Section power, has the Braves thinking about the Trinity League crown. Getting past defending state champion Mater Dei won't be easy, but Bosco has Isaac Hamilton, a transfer from Crenshaw who is one of the nation's top juniors.
5. Price (3-1)
Key players:
PF Skylar Spencer (San Diego State), PG Chance Murray, SG Chris Sandifer
Last season:
The high-flying Knights went 24-8 and fell just short against La Cañada in the CIF-SS Division 3AA championship game.
Why they're here:
Yes, Price lost guard Askia Booker (Colorado) and ultra athletic forward Norvel Pelle to graduation but don't dismiss coach Michael Lynch's bunch. Spencer is another high-soaring scorer who's lethal in fast break opportunities, and Murray, a junior, already has a scholarship offer from UCLA.
March, 26, 2011
3/26/11
2:36
PM PT



SACRAMENTO -- Windward basketball coach Miguel Villegas had done his best to maintain composure in the interview room at Power Balance Pavilion, answering questions with a stern look while his players smiled and giggled.

After five minutes, he could no longer fight the tears.

Villegas broke down, dedicating the Wildcats' 63-57 victory over Richmond Salesian in the CIF State Boys Division IV championship to Daniel Tan, a former Windward player who died in January of multiple sclerosis. Windward took turns carrying a sewn portrait of Tan, an avid supporter who graduated in 2007. The Wildcats captured their second state title in three years.

"There's nothing that we can't accomplish," Villegas said. "I think these kids definitely did that this year."

Harvard-bound forward Wesley Saunders led the way with 15 points and nine rebounds, but he didn't do it alone. Three other Windward (27-8) players scored in double figures: Nick Stover and Luke Silverman-LLoyd each had 13, Charles Dawson had 12.

The Wildcats' biggest lead was nine, early in the fourth quarter, following an emphatic dunk by Saunders. But he was called for a technical foul after saluting the Windward student section on his way back to the other end. Salesian (26-12) cut the deficit to three, but Stover's three-pointer with 1:23 left gave the Wildcats a nice cushion.

"It was kind of a dagger play," Salesian coach Bill Mellis said.

Windward's zone defense held Salesian to 34-percent shooting (21 for 62), including just five for 22 from beyond the arc. Jabari Bird, one of the top guards in the 2013 class, had a game-high 23 points, but Windward limited 310-pounder Freddie Tagaloa, a highly touted offensive lineman, to just six.

"I thought it was a good zone," Mellis said. "Windward is long, active and able to cover a lot of ground. I also thought they did a good job of taking away our inside game."
March, 19, 2011
3/19/11
9:36
PM PT
By
Sean Ceglinsky
| ESPNLosAngeles.com
ONTARIO -- From a statistical standpoint,
Wesley Saunders
might not have had the best game of his high school basketball career during Saturday's Southern California Regional playoffs.
However, the senior forward from Los Angeles Windward did just enough to guide the Wildcats to a 58-52 victory over Westlake Village Oaks Christian in a Division IV championship game.
"Numbers don't always tell the story, especially when it somes to Wesley,'' Windward coach
Miguel Villegas
said. "There's no way to measure all the things he does well over the course of a game.''
When all was said and done, Saunders finished with eight points, nine rebounds and three blocks for the Wildcats (26-8), who played well early on and took a 29-18 advantage at the halftime break.
The Lions (26-8) were seemingly in trouble from the jump. Starters
Chass Bryan
and
Blair Holliday
began the game on the bench because of disciplinary reasons. Bryan, a point guard, finally entered play with 3:06 remaining in the first quarter. Holliday, a shooting guard, checked into the game at the beginning of the second quarter.
Oaks Christian made things interesting in the fourth quarter behind
Taylor Hange
, who scored nine of his 12 points in the final eight minutes of play as the Lions cut the deficit to one point with 5:46 left in the game.
The Harvard-bound Saunders answered, of course. He scored, was fouled on the play, and made the subsequent free-throw to extend the lead to six points with less than three minutes remaining.
"I came out an played my game tonight, that's what I wanted to do,'' Saunders said.
Nick Stover scored 12 of his 16 points in the first half of play for Windward.
Sean Ceglinsky covers preps for ESPNLosAngeles.com. Follow him on
Twitter
.
January, 25, 2011
1/25/11
10:46
PM PT
By
Sean Ceglinsky
| ESPNLosAngeles.com
There are no significant changes at the top of the ESPNLosAngeles.com top 20 boys' basketball rankings this week. A shakeup toward the bottom half of the top 10, however, was in order after one team was dealt a surprising setback.

Also worth mentioning is the fact that a pair of programs are making their first appearance in the rankings following the exits of Murrieta Valley and Los Angeles Fairfax, a pair of schools that could be back in the mix sooner rather than later.

Some other teams to keep a close eye on are Aliso Niguel, Compton and La Verne Damien, along with Pasadena, Ventura and Los Angeles Washington. A couple of quality victories over the next couple of days figure to go a long way.

1. (1) Long Beach Poly (18-0): Winning Moore League games by an average of 42 points. Are you kidding me? Running the table appears to be entirely possible.

2. (2) Etiwanda (20-0): Jordan Daniels doesn't receive enough credit. All of that, however, could end up changing if the senior point guard keeps the Eagles flying high.

3. (3) Mater Dei (18-2): There are no easy games in the tough Trinity League. St. John Bosco looms on Wednesday followed by a showdown with Orange Lutheran on Friday.

4. (4) Centennial (16-3): Big VIII League games against Riverside King on Tuesday evening and Riverside Poly on Thursday night figure to offer little, or no, resistance.

5. (5) Taft (15-2): Kevin Johnson has been focused on the task at hand recently. And make no mistake, when the senior is motivated, the Toreadors are seemingly unstoppable.

6. (7) Westchester (18-5): With a showdown against rival Fairfax on Thursday, perhaps the Comets are primed for an upset loss Wednesday against Hamilton. Perhaps not.

7. (8) Canyon (19-2): Chris Anderson might be a tad bit undersized. He is, after all, 5-foot-7. Thing is, no one plays a bigger role tor the Comanches than the senior point guard.

8. (9) Harvard-Westlake (17-2): Damiene Cain and Zena Edosomwan are a potent one-two punch down in the post and they work the high-low game to near perfection.

9. (10) Mission Viejo (22-0): At 6-10, Issac Neilson is proving to be a force on both ends of the floor. Aliso Niguel will attempt to stop the BYU-bound senior on Friday night.

10. (6) Orange Lutheran (16-5): Suffered a setback with loss to Cezar Guerrero and St. John Bosco. Now, it is time to see how the Lancers respond to some adversity.


March, 18, 2010
3/18/10
2:00
PM PT
By
Dan Arritt
| ESPNLosAngeles.com
You know you've arrived when Denzel Washington stops by just to say hello.

Windward High of Los Angeles, which only a few years ago was nothing more than a speck on the boys' basketball landscape, is now a prime destination for blue-chip players, college recruiters and even Academy Award-winning actors.

The Wildcats have rose to the top through hard work by Coach Miguel Villegas and his staff, who have changed the mentality of the program, developed top age-group players and benefitted from a marquee transfer or two.

Windward is one step away from advancing to the Division 5 state championship game for the second consecutive season. The Wildcats are scheduled to play La Verne Lutheran on Saturday at 3 p.m. in the Southern California Regional Division 5 final at Colony High in Ontario.

"Seven years ago, people were laughing at me," Villegas said. "No one knew who Windward was until last year. Now, my phone doesn't stop ringing."

The program gained notice about five years thanks to Cedric Latimer, an all-Southern Section forward who graduated in 2006 and went on to play for Santa Clara and then transferred to St. Francis (Pa.).

It turned the corner with the development of 6-foot-4 guard Darius Morris and the arrival last season of 6-10 center Anthony Stover, who Villegas said, "put the frosting on the cake.".

Morris was a four-year starter at Windward who led the Wildcats to the state title last season and recently completed his freshman season at Michigan, where he played in all 32 games, starting 19. Stover red-shirted for UCLA last season.

Also on last season's team was point guard Malcolm Washington, the son of Denzel, who was a walk-on at Penn this winter.

The cupboard was hardly left bare, however.

Returning this season is 6-5 junior wing Wesley Saunders, who is averaging 22.9 points and 10.7 rebounds. Saunders is being heavily recruited by a number of top schools. He has already made an unofficial visit to Arizona.

Added to the mix this season is one of the top freshmen in the nation, 6-6 forward Chauncey Hill, and 6-4 sophomore Nick Stover, the younger brother of Anthony.

"A lot of parents have realized they don't need their sons to go to a big-time school to get looked at," Villegas said.

While the program has lured some top talent, Villegas also made it clear that Windward demands its basketball players to be more than just good scorers and defenders.

"Windward is not going to let you in on athletic ability alone," he said.