Los Angeles Preps:

Nikko Slife
November, 17, 2010
11/17/10
9:43
PM PT
By
Sean Ceglinsky
| ESPNLosAngeles.com
VENTURA -- For those who haven't had the opportunity to see
Nikko Slife
in action on the football field, fear not. He's still young, a sophomore at Buena High, seemingly with a bright future ahead. There's plenty of time to check out one of his games.
Understand this beforehand though, Slife tends to leave most spectators in awe after they catch a glimpse of him on the gridiron. The 15-year old has been known to do more with one arm than most his peers are capable of accomplishing with two.
To clarify, Slife was born with a portion of his left arm missing just below the elbow. With the aid of a prosthesis and a pair of weight-lifting attachments, he was able to build some much-needed strength this season and emerge as a consistent contributor on number of different levels for the Bulldogs.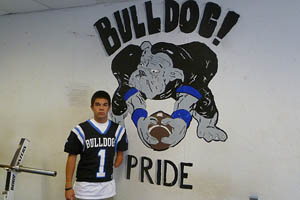 Sean Ceglinsky/Special to ESPNLA.com
Nikko Slife hopes to be a contributor to next season's Buena varsity team.
"We don't look at Nikko like he's someone with a disability, he is a football player in our eyes,'' Buena coach
Cliff Farrar
said. "The neat thing about him is, he's been able to overcome an adversity that some of us wouldn't be willing to try and move on from.
"I've been coaching for a long time and I haven't seen many players with his kind of passion for the game. It's unique, it's a gift. Nikko is an inspiration. He wants to play, you can see he has the desire. He's going to get a chance to make a difference for us down the road.''
Over the past couple months, Slife's talents were put to good use by the Bulldogs' coaching staff.
For one, he was a standout on the junior varsity team. And from time to time, when an extra body was needed to help run the scout team, Slife's number was called. Sacrificing his time, and body, for the betterment of the program was never a problem.
In fact, had Buena played a bit better during the regular season and qualified for the Southern Section Western Division playoffs, beginning this week, there was a good possibility Slife would have been rewarded for his efforts and made his varsity debut.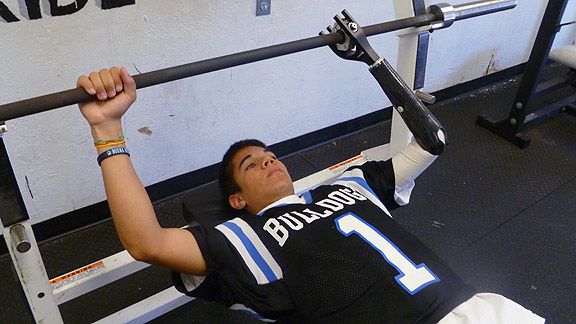 Sean Ceglinskly/Special to ESPNLA.com
Ventura Buena sophomore Nikko Slife was born without part of his left arm but hasn't let that stop him from being a football player.