Los Angeles Preps:

Orange County
February, 8, 2011
2/08/11
6:39
PM PT
By
Sean Ceglinsky
| ESPNLosAngeles.com
If there is one thing to be learned from last week it is this: Expect the unexpected from the Southland's top boys' basketball teams.

More than a few programs ranked among the ESPNLosAngeles.com top 20 lost recently, most notably top-ranked Long Beach Poly. The Jackrabbits, however, maintain the top spot in the poll based upon their body of work.

Four other teams in the top 10 suffered setbacks, so do not be surprised to see some new faces in some new places this time around.

1. (1) Long Beach Poly (22-1): A surprising five-point upset at the hands of Las Vegas (NV) Bishop Gorman on Saturday hurt. It is not the end of the world. Far from it, in fact.

2. (2) Mater Dei (22-2): Victories over JSerra on Tuesday night and Santa Margarita on Thursday are the only obstacles left in the way of a Trinity League title.

3. (3) Corona Centennial (21-3): The Huskies have been without senior point guard Michael Caffey for a while now, yet the wins continue to mount at an alarming rate.

4. (4) Taft (21-2): Concord De La Salle posed as somewhat of threat over the weekend. And while the showdown went into overtime, the Toreadors found a way to prevail.

5. (8) Loyola (19-5): Everyone has been talking about how the Cubs have played one of the more difficult schedules around. And apparently, that is proving to be true.

6. (6) Etiwanda (23-2): Not sure to how to explain last week's Baseline League loss against Upland. Nevertheless, few programs possess as much upside as the Eagles.

7. (10) Orange Lutheran (19-6): Big test Tuesday night against Cezar Guerrero and St. John Bosco followed by a Trinity League finale with Servite on Thursday evening.

8. (5) Westchester (20-6): Can't knock the Comets for taking on Orange Lutheran and losing at the Nike Extravaganza. They will be better for the experience down the road.

9. (7) Harvard-Westlake (22-3): Lost to Loyola on Friday night. The Wolverines bounced back with a victory over Crespi on Monday though to clinch the Mission League title.

10. (9) Mission Viejo (23-1): Fell from the ranks of the unbeaten with a two-point setback to Tesoro. Up next is El Toro on Tuesday and Capistrano Valley on Thursday.


January, 26, 2011
1/26/11
3:32
PM PT
Savanna Smith, Los Alamitos, Sr.
The Griffins, No. 2 in the Southern Section Division I rankings, scored a 9-3 victory over No. 3 Newport Harbor behind the 11 saves of Smith, a California-bound goalkeeper. Her big performance, which included three saves against the power play, allowed Los Alamitos to seize first place in the Sunset League and position itself in the bracket opposite Dos Pueblos (56-game winning streak) in the playoffs.

Marcus Bradley, Corona del Mar, Sr.
The 6-foot-8 senior forward averaged 28 points last week to lead the Sea Kings to two Pacific Coast League victories and a nonleague win. In the latter, he scored 33 with 13 rebounds in an 80-67 victory over Upland, a team that had beaten Corona del Mar in the third game of the season, 79-63.
September, 17, 2010
9/17/10
11:40
PM PT
By
Sean Ceglinsky
| ESPNLosAngeles.com
CORONA -- For those high school football fans who haven't heard of the name
Michael Eubank
, consider this as a formal introduction.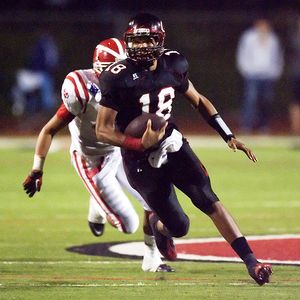 Larry Goren/For ESPNLA.com
Centennial quarterback accounted for 380 yards of offense in his team's rout of Mater Dei.
The 6-foot-5 and 220-pound senior quarterback from Corona Centennial did a little bit of everything on Friday evening, most of it extremely well. And as a result, the host Huskies had little trouble thoroughly defeating Santa Ana Mater Dei, 44-13, in a nonleague game.
"My goal was to come out and make a big statement tonight in front of everyone,'' said Eubank, who completed 11-of-17 passes for 200 yards passing with a pair of touchdown passes. He also carried the ball 13 times for 180 yards on the ground and scored three touchdowns.
Entering the game, Mater Dei quarterback
Max Wittek
was thought to be the main attraction. The USC commit struggled from start to finish though and ended up 11-of-25 for 176 yards with two interceptions.
Turns out, Wittek was overshadowed by his counterpart. And keep in mind Eubank has one scholarship offer thus far, Northern Colorado. Others figure to follow suit after his performance Friday.
"I wanted to prove that I can hang with a USC boy,'' Eubank said. "When people underestimate me, it only motivates me more. I'm hungry. I hope this is an eye-opener for Division I coaches. I'm a dual-threat, I can pass it or run it, you saw that out there. I did what I had to do.''
September, 15, 2010
9/15/10
8:53
PM PT
By
Sean Ceglinsky
| ESPNLosAngeles.com
Nonleague football games early in the season don't get much bigger than Friday night's showdown between traditional Southern California powerhouse Santa Ana Mater Dei and Corona Centennial, ranked No. 7 by ESPNLosAngeles.com. Thing is, the game might not live up to all the hype surrounding it if the Monarchs are without Victor Blackwell.

The standout senior receiver injured his left shoulder in a 14-10 loss to Carson on Sept. 4 and his status is unclear. Over the past couple of days, Blackwell was limited in practice. Without the USC commit in the lineup, Mater Dei (0-1) could be in trouble against the Huskies (1-0), who are coming off a 48-8 victory over Lake Balboa Birmingham.

"Victor is injured, yes, but he's made some progress this week,'' Monarchs coach Bruce Rollinson said after practice Wednesday afternoon. "We're not going to rush him back before he's ready and risk further injury, so he'll be a game-time decision for us.''

Blackwell is a game-changer, no doubt about it. As a junior, he finished with 52 receptions for 1,044 yards and 11 touchdowns for Mater Dei. That probably best explains why ESPNU ranks him as the nation's No. 9 player at his position and No. 55 overall.

If Blackwell isn't at full strength, it makes sense for the coaching staff to let him fully recover considering the Monarchs have a series of difficult nonleague games on the horizon before Trinity League play begins on Oct. 14 against Bellflower St. John Bosco.

"My injury happened on one of those freak kind of plays, and believe me, I know that this game against Centennial is big, I want to be out there to help my teammates more than anything,'' Blackwell said. "But, I have to be careful, it's a long season.''

Whether Blackwell plays in Friday's road game, beginning at 7:30 p.m., remains to be seen. One thing is certain: The Monarchs desperately need the 6-foot-1, 190-pound wideout in uniform against the Huskies to keep things close.
September, 10, 2010
9/10/10
10:47
PM PT
By
Sean Ceglinsky
| ESPNLosAngeles.com
It was supposed to be a matchup between two of ESPN Los Angeles.com's top football programs, but Friday night's showdown between Mission Viejo and Los Angeles Loyola turned out to be a one-sided affair as one team looked every bit the part, and the other, not so much.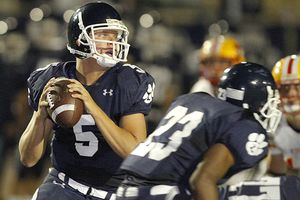 John Lazar/Special to ESPNLosAngeles.com
Loyola's QB Ryan Develle looks for a reciever in the first half of the varsity football game between Loyola and Mission Viejo played at L.A. Valley College on Friday, September 10, 2010.
Mission Viejo backed up its lofty No.3 ranking by dominating the No.15 Cubs from start to finish in a 42-7 victory at Valley College in Van Nuys. The effort was impressive, to be sure. Apparently, the Diablos wouldn't have had it any other way.
"We have a lot of pride and we wanted to come out here and make a big statement,'' said Mission Viejo senior
Tre Madden
, who is committed to USC. "We are for real, we proved that tonight and I think people will realize that when they see the final score of this game.''
All signs pointed to the Diablos (2-0) being disappointed with their 14-0 halftime lead given that they came out after intermission and promptly drove 80 yards in seven plays, with the drive capped on a 35-yard touchdown pass from
Alex Bridgford
to
Ryan Keller
. Before the Cubs (1-1) knew it, they trailed by three touchdowns midway through the third quarter.
Mission Viejo was just getting started too.
March, 13, 2010
3/13/10
12:50
PM PT
By
Sean Ceglinsky
| ESPNLosAngeles.com
If the Huntington Beach Ocean View boys' basketball team is going to have any chance of upsetting top-seeded Gardena Serra in tonight's Southern California Regional playoff game at El Camino College, let's just say that Anthony Brown must be at his best.

Make no mistake, the 6-foot-6 senior guard is capable.

More than capable, in fact.

Brown enters the Division III semfinal showdown, with the opening tip set for 7 p.m., averaging 17.5 points, 6.9 rebounds, 3.1 assists and 1.7 steals per game. His statistics are impressive, no doubt about it, tops in most categories for Ocean View (29-4).

Whether those numbers are going to be enough remains to be seen.

We are, after all, talking about a tough opponent, the Cavaliers (31-2).

"What we're starting to see from Anthony is, the bigger the game, the bigger the moment is, the bigger he plays,'' Seahawks coach Jim Harris said. "He's developed a knack for rising to the occasion. Honestly, that's what is so great about this kid.''

"We have a heck of an opportunity against Serra and Anthony is a big reason why. He's not a very vocal player, but he knows the game well. In some respects, he's an extension of me, a coach, out on the court. He's starting to figure that out.''

Whatever Brown has been doing, it's worked rather well. Don't think that the powers that be haven't noticed either. The recruiting services recognize him as one of the nation's top 20 players at his position, and a top 75 prospect overall.

Division I scouts and coaches have been keeping tabs on him for quite some time. Several Pac-10 Conference programs approached him with scholarship offers. It should be mentioned that Florida and Texas expressed varied of levels of interest as well.

Ultimately, Brown decided that Stanford was the best fit.

"Oh yeah, we know all about Brown,'' Serra coach Dwan Hurt said. "He makes them go. We'll be paying close attention to him, definitely. If we can contain him, keep him in check, make the other guys around him try to beat us, we like our chances.''

There you have it, the game plan to stop Ocean View. Stopping Brown will be key for the Cavaliers. Now, let's see them go out and actually do it.
March, 5, 2010
3/05/10
11:59
PM PT
By
Sean Ceglinsky
| ESPNLosAngeles.com
And so it begins, March Madness, at the high school level.
Fans of boys' basketball, regardless of whether it's diehard or causal, we highly recommend that you head down to the Honda Center at some point Saturday and sneak in a game, or two, of the Southern Section championships taking place in Anaheim.
All told, six title games will take place at the venue over the course of the day. The early session, in particular, has some interesting matchups. Plenty will be at stake, namely a championship trophy, the one piece of hardware everyone covets.
That said, let's take a look at who's who and what to expect.
DIVISION 3A
For those up at the crack of dawn, Gardena Serra (29-2) and Compton Centennial (25-5) are set to tip-off at 9 a.m. The showdown promises to be an entertaining affair, worth waking up a tad bit early for. You don't want to miss the opportunity to see
Deonte Burton
. The 6-foot-1 senior for the Apaches is as dynamic as they come, a tremendous scorer who's considered one of the West Coast's top unsigned prospects. Serra is no slouch and counters with the talented backcourt tandem of
Vaughn Autry
and
Keith Shamburger
. The guard play figures to be the difference in this one.
DIVISION 2AA
Shortly thereafter, Murrieta Valley (26-4) and Compton (18-12) take the court, scheduled for 10:45 a.m. The Knighthawks have made a rather remarkable run to the finals, upsetting top-seeded Summit and fourth-seeded Alta Loma en route to the championship game. It doesn't appear as if anyone can stop them. The Tarbabes would like to think otherwise.
Cliff Sims Jr.
& Co. come in with plenty of confidence after shocking second-seeded Edison in the semifinals. When all is said and done, one of these Cinderella teams is going to realize its dreams.
DIVISION 2A
No one in Southern California is hotter than top-seeded Rialto Eisenhower (27-5), which enters its 12:30 p.m. game against Pasadena (24-6) with 18 consecutive victories. Picking your poison against the Eagles is tricky given the fact that they have several players capable of scoring in double digits. Focusing attention on any one individual could prove costly. For the Bulldogs to remain close,
Steven Adams
will have to play a prominent role. Make no mistake, all signs point to the 6-foot-9, 230- pound post player being capable. Whether that happens or not remains to be seen.
DIVISION 1A
Santa Monica (24-6) is another one of those teams that was supposed to be on the outside looking in at this stage. The eighth-seeded Vikings didn't stand much of a chance against fourth-seeded Colony or top-seeded Chino Hills. But low and behold, here they are, in the 2:15 p.m. championship game against Leuzinger (23-6). Amir Garrett might be an underclassman, but the 6-foot-6 junior certainly doesn't play like he has limited experience at the varsity level. If he approaches his averages, 17.1 points and 7.4 rebounds per game, the Olympians should take home the title.