Los Angeles Preps:

Oregon
April, 25, 2012
4/25/12
10:58
PM PT
Dorsey defensive back Daquawn Brown received a scholarship offer from childhood favorite UCLA this week, the latest indication that recruitment for the rising senior is heating up.

Oklahoma dropped by Dorsey on Tuesday. USC and Nebraska did the same on Wednesday. Brown has college coaches intrigued and looks to add to a list of offers that already includes Arizona State, Cal, San Jose State and Washington State.

"It's catching up to me," Brown said of his recruitment. "To be noticed by my favorite, ideal schools is an honor."

Brown said he will commit to the most "genuine" school, meaning the one that has his best interests, both athletically and academically, in mind. Brown has sought the advice of former Dorsey standouts Jeremiah Allison (Washington State) and Jaydon Mickens (Washington), as well as Oregon phenom De'Anthony Thomas, an inner-city legend who attended rival Crenshaw.

"We all grew up together, playing for the same teams in Pop Warner," Brown said. "They're all helping me."

Don't expect the 5-foot-11 Brown to make a college decision soon. He hopes to take all five official campus visits to get a feel for what each school has to offer, and he anticipates that a choice will likely come near signing day in February.
January, 25, 2012
1/25/12
4:01
PM PT
By
Sean Ceglinsky
| ESPNLosAngeles.com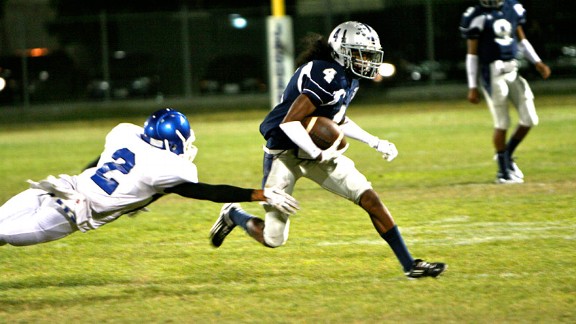 Courtesy of Jackie SattiSouth East's Robert Lewis says he will announce his college choice on Friday night.
LOS ANGELES -- It appeared as if
Robert Lewis
had, at long last, made up his mind about his final destination for college when the senior from South Gate South East gave a verbal commitment to Washington State a couple of weeks ago. Questions about the pledge, however, remain.
Lewis plans to put a stop to all of the second-guessing and make things official on Friday night when a ceremony will be held on his high school campus and the 5-foot-10, 160-pound running back will decide between his final three schools, Oregon, Southern Methodist and Washington State.
"I'm going to make my announcement this weekend at my school and pick the hat of my college choice in front of all my family and friends,'' Lewis said. "I'm still exploring all my options, but the recruiting process is almost over for me. Anything can happen in the next two days.''
There was some who thought San Diego State had recently emerged as a player. When Lewis decided to cancel a visit earlier this month, the talk about the Aztecs subsided.
Utah made a last ditch effort to lure him Salt Lake City. The same thing can be said about Texas Tech and the Red Raiders' desire to wow him with everything Lubbock had to offer.
"We've talked plenty about recruiting in the past, and I know Robert likes Washington State, but I don't think it's a lock that he'll commit to the Cougars,'' South East coach
Derwin Henderson
said. "He also likes SMU, that program has been high on his list since the beginning. We're all in the dark about his decision. I can tell you this, we'll find out on Friday night when he decides.''
The Mustangs and coach
June Junes
initially received a verbal commitment from Lewis in February. At the time, all signs pointed to the program, essentially, being the frontrunner.
January, 20, 2012
1/20/12
10:48
AM PT
By
Sean Ceglinsky
| ESPNLosAngeles.com
LOS ANGELES -- Patience is a virtue, as they often say, and
Jaydon Mickens
can attest to that much. The old adage, in fact, accurately describes how the Los Angeles (Calif.) Dorsey senior has attempted to recently approach the whole recruiting process.
Mickens has carefully weighed his options. And in doing so, the 5-foot-9 and 170-plus pound athlete has emerged as one of the nation's more sought-after unsigned recruits around and it appears as if his final destination could end up being Oklahoma State.
"I visited the Cowboys last weekend, liked what they had to offer and they're my leader now,'' Mickens said. "Things have been crazy for me lately, a lot of schools have interest in me. I almost rushed into some things, but am glad I waited to my pick.''
He gave a verbal commitment to USC, initially. Something happened along the way though. The lines of communication, unfortunately, broke down between him and the Trojans. Somewhat surprisingly,
Lane Kiffin
& Co. were no longer an option.
With the window of opportunity seemingly open once again, several programs stepped up their efforts to land him, mostly from the Pac-12 Conference.
"It didn't seem like the Trojans had big plans for me, I didn't think it was going to be a good fit, that's why I started to look at other schools,'' Mickens said.
Washington was once considered as a major player, as recently as a week ago. The Huskies, however, have been put on the back-burner. At least temporarily.
Oregon is in the midst of making a late run to secure a commitment from Mickens. He traveled North to Eugene on Friday morning for a visit with the Ducks.
Plans are in the works for a recruiting trip to Washington State on Jan. 28. With new coach
Mike Leach
in the mix, and the offensive system he brings to the table, you can't count out the Cougars. Mickens' game appears tailor-made for playing in Pullman.
Playing the waiting game has its advantages, apparently.
"Things happen for a reason, and I have a tough decision to make, but I'm not worried about things,'' Mickens said. "I plan on making my choice on signing day.''
"If I had to pick one, like I said before, it's Oklahoma State, that program brings a lot to the table. My next two visits are going to be big though. I would say that Oregon, Washington State and Washington are all about tied for second right now. They're all real close.''
Sean Ceglinsky covers preps for ESPNLosAngeles.com. Follow him on
Twitter
.
January, 7, 2012
1/07/12
12:28
PM PT
Monrovia defensive tackle
Ellis McCarthy
, the fifth-ranked player in the state, verbally committed to Cal on Saturday at the U.S Army All-American Bowl in San Antonio, Texas.
He is ranked No. 43 among all national prospects, according to ESPNU Recruiting. McCarthy led Monrovia to its second consecutive CIF-Southern Section Mid-Valley Division championship last season. The 6-foot-5, 311-pound McCarthy considered USC and Oregon.
"I like the program a lot," McCarthy said during an in-game interview. "I built a relationship with the team. ... We'll try to get a BCS bowl berth or make it to the Rose Bowl."
Oaks Christian receiver
Jordan Payton
, a former USC pledge, also committed to Cal during the game.
"We're going to do great things up there," Payton said.
Payton joins local receivers
Bryce Treggs
(Bellflower/St. John Bosco) and
Darius Powe
(Lakewood) among those committed to play their collegiate ball in Berkeley.
National signing day is Wednesday, Feb. 1.
Blair Angulo covers preps for ESPN Los Angeles. Follow him on Twitter.
October, 25, 2011
10/25/11
4:47
PM PT
By
Sean Ceglinsky
| ESPNLosAngeles.com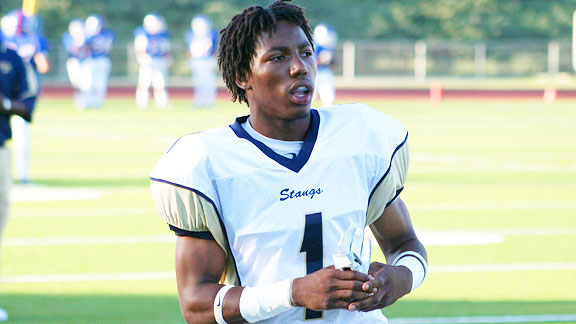 Erik McKinney/WeAreSC.comMuir's Kevon Seymour had a rough unbringing but has always vowed to make a difference.
PASADENA -- Some call the Community Arms housing project dangerous. Others call it treacherous, thus the ominous nickname: the Snake Pits.
Kevon Seymour
simply calls it home.
The highly-touted senior for the Muir High School football team has spent 17 years growing up in the neighborhood, known to be as tough as they come in the greater Los Angeles area. Seymour is fully aware of the, often times, unforgiving streets surrounding him. He possesses a good understanding about the constant threat of gang activity looming outside his door.
Nevertheless, Seymour has avoided hanging out with the wrong crowd. Developing bad habits was never an option. Succumbing to peer pressure was not in the cards. Instead, he has focused his time and energy on doing something better with his life.
"I'm a leader, not a follower,'' Seymour said.
And therein lies the key. He has successful navigated the numerous potential pitfalls in his path, both on and off the field. Given his life experiences, it should come as no surprise to learn Seymour has provided the Mustangs (4-3 overall) with an immeasurable presence this season as they head into Friday night's Pacific League game against Burbank Burroughs.
"Where I come from, they call it the Snake Pits for a reason,'' Seymour said. "There is a lot of fighting, gang violence and crime that goes on around here. I see it all the time. I've had friends who have been in some trouble. I know it happens in other places too. Where I live isn't as bad as some places. But I have seen some crazy things in my life.
"All that stuff isn't me though. I'm smarter than that. I'm also lucky. I have a good family life and there are a lot of people in my community who look after me. They want me to be a success. I'm motivated to make a difference, to do something special.''
Seymour is doing just that: Making a difference.
October, 4, 2011
10/04/11
5:18
PM PT
By
Sean Ceglinsky
| ESPNLosAngeles.com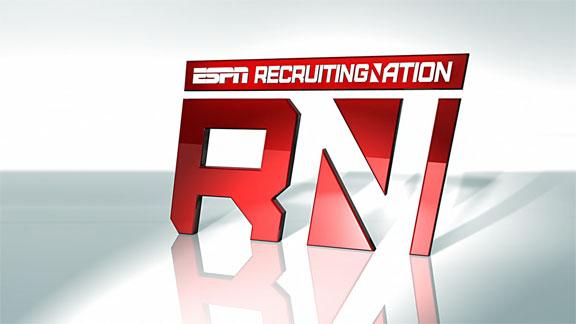 SOUTH GATE -- Make no mistake, South East High has never been known as a hotbed for recruiting high-profile prep football prospects from the Southland.
That is, until now. Thanks in large part to
Robert Lewis
.
The senior running back is one of the nation's premier players. Lewis is so highly thought of, in fact, scouts from all over the country traveling to the West Coast these days schedule a pit-stop at once relatively obscure South East in an effort to keep tabs on him.
"I'm a Jaguar for life, the school is close to my house, in my neighborhood and 10 minutes away, this is where I belong,'' Lewis said. "It doesn't matter where you're from, if you stay focused and work hard, people will come and find you. That's the way I was raised.''
Division I college coaches normally travel to nearby Los Angeles City Sections schools such as Carson, Crenshaw and Narbonne in search of talent. In terms of discovering the next potential star at the next level, other must-stops along the way typically tend to be Southern Section programs Gardena Serra, Long Beach Poly and Los Angeles Cathedral, to name a few.
Lewis, however, has successfully put the Jaguars (5-0 overall) on the map heading into Friday night's Eastern League game against visiting L.A. Roosevelt (2-2)
The school, mind you, is in only its sixth year of existence.
"The thing about Robert is, he's as loyal as they come,'' said
Derwin Henderson
, in his first year as South East coach. "When I got the job, he called right away and told me that we were going to win a championship here. This coming from a teenager, I was impressed.
"I'm sure Robert had his pick of high school schools to play for, kids switch programs all the time. He wanted to break the mold though. Robert started at South East with his friends and he wanted to finish at South East with his friends. In this day and age, with everything that goes on, I have to say that his decision to stay put is refreshing to see. It doesn't happen often.''
September, 12, 2011
9/12/11
9:37
PM PT
Monrovia defensive tackle
Ellis McCarthy
said last week his first official visit will be to Oregon "in a couple of weeks." The fifth-best prospect in the state and the nation's No. 6-ranked defensive tackle, according to ESPNU, wants to wait until defending Mid-Valley Division champion Monrovia has another Thursday game so his visit lasts longer.
That would leave a weekend in mid-October as the likely visit date. Monrovia's next Thursday game is Oct. 13 at La Caņada; Oregon hosts Arizona State in a possible Pac-12 Conference title game preview on Oct. 15.
McCarthy
has offers from all over
but Cal, USC, Florida, Oregon and Washington are believed to lead for his services. USC coaches
Ed Orgeron
and
Kennedy Polamalu
were among a group of recruiters who attended Monrovia's season-opening 29-16 win against Glendora on Thursday night. Orgeron aimed his video camera directly at McCarthy a number of times.
UCLA head coach
Rick Neuheisel
and defensive line coach
Inoke Breckterfield
were also there, though the Bruins' recruiting of McCarthy has fallen off. UCLA, though, is a suitor for McCarthy's teammate, class of 2013 linebacker
George Frazier
.
The 6-foot-4, 305-pound McCarthy said he spotted the coaches while stretching before the game and it gave him extra motivation to perform well. He had six tackles despite facing double- and triple-teams throughout the night.
"I just have to let them know why they're recruiting me and why they're here," he said.
September, 10, 2011
9/10/11
9:29
PM PT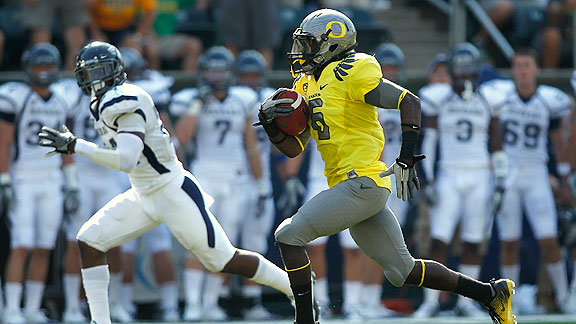 Jonathan Ferrey/Getty ImagesFormer Crenshaw star and inner-city legend and current Oregon Duck De'Anthony Thomas runs for a touchdown against the Nevada Wolf Pack.
Former Crenshaw star and inner-city legend
De'Anthony Thomas
scored two electrifying touchdowns and had 204 all-purpose yards Saturday in Oregon's 69-20 drubbing of Nevada at Autzen Stadium. The freshman sensation entertained the home crowd with scoring receptions of 24 and 69 yards. He had 81 rushing yards on eight carries and tacked on 30 yards in kick return duty.
The performance by Thomas, who was notoriously pegged as "Black Mamba" by rapper
Snoop Dogg
, might have set off mixed feelings across Los Angeles. He was a longtime USC commit before
switching to the Ducks on National Signing Day
. Thomas led Crenshaw to back-to-back City Section titles. He rushed for 1,299 yards on just 114 carries (11.4 average) with 18 touchdowns, and made 16 catches for 359 yards (22.4 average) as a senior last fall.
Just two weeks into the college football season, Trojans fans could very well be wondering what might have been.
January, 5, 2011
1/05/11
9:03
PM PT
By
Dan Arritt
| ESPNLosAngeles.com
Oregon snared one of the Southland's top football recruits Wednesday night when Devon Blackmon of Fontana Summit committed to the Ducks at the Under Armour All-American Game in St. Petersburg, Fla.

Blackmon, who is expected to play wide receiver at the college level, chose Oregon over locals USC and UCLA. Oregon will play in the BCS National Championship game Monday against Auburn in Glendale, Ariz.

A number of other Inland Empire football players have also committed to college programs since the end of the season.

Corona Centennial quarterback Michael Eubank, who led the Huskies to the Inland Division championship and the Division 1 state bowl game, pledged to Arizona State.

Corona defensive end DeVante Wilson committed to USC, Colton linebacker Rodney Hardrick committed to Oregon, and Riverside King running back Todd Handley committed to Idaho.