Los Angeles Preps:

Pac-12 Conference
March, 13, 2012
3/13/12
4:28
PM PT
By
Sean Ceglinsky
| ESPNLosAngeles.com
LOS ANGELES -- The football season ended for Su'a Cravens from Murrieta (Calif.) Vista Murrieta in early December. That, however, does not mean the gridiron goings on for the highly-touted 2013 prospect have come to a complete standstill.

The buzz is just getting started, in fact.

The recruiting process had not subsided for Cravens since the beginning of the new calendar year as Division I colleges from all over the country remain in constant contact with the 6-foot-1, 205-plus pound junior safety who has more than 25 offers.

"In some cases the hype can be bad, but overall, I think Su'a has a good problem on his hands with the whole recruiting process,'' Vista Murrieta coach Coley Candaele said. "There are times when he has to turn his phone off because of all the calls he receives on a weekly and daily basis. When it comes to talking to people, he's on a strict schedule now.''

Powerhouse programs such as Alabama, Florida, Notre Dame, Michigan, Ohio State and Oklahoma are among those interested in his services. To somewhat of a lesser extent, Arkansas, Clemson, Nebraska and Wisconsin are in the hunt for a Cravens' pledge.

A bit closer to home, seemingly every Pac-12 Conference school around has put a scholarship offer on the table for him. Nearby UCLA and USC would like nothing more than for Cravens to offer up an all-important, yet elusive to this point commitment.

"I don't have any top teams right now, there is no team ahead of any other one,'' Cravens said. "Really, I'm not worried about making a decision soon.''


March, 10, 2012
3/10/12
11:08
PM PT
By
Sean Ceglinsky
| ESPNLosAngeles.com


LOS ANGELES -- Sophomore sensation is not a term to be used loosely.

In the case of Parker Jackson-Cartwright from Los Angeles Loyola, the moniker is indeed fitting. Come to think of it, the same thing can be said about Etiwanda's Jordan McLaughlin.

The talented underclassmen went toe-to-toe Saturday night. In the end, however, Jackson-Cartwright got the better of the exchange by virtue of his Cubs defeating the McLaughlin-led Eagles, 48-35, in a Division I second-round game of the Southern California Regional playoffs.

"I can't imagine that there are two better sophomores in the state,'' Loyola coach Jamal Adams said. "We're talking about a pair of kids who are going to be high-major college-type of recruits when they're seniors. Both of them are getting a ton of looks already. I had a bunch of coaches and scouts call me this week about the game. Everyone wanted to see Parker and Jordan go at it.''

With the victory, Loyola (26-5) advances to the semifinals on Tuesday night against Santa Ana Mater Dei, a 78-66 winner over Mission Viejo on Saturday. The Monarchs, mind you, did not have standout guard Katin Reinhardt in the lineup. He has a hand injury and will be reevaluated this week.

Jackson-Cartwright was largely -- although not solely -- responsible for the Cubs success. He kept Loyola's stat guru, Andrew Figueras, busy throughout the game. The 5-foot-7 point guard scored a team-high 13 points. Jackson-Cartwright added six rebounds, four steals and a pair of assists.

His counterpart did not have his best game of the season. McLaughlin attempted to keep things close and finished with 10 points, three blocks and two rebounds. Problem was, the 6-foot floor general did not have much help. No other player scored in double digits for Etiwanda (30-3).

"At this stage, in the state tournament, in Division I, it's unique from a fan standpoint to see two players like Jordan and Parker play at such a high level because they are so young,'' Etwiwanda coach Dave Kleckner said. "This game was a preview of things to come for both players.''


March, 1, 2012
3/01/12
12:50
PM PT
By
Sean Ceglinsky
| ESPNLosAngeles.com
LOS ANGELES --
Troy Williams
was a relative unknown on the recruiting landscape around this time last year. The status of the 2013 prospect from Harbor City (Calif.) Narbonne, however, has recently changed. Rightfully so, considering his body of work lately.
The 6-foot-2, 190-plus-pound quarterback had a breakout effort during his junior season and enters the spring as one of the West Coast's hotter commodities. Williams, in fact, has emerged as legitimate prospect on the national scene as well.
"The recruiting process has been crazy lately,'' Williams said. "I'm talking to coaches from all over the the country every week. It seems like there's a lot of interest in me and that means I have to work twice as hard to keep my reputation going strong.''
Williams has scholarship offers on the table from six programs, mostly from those within the Pac-12 Conference. Arizona State, UCLA and Washington were a few of the first to jump on the bandwagon. Bowling Green, Nevada and SMU are the others.
His days of flying under the radar came to an end after Williams completed 62 percent of his passes for 3,247 yards and 34 touchdowns a season ago for the Gauchos. Equally effective on the ground, he gained 587 yards and scored 11 times.
Plans are in the works for a visit to Washington's junior day later this month. An April trip to Arizona State's junior day is the next order of business.
Williams has been contacted programs such as Oregon and USC. Clemson, Florida and Wisconsin have also expressed varied level of interest.
"I have a target on by my back, I want to be No.1 quarterback in the nation next year, but that's up to everyone in the media,'' Williams said. "Right now, I don't have a leader, you know, a school that I like the best. Everyone is about even. At some point soon, I think I'll have to narrow down my list. I am going to try and keep my options open.''
Sean Ceglinsky covers preps for ESPNLosAngeles.com. Follow him on
Twitter
.
February, 2, 2012
2/02/12
3:14
PM PT
By
Sean Ceglinsky
| ESPNLosAngeles.com
HUNTINGTON BEACH -- Heads turn. Jaws drop. Gasps follow. Cameras flash.
The circumstance does not matter. The second
Mamadou Ndiaye
steps onto the basketball court in uniform or exits the gym in civilian clothes afterward, the junior from Brethren Christian draws plenty of attention. It's something that simply comes along with the territory when you are 7 feet, 5 inches tall.
[+] Enlarge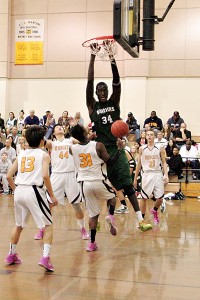 Courtesy of Art RamosAt 7-foot-6, Mamadou Ndiaye's decision to sign with UC-Irvine was a big surprise -- literally.
That is not a typo. Ndiaye is 7 feet 5.
An unassuming teenager seemingly in a grown man's body. An overgrown man's body, that is. An 18-year old underclassman from Senegal with a future that appears to be limitless given his improving skill set. The upside Ndiaye possesses is off the charts, in fact. A college scholarship almost certainly waits in the wings. A career in the NBA thereafter remains a distinct possibility.
You can't teach size, after all.
Perhaps most interesting, aside from his potential path in life, is the somewhat mysterious journey Ndiaye has been on so far, as well as the tight-lipped nature of Ndiaye and those closest to him.
"Things have been crazy around our little high school lately,'' Brethren Christian coach
Jon Bahnsen
said. "We've had camera crews here for Mamadou every day the past month or so. He's been all over the local news and papers, on websites; it's been overwhelming. Everyone wants to know more about Mamadou. I'm consistently getting calls from college coaches and scouts interested in him too. To be honest, he doesn't like the attention.''
Video of Ndiaye's exploits on the hardwood have circulated all over the country -- and world, for that matter -- the past couple of weeks. Not surprisingly, he has become an Internet sensation of sorts. As of Thursday, one of his YouTube clips has more than 660,000 hits. Another is closing in on 525,000.
For those hoping to catch a glimpse of Ndiaye -- he averages 23 points, 13 rebounds and five blocks -- the Warriors (18-5 overall) play at Newport Beach Crean Lutheran on Friday night.
Receiving recognition on a regular basis, however, does not seem to sit particularly well with Ndiaye. His legal guardians refuse to speak with the media and have not allowed him to share his side of the story with reporters since Ndiaye's arrival at Brethren Christian around this time last year.
When approached, Ndiaye is non-confrontational. Often times, he prefers to offer up a big smile and the occasional: "What's up..." Aside from that, he and his camp mostly keep quiet.
January, 24, 2012
1/24/12
2:15
PM PT
By
Sean Ceglinsky
| ESPNLosAngeles.com
WESTLAKE VILLAGE -- In a rather surprising announcement, Westlake's
Justin Moore
has decided that he no longer wants to play prep football. Warriors coach
Jim Benkert
confirmed the news on Tuesday and said the highly-touted junior quarterback plans to transfer to Simi Valley Royal.
Moore was integral part of the program for the last three years, particularly last season when he threw for 2,483 yards, rushed for another 1,099 on the ground and accounted for 40 touchdowns. His well-rounded effort earned him Southern Section Northern Division player of the year honors.
"Justin told me he was done playing football, it was not his path in life anymore, he had deviated from some of his goals,'' Benkert said. "I'm sure that people are going to say he had some kind of issue here at Westlake, I can assure you Justin had no problems. You can look, look, and look, no one will be able to draw any conclusions. It was time for him to move on, that's basically what he said.''
Nevertheless, the decision to all of a sudden quit playing the game figures to be perceived as somewhat puzzling. Moore, after all, guided the Warriors to a section title this past season, an appearance in the CIF State Football Championship Open Division Bowl and a 14-1 overall record.
Moreover, the future appeared bright. The 5-foot-10, 165-plus pound athlete was considered as one of the more high-profile players in the 2013 class. Moore had been receiving interest from a number of different Division I programs, several within the Pac-12 Conference, most notably UCLA and USC. He had a scholarship offer on the table from SMU.
Moore could not be reach for comment. Benkert, however, elaborated on the situation.
"My phone has been ringing off the hook today, college coaches and scouts want to know what's going on with Justin,'' Benkert said. "We're not talking about the third string defensive back here. He was our quarterback, the one who has been receiving all the accolades for years and years now.
"Bottom line, Justin accomplished a lot here at Westlake. He wanted to do something else with his life. Football was not in his future. He is walking away for all the right reasons. I wish him the best. He's a great kid and I was happy when he told me that he would stay in touch with me.''
In the meantime, it appears as if Moore will enroll at nearby Royal. If he decides to change his mind, under transfer rules, Moore will not be able to play next season. His next step is anyone's guess. One thing is certain: Moore's decision to no longer play football is somewhat of a shocker.
Sean Ceglinsky covers preps for ESPNLosAngeles.com. Follow him on
Twitter
.
January, 21, 2012
1/21/12
10:37
PM PT
By
Sean Ceglinsky
| ESPNLosAngeles.com



WOODLAND HILLS -- And so it begins.

There was plenty of hype surrounding the showdown between Burbank Providence's Marcus LoVett Jr. and North Hollywood Campbell Hall's Aaron Holiday on Saturday night in the marquee game of the War on the Floor Tournament at Taft High.

Turns out, the advanced billing was worthy. Both of the highly-touted freshman played well, seemingly beyond their collective years at times. Each showed glimpses of immense potential and performed with the experience of a seasoned upperclassmen.

In the end, however, LoVett Jr. got the better of the overall exchange, particularly in the fourth quarter. He finished with game-high 45 points to guide the Pioneers to a 73-66 nonleague victory. Not to be outdone, Holiday had 27 points for the Vikings.

"Those two are not normal ninth-graders,'' Campbell Hall coach Steve Wachs said. "Everyone came to see what Aaron and Marcus had to offer and I don't think either one of them disappointed the fans. It's too bad someone had to lose this game tonight.''

The fact LoVett Jr. led Providence (17-4) in scoring should not come as a major surprise. He ranks among the state leaders with 31.6 points per game. Can't forget to mention his 4.3 rebounds, 3.3 assists and 3.0 steals on a nightly basis for the Pioneers.

Keep this in mind, he is still just 15 years old.

"I was looking forward to going up against Aaron and showing what I can do. I think he wanted to the same,'' LoVett Jr. said. "There's a lot of talk about both of us now. I'm not worried about it. I just worry about what happens on the court, not off the court.''


December, 13, 2011
12/13/11
9:18
PM PT
By
Sean Ceglinsky
| ESPNLosAngeles.com


WESTLAKE VILLAGE -- Line up Dashon Hunt at running back, put the football in his trusty hands, and he is more than capable of gaining the necessary yardage on the ground to keep the chains moving. Straight up the middle, or to the outside, it doesn't matter.

Slot the junior from Westlake at receiver and Hunt might run by the defense en route to the end zone. Position him in the slot and he is not afraid to risk his body going over the crowded middle to make the difficult catch against teams geared toward stopping him.

Hunt's effectiveness isn't merely limited to life on the offensive side of the ball. Stick him on an island at cornerback, and odds are, he will lock down the opponents top pass-catcher. Allow him to roam free in the secondary at safety and don't be surprised to see Hunt deliver a game-changing hit. Forcing a fumble is always a distinct possibility.

He is a jack-of-all-trades, Hunt plays a number of positions, each of them equally well. And we haven't started to discuss the special teams impact he makes.

His versatility and ability to excel in most any situation, of course, is what separates Hunt from most his underclassmen peers. Furthermore, the well-rounded skill set he possesses has been instrumental in helping guide the Warriors into Saturday night's CIF State Bowl game, an Open Division showdown against Concord De Le Salle at the Home Depot Center.

"Dashon is a darn good football player, a force to be reckon with, and we're glad he is on our side,'' Westlake coach Jim Benkert said. "He is an individual who can change the complexion of a game with one play, at any time and from any spot on the field.''

Hunt proved as much in the Southern Section Northern Division championship game last week against rival Westlake Village Oaks Christian. The 5-foot-9, 175-plus pound UCLA commit rushed for a team-high 154 yards in 24 carries and scored four times.

As if that weren't enough, Hunt was assigned to shadow Lions' senior receiver Jordan Payton, one of the premier prospects the Southland has to offer. Hunt finished with four tackles and an interception return for a touchdown in an all-important 49-42 victory for Westlake (14-0 overall), which has held the No. 1 spot in the ESPNLosAngeles.com rankings for several weeks.

"I'm always up for a challenge. Always have been. Always will be,'' Hunt said. "I've seen all kinds of things this season, on offense and on defense. Coaches and players know that I'm a good athlete. I'm not sure if they are intimidated by my play-making ability or what.''

"When I'm running the ball, most teams blitz or try to stack the box with seven or eight guys. I've seen some double teams when I'm running pass routes too. On defense, teams don't usually throw to my side of the field. All that stuff is a respect thing, I think.''


December, 7, 2011
12/07/11
8:32
PM PT
By
Sean Ceglinsky
| ESPNLosAngeles.com
At the beginning of the football season, there were not many observers predicting that Arroyo Grande and Culver City would be meeting in Friday night's CIF-Southern Section Western Division title game.

Back in early September, the so-called experts and fair-weathered fans, alike, appeared to be under the assumption the championship would ultimately be decided in a matchup between perennial powerhouse Gardena Serra and the Cavaliers' heir apparent, West Hills Chaminade.

Sante Fe Springs St. Paul and La Canada St Francis were a pair of programs also considered as threats in the grand scheme. That is, of course, during the early stages of the year. Shortly thereafter, Santa Monica and Ventura emerged as players in the postseason race.

Nevertheless, Arroyo Grande and Culver City stayed the course. A victory is the only thing separating both programs from winning it all, and finally, silencing the skepticism.

In retrospect, perhaps the Eagles (12-1) should have been given a bit more credit. After all, they lost to Serra in the title game last season and returned several skill-position players.

It begins, and ends, with Brent Vanderveen. The 6-foot-4, 205-plus pound senior quarterback has completed more than 57 percent of his passes for 2,244 yards and 19 touchdowns. The Oregon State commit threw for 140 yards and three scores last week against Chaminade.

His main target has been Garrett Owens. The fellow upperclassman has 758 yards receiving and six touchdowns. Owens also plays on the defensive side of the ball. In addition, he is considered one of the Southland's top kickers. Several colleges are interested in his services.

On the ground, senior Henry Adelman has gained 1,120 yards rushing and scored 16 touchdowns. He is another one of the many Eagles players who plays on defense as well.


October, 4, 2011
10/04/11
5:18
PM PT
By
Sean Ceglinsky
| ESPNLosAngeles.com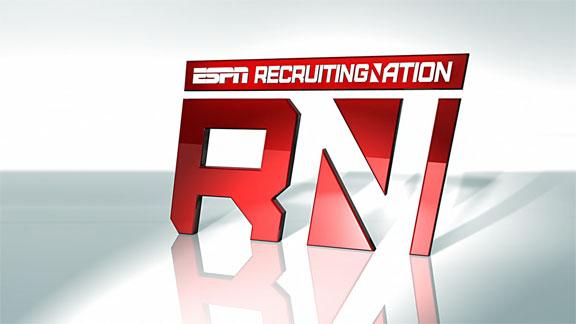 SOUTH GATE -- Make no mistake, South East High has never been known as a hotbed for recruiting high-profile prep football prospects from the Southland.
That is, until now. Thanks in large part to
Robert Lewis
.
The senior running back is one of the nation's premier players. Lewis is so highly thought of, in fact, scouts from all over the country traveling to the West Coast these days schedule a pit-stop at once relatively obscure South East in an effort to keep tabs on him.
"I'm a Jaguar for life, the school is close to my house, in my neighborhood and 10 minutes away, this is where I belong,'' Lewis said. "It doesn't matter where you're from, if you stay focused and work hard, people will come and find you. That's the way I was raised.''
Division I college coaches normally travel to nearby Los Angeles City Sections schools such as Carson, Crenshaw and Narbonne in search of talent. In terms of discovering the next potential star at the next level, other must-stops along the way typically tend to be Southern Section programs Gardena Serra, Long Beach Poly and Los Angeles Cathedral, to name a few.
Lewis, however, has successfully put the Jaguars (5-0 overall) on the map heading into Friday night's Eastern League game against visiting L.A. Roosevelt (2-2)
The school, mind you, is in only its sixth year of existence.
"The thing about Robert is, he's as loyal as they come,'' said
Derwin Henderson
, in his first year as South East coach. "When I got the job, he called right away and told me that we were going to win a championship here. This coming from a teenager, I was impressed.
"I'm sure Robert had his pick of high school schools to play for, kids switch programs all the time. He wanted to break the mold though. Robert started at South East with his friends and he wanted to finish at South East with his friends. In this day and age, with everything that goes on, I have to say that his decision to stay put is refreshing to see. It doesn't happen often.''