Los Angeles Preps:

Palos Verdes
April, 5, 2012
4/05/12
8:27
PM PT
By
Tim Haddock
| ESPNLosAngeles.com
Many of the top high school track and field athletes from across the country will converge in Arcadia this weekend for one of the most anticipated meets of the season.
The two-day Arcadia Invitational at Arcadia High School
begins on Friday. Here is a look at some of the races and events featuring some of the top high school athletes from the L.A. North area and Southern California.
The men's 4x100 seeded relay will pit Chaminade against Rio Mesa and Oaks Christian. The women's 4x100 seeded relay will feature Simi Valley, Woodland Hills Taft, Westlake and Monrovia.
The men's 110-meter seeded hurdles has
Elijah Jolt
from Arroyo Grande against
James Knowles
from St. Francis and
Marquis Norris
from Concord De La Salle.
The women's 1-mile seeded race has
Chelsey Totten
from Golden Valley running against
Rebecca Mehra
from Palos Verdes and
Emily Taylor
from Marina.
The men's 100-meter seeded race is packed with
Michael Davis
from Glendale,
Vinnie Saucer
from Oaks Christian and
Philip Johnson
from Bishop Amat.
The women's 4x400 seeded relay will include teams from Oaks Christian, El Camino Real, Mater Dei and Summit.
The meet begins on Friday afternoon with the women's seeded 4x800 relay featuring 26 teams including Valencia, Harvard-Westlake, Arroyo Grande, Palos Verdes, Palisades and San Marcos.
December, 3, 2011
12/03/11
8:52
PM PT
By
Tim Haddock
| ESPNLosAngeles.com
Simi Valley sophomore Sarah Baxter won the Nike Cross National girls championship race in Portland, Ore., on Saturday. She completed the 5K course in 17 minutes, 38 seconds, the third-fastest time in meet history.

Baxter, a two-time cross country state champion, paced the Simi Valley girls, running as the Simi Valley XC Club, to an 11th-place finish in the national cross country meet. Erika Barr was 54th, Karla Vernola was 70th, Desirae Jones was 80th and Rachel Vinas was 82nd.

Haley Pierce of Tatnall High in Wilmington, Del., was second in 17:42. Katie Knight from North Central High in Washington was third in 17:45.

Hagen Reedy from Buchanan High School in Clovis was seventh in 17:57. Rebecca Mehra from Palos Verdes was 16th in 18:18. Madeleine Ankhelyi from Vista del Lago was 20th in 18:23.

Marina's Laura Hollander was 27th, Karis Frankian from Saugus was 38th and Rachel Bush from Redondo Union was 39th.
November, 13, 2011
11/13/11
1:31
PM PT
By
Tim Haddock
| ESPNLosAngeles.com
CIF-SS playoffs:
Northern Division
Top-seeded Westlake completed an undefeated run through the Marmonte League and is 10-0 heading into the Northern Division playoffs. Led by a pair of juniors, quarterback
Justin Moore
and running back
Dashon Hunt
, this might be the beginning of another dynasty-type run for the Warriors. Westlake opens the Northern Division playoffs against Eastside, the fourth-place team from the Golden Valley. As expected, Hart earned the only at-large bid in the Northern Division playoffs. The fourth-place team from the Foothill League finished with a 7-3 record. The Indians were 3-2 in league with losses to Canyon and Saugus. They did beat Valencia, which won a share of the Foothill League championship with Canyon and is the No. 4 seed in the Northern Division playoffs. Hart is another team with some talented underclassman, including freshman receiver
Trent Irwin
. Simi Valley ended up as the odd-team out. The Pioneers lost to Moorpark in the Marmonte League season finale and dropped into a fourth-place tie with Thousand Oaks and Moorpark. Simi Valley (6-4) ended up with a winning record, but lost the coin flips to determine the final two playoff spots from the Marmonte League. Here's a breakdown of the division:
The seeds:
No. 1 Westlake, No. 2 St. Bonaventure, No. 3 Oaks Christian, No. 4 Valencia.
Best first-round matchup:
Thousand Oaks (6-4) at Quartz Hill (8-2) -- Thousand Oaks lost three of its last four games and needed a coin flip to earn a spot in the Northern Division playoffs. But this is a team playing with a ton of emotion after the death of Thousand Oaks backup quarterback
Griffen Kramer
two weeks ago. Thousand Oaks was tested almost on a weekly basis playing in the tough Marmonte League. Quartz Hill won the Golden League championship and was tied for first place with Highland with 6-1 records. The Rebels are a bit of an unknown commodity. They won seven of their last eight games, the only loss, 21-20, to Knight three weeks ago. Quartz Hill has a pair of 1,000-yard rushers in
Osirius Burke
(1,549 yards and 24 touchdowns) and
Mario Lodge
(1,248 yards and 10 touchdowns). Thousand Oaks has a talented two-way player
Nathan DeBeikes
who leads the team in rushing with 948 yards and seven touchdowns and in sacks with six.
Toughest road:
Valencia (6-4) -- The Vikings have perhaps the best defense in the Northern Division playoffs. They posted three shutouts and held nine of their 10 opponents to 20 points or less. Opposing teams are scoring an average of 10.7 points per game. The Valencia offense has been unpredictable at best. The Vikings had trouble scoring during the first give games of the season, with only 13.6 points per game on their way to a 2-3 non-league record. Once the Foothill League season started, Valencia turned it on offensively, scoring at least 31 points in four of its five games. They beat Saugus, 35-0, in the Foothill League championship game. If Valencia's offensive woes return, the Vikings might not make it out of the first round.
Potential shocker:
Hart (7-3) vs. Palos Verdes (8-2), first round -- Hart has already pulled off a surprise win over Valencia in the Foothill League. The Indians snapped Valencia's 13-game league winning streak, 19-14, and was in position to challenge for the Foothill League title. The Indians have the talent and the coaching staff to pull of another upset. What they lack is playoff experience, with a sophomore at quarterback in
Connor Wingenroth
and a handful of underclassmen receivers. Palos Verdes won the championship in a weak Bay League. The Sea Kings' toughest test came in the first week of the season, a 21-10 loss to Moorpark.
Darkhorse:
Oaks Christian (8-2) -- It's hard to call the reigning Northern Division champs the dark horse, but Oaks Christian is not the favorite to repeat. The Lions have not been playing their best football for the last three weeks. They narrowly beat Thousand Oaks and Moorpark before routing Newbury Park to finish in second place in the Marmonte League. Oaks Christian likely will have to play Westlake, which beat the Lions, 43-21, and a vengeful St. Bonaventure team if its wants a second Northern Division championship in a row. Oaks Christian beat St. Bonaventure, 36-24, the night the lights went out on La Tienda Drive. The return of Arizona State-bound running back and linebacker
Carlos Mendoza
, who has missed the last two games because of an injured shoulder, will help.
Final analysis:
The Marmonte League is well-represented in the Northern Division bracket, with five teams, and it could have easily been six. The Northern Division semifinals could likely be an all-Marmonte League affair. Westlake has destroyed almost every team it has faced and should have no problem reaching the semifinals with Eastside and Palos Verdes or Hart in its way. Oaks Christian has an easy road to the semis as well, against Mira Costa in the first round and the winner of the Saugus-Highland game in the quarterfinals. St. Bonaventure might be the toughest No. 3 seed in the whole Southern Section playoffs. The Seraphs play an upstart Redondo team in the first round. The winner of the Canyon-Palmdale game will await St. Bonaventure in the quarters. Either Thousand Oaks or Moorpark will have to pull off a playoff surprise if it is to be an all-Marmonte League final four. Thousand Oaks has the easier road, against Quartz Hill in the first round and the winner of the Valencia-Moorpark in the quarters. Moorpark will have to pull off a stunner in the first round. The Musketeers ended the Marmonte League season on a high note, shutting out Simi Valley, 20-0, and essentially knocking the Pioneers out of the playoffs. They will need another stellar defensive performance to eliminate Valencia in the first round. In case you're wondering, Moorpark beat Thousand Oaks on a last-second field goal, 27-24, in the Marmonte Leage opener.
Championship prediction:
Westlake vs.Oaks Christian -- A rematch of last year's Northern Division championship game would be fitting. Westlake lost the game, 29-28, when Warriors kicker
Alex Ball
's 41-yard field-goal attempt hit the upright and bounced back onto the field. Ball would like another shot at winning the Northern Division championship. Westlake coach
Jim Benkert
would like another shot at beating his old mentor, Oaks Christian coach
Bill Redell
, for a Northern Divison championship. The Westlake team would like a chance to play in a CIF state bowl game with a Northern Division championship. Redell would like to prove to everyone that last year's Northern Division championship was not a fluke. If the two teams play again though, Westlake will have the upper hand.
Link to the Northern Division bracket on CalPreps.com
November, 7, 2011
11/07/11
9:37
PM PT
By
Tim Haddock
| ESPNLosAngeles.com
Fountain Valley's Lilia Vu won the CIF Southern Section individual girls golf championship with a 2-under 70 at the Talega Golf Club in San Clemente on Monday.

Vu was one of two players to shoot under par in the individual golf championship tournament. Megan Kim of Mira Costa was second with a 1-under 71.

Four players shot even par 72. Brea's Amy Lee was awarded third place in the tournament. Lydia Choi of Beverly Hills, Elizabeth Doty of Palos Verdes and Euna Pak of Northwood also shot even par.

Thirty-seven players advanced to the WSCGA girls golf championship in Murrieta on Thursday.

Golfers of note from L.A. North schools include Katelyn Reynolds of Sherman Oaks Notre Dame (74), Sophia Chen of Thousand Oaks (76) and Arielle Valdez of Sherman Oaks Notre Dame (77).

Jocelyn Chia from Crescenta Valley and Katie Rice from Oxnard made the cut for the WSCGA tournament with 6-over 78s. Hart's Kendell Dusenberry and Sherman Oaks Notre Dame's Kathryn Newton are also in with 7-over 79s. Julie Ward from West Ranch was the last player to make the cut at 8-over 80.
November, 4, 2011
11/04/11
5:41
PM PT
By
Tim Haddock
| ESPNLosAngeles.com
The Sherman Oaks Notre Dame girls golf team shot 406 at The River Course at the Alisal in Solvang and finished in fifth place, its best showing in school history, but did not qualify for the CIF/WSCGA regional next week.

Notre Dame fell four shots short of making the cut with the top-four teams in Thursday's Southern Section final. Palm Desert won the Southern Section championship by one stroke over Torrance, 391-392. Torrance won the past three Southern Section championships.

Palos Verdes was third at 394 and Diamond Bar was fourth at 402.

Palm Desert, Torrance, Palos Verdes and Diamond Bar will play in the CIF/WSCGA regional on Nov. 10 in Murrieta.

Elizabeth Doty from Palos Verdes shot the low round of the day and was the only one in the 96-player field to shoot under par. She carded a 1-under 71 on a windy day at the Alisal Golf Course.

Katelyn Reynolds from Notre Dame was one of only 21 golfers to break 80. She shot a 6-over 78 to lead Notre Dame.

Thousand Oaks, making its first appearance in the Southern Section final, finished in 11th place. Sophia Chen was the top golfer for Thousand Oaks. She finished in a tie for third place with a 2-over 74.
October, 10, 2011
10/10/11
4:47
PM PT
By
Tim Haddock
| ESPNLosAngeles.com
The most glaring stat from Westlake's 43-21 win over Oaks Christian is the rushing yard comparison. Westlake rushed for 444 yards to Oaks Christian's 156. Westlake had two players with more than 100 yards rushing. Quarterback Justin Moore gained 226 yards and scored a touchdown. Jarrius Bishop had 104 yards and scored a touchdown. For good measure, Dashon Hunt had 80 yards and scored a touchdown. Oaks Christian had only five runs of 12 yards or more and only two rushes of more than 20 yards. Perhaps the more telling stat from the game was the turnover ratio. Westlake forced four turnovers and did not commit any. All of Oaks Christian's turnovers came at key moments. With Westlake up 20-14 in the second quarter, Oaks Christian drove to the Warriors 13-yard line. But Bradley Wellman picked off Brandon Dawkins and ended the Oaks Christian scoring threat. Westlake proceeded to drive 77 yards in eight plays to take a 27-14 lead on a touchdown run by Bishop. On the ensuing drive, Oaks Christian running back Ishmael Adams broke off the biggest rush of the game, a 43-yarder that gave the Lions a first-and-10 on the Westlake 37-yard line. But Westlake defensive end Johnny Stuart sacked Dawkins on the next play, forced a fumble and recovered the football to end the first half. With Westlake up 37-21 in the fourth quarter, Moore, playing defensive back, picked off Dawkins and set up one of Alex Ball's five field goals. Jordie Hannel forced the fourth turnover by sacking Dawkins late in the fourth quarter and causing him to fumble on the Oaks Christian 22-yard line. It led to Ball's last field goal of the game. Westlake sacked Dawkins five times in the game. Ball tied the school record with 29 field goals in his career. Jordan Mannisto, a senior at the University of Houston, kicked 29 field goals for Westlake from 2005 to '07. Ball, a senior, has kicked 12 field goals in five games this season.
September, 1, 2011
9/01/11
2:36
PM PT
By
Tim Haddock
| ESPNLosAngeles.com
The Hart football team is in a bit of a rebuilding mode. The team missed the playoffs for the first time in coach
Mike Herrington
's career in 2010. The Indians won only one Foothill League game, against Golden Valley, which is looking for its first league win in school history.
The 2010 season was a forgettable one for the proud program at Hart.
Herrington and Hart can give their fans a boost on opening night against a tough Tesoro team from Rancho Santa Margarita at College of the Canyons in Valencia on Friday.
Tesoro comes from the South Coast League with Mission Viejo and San Clemente. The Titans finished in third place in league and advanced to the quarterfinals of the CIF Southern Section Pac 5 Division playoffs last year.
But Hart will need a big game from sophomore quarterback
Connor Wingenroth
. He is getting the start against Tesoro because starter
Cory Mayes
is recovering from mononucleosis and missed a good chunk of summer practices.
"He just got cleared yesterday (Tuesday) and he hasn't got to practice much," Herrington said. "We're going with the back-up Connor Wingenroth. We have confidence in Connor."
Aside from Mayes, Herrington said the rest of his players are healthy and ready to go.
"We're pretty healthy right now, some bumps and bruises, nothing serious," Herrington said. "We're looking to be pretty strong the first game."
Tesoro has an experienced team that includes junior running back
Nate Tago
who led the team in rushing and touchdowns last season as a sophomore. He rushed for 419 yards and eight touchdowns and gained 4.8 yards per carry.
"They're a big, physical team," Herrington said. "They have a lot of returning starters from last year. It's going to be a big challenge for us."
Other games:
Canoga Park at Jefferson, tonight (7 p.m.)
-- Canoga Park opens on the road against Jefferson. Canoga Park's
Randy Uzoma
, who is being touted as the fastest football player in the San Fernando Valley, will have his first chance to shine against Jefferson. Jefferson was 9-2 and lost in the first round of the City Section Division II playoffs to Franklin in 2010. Canoga Park went 5-5 and did not make the playoffs last season.
Pasadena vs No. 5 Alemany at Alemany, Friday (7 p.m.)
-- It looks like Alemany might be easing into the 2011 football season. After a undefeated run through the Serra League and a run to the semifinals of the CIF Southern Section Pac 5 Division playoffs in 2010, Alemany opens at home against a Pasedena team that went 4-6 and finished in fifth place in the eight-team Pacific League last year.
No. 11 Crespi vs. Dominguez, Friday (7 p.m.)
-- Crespi has a tough opener, on the road against Dominguez. The two teams met in the season opener last season and Dominguez won, 14-11.
Palos Verdes vs. Moorpark, Friday (7 p.m.)
-- Moorpark's preseason consists of one game and Palos Verdes will be a good test. Palos Verdes went 10-2 and advanced to the quarterfinals of the CIF Southern Section Northern Division playoffs in 2010.
Serrano vs. Paraclete at Antelope Valley College, Friday (7 p.m.)
-- Paraclete won the CIF Southern Section East Valley Division championship and opens against a Serrano team that made it to the semifinals of the Southern Section Eastern Division playoffs.
Bellevue vs No. 8 Oaks Christian at Mission Viejo High School, Saturday (8:30 p.m.)
-- Oaks Christian will playing in prime time on Prime Ticket to open the season. Bellevue is the reigning Washington 3A state champions and the top-ranked team in Washington.
Del Oro vs. No. 14 Westlake at Del Oro High School, Saturday (8 p.m.)
-- Westlake starts the high school football season with a long road trip to Northern California. Del Oro won the CIF Sac-Joaquin Section Division III championship in 2010.
Follow Tim Haddock on Twitter @thaddock.
May, 19, 2011
5/19/11
8:28
PM PT
By
Sean Ceglinsky
| ESPNLosAngeles.com
WEST HILLS -- The secret has been out for quite some time now.

The strength of the West Hills Chaminade baseball program is its formidable pitching staff, which boasts three prospects expected to make an immediate impact once they reach the next level.

Odds are, if the Eagles started to hit the ball a bit better, they would be particularly tough to defeat in the Southern Section playoffs.

Such was the case Thursday afternoon as seemingly everything came together for Chaminade. The offense scored runs in bunches against Palos Verdes, and aside from one uncharacteristic inning, the pitchers delivered another above-average performance as the host Eagles prevailed, 13-5, in a first-round game in Division II.

"We're a confident group, but we don't expect to walk through many teams, not in the playoffs,'' Eagles coach Frank Mutz said. "Our pitching is going to carry us, and if we do the little things, especially when we're up at the plate, I like our chances to make a run.''

Scoring five times in the bottom of the first inning, highlighted by a grand slam from Dylan Delaney, got things started in the right direction for Chaminade (19-7).

Turns out the ace of the staff, Mathew Troupe, did not need any more run support. The 6-foot-3 right-hander, a senior committed to Arizona, did a good job of keeping opposing batters off-balance the rest of the way and the Sea Kings (20-12) never recovered.

"We came into this game with a lot of confidence, and once we got the early lead, there was no turning back for us, we were not going to lose to them at home,'' said Troupe, who helped out his own cause when he hit a grand slam to help cap a five-run fourth inning.


October, 21, 2010
10/21/10
8:37
AM PT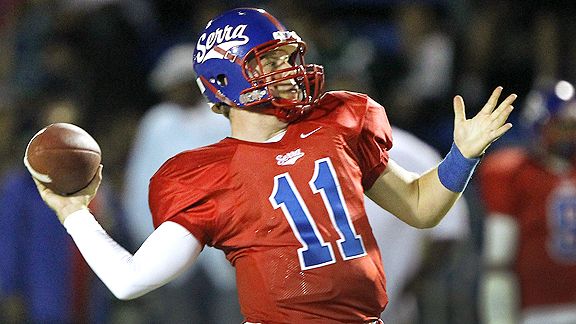 Alex Gallardo/Special to ESPNLA.com
Serra quarterback Conner Preston has plenty of weapons to choose from on offense.
St. Paul (5-1) at No. 5 Gardena Serra (6-0), Friday, 7 p.m.
With the electrifying pair of George Farmer and Marqise Lee on his side, Serra's Conner Preston may be the happiest quarterback in the region. Through six games, Preston has thrown for 1,640 yards and 17 touchdowns. St. Paul, the Western Division's No. 7-ranked squad, opened Mission League play with a dramatic 21-14 win at Cathedral.
No. 21 Compton Dominguez (5-1) at Gahr (3-3), Friday, 7 p.m.
D.J. Lopez (383 yards passing per game) leads a Gahr offense that is averaging 44.5 points. The big problem? Gahr can't seem to stop other teams from doing the same. Something should give. Dominguez allows less than 11 points per game and has won four straight since its six-point loss to highly ranked Bishop Amat.
Claremont (5-1) at Charter Oak (4-2), Friday, 7 p.m.
Claremont quarterback Daniel Kessler (20 touchdowns, 303 yards per game) has been a force for the No. 7-ranked team in the Inland Division. The Wolfpack is riding high following a one-point win against Chino Hills, while two-time CIF champion Charter Oak is seeking its first "good" win.
Mira Costa (3-3) at Palos Verdes (6-0), Friday, 2:30 p.m.
Hard to find a team with a more difficult non-league schedule than Mira Costa. The Mustangs hope that losses to Loyola, Serra and Chaminade pay off in Bay League play beginning Friday with Palos Verdes, which has not scored less than 27 points or given up more than 17 in any game this fall.
September, 29, 2010
9/29/10
1:54
PM PT
Dominique Small, Mayfair, Sr.

A week after causing all sorts of problems for No. 4 Lakewood, Small rushed for 235 yards and three touchdowns to help Mayfair to its first win of the season on Friday at Valley Christian. They weren't a cheap 235, either. The senior carried the ball 38 times, this after recording nearly 200 yards rushing in a 24-14 loss at Lakewood. How vital was he for the Monsoons? Mayfair had just four yards passing Friday
Kelly Johnson, Palos Verdes, Jr.
The junior outside hitter guided the Palos Verdes girls volleyball team to the North Torrance Tournament title, registered 18 kills and 21 assists in a midweek contest versus North Torrance and helping the Sea Kings come back from an early deficit against Chadwick in the final on Saturday.
September, 21, 2010
9/21/10
2:20
PM PT
Beejay Lee, West Covina, Jr.

Talk about making the most of one's opportunities. Lee did that and more last Thursday in a win over down-the-street rival South Hills, reaching the end zone on three of his six carries. In other words, Lee scored on 50 percent of his touches. The junior thanked his offensive line for helping him to 126 yards rushing -- an average 21 yards per carry.
Erica Capellino, Palos Verdes, Sr.

Capellino turned the Iolani Cross Country Invitational in Kualoa Ranch, Oahu into a business trip, winning the three-mile race on Saturday. The senior registered a time of 19:04, finishing nearly 10 seconds ahead of her nearest competitor. Palos Verdes took third place behind Dana Hills and Punahou of Hawaii.