Los Angeles Preps:

Paul Thompson
November, 11, 2011
11/11/11
12:02
AM PT
By
Tim Haddock
| ESPNLosAngeles.com


MOORPARK -- In the battle of Marmonte League heavyweights, Westlake delivered the knockout blow early and rolled to a 35-14 win over St. Bonaventure at Moorpark College on Thursday night.

Westlake running back Dashon Hunt scored on a 70-yard run in the first quarter to give his team a 7-0 lead. He finished with 180 yards rushing and two touchdowns, but his first touchdown set the tone for the night.

Westlake (10-0, 9-0), the No. 2 team in the ESPN Los Angeles prep football Top 25 rankings, capped an undefeated regular season and won the Marmonte League championship.

St. Bonaventure (8-2), the No. 3 team in the ESPNLA rankings, dropped to third place in the Marmonte League standings, behind Oaks Christian, which beat Newbury Park, 42-7, in their league finale, and earlier this season defeated St. Bonaventure.

Westlake took a 14-0 lead on a seven-yard touchdown pass from quarterback Justin Moore to Connor Cook in the second quarter and pulled away in the second half.

"We kept waiting for the counter-punch," Westlake coach Jim Benkert said. "They were going to come back. We never felt comfortable with the lead until the end."

The game started out looking like a defensive battle. Westlake held St. Bonaventure to a three-and-out on the first possession. Westlake drove down to the St. Bonaventure 13-yard line, but the Seraphs came up with a big interception. Paul Thompson picked off Moore and ended Westlake's first scoring threat of the game.

St. Bonaventure marched down the field, but facing fourth-and nine from the Westlake 30, the Seraphs turned the ball over on downs. It was the first of three failed fourth-down conversions for St. Bonaventure in the game.


August, 26, 2011
8/26/11
5:29
PM PT
By
Tim Haddock
| ESPNLosAngeles.com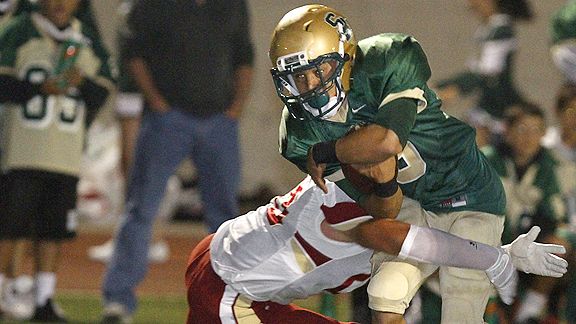 John Lazar/Special to ESPNLosAngeles.comShaun Wick was a key component for St. Bonaventure in 2010 and now he's back for his senior year.
St. Bonaventure has made the CIF Southern Section Northern Division semifinals the past two seasons. For any other program, those would be pretty successful years. For St. Bonaventure, they were disappointments.
When asked what goals he has set for his team, coach
Todd Therrien
said, "Championship." Short and to the point. That looks like the approach this team will take this year. Make quick work of opponents and move on.
This is a focused and experienced team with something to prove.
Here's a closer look at the Seraphs:
Team:
St. Bonaventure
Coach:
Todd Therrien, fifth year.
2010 Record:
11-2, lost to Westlake, 37-27, in the semifinals of CIF Southern Section Northern Division playoffs.
Returning starters:
13. Seven on offense, six on defense.
Key players on offense:
QB Marc Evans, OG David Barajas, RB Shaun Wick, QB Nick Arbuckle, OG AJ Bennett, WR Jordan Farris, RB Zach Green.
Key players on defense:
DB Paul Thompson, CB Bobby Marquez, CB Cameron Penny, LB Dalton Rocha, LB Patrick Kenny.
Difference makers:
Wick and Arbuckle. Wick rushed for 1,095 yards and scored 15 touchdowns in his junior season. He also caught five passes for 54 yards and scored a receiving touchdown. Arbuckle was the back-up quarterback to Evans last season and was 21-for-27 passing for 184 yards and a touchdown. Arbuckle is expected to be more involved in the offense and on special teams this season.
Newcomers:
RB Zach Green, WR Jordan Farris, WR Elijah Henderson.
Not to be missed:
St. Bonaventure at Oaks Christian, Sept. 23. This game has quickly become one of the most anitcipated match-ups in the Marmonte League. The two teams have been in the league for only a year, but both teams have established themselves as the two of the top programs in the league.
Coach's comment:
"We need to figure out who we are on defense the first couple of weeks. We're going to go as far as our seniors will take us."
Final analysis:
St. Bonaventure has a tremendous senior class and the most experienced team in the Marmonte League. Two weeks before the start of the season, the starting quarterback position was up for grabs. Marc Evans started at quarterback as a junior, but a bout with strep throat cost him five days of practice. Nick Arbuckle is challenging Evans for the starting job. If Arbuckle doesn't start at QB, he will be in the offensive mix at tight end and on special teams. With a backfield that includes Shaun Wick and Zach Green, plus David Barajas and AJ Bennett on the offensive line, the Seraphs have quite an arsenal on offense.
Follow Tim Haddock in Twitter
@thaddock
.