Los Angeles Preps:

Phelan Serrano
May, 18, 2011
5/18/11
4:02
PM PT
By
Dan Arritt
| ESPNLosAngeles.com
SOUTHERN SECTION BASEBALL PLAYOFFS
Division 1
Corona Santiago at No. 1 Huntington Beach Edison, Friday, 3:15 p.m.
Santiago has scored one-sided victories this season against second-seeded Mater Dei and third-seeded Vista Murrieta, but the Sharks weren't facing the type of fastball they'll see against Edison lefty
Henry Owens
, a consensus
first-round pick
in the upcoming major league draft. The game will also feature two of the Southland's premier senior shortstops in
Christian Lopes
of Edison and
Brandon Martin
of Santiago. Lopes has committed to USC and Martin to Oregon State, but both are expected to go high in the draft as well.
Simi Valley Royal at No. 3 Vista Murrieta, Friday, 3:15 p.m.
Royal won its 12th consecutive game Tuesday, a 4-2 victory at Villa Park, earning an even longer bus ride to Southwestern Riverside County. The Highlanders finished fifth in the exceptionally deep Marmonte League and have four starters back from last season's Division 1 semifinalists. The Broncos will ask sophomore right-hander
Tyler Russell
(8-1, 1.03) to defend their home turf.
Temecula Great Oak at No. 4 San Juan Capistrano JSerra, Friday, 3:15 p.m.
Another I.E. team that hopes to represent well against an O.C. powerhouse is Great Oak, which played Vista Murrieta tough in their three Southwestern League games. Great Oak shortstop
Austin Bailey
, who signed with San Diego,
hit three home runs last week in the regular-season finale against Murrieta Mesa, giving him six on thes season. The most watched player will be JSerra catcher
Austin Hedges
, considered the best defensive prospect in the nation, high school or college.
Division 2
Yucaipa at West Torrance, Thursday, 3:15 p.m.
When it comes to pitching, the Thunderbirds have the type of 1-2 punch that can carry them back to the finals for the second straight year.
Justin Lewis
(8-1) threw a two-hitter Tuesday in a 3-0 wild-card victory against visiting Rancho Cucamonga. Now it's
Kevin Davidson
's turn. The senior right-hander is 7-1 with a 2.10 ERA and helps himself out at the plate with a .511 batting average. West Torrance won the Bay League.
December, 6, 2010
12/06/10
4:33
PM PT
By
Dan Arritt
| ESPNLosAngeles.com
1. No question top billing goes this week to Elsinore High, which pulled off one of the biggest shockers of the season Friday night, making the long trip to Fontana Kaiser and knocking off the top-seeded and previously unbeaten Cats, 20-12, in an Eastern Division semifinal. Elsinore coach
Tony Peralta
told reporters after the game the Tigers played rope-a-dope with Kaiser, staying close and then delivering a knockout punch at the end. In terms of high school football upsets, this was
Buster Douglas vs. Mike Tyson
.
2. Corona Centennial quarterback
Michael Eubank
admitted the Huskies were a bit overconfident heading into their Inland Division
semifinal
Friday night against host Chino Hills. That could have been why Centennial couldn't put away the "other" Huskies until late in the fourth quarter. Centennial (13-0) produced its lowest point total of the season in the 42-23 victory, but still moved into seventh on the list of highest-scoring football teams Southern Section history (713). Fourth-place is only 27 points away, so the Huskies might get there by halftime in Friday's championship game against visiting Vista Murrieta. More to come on that during the week.
3. The Vista Murrieta vs. Rancho Cucamonga double-overtime
semifinal
Saturday night was as close and exciting of a game as they come. Well, unless you were around in 2002, when
Terrell Jackson
scored eight touchdowns in the triple-overtime Division V final and Centennial beat Riverside North, 57-55. The game was intense and hard-hitting, but the players showed dignity and class when it finally ended in a pile of bodies at the goal line.
November, 29, 2010
11/29/10
4:43
PM PT
By
Dan Arritt
| ESPNLosAngeles.com
1. Let's head straight to the Central Division for the best game of the weekend. La Quinta trailed host Chino by 28 points in their quarterfinal game, then scored 42 in the second half to win, 42-41. The fourth-seeded Blackhawks took a 42-35 lead on a 37-yard touchdown run by Chyl Robinson with 51 seconds remaining, followed by a two-point conversion. Chino answered 19 seconds later on a 35-yard touchdown pass from Sean Molles to Promise Amadi. Needing just the point-after to tie the score, La Quinta deflected the kick and it fell short of the crossbar. The comeback also included two successful onside kick recoveries. La Quinta moves on to Friday's semifinal, where it will host top-seeded Moreno Valley Rancho Verde.

2. Thanks to a pair of upsets in the bottom half of the Central Division bracket, the other semifinal will feature a San Andreas League rematch Saturday between San Bernardino Cajon and host Colton. Cajon knocked off third-seeded Riverside Arlington in convincing fashion, 35-7. The Yellowjackets did the same to second-seeded Palm Springs, 35-14. The Cowboys defeated Colton, 29-20, in SAL play this season, but the Yellowjackets didn't have running back Tyler Ervin for that game. Ervin, who missed three games because of an ankle injury, rushed for a season-high 189 yards in 30 carries and scored two touchdowns against Palm Springs.

3. The competition must be getting stiffer because Corona Centennial had its closest game of the season Friday night – only beating Upland by 29 points. In fact, for only the second time this season, top-seeded Centennial actually trailed in a game. That lasted for all of 2 ½ minutes before the Huskies stormed away in the second half for a 52-23 victory in an Inland Division quarterfinal at Upland. Probably most impressive were the numbers put up by Centennial running back Barrinton Collins, who rushed for a career-high 305 yards in 27 carries and scored five touchdowns, despite dislocating a shoulder during practice earlier in the week. Centennial will play at fourth-seeded Chino Hills in Friday's semifinal.


November, 14, 2010
11/14/10
12:09
PM PT
By
Dan Arritt
| ESPNLosAngeles.com
INLAND DIVISION

Seeded teams:

1. Corona Centennial; 2. Vista Murrieta; 3. Rancho Cucamonga; 4. Chino Hills

At-large selection:

None

Best first-round game:

Temecula Chaparral (4-6) at Upland (7-3) – Chaparral is the defending Inland Division champion, while Upland won the Central Division title last season. Chaparral was the preseason favorite to repeat, but a 1-5 start ending any discussion of that. Still, the Pumas tend to get better as the season rolls along.

Best potential second-round game:

Vista Murrieta (9-1) at Norco (8-2) – Both of these teams should survive the first round to create a semifinal-type second-round matchup. Norco's upset loss to Eastvale Roosevelt on Oct. 8 ultimately dropped them into third place and created this nightmare matchup for Southwestern League champ Vista Murrieta.

Prediction:

Corona Centennial should walk through this division, especially with either Vista Murrieta or Norco getting knocked off in the second round. Corona Centennial 56, Norco 7.


November, 1, 2010
11/01/10
8:09
PM PT
By
Dan Arritt
| ESPNLosAngeles.com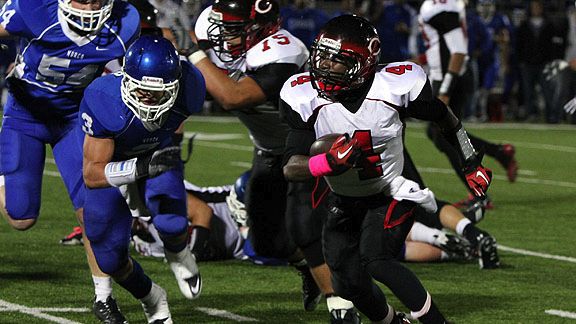 Courtesy of Paul Moureaux
Barrington Collins had five touchdowns in Centennial's 45-0 win over Norco.
1. Corona Centennial has a lot of people wondering just how good the Huskies are after they trampled Norco, 45-0, in a Big VIII League game Friday night at Norco. The Huskies came in
ranked No. 4
in the Southland by ESPNLA, but a closer looks indicates they might be a little under-rated. Centennial blew out Mater Dei, 44-13, in Week 2. Servite, ranked No. 1, escaped with a 21-14 victory over the Monarchs on Friday. And if that's not enough of an indicator, Centennial defeated Temecula Chaparral, 45-12, on Sept. 24. A week later, the Friars defeated the Pumas, 28-7, and Chaparral was without two of its best players. Another comparison will come this weekend when the Huskies travel to Corona. Mission Viejo, ranked No. 3, beat the Panthers, 56-34, on Sept. 16.
2. What happened to Riverside King? The Wolves were looking really good after defeating Corona Santiago and Corona on back-to-back weeks last month. All they had to do was defeat Riverside Poly and Riverside North and they were a lock for an automatic playoff berth out of the Big VIII League. But a not-so-funny thing happened on the way to the postseason, King was upset by Poly on Friday night, 45-39, dropping the Wolves into fifth place. The loss didn't completely blow their chances for an automatic playoff bid, however, as Corona (5-3, 3-2) still has Corona Centennial and Norco on its schedule, while King (4-4, 2-3) has Eastvale Roosevelt and North. If the Panthers lose their final two games, as they should, and King splits its final two, the Wolves win the tiebreaker based on their head-to-head result with Corona.
September, 16, 2010
9/16/10
7:26
PM PT
By
Dan Arritt
| ESPNLosAngeles.com
If this season's matchup between Phelan Serrano and Upland is anything like a year ago, expect Friday's game to come down to the final whistle.

In Week 2 of the 2009 season, Aaron Long of Serrano appeared to scoop up a fumble with about a minute remaining and return it 56 yards for a touchdown, presumably giving the host Diamondbacks a three-pont lead with the point-after attempt remaining.

However, it was ruled that a referee had inadvertently blown his whistle before the ball was recovered, giving possession to Serrano but eliminating the return. The Diamondbacks were then intercepted on fourth down and Upland escaped with a 21-18 victory.

Serrano went on to lose to Palm Springs in the Southern Section's Eastern Division final. Upland won the Central Division.

This season, the game moves to Upland, where both teams enter 2-0. Serrano is the top-ranked team in the Eastern Division, while Upland has moved to the Inland Division, where it's ranked No. 3 in the latest coaches' poll.

Kickoff is set for 7 p.m.