Los Angeles Preps:

Pomona Catholic
June, 1, 2012
6/01/12
6:45
PM PT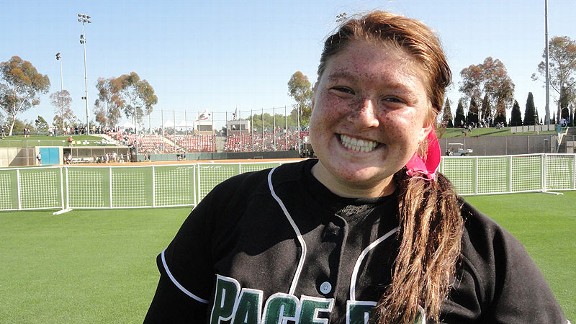 Martin Henderson/For ESPNLA.comAmber Padilla's perfect game lifted Pomona Catholic to the CIF-SS Division 7 title.
IRVINE -- Pomona Catholic has been just about perfect in the Southern Section Division 7 playoffs, and in the championship game Saturday at Col. Bill Barber Park, they
were
perfect.
Literally.
Amber Padilla
pitched a perfect game and the top-seeded Pacers won the section title with a 1-0 victory over second-seeded Bellarmine-Jefferson.
Credit to Bell-Jeff (23-6-2) -- at least the Guards were in the game. That's more than any other team has been in Pomona Catholic's 13-game winning streak in which it outscored opponents 273-0 in the first 12 games of that span.
Pomona Catholic (26-7) outscored its five playoff opponents, 103-0. Bell-Jeff (23-6-2) had outscored its playoff opponents, 56-0. This was the only division among seven playing games this week that included two seeded teams, and obviously the only matchup between teams seeded 1 and 2.
The championship is the sixth for Pomona Catholic, moving it into a tie with Garden Grove Pacifica, Irvine Woodbridge and Temecula Linfield Christian.
Coach
Roger Wallace
has now won more titles than any other coach, having guided Pomona Catholic to championships in 1999, 2002, 2005, 2006, 2011 and 2012.
Padilla outdueled Maria Acosta, who allowed six hits.
Padilla, who watched the movie
Perfect Game
on Thursday night, struck out eight. The movie reminded her not to focus on the scoreboard, just the batter in front of her.
June, 3, 2011
6/03/11
7:24
AM PT
By
Martin Henderson
| ESPNLosAngeles.com
Top-seeded Oaks Christian, in the finals for the first time since 2005, will face off against South Hills tonight for the Division 3 softball title in the Southern Section Championships at Barber Park in Irvine.

It's the last of three games, with four games scheduled for Saturday including the marquee Anaheim Canyon-Corona Santiago matchup in Division 1.

Oaks Christian had a remarkable run from 2001-2005 in which it won two titles and was runner-up three times. In facing South Hills, the Lions will be facing a team that was beaten in last year's championship game. The Huskies are trying to win their third title, too; they won titles in 1982 and 1997.

Here's a look at today's schedule:

Friday at Barber Park in Irvine

Division 3: South Hills (21-7) vs. No. 1 Oaks Christian (29-5), 7:30 p.m.
Oaks Christian has allowed only one run in the playoffs, a 2-1 victory over fourth-seeded Chino Hills in the semifinals that required freshman reliever Kristin Cullen (8-2) to pitch out of a seventh inning jam and then have her teammates score twice in the bottom of the inning. Kiana Quolas (17-3, 0.42 ERA) handles most of the pitching duties, and she will likely be the the choice to stop the Huskies, who are brimming with confidence; they scored perhaps the most impressive victory of the playoffs, a 16-1 drubbing of second-seeded Bishop Amat. Pitcher Sydney La Follette (17-6, 3.50 ERA; .405, 31 RBIs) has been hot in the playoffs; she's batting .643 with eight RBIs and three homers in the postseason, a healthy complement to junior catcher Britney Rodriguez (.461, 33 RBIs) and school valedictorian Samantha Nieves (.432, 20 RBIs).

Division 5: No. 1 La Canada (25-3) vs. No. 2 Beaumont (25-4), 5:15 p.m.

La Canada carries a 22-game winning streak into the title game as it hopes to win its first title since 1991. The Spartans are led by Georgetown-bound pitcher Lauren O'Leary (24-2, 0.40 ERA). Northwestern-bound Anna Edwards (.465, 30 RBIs) has 11 homers for La Canada, which has outscored opponents 32-3 in the playoffs. Beaumont counters with Alyssa Fuimaono (24-4, 1.74 ERA) as the Cougars seek their first championship.

Division 7: No. 2 Bell-Jeff (22-5) vs. No. 1 Pomona Catholic (23-5), 3 p.m.

Since a 2-1 loss to West Covina on April 6, Pomona Catholic has won 14 in a row (two by forfeit) by a combined score of 234-0 -- including 81-0 in the playoffs. Amber Padilla (18-4, 0.31) has pitched back-to-back perfect games.

Saturday at Barber Park in Irvine
Division 6: Downey Calvary Chapel vs. Perris Citrus Valley, 10 a.m.
Division 4: Fontana Kaiser vs. Goleta Dos Pueblos, 12:30 p.m.
Division 2: Camarillo vs. La Mirada, 3:30 p.m.
Division 1: Anaheim Canyon vs. Corona Santiago, 6 p.m.