Los Angeles Preps:

Ribet Academy
March, 6, 2012
3/06/12
3:47
PM PT
By
Tim Haddock
| ESPNLosAngeles.com
Coaches never like to look ahead. But sportswriters do.

Here are some interesting potential match-ups in the CIF State Boys Basketball Southern California Regional playoffs that begin on Wednesday night.

Few teams have been able to beat Mater Dei, the top-seeded team in the Division I regional bracket. Woodland Hills Taft, the No. 3 seed team in the Division I playoffs, might be the one team to give Mater Dei some trouble if the two teams meet in the Division I regional championship game.

Taft has never made it past the semifinals of the CIF State regional playoffs. But first-year coach Jason Hart has his kids playing with a ton of confidence and freedom. This could be the year Taft dunks its way to the Southern California Regional final and perhaps a spot in the state championship.

No team from California has been able to beat Mater Dei this season. The only two losses for the Monarchs were against Grace Prep from Texas and Gill St. Bernard's from New Jersey.


February, 24, 2012
2/24/12
10:43
PM PT
By
Sean Ceglinsky
| ESPNLosAngeles.com


SUN VALLEY -- There has been plenty of hype surrounding Tyler Dorsey and his emergence as one of the Southland's top underclassman this season. And after seeing the freshman from Los Angeles Ribet Academy in action on Friday, it turns out the advanced billing was indeed worthy.

Sun Valley Village Christian early on had no answer for Dorsey, who had 11 points in the first quarter. It was more of the same the rest of the way as the 6-foot-4 guard finished with 26 points to guide the visiting Frogs to a 64-52 victory in a Southern Section Division 5-A semifinal.

"Yeah, I have heard all of the talk about me, but I try not to worry about it,'' Dorsey said. "My focus is working hard on my game, that's it, and letting everything else fall into place.''

Who is going to argue with his game plan? The strategy, after all, has worked out particularly well this season. Dorsey is averaging 22 points, nine rebounds and six assists per game. On the defensive end of the floor, he's no slouch and averages more than two steals and a block per game.

Keep in mind, we're talking about a ninth-grader who plays beyond his years.

"I know he's young, but honestly, I don't worry about Tyler when he's out there on the floor,'' Frogs coach William Middlebrooks said. "He was under some pressure tonight, in a big environment, and I think he handled himself. He doesn't play like like a freshman, not in my book.''

Middlebrooks is not the only individual who has been impressed with the play of Dorsey. Division I college coaches and scouts appear to be enamored with the upside he possesses.

Arizona put a scholarship offer on the table for Dorsey over the summer. USC offered him on Tuesday. Duke, North Carolina and Louisville are among the other programs interested.


February, 16, 2012
2/16/12
12:57
PM PT
By
Tim Haddock
| ESPNLosAngeles.com
Santa Clara from Oxnard, with only seven wins during the regular season, started the basketball playoffs by eliminating the reigning Division 5AA champion.

Santa Clara beat Flintridge Prep, the fifth-seeded team in the Division 5AA playoffs, 55-48. The Saints led by as many as 12 points in the fourth quarter and had to erase a two-point deficit at halftime.

Here's a look at the games involving teams from the L.A. North region in the Division 5AA playoffs:
January, 31, 2012
1/31/12
11:37
PM PT
LA VERNE -- The old windowless gym on the campus of Lutheran High makes for great echoes, and a thunderous dunk by
Grant Jerrett
easily reverberated across its walls Tuesday night.
Then, a loud thud. Deep gasps followed, and the building went hush.
[+] Enlarge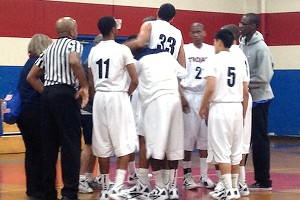 Blair Angulo/For ESPNLA.com Grant Jerrett (33) of La Verne Lutheran is helped off the court Tuesday by teammates after hurting his left ankle.
Jerrett was flat on his back, clutching a left ankle that, recently, has been given him issues. He had tweaked the ankle yet again, rolling it on an opposing player's foot on his way down from an explosive and, what turned out to be, unlucky dunk.
"It's pretty bad," Jerrett said. "It's something I've been dealing with and I've been trying to strengthen the ankle. I don't know. I have to deal with it, I guess."
To make matters even gloomier it was senior night at Lutheran, and Jerrett spent it on the bench with a towel over his head and his elevated left ankle resting on a chair. The Trojans, ranked No. 9 by ESPN Los Angeles, faced little trouble without the top-rated senior in the Southland, routing Ribet Academy, 89-60. The ankle injury, though, is a major concern for the back-to-back state champions.
Jerrett estimates that he'll only be sidelined a day or two, but his status for Saturday's matchup at top-ranked Mater Dei is up in the air, according to Lutheran coach
Eric Cooper
.
"The playoffs are the most important thing," Cooper said. "There's no need for him to play Saturday. He'll want to play, but we'll see."
Fellow seniors
Cameron Osorno
and
Brandon Shaw
were recognized at halftime, with their parents joining them at half-court as Cooper spoke on a microphone. Jerrett, meanwhile, remained seated as his parents walked across the floor to embrace him on the bench.
January, 15, 2012
1/15/12
10:05
PM PT
Los Angeles Price and Playa del Rey St. Bernard will host all-day showcases on Martin Luther King Jr. Day. The schedules:

At Price High School (7901 S. Vermont Ave., Los Angeles)

12:30 p.m. - Campbell Hall vs. Ribet Academy
2:00 p.m. - Dominguez vs. Dorsey
3:30 p.m. - Providence vs. Morningside
5:00 p.m. - Palm Springs vs. Price
6:30 p.m. - Mayfair vs. Washington Prep
8:00 p.m. - Santa Monica vs. Gardena Serra

At St. Bernard High School (9100 Falmouth Ave., Playa Del Rey)

11:00 a.m. - Perris vs. Fremont
12:30 p.m. - Elsinore vs. Leuzinger
2:00 p.m. - Renaissance Academy vs. View Park
3:30 p.m. - LACES vs. St. Monica
5:00 p.m. - Beverly Hills vs. Brentwood
6:30 p.m. - Culver City vs. St. Bernard
January, 13, 2012
1/13/12
9:28
PM PT
There's a strong lineup scheduled to play in Saturday's Johnnie Cochran Basketball Classic at LACES, including Gardena Serra (15-1) taking on Los Angeles Price (11-5) in the headliner.

Among the teams competing in the all-day event: Brentwood (12-3), Fresno Central (12-3), Dorsey (14-5), LACES (16-6), Pacific Hills (14-3) and Renaissance Academy (14-2).

The full schedule:

10:00 a.m. - Salesian vs. LACES
11:30 a.m. - Diamond Ranch vs. Beverly Hills
1:00 p.m. - Las Vegas Legacy vs. Dominguez
2:30 p.m. - Las Vegas Durango vs. Dorsey
4:00 p.m. - Renaissance Academy vs. Brentwood
5:30 p.m. - Fresno Central vs. Washington Prep
7:00 p.m. - Ribet Academy vs. Pacific Hills
8:30 p.m. - Gardena Serra vs. Price